Wasteland Summerfest
01jul1:00 pm11:00 pmWasteland Summerfestthe Post-Apocalyptic Edition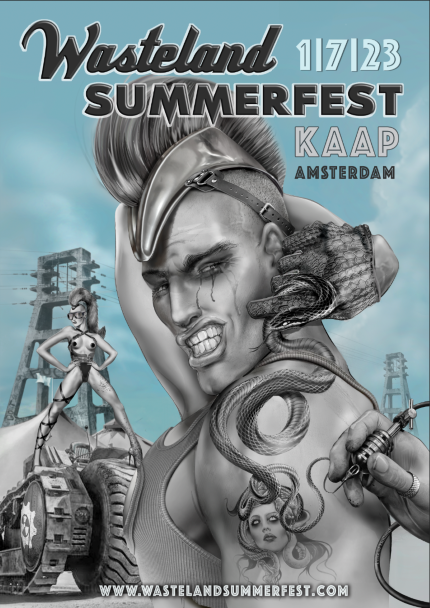 Event Details
About
Wasteland Summerfest is kicking off July with the Saturday of your wildest dreams. Multiple stages playing multiple musical genres are accompanied by extraordinary live entertainment, art spaces and spectacular shows by international circus performers, fire twirlers, dancers, contortionists and more. Kaap Oost will become a sprawling feast of food trucks, art cars, entertainment tents, outdoor stages, a fetish clothing market and much more. Get your tickets here. 
What to wear 
Wasteland preserves its kinky magic by enforcing a strict dress code. To quote them: "We expect our guests to expose creativity and fantasy into their outfits. The dress code is vigorously checked by our Doorbitches. There are no ticket refunds if the dress code is not adhered to. The decision of the Bitch is final". 
Here's a look we've specifically curated to get you right past those Bitches with no problems. The focal point of this look is the spectacular gladiator-esque O-ring skirt. Pair this with the 'Statement' harness, adding a touch of 'extra'. Bring back those touches of steel from the skirt in the upper body with these 'linked' armbands and a chain around the neck.
Time

(Saturday) 1:00 pm - 11:00 pm
Location

Kaap

IJdijk 10, 1095 KN