"You need a look!" That is the first thing my lover told me when he heard I was invited to the finale of Drag Race Holland Season 2 one and a half years ago. It is one of the best pieces of advice I have ever gotten!
Looking the part when you go to any event is FUNDAMENTAL. People will definitely notice that you have made an effort, and they will be likely to come up to you more easily for a little chat, often to give you a compliment, which is always welcome 😀.
Recently, I have been experimenting with what I wear and how I present myself. I have embraced my inner queerness by broadcasting it through my choice of clothing, and I love that fashion at the moment is all about infusing fetish into your outfits. All the big designers have put their models in leather harnesses and such. As a kinkster, I think that is fantastic!
I thought it would be fun to present one of my looks to you that includes the new Mister B SERVE Statement Harness, with some cheeky notes on how it all came together. I hope it will inspire you to experiment a bit and give you the courage to make some bolder choices!
Hair
"Hair is everything. It is the difference between a good day and a bad day. It is a symbol of fertility and a symbol of power." That is basically what comedian Phoebe Waller-Bridge told her hairdresser in the hit TV series Fleabag when he fucked up a haircut and didn't seem to care. I fully agree with that statement. My haircuts are in the hands of my lover. He has full creative control. Right now, my hair looks kinda brutalist, punk meets mullet, so to say. He informed me that I won't have short hair EVER again, and I am totally down with that!
Palazzo pants
I found these Palazzo pants in the women's department of a thrift store when I was on the hunt for my Drag Race finale look. I thought people were staring at me when I was checking them out and it made me feel uncomfortable. At the same time, it irritated me immensely that I felt those societal gender norms pressing down on me. I told myself to shut up, tried on the pants, realized I looked fabulous and bought them for 20 euros. Since then, I always check out the women's department, and so should you!
Blouse
This is another find from the women's department of an Amsterdam thrift store. There is an insane amount of women's blouses with colourful prints available that go from cute and floral to abstract and mental. This one makes me feel like an artist who discovered a raw talent for making sculptures sometime in his late fifties. It screams happiness. The amazing thing with these blouses is that they fit really well on a man's upper body when you go for L or XL. Make sure to tuck the blouse into your pants (preferably high-waisted ones) and pull on the back, so it hangs more loosely on the back and shoulders. Go for a blouse that has print on the inside as well, it will look better when you roll up the sleeves.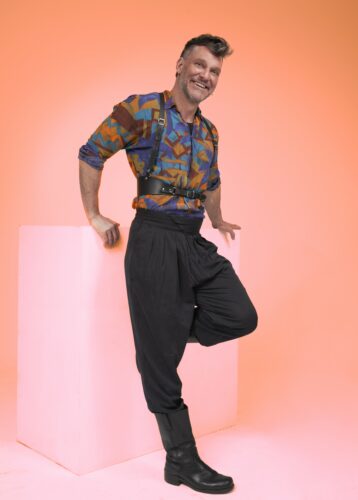 Leather harness
The Mister B SERVE Statement Harness is what pulls this look together. Over a dress shirt or blouse, it will make you look chic with a hint of freak – you can also lose the shirt of course and wear it nekked at a party. The black leather harness has narrow straps that go over your shoulders. This makes it look like you are wearing suspenders. There is a thick leather band in the back that supports your lower back. When I wear it, the harness frames my shoulders and back, plus it creates a triangular shape that looks like it is hovering over my big old booty. I am IN LOVE with this piece because it makes me feel sexy and confident, and that is, in my humble opinion, the most important effect that clothes should have!
Boots
You don't need to own it, to OWN IT! These kinky leather boots are on semi-permanent loan from the New York Fashion Institute (aka a loved one), and I enjoy wearing them immensely. They empower. They serve fashion. They make me taller. They get me laid. And yes, they are super uncomfortable, but hey, looking like a hot piece of meat comes with a price 😉.
Earring
This cute gold-plated snake has been dangling from my earlobe for a few weeks now. I found it at a tattoo and piercing store for € 9.99. If you are considering jewellery that says, "I'm extra, deal with it!" I would really recommend hopping over to your local tattoo parlour to snatch yourself earrings or hangers in the shape of an Anker, an astrological sign, or a decapitated goat skull. The latter I haven't found anywhere yet, but I haven't given up hope on finding one. PS Snakes are sssssseriously ssssssssexy sssssssweety.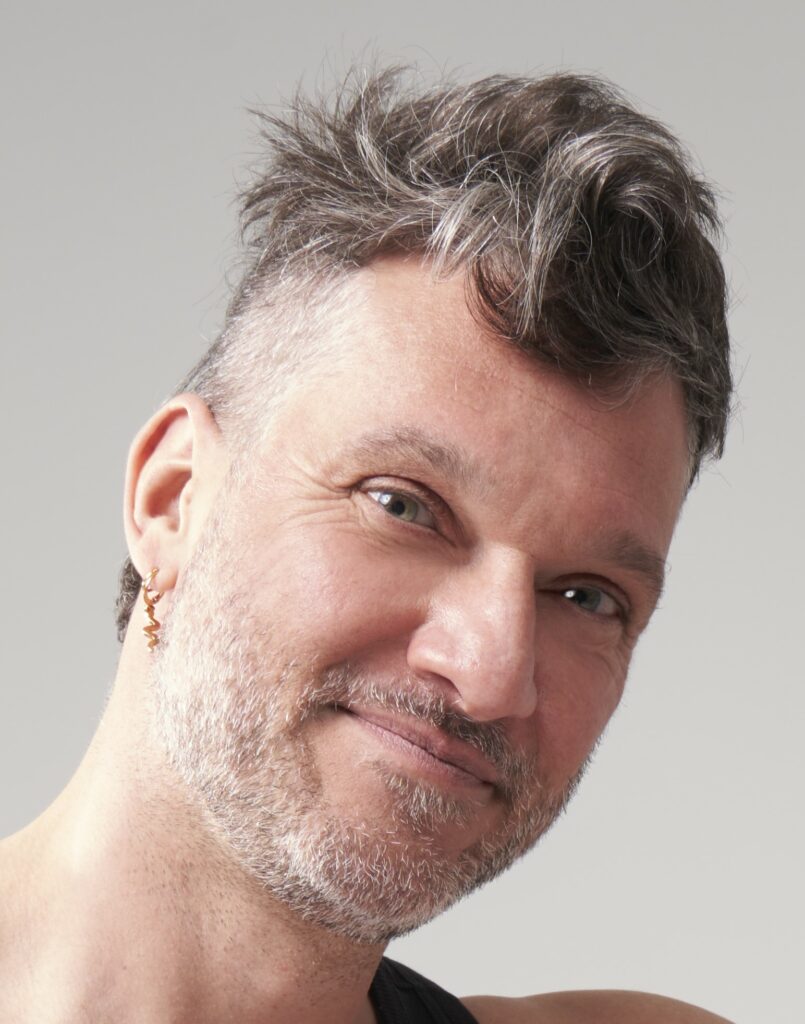 Marco Hohl (he/him) is a Dutch-German journalist who lives in Amsterdam. He is not a stylist, but after having watched every season of Project Runway and Making The Cut, he has something to say about fashion anyway. You can follow his adventures on Instagram @hohlinone.