'Tom of Finland': for many of us fetishists, these three words conjure up many different feelings, moods, and fantasies. His art is now such an integral thread of gay (and pop) culture that even if you're a casual fetishist, the name 'Tom of Finland' is instantly recognisable.

Tom of Finland was the genius Finnish artist behind the countless masterpieces of gay erotic we know and love, but no less fascinating a character is the man who, in his role as muse, lover, and business partner, has worked tirelessly over many decades to keep the legacy of Tom of Finland alive. Durk Dehner is the President and Co-Founder of the Tom of Finland Foundation, and I recently had the great privilege and joy to talk with him for an in-depth and quite personal interview for this issue.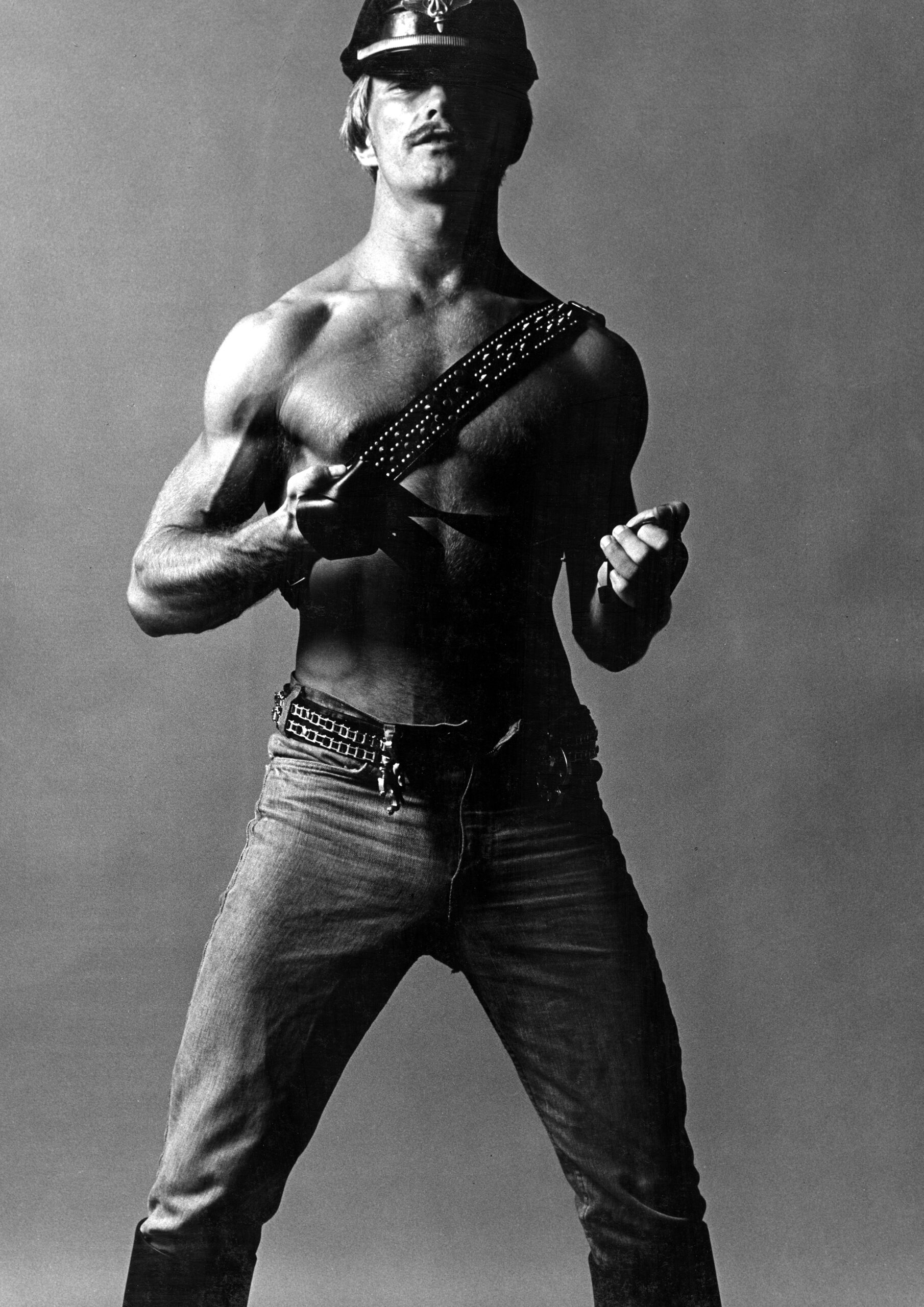 Hi Durk! Great to speak to you again! It really seems like an eternity has passed since we met at Folsom Europe in 2018 after my Classic Meets Fetish performance! Tom of Finland is such a celebrated figure in our community, of course, but I thought it would be wonderful for our readers to get to know you in more detail as well. Let's start off this conversation with your beginnings. What was your life and upbringing like growing up, and what led you to this current path that you have been on for many years now?
"Well, I was born in Alberta, Canada, and grew up in nature: open air, Rocky Mountains. I was quite the wild child, in that I went off on adventures a lot on my own and with friends, camping out in the mountains. I really had a wonderful childhood. Once my parents realised I was independent and could take care of myself, they wisely didn't hold me back and allowed me to be free, so I did a lot of exploring."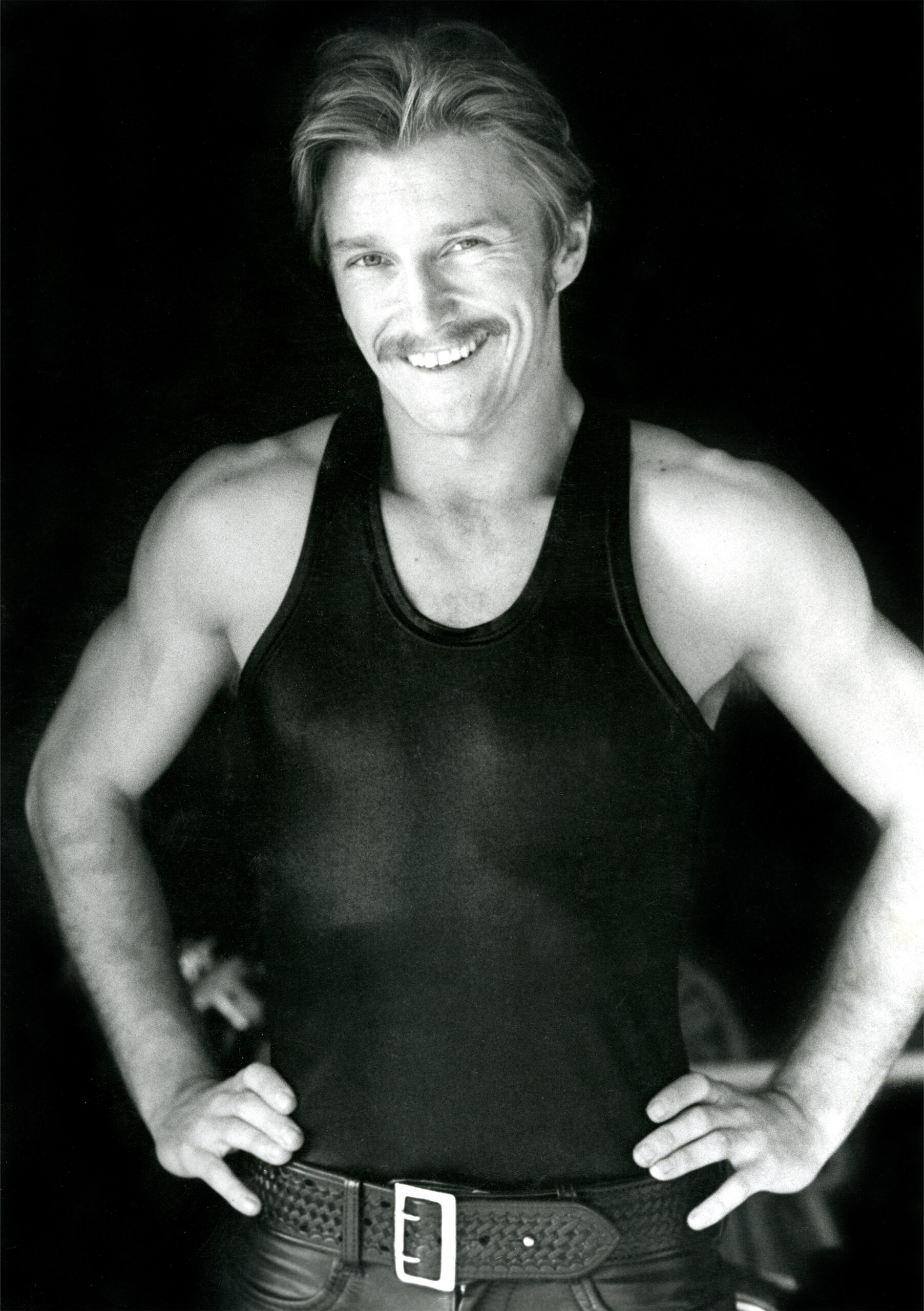 When did you discover your own sexuality? And when did you first get into fetish/gear/kink?
"I was quite precocious in some ways. While I was a shy student at school, outside of school I was quite adventuresome and I explored my sexuality pretty early on with like-minded friends of my age at around age 9 or 10. At 11, I had my first consensual sexual encounter with an 18-year-old (for the record, I pursued him, not the other way round). While this may perhaps raise eyebrows nowadays, I think historically it is something that many gay men went through in the past when they were discovering their own sexuality. Certainly, I know quite a few friends who have had similar experiences at a young age.
Around the time I reached puberty my role models were motorcycle bikers. I remember hanging out at the local motorcycle shop in my neighbourhood, and there began my fantasies about becoming the kind of fellow I would grow up to be – quite similar to Tom who was inspired by Marlon Brando in his black leather jacket.
So, yes, all the triggers for my fetishes were there when I was really young, basically from the age of 5 onwards. For example, I would steal boots off the steps of neighbours' houses – these would be work boots, engineer boots – and I would take them into the woods with me, and the smell of the inside of the boots would arouse me intensely. Besides, even earlier than that, I would lay out my dad's rubber raincoats and hip boots, and I would take all my clothes off and roll around in these garments. I didn't even know why I was doing it, only that these urges were very instinctive; I just knew that it felt good. I was never reprimanded nor caught, and there was never any negative attachment to any of my activities, so I just pursued them and let them grow.
The fetish really was a part of me, not a separate entity. It was something I naturally discovered on my own, and not something that someone else introduced me to, so the progression was all very organic."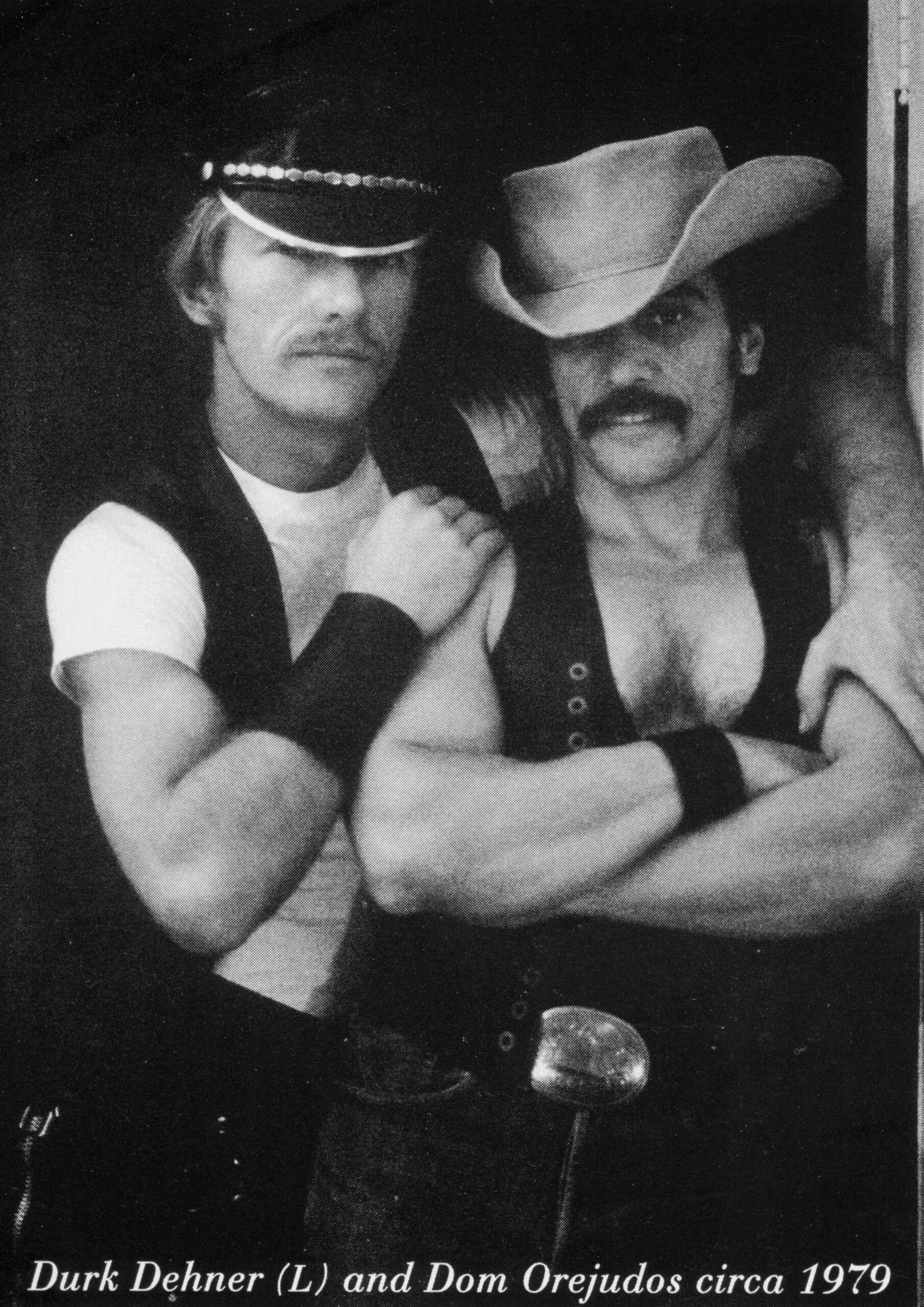 What was the scene like when you first got into it, and how did your experiences form your views on masculinity, sex, and sexuality?
"In regard to the scene when I first was attempting to enter it, I was discriminated against because I didn't have the appropriate gear. Therefore, I made it my business to get gear that would be acceptable so I could at least get inside and be considered as one of the brothers, and for it to reflect the man I felt I was inside. Actually, there was a distinctive difference between straight motorcycle culture and gay leather culture in that, just like it was in Tom's drawings, his leathermen were obviously homosexual and it had to do with the way they carried themselves and what they emitted; they oozed sexuality very overtly.
I left Canada in 1970 at age 20 because I knew that it wasn't a place where I could develop as I found it too constrictive; I decided I needed to go to a more metropolitan city. LA, for example, was a place I'd first visited on a family holiday when I was about 11, and I said to myself that I would come back and live there. So, that became my first stop after leaving Canada.
When I was around 22, I was in San Francisco, and one Wednesday night I was standing at the Eagle Bar. Beside me at the bar was a six-foot-two drag queen. She looked at me and asked, 'So…. What's YOUR story?' I replied, 'Well… I've sort of come to SF to see if I can find my family, where I belong and who I am.' She waved her hand in the air and said, 'Honey, you can be anything you want to be! It's for you to take.' I actually took her advice to heart, and I was able to let myself go full force, to manifest, to belong, to be free. What followed was that I knew I was a true fetishist; I had to wear it and be it."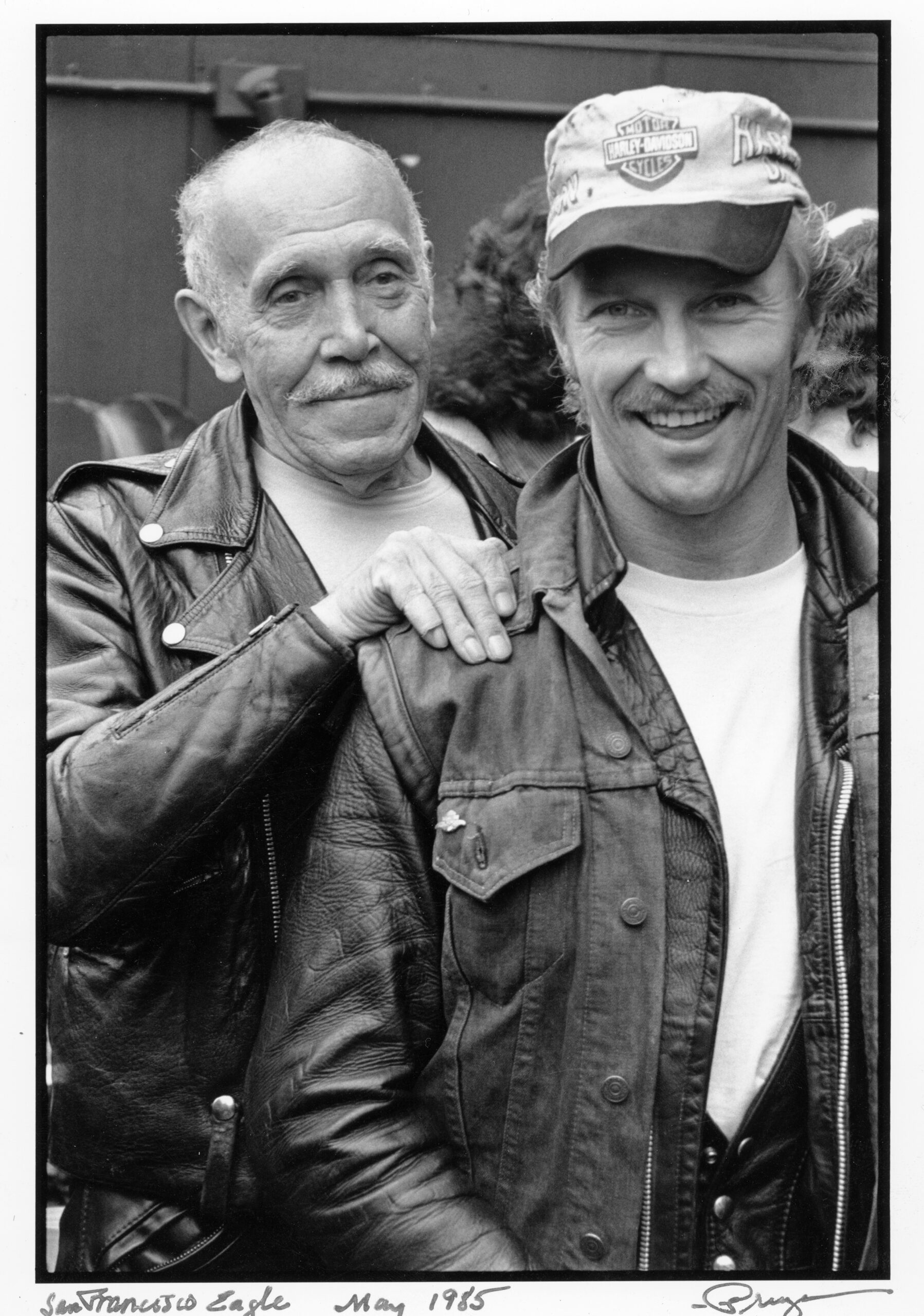 What was your first exposure to the work Tom of Finland, and what was your first reaction to seeing his depiction of fetish and male sexuality? What would you say drew you to him?
"Around 1976, a friend of mine wanted me to enter a leather contest at this well-established place called The Eagle's Nest, and I did. I was really in my element there and I won the contest. As a result of winning the contest, I had a photoshoot at the Target Studios. Just prior to going to the shoot, I was at another bar called The Spike, and there I saw a poster on the wall that featured an image by Tom of Finland. I didn't know that it was by Tom of Finland at the time, but I so gravitated to the drawing. It was very magnetic, and I very much identified with that artwork on an emotional level, which had never been the case for me vis-à-vis an artwork up to that point. So, I took it off the wall and took it with me to the photoshoot the next day. There was an erotic artist called Etienne in the studio, I showed him the poster and asked him if he knew who drew the artwork on the poster. He replied, 'Oh yes, that's Tom of Finland. Do you like it?' I said that I more than liked it, to which Etienne replied that he had Tom's address should I want to get in touch with him. So, I wrote Tom a fan letter, telling him about my experience. He wrote back and with that we created a pen pal relationship. In 1977, he wrote that in 1978 he would be in Los Angeles (where I was living at the time) and San Francisco for his first US exhibitions. I invited him to let me be his host during his visit to the West Coast, and that's when we first met in person. I took him everywhere, and he met the likes of Robert Mapplethorpe, and also his own fans who all flocked to tell him how his art had positively affected their lives and inspired them as gay leathermen. That's when I realised – besides liking his artwork – that Tom had been very much an instrument in gay culture and that he helped develop the self-esteem of many gay men."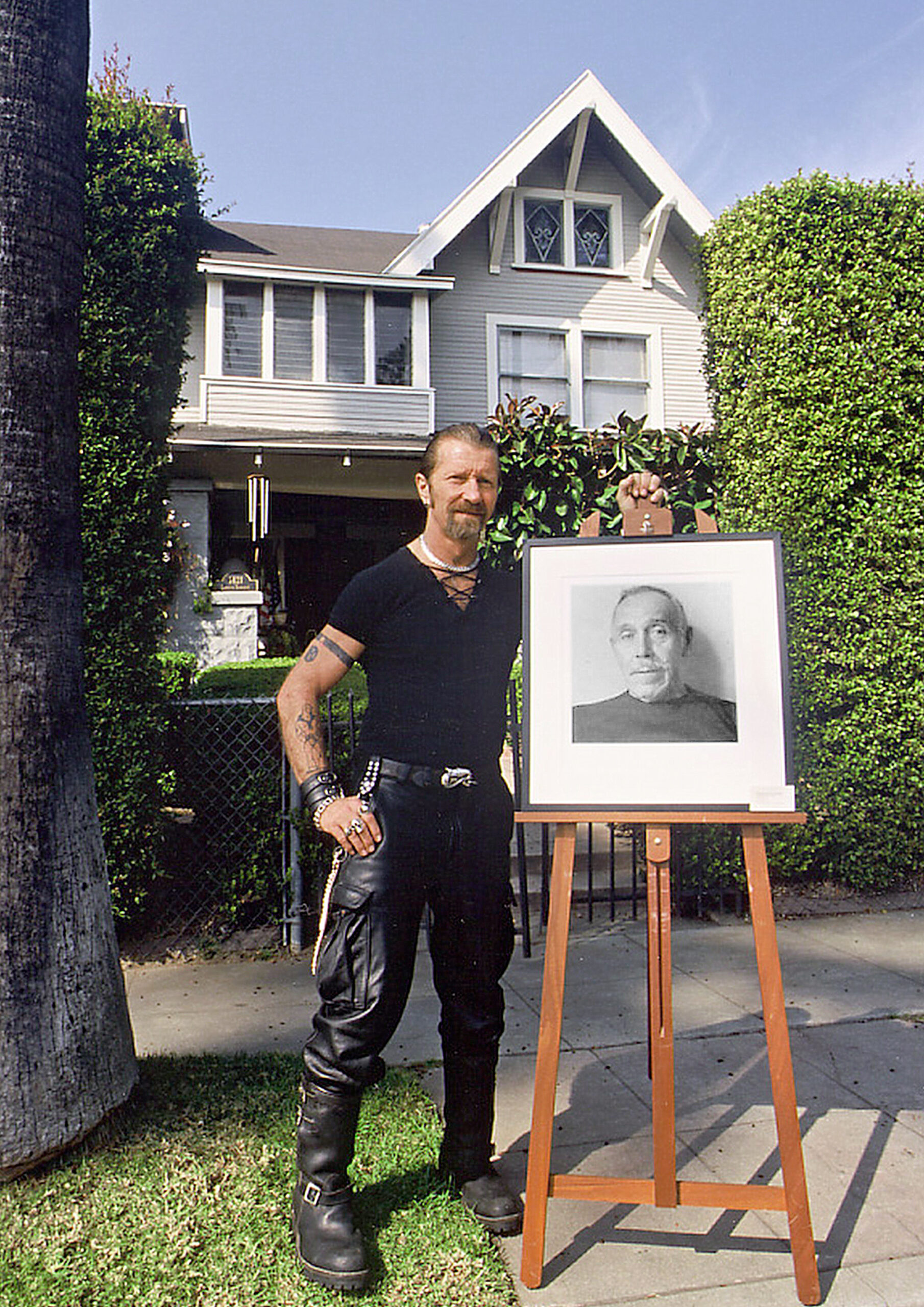 How did your relationship develop? Are there any special anecdotes from or about Tom that you would be willing to share with our readers that you remember fondly? I've sometimes wondered what he preferred to be called, Tom or Touko?
"We started as friends first, and then I became his model and muse. Out of that, the business partnership came about, and then it also expanded into a sexual partnership. All in all, it was quite the kaleidoscope relationship we shared, it was extremely multi-faceted. The huge issue he had regarding his art back in those days was the rife pirating that was going on. These reproductions were of mediocre quality, and he of course would not earn any money from the counterfeit editions of his works, so the pirating issue was a big headache for him.
One of Tom's dreams was to realise a high-quality coffee table book but when we decided to produce this, we had problems with the photo labs, printers and publishers having issues with the nature of the content. So, it was my mission to find the right companies that were willing to work with us. After finding a printing company that would print adult content in high quality, we called the last book bindery in the Yellow Pages which happened to be a Hasidic Jewish business, which only produced the Torah. Moshe, the owner, had no problem with the content himself, but he said that he could not expose his teenage daughter – who was the only person helping him – to the kind of content we wanted to make. So, I provided him with two of my own employees to help with the binding work, and that's how that book was produced!
In regard to what he liked to be called, it was Tom right from the early days and that's how he signed his work."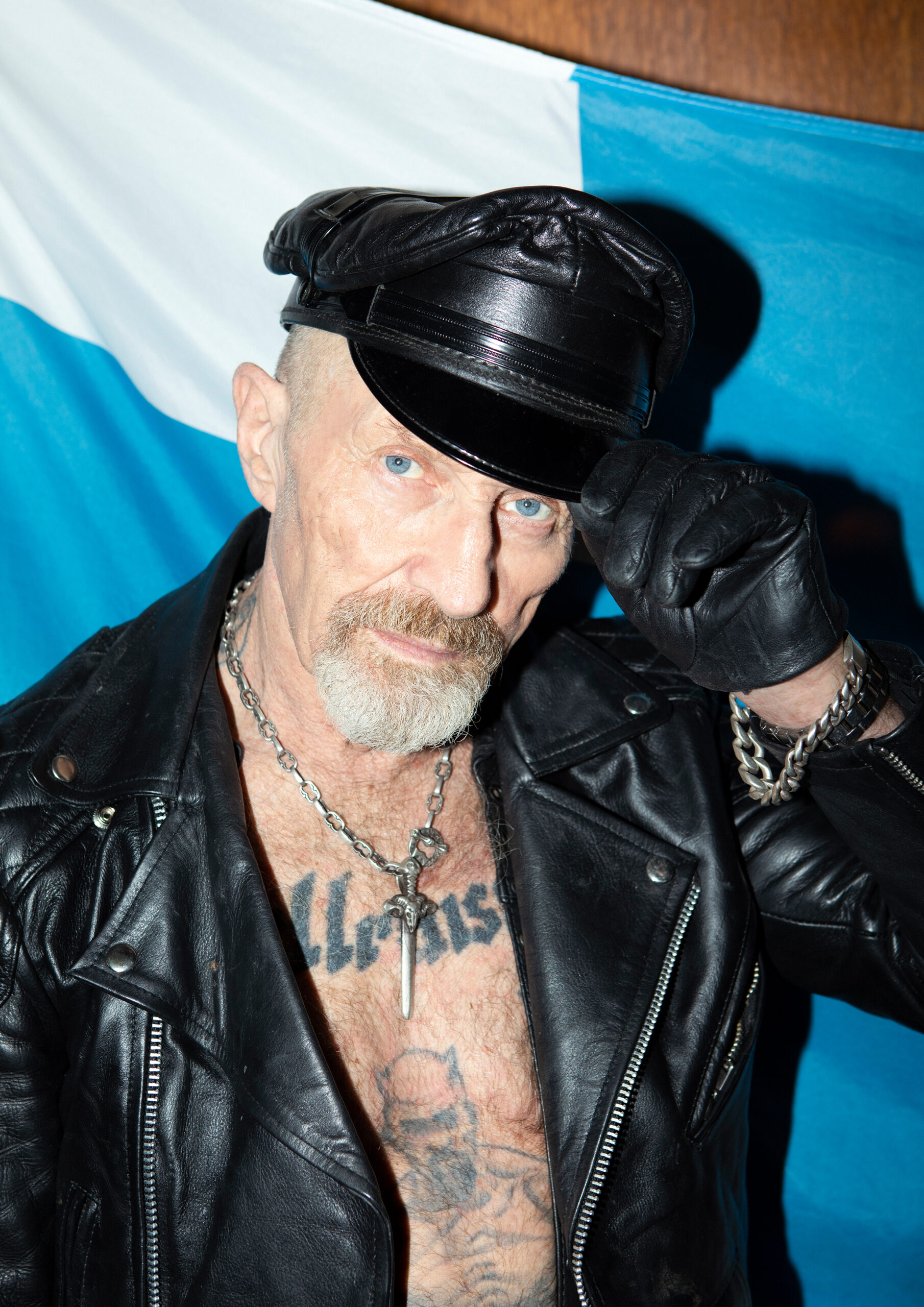 I know that the original mission of the Tom of Finland Foundation was to safeguard the artist's vast archive of works, but that it later extended to also protect the legitimacy and value of erotic works of other artists, including an Artist-in-Residence program, and the curation of regular exhibitions, events and festivals throughout the year. How did this progression come about? Were you met with any kind of resistance or difficulties in the beginning?
"As you say, Tom and I founded the Tom of Finland Foundation in 1984, initially as an archive of his works to safeguard his legacy over the long term. The whole reason behind this was because back in those days, it was difficult to be a gay man, and there were very few role models for gay men and gay fetishists. Fortuitously, Tom was there to provide inspiration and a source of pride for people like you and me, and that is when I decided I needed to do something to help keep his legacy going. And yes, there were always difficulties, but because I was doing this for Tom, and because I was willing to do whatever it took to give him some of the things in his life that he had not yet received or experienced, we faced any challenges head-on, and we persevered."
We are currently seeing what I personally consider to be a long-overdue focus on the representation of diversity in many different forms, races, and identities. Especially following the start of the Black Lives Matter movement after the tragic murder of George Floyd, as well as the international Asian communities coming together after countless unjustified attacks and discrimination against people of Asian origin.
What do you think Tom would make of this if he were around today? And what active role does the Tom of Finland Foundation play in the combat against discrimination?
"We all have biases, myself included, and I think it is through awareness and openness that bigotry and intolerance is best combatted. That's not to say that the road to openness is a piece of cake. It takes all sides to be open for one's point of view to be broadened. From the beginning, Tom was an equalizer, in that he felt that we are all cut from the same cloth. He believed it was unfair for people to be discriminated against and that everyone deserved to have equal status. As a matter of fact, the Foundation operates in that everyone is welcome to participate in our programs and in their presence at the TOM House, as reflected in the diversity of artists that we have had in our Artist-in-Residence program."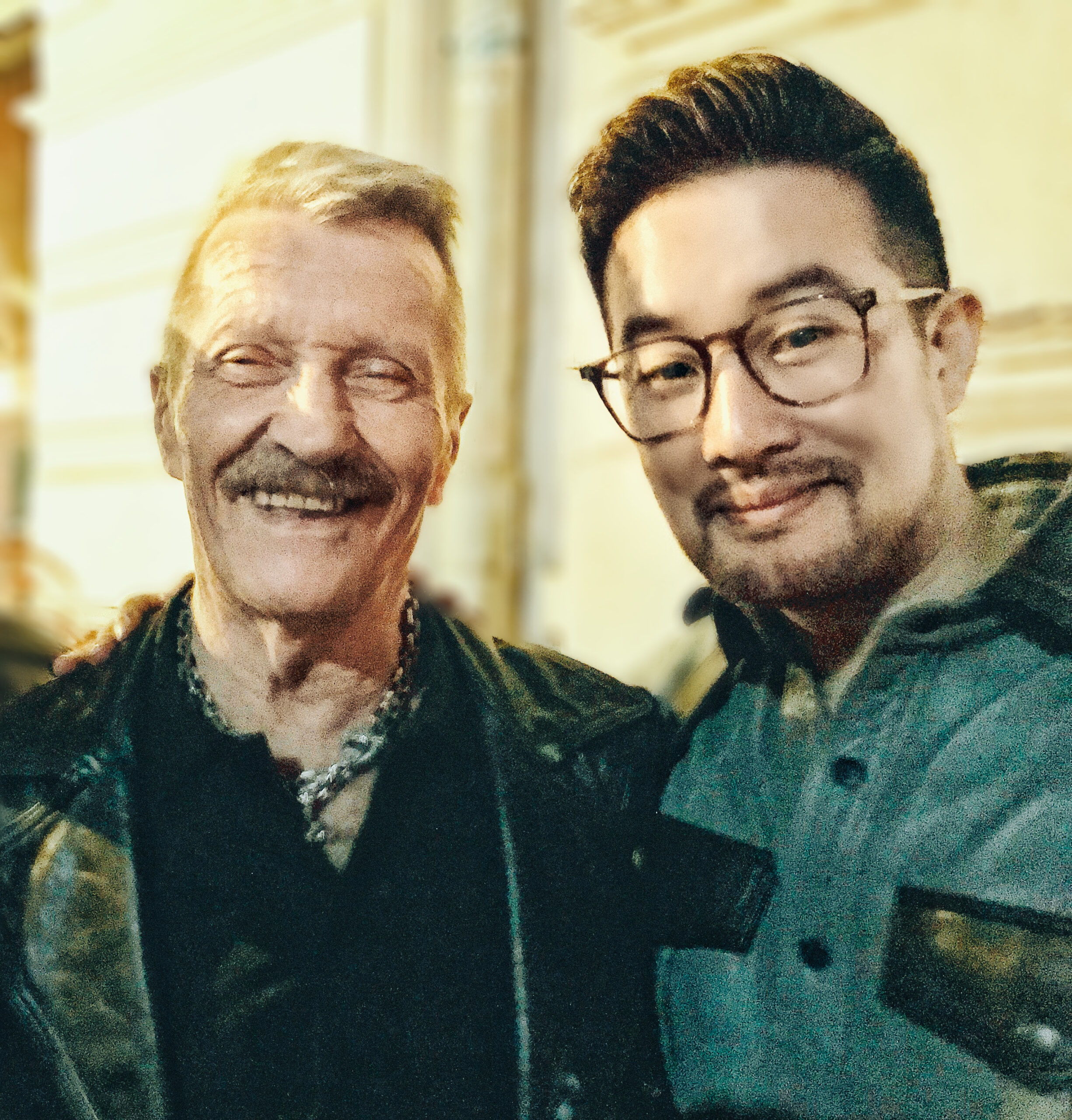 This spring, there will be two international events curated by the Tom of Finland Foundation, including the first large-scale exhibition of gay and erotic art from the Foundation's collection. Could you please tell us more about these events?
"Tom of Finland's birthday is on 8 May 1920, and to commemorate his anniversary this year, we at the Tom of Finland Foundation and The Community (a Finnish-French non-profit multidisciplinary art collective, established in 2016) have curated 'AllTogether', which will open in Venice on 23 April and in Paris on 8 May. AllTogether is a group exhibition supported by Diesel, and it will be presenting Tom of Finland Foundation's permanent collection to the public for the first time outside of Los Angeles, exploring a part of its erotic art collection which in its entirety consists of thousands of artworks, spanning multiple decades and encompassing all media and techniques. This exhibition is a continuation of the Foundation's efforts in preserving the work of queer artists – many of whom have faced discrimination and misrepresentation due to the nature of what they create. Most of these works are usually witnessed hung on the walls of the TOM House in Los Angeles, and we wanted to highlight the stories of over seventy artists we have included in the diverse curation."
Final question: what are your hopes for the future?
"So, my hopes for the future are that there will be more exhibitions taking advantage of our huge multifaceted permanent collection that contains thousands and thousands of works of art by hundreds of artists. And I hope that we will be the recipient of grants, memberships, and wills so that we can continue to sustain our presence and expand our programming and our international awareness. Through the presence of the representation of our sexuality, a more accepting society will be supported.
From his early years, Tom wanted to make a positive difference with his art. He wanted to be international, and he combined his ambitions for his work to be shared with as wide an audience as possible, with a purpose or mission to benefit our community in its diverse forms. Tom could realise his aspirations precisely because he dreamed, he fantasised, and he never let go of these dreams and fantasies. And if there is anything I want to leave behind for the younger generations, it would be to tell them to nurture their own fantasies, dreams, cravings and desires, and to let these take hold. I really believe in this because for me personally, this has been the case for most of my life too:
Dream. Believe. Pursue. Persevere. Realise."
This article was written in May 2022 for  WINGS issue 12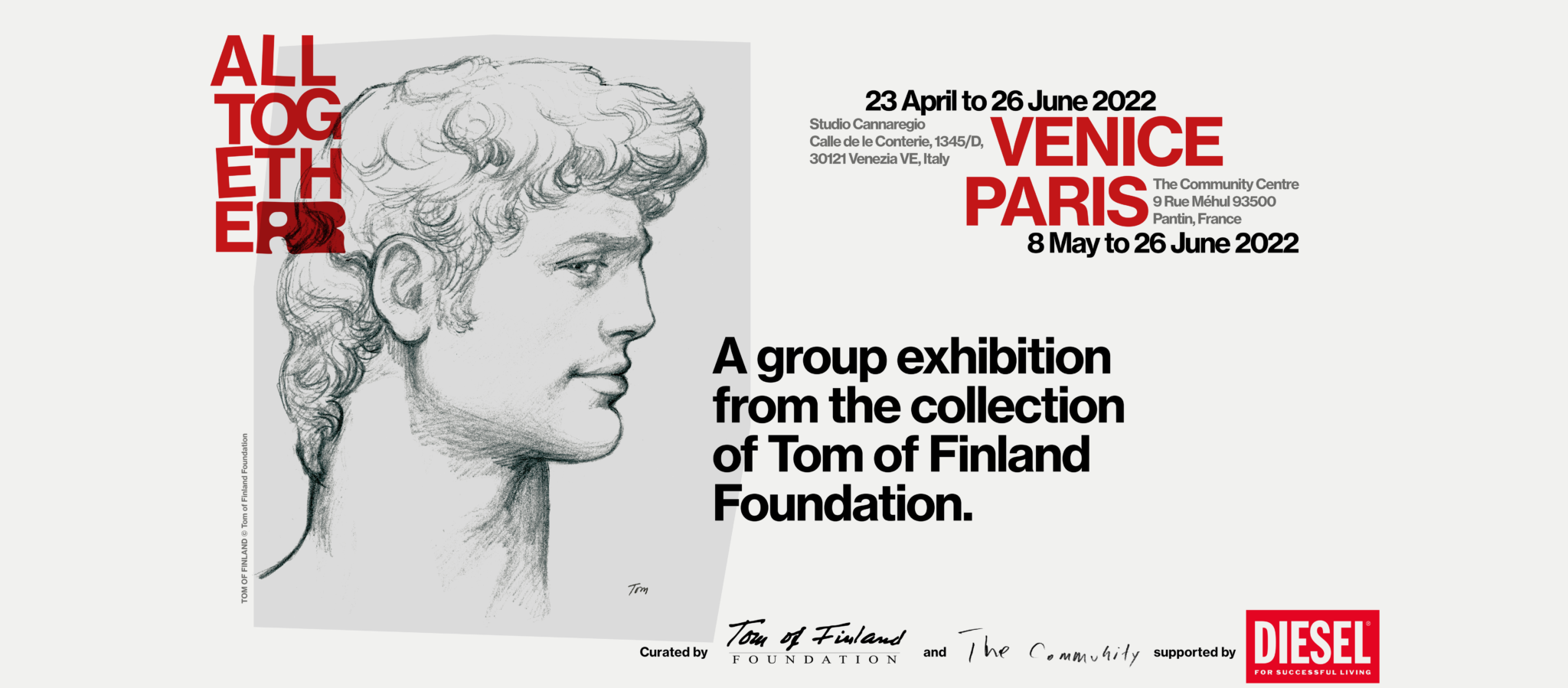 Curated by the Tom of Finland Foundation, The Community and supported by Diesel, AllTogether inaugurates at Studio Cannaregio in Venice, Italy, on 23 April 2022, coinciding with the opening weekend of the Venice Biennale. A second distinct exhibition will open at The Community Centre in Paris on 8 May 2022 and both exhibitions run through 26 June 2022. The two shows comprise more than two hundred works of art from the 1940s to the present day.
"It's always been my vision to have an international exhibition with the amazing artists from the Foundation's rich collection. That day has arrived and I am very pleased it has come to fruition thanks to The Community and Glenn Martens of Diesel."
— Durk Dehner, President and Cofounder of Tom of Finland Foundation
AllTogether encapsulates the bonds of community where interchange inspires others to create or collect art that represents their own definition of beauty.
VENICE
Studio Cannaregio
23 April to 26 June 2022
Calle de le Conterie, 1345/D, 30121 Venezia VE, Italy
PARIS
The Community Centre
8 May to 26 June 2022
Opening: Saturday, 7 May 2022
9 Rue Méhul, 93500 Pantin, France