written by: Eric Rochel
When I passed the Mister Leather France's sash to Nacho, I knew It will be the best way to end my title year and today I still don't regret it, He's nice, easy going and sexy : the perfect example of a real leather man. Let me introduce him to you.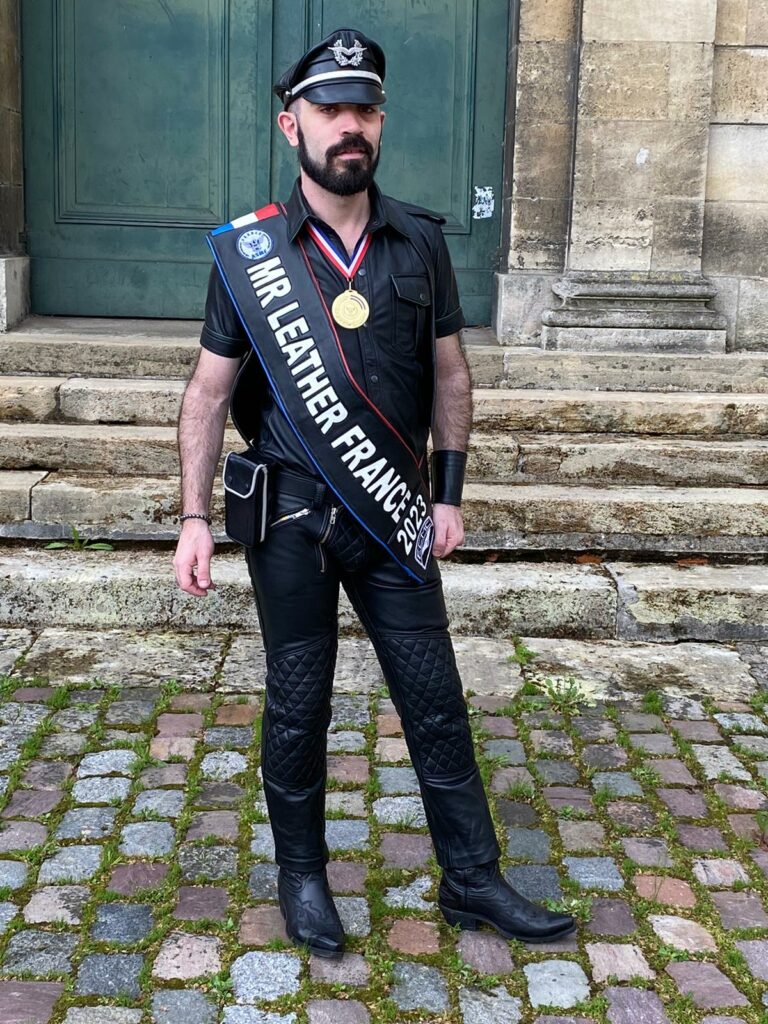 Hi Nacho and congratulations on your title, can you first present yourself to us? Who are you and where are you from? 
Hello, I'm Ignacio but everybody knows me as Nacho. I was born in April 1994. Originally from Buenos Aires Argentina but I moved to live in Europe in April 2018. Actually living in Paris Le Marais (the area that I love) married to my lovely French husband.  
As everybody knows I am a young fetish guy mainly into leather who loves this world and community. I discovered the definition of LEATHERMAN when I was 17 years old but I was always attracted to leather gear. I even found a photo of me probably when I was 4 years old wearing the big biker leather boots of my father LOL.  
What was the main argument to make you compete for the title of Mister Leather France? Is there a special aspect of the fetish scene, you want to run for? 
I can be very honest on this point, as I was with my speech, during the Mister Leather France contest. One day I was at the Quetzal bar having drinks with my husband and friends when a famous representative of the French leather community asked me if I wanted to be a candidate. The first reaction I had was surprise, and then I had to ask myself if I was ready to be. … And I said yes. My life now is in France; I'm married to a French fetish guy and I did learn the language quite well and fast. Also, I'm not new in this world so I decided to participate and I won.  
Many points are important for me during this year as Mister but mainly these two: 
One is that I want to do my best to bring more young people into the fetish community ( in my case the leather community). I want to show them that we are mostly friendly and we want them to feel welcome. Also to make them understand that even if fetish gear is expensive it is not impossible to slowly get a full outfit. For example, check out the second-hand market, as I did with my first leather pants and boots when I was 18 years old.

 

The second point is sexual health promotion and prevention. I want to help and promote in all possible ways, the methods of HIV and STI prevention and how important this is for all of us.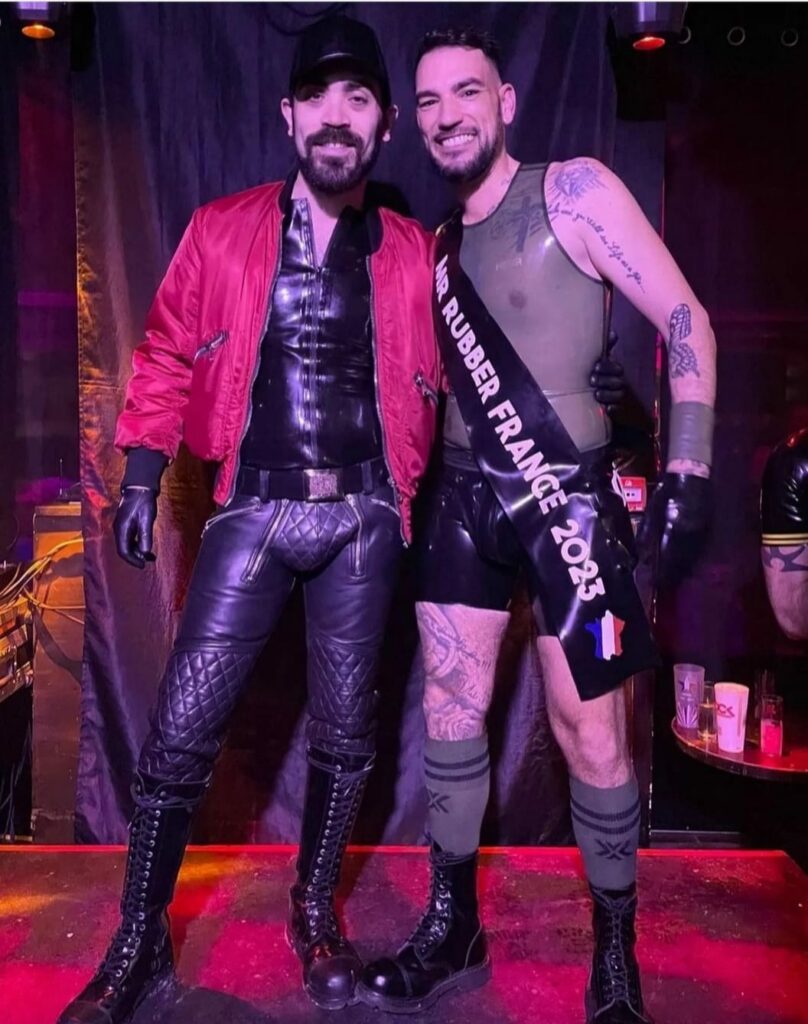 You're not totally new on the scene, and the people of Berlin notably know you well, can you tell us about your life there? Any difference between the German and the French guys? 
This is true as I lived in Berlin for more than a year. I was living in the gay area of Berlin and close to all the fetish bars, like the very famous New Action for instance. The life in Berlin is great and the fetish life is just amazing; I can say this city is the fetish capital of the world. Every regular weekend is super! The people are super friendly and open. Everybody speaks English. Except when you search for a job then you need to know German.  
The big difference that I saw between the French fetish community and the German one, is that in Germany there are much more events every month. I also have the impression that they live their queer life in a very open way, not really thinking about what society will think of them even if they are wearing full fetish gear. This is something I want to work on as well, to have the same freedom here in France. 
What are your travel plans for your title year?  
This year you can find me at:  
I visited Padova Italy last April

Paris Fetish in May

 

Strasbourg for the weekend of the pride in June

 

Paris Pride in June

 

Madrid Pride in July

 

Dore Alley San Francisco in July

 

Antwerp Pride in August

 

Folsom Europ Berlin in September

 

Lisbon Fetish Weekend in September

 

Mister Leather Europe in October as a Candidate

 

Evidence Nice So Fetish in November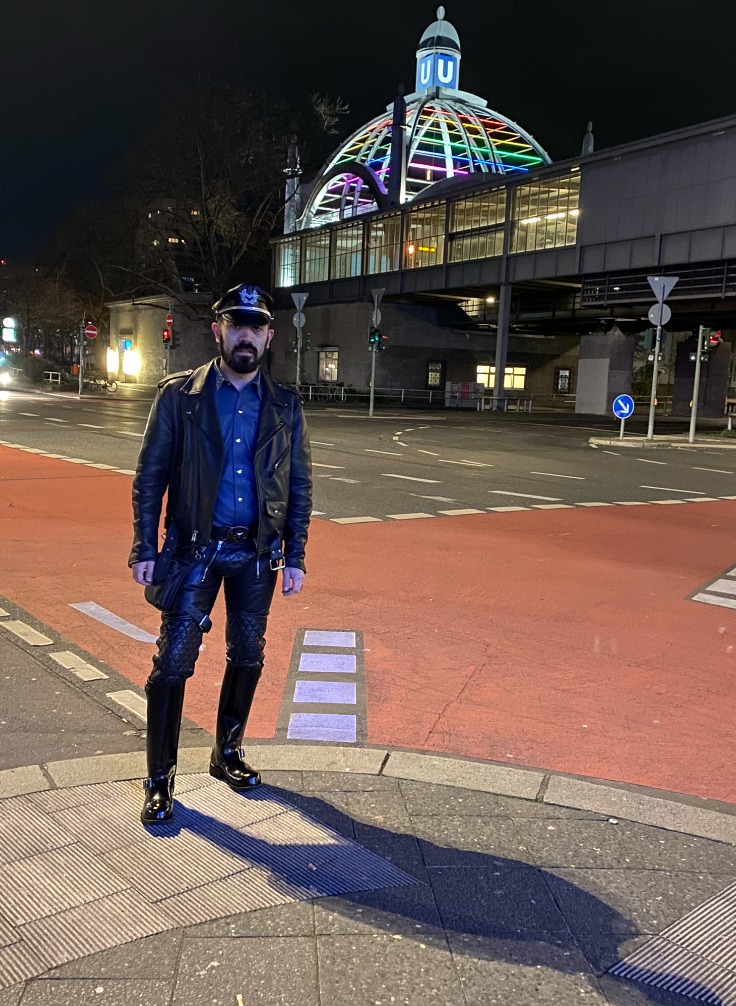 How is fetish life in Argentina? Are you still in contact with guys from there?  
When I was living in Argentina, fetish life did not exist or was super small. Many fetish guys lived there but the social fetish events did not exist, unfortunately. At that time many fetish guys were leaving Argentina to go to live in USA or Europe to be able to enjoy it much more. Luckily that has changed over the years and 4 years ago a group of guys founded Leather Men Argentina. LMA is a group of leather enthusiasts and this year they will organize a big international event during Gay Pride in November. They meet every month on the second Saturday in Buenos Aires.  Yes, I have many friends there. I visited last year with my husband and we felt very welcome. 
Now, let's talk about fetish, what is for you the ultimate piece of gear you can't go out without? 
For me, I have two very important pieces of leather that I need to wear every time and those are my boots and gloves.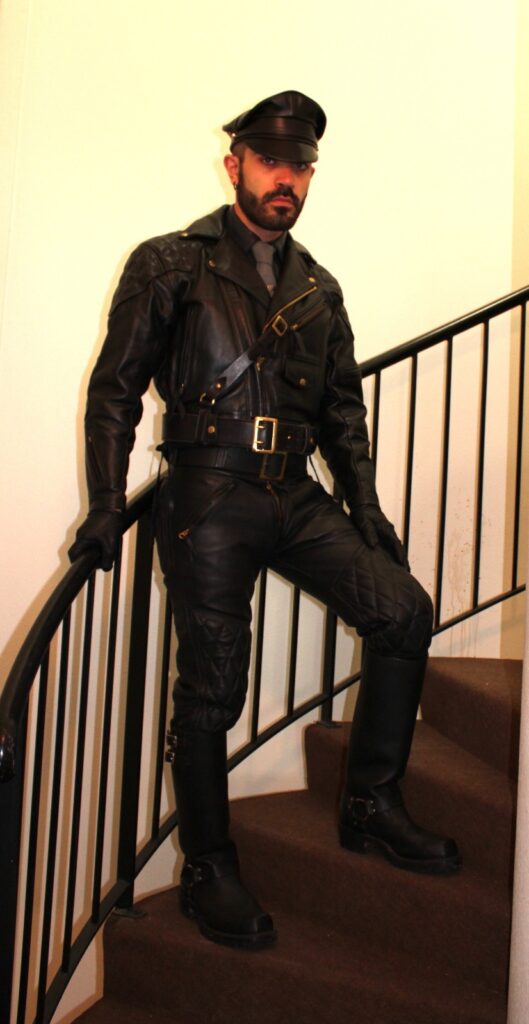 If I want to meet you, what should I do to catch your attention?  And to seduce you? 😉 
To seduce me you are too late as I am married LOL. Now being more serious haha I love the very masculine guys, sociable, natural and happy to be themselves. As I said before I love boots and gloves and if a guy is wearing them would already catch my attention. With my husband, I have a very open relationship. I'm a very sociable guy (generally Argentinians are like this), and never be afraid to come to say hello, with or without my sash. 
One last thing, any advice for the young kinkster who wants to start in the fetish scene? 
At this point, as I said before they need to understand that it is not necessary to have a full fetish outfit. Is not important to have the best brand as well because it is not about the price and brand; it is about the way to wear it and the attitude that you have. Don't be afraid to go out with fetish gear and show yourself. You need to be comfortable in your gear and be yourself.  
Where can our readers follow you?