For the kinky Mister B photo shoot at Studio LUX Berlin, we asked local Berlin rigger Dan Apus Monoceros to bring his passion and skills to the shoot, and he did not disappoint. He is very practised in the Japanese art of Shibari and it shows when he gets right into it. With a very intimate start and finish, you can see that Dan really loves what he does. WINGS got to ask Dan some questions that span his personal and professional interests.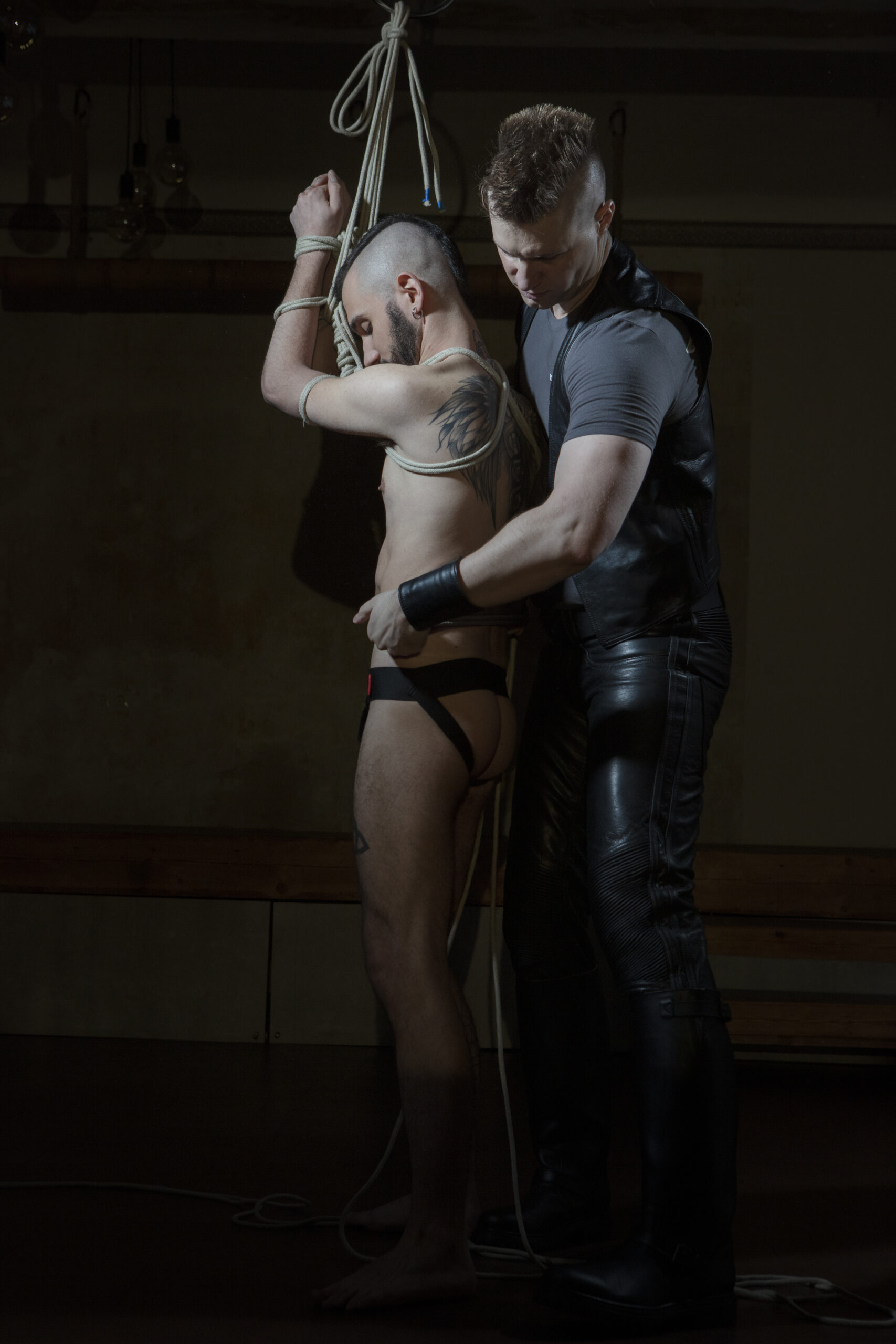 How did you get into rope bondage? 
"Bondage has always fascinated me, even before I had my first sexual (BDSM) experience. Of course in a very innocent way at the time. When I lived out my sexual side, BDSM quickly became a basic interest, but that was far away from the way I do rope bondage today. I found new access through a mentor, who taught me my first bondage techniques, and also so much more about BDSM, kink and myself. Since then I have understood American rope bondage and Shibari on a different level, and I have continued to learn and develop myself on this topic."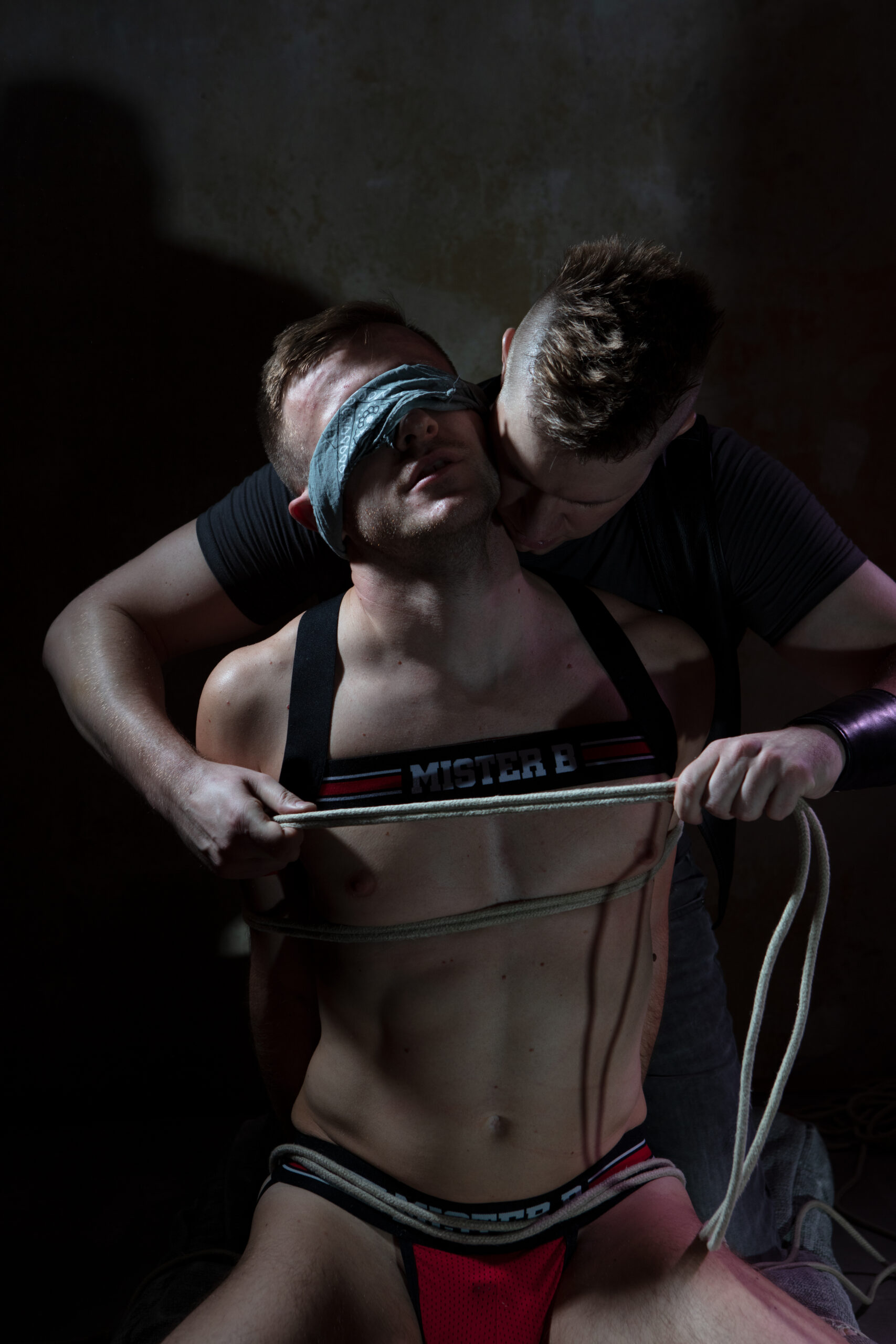 Do you enjoy other forms of bondage? 
"I also use other bondage gear, but it must be for a special purpose. Otherwise, if I use ready-made gear, I feel more like a facilitator where the toy is a technical something between us. Ropes, on the other hand, have a lot of flexibility and they give me freedom in what I am doing. I can use the rope to shape the body and the mind, and make something beautiful, perverted, sexy, or whatever way I feel in the moment. In this sense, the rope is my extended arm, holding my partner. It is dominance and control, but also creation, intimacy and connection."  
You are a rope rigger, but do you ever take on the bunny or sub role with ropes or in any other form of bondage? 
"I only play as a top. Even though I sometimes get tied, it's mostly because one of my Shibari students needs a model, or a more holistic understanding of positions and technical aspects of bondage. But it doesn't give me any pleasure."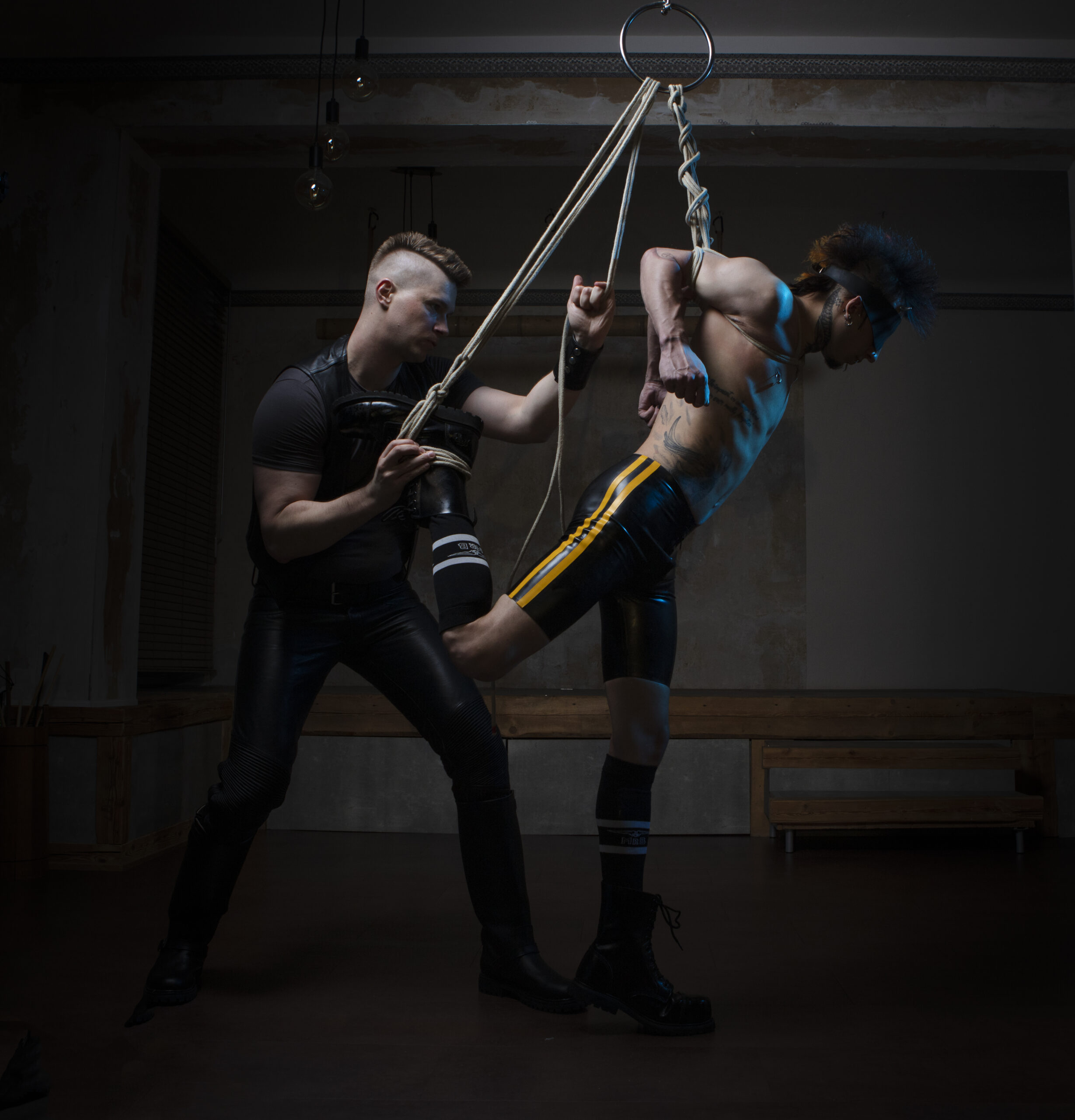 What is your favourite position to tie someone up in? 
"I don't have a specific position, as I improvise a lot and tie very creatively. I love functional tying, predicament bondage, and semi-suspension. One position I really enjoy is to tie the upper body or just the hands. I then tie those to a bamboo or Shibari ring in the air, so that my sub has to stand on his tiptoes. Then I suspend one leg and get access to his most vulnerable parts. Finally, I use a thin rope, tie one side to his balls and the other side to his toes (which are still on the floor), while I slightly lift his leg about one centimetre off the floor. Most try to hold this position, but they cannot do this for long. The leg will get heavier. He'll want to relax his leg but then it pulls on the rope tied to his balls. Even then he'll still be in the air. The other ropes will cut more and more into his skin, and they will get more and more uncomfortable. Then my sub has to choose if he wants to pull on his balls to reach the floor and support the other ties on his body, or if he remains with his foot in the air to relax his balls; a hard decision to make and it's so wonderful to watch his face at this time. To make it even better (or worse), I might use some toys. I clearly have fun with this."  
You call yourself an emotional fetishist. Can you explain that? 
"As an emotional fetishist, I define myself as a person who gets pleasure from their partner's real emotions. For me, I enjoy seeing my partner in pain and pleasure, ideally both at the same time. But I also enjoy it if he hates me during a session, if he is scared (in a consensual and controlled way), or if he gets addicted to me. I like to tease or deny. I love to bring him to his max and challenge him to go further. Just to make it clear, this only happens based on consent and that is an important element in bringing me that pleasure."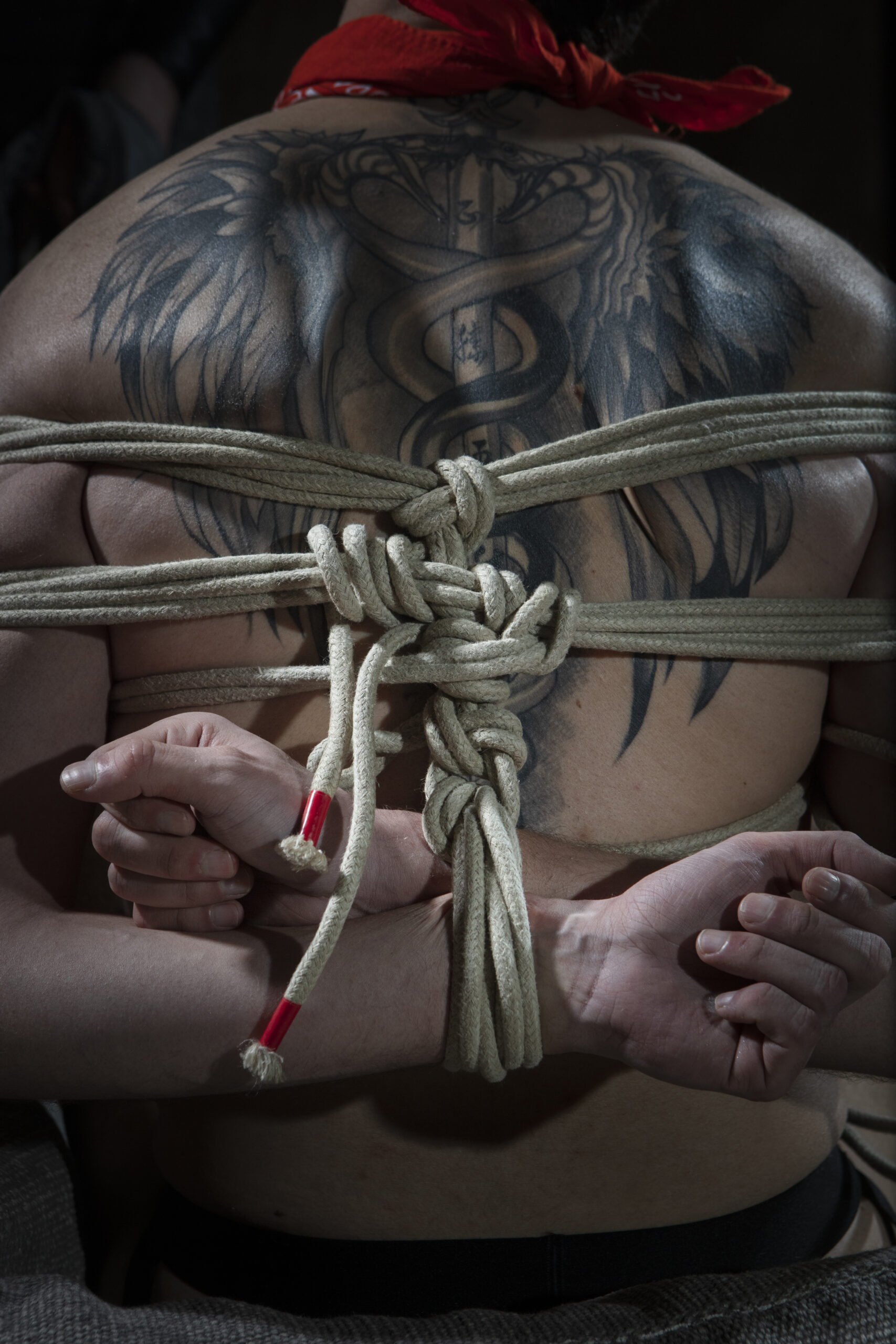 What is a key piece of advice you'd like to give to someone new to rope bondage? 
"Well, I give classes about it and I am always asking myself, 'What should I put in these few hours we have together?' And these three things are super important: safety, connection, and endurance. Make a connection. That is why we do Shibari, because we wanna do something with our partner. The essence is a good connection and for that, a specific knot is not even needed. Just put a rope around your partner and play with him. Bondage is risky. You can do serious, long-term damage; even with plastic handcuffs, cotton rope, or just fabric. And safety scissors aren't the solution. Take your time, learn some things about anatomy and safety, build up communication, and learn what to do and what not to do. Don't give up. Learning knots, wrapping techniques, anatomy, communication, and more, is hard but worth the effort! There is a huge world waiting for you, going much deeper than you might have thought about in the beginning."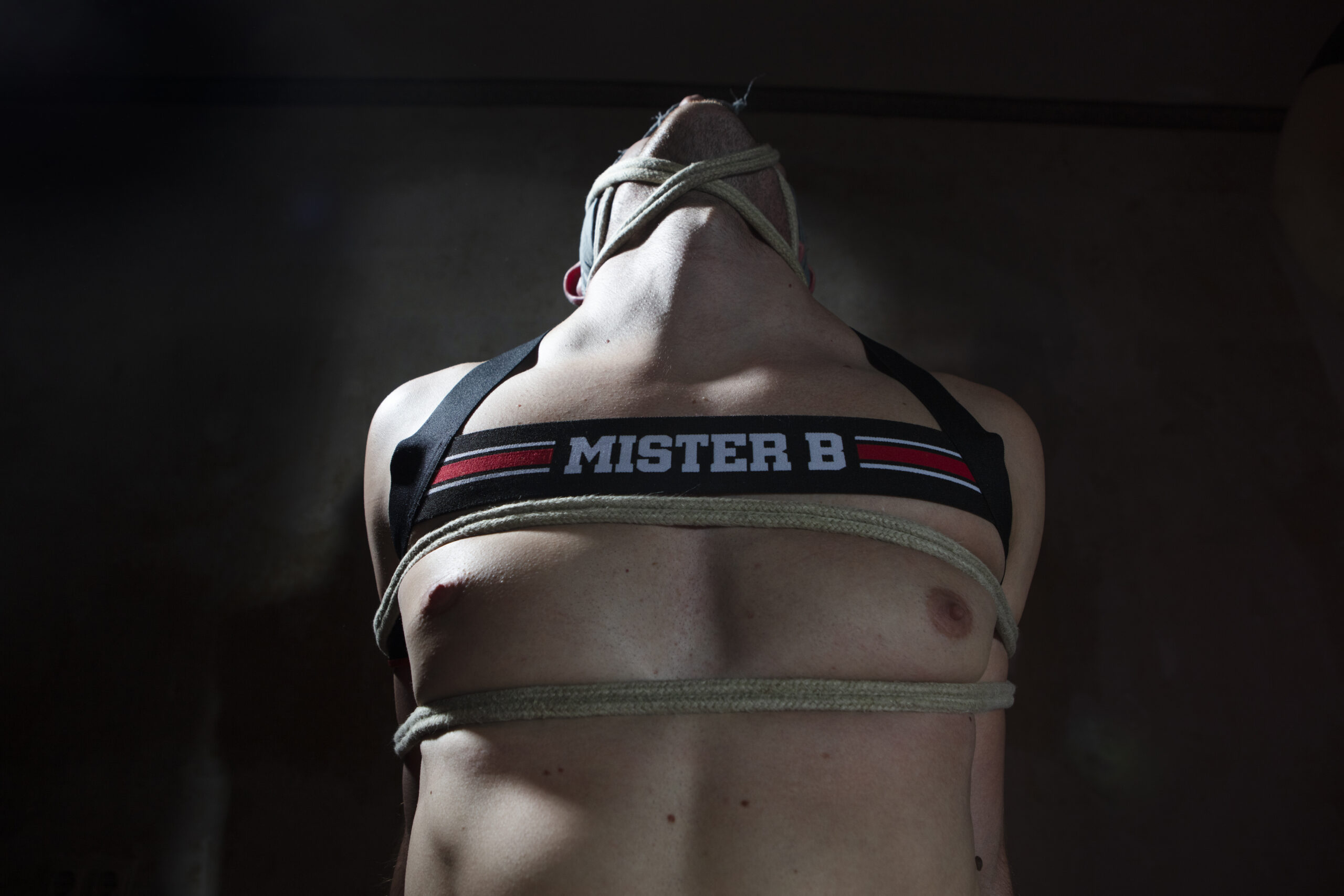 How would you describe your experience tying up Dark Hermes and Rubber Demon at the Mister B photoshoot at Studio LUX Berlin? 
"I knew both already from other projects. Even though we don't know each other for a long time, I see them as good friends. With Dark Hermes I was already doing view suspensions before and some were really hard. But on this attempt he didn't feel so great, so we had to stop it early. That is completely ok, and it shows me that he knows his limits and can communicate them. With Rubber Demon I worked together on events for gay-BDSM.club but I didn't do a lot of suspension with him, especially not the tough ones like we did for the shoot. On the other hand, I know that he loves being tied, and that he is an artist with great body flexibility. Also, I know that he can say when anything feels wrong, so it was an experiment and it worked out super well. I am really happy about that."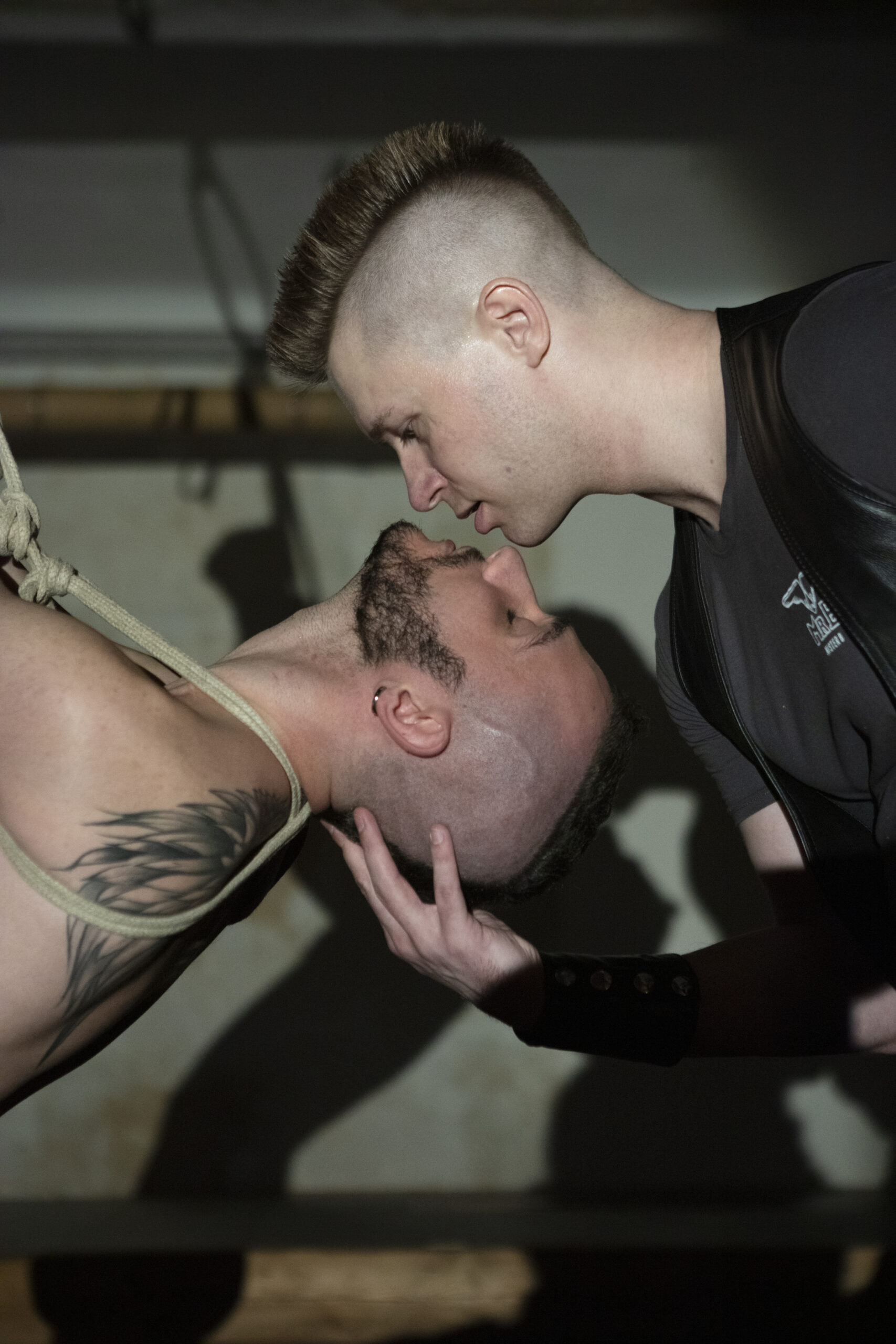 How is tying a bunny in front of a video camera different from when you're alone? 
"When I do Shibari for videos or pictures, or when I am on stage doing bondage shows, I do it for a purpose. Is the photographer more looking for strong emotions, a challenging pose, or beautiful binding? Do the people want to get entertained, or enjoy the atmosphere of rope bondage? For example, if we do a short show including live singing, dancing and tying, we practice ten to twenty hours for three minutes on stage. That is an artistic piece of work, synchronised to music, and based on entertainment. People love it. If we perform more in the background, like at a fetish event or in a fancy restaurant, I focus more on creative and improvised tying. This can be twenty minutes to some hours, and it's more about watching a development with ropes. People love it as well, but on a completely different level. For me, having this range of different styles is what makes a professional rigger.  
If I do bondage for myself, I get into a Kinbaku style (sexual tying) or Semenawa style (torture with ropes). Depending on my partner, I can also offer some very meditative or romantic ties… For example, my husband isn't a lot into pain. He prefers to fly in the air without even feeling the ropes strongly. Other members of my kinky family and some of my slaves prefer (or at least I do) the more rough and challenging way."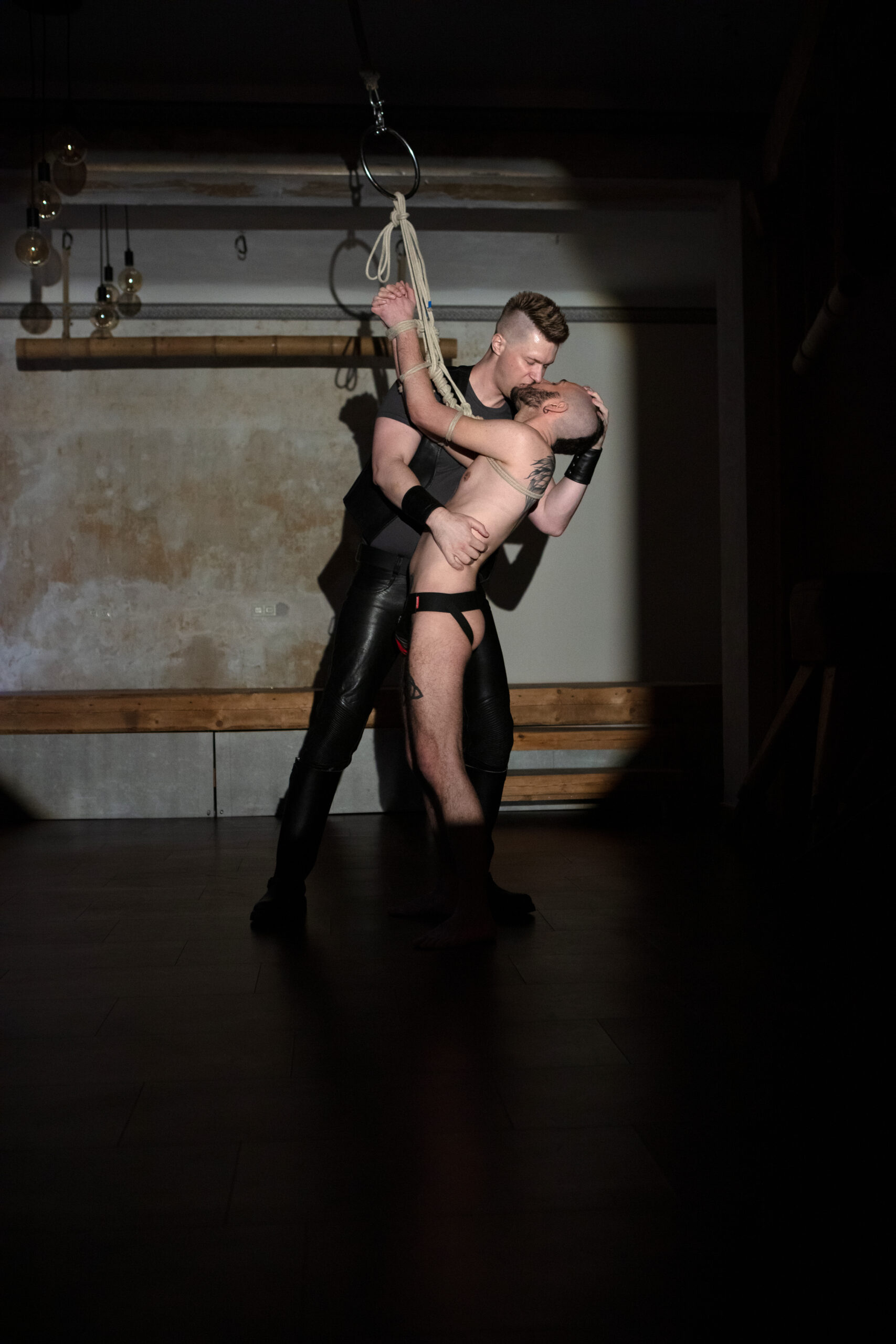 What was the best part of the shoot for you? 
"I really enjoyed the photo shoot experience. Especially as I already knew most of the participants whom I all liked. The team was great and we all had a lot of fun. A real positive surprise was that Rubber Demon was feeling so super comfortable in the challenging tie I put him in."  
You can find more of Dan's work on his webpage 
Or on social media 
@gayBDSMclub on Facebook, Instagram, and Twitter 
Here you can find more of Dan's work:
Website: www.gay-BDSM.club
Facebook, Instagram and Twitter: @gayBDSMclub