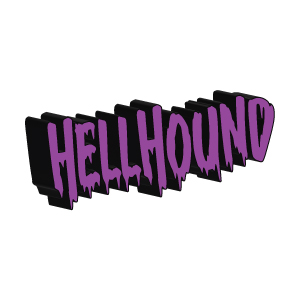 Bursting through the gates of hell, from the wicked kingdoms of Mister B, comes the ruler of the throne of pleasure and pain, fire and water, dark and light, it's HELLHOUND.
HELLHOUND is a collection of high-grade silicone dildos and butt plugs, made to take your hole to the depths of the underworld, with the stretching and squeezing that only a HELLHOUND can do. The shapes are demonic, but the silicone is soft, making these hellish creatures the most daring thing you can do to yourself today.
Stretch your limits with the evil of the HellHound Sphinx Buttplug. Bulbus and round, the HellHound Sphinx is relentless with expanding your tender hole. Ribbed and ready to plug you for your explicitly sinful journey through agony and ecstasy, this plug will be by your side.

HellHound Sphinx Buttplug comes in 5 sizes: XS, S, M, L and XL.
HellHound Cerberus Dildo – Black Purple

Release the beast and take hold of yourself for hell hath no fury like the HellHound Cerberus Dildo. It will mount you like the piece of meat that you are, used at the expense of feeding the insatiable monster HellHound Cerberus. Just when you think you can't take anymore with that thick shaft, the knot plunges its way into your hole, making you howl with pleasure.
HellHound Cerberus Dildo comes in 3 sizes: S, M and L.
HellHound Pegasus Dildo – Black Purple

HellHound Pegasus is an unlawful, untamable mystical creature, with great strength and size. This large, shapely dildo is not one to underestimate, as it's girth and length are comparable to Pegasus himself. So get back on the saddle, grab the harness and ride this wild thing bareback through the fires of hell and back. Strap onto the HellHound Pegasus Dildo.

HellHound Pegasus Dildo comes in 3 sizes: S, M and L.
HellHound Trojan Dildo – Black Purple

The strength and stature of the HellHound Trojan Dildo is epic. Towering over all other creatures, Trojan cannot be defeated in the struggle between beast and man and you will understand when you attempt to mount it. Buckle up and get your gear on for the battle that will sail a thousand orgasms out of every ounce of your body while you grapple with the one and only HellHound Trojan.

HellHound Trojan Dildo comes in 3 sizes: S, M and L.
HellHound Argus Dildo – Black Purple

Take cover from the hulking and heavy, evil beast of a shape, the HellHound Argus Dildo. A thick phallus and bulging knot make this fantasy toy a real stretcher. You will scream with pleasure from the sensations of the Argus raging its way in and out of you. You'll be drooling like a hound in heat for more of the HellHound Argus Dildo

HellHound Argus Dildo comes in 3 sizes: S, M and L.
HellHound Horus Dildo – Black Purple

The deep curve and wavey sides of the HellHound Horus Dildo will have you shivering and quaking as you continue to ride it. You will feel every detail of this bulbus shape inside you as you moan with bliss from the never-ending sensations arising inside of you. Slide up and down to harness the beast that is HellHound Horus.

HellHound Horus Dildo comes in 3 sizes: S, M and L
HellHound Drogon Dildo – Black Purple

Behold the most demonic creature of the underworld, the HellHound Drogon. Be afraid, be very afraid of the power of the Drogon. The magnitude of its size is intimidating as it will force its way into any opening it ventures. Brace yourself for the ride of a lifetime with the most remarkable beast, the HellHound Drogon Dildo.

HellHound Drogon Dildo comes in 3 sizes: S, M and L
HellHound Hydra Dildo – Black Purple

Shaped like an unearthly evil from the deep, dark sea, HellHound Hydra Dildo will easily squeeze its way into your body where its shape will force tantalizing torture for your hole and mind. Feel each rib of pleasure as you ride it over again until the entire scene is soaked in wetness. Twist and turn over the HellHound Hydra and discover the real treasures of the deep sea.

HellHound Hydra Dildo comes in 3 sizes: S, M and L
Product Care
Lube:
Use water-based or oil-based lubes with your HellHound toys because they are made from high-grade silicone.
Avoid using silicone lube with silicone sex toys, as it has been known to gradually cause the sex toy to deteriorate the silicone slowly over time. Also avoid using hybrid lube with silicone toys, as it contains silicone.
Find more information on which lubes to use with different toys in Mister B Wings: https://www.misterbwings.com/kink-fetish/101/lube-101-with-mister-b/
Cleaning:
Always clean a new toy after each use. To clean toys after play, fill the sink with water between 40°C and 50°C, add Mister B Care Toy Wash (or use unscented, lotion-free liquid soap) and let the toy soak for about 15 minutes. Then scrub the toy with a soft brush or new sponge and rinse the soapy water off. Dry your toy completely before storing it.
Storage:
HellHound toys shouldn't be stored in the same bag together with other toys because the different plasticizers used by different manufacturers and materials can cause your HellHound silicone toys to dissolve when touching each other. To avoid this destructive process from happening to your toys, store each one in its own Mister B Care Toys Bags so your toys never touch each other. Store your clean and dried toys in a safe and well-ventilated place.
Find more information on the best toy care practices in Mister B Wings:
https://www.misterbwings.com/kink-fetish/101/mister-b-toy-care/
Vac-U-Lock Compatability:
Some HellHound toys have a hole at the bottom of the base making it Vac-U-Lock compatible, this means it can be used with fuck-machines and with other Vac-U-Lock attachments.