Klaus, the proud owner of 'RuFF' in Frankfurt, is celebrating the fetish store's third anniversary. He has agreed to give us a "COVID-proof" virtual tour of the store and catch us up on everything that has been going on in the past three years. Before we've even begun, it is clear that the enthusiasm and passion he has for his 'pride and joy', has not changed one bit!
Congratulations on the store's third anniversary! We interviewed you when you first set up shop in 2017, so we would love you to tell us what has changed in the store since then. 
"Why thank you! Yes, the last three years have brought around a lot of changes, the most obvious ones perhaps being the range of products that I sell. Mister B is obviously still my major partner in the concept store, but since a man can't live off leather alone (he chuckles), I've had to add other brands to the collection. As I'm still the only store in Frankfurt, some major brands have been asking me to take them on. I started with Boxer alongside Mister B when I first opened the store, but there wasn't a possibility to work with them any further. After having taken them out, space opened up for Addicted and ES. Like the stores in Antwerp and Amsterdam, I've also taken on PUMP. They are all doing quite well, so I'm happy with the new additions!"
Since opening the store, has the fetish scene in Frankfurt changed at all? Any exciting developments?
"More parties, that's for sure! The two go hand-in-hand wonderfully: a store and parties. If you try to host parties but there aren't any stores around, people are going to have to look online or travel to another city to get their gear. And if you do have a store, but no parties nearby…well it's not the end of the world, but it's nice to have somewhere you can show off what you've just spent all that money on! (He's not wrong here!) The parties popping up aren't necessarily of the 'heavy leather' kind, but more like 'fashion fetish' parties, as I call them. A light harness and some shorts usually do the trick. That's where TOF (Trends Of Friends) comes into play. They have a great selection of 'fetish-light' wear, for instance like this mesh shirt (he holds it up proudly and smirks!), which gives the illusion of having a sexy sick-pack when you put it on. Perfect for the post-covid partygoer!"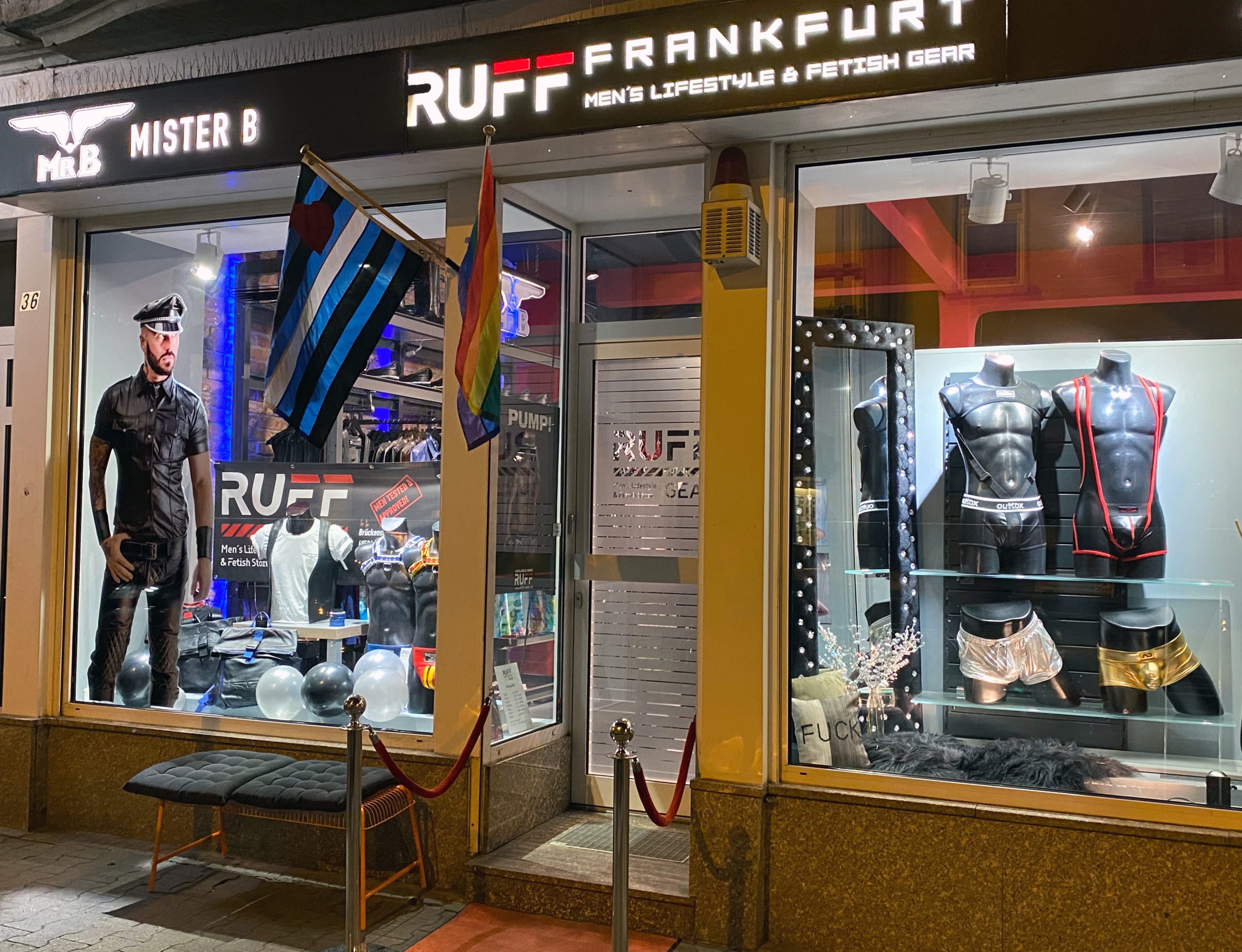 One thing you told us three years ago was that you had a lot of people looking for rubber. Is that still the case, or are there any new trends in terms of what people are buying?
"Ah, rubber! (He sighs!) The trouble with rubber is that I'm limited for space. I have rubber in the store of course, (including the range from Mister B), but when someone comes in looking for rubber, I can't offer them much more than a shirt and a pair of shorts, or maybe a bodysuit. For some guys that's enough, but not for the hardcore rubber fetishists who look for something unique. For example, they like the pants I have in store, but then they want the zip in red. It makes it relatively difficult to stock, especially in a small store as I have here. Also, rubber has a shorter life span than leather, so you really have to have a certain turnover rate to make it manageable and profitable.
I will tell you what is selling well recently: dildos and butt plugs. No surprise there, I guess. I've recently put them all out on a beautiful display (He turns his camera around to show off the, super enticing toy collection – stacked with Topped Toys and Crackstuffers and many more!). Nobody wants to be rummaging around in a plain old box to find their next playmate!"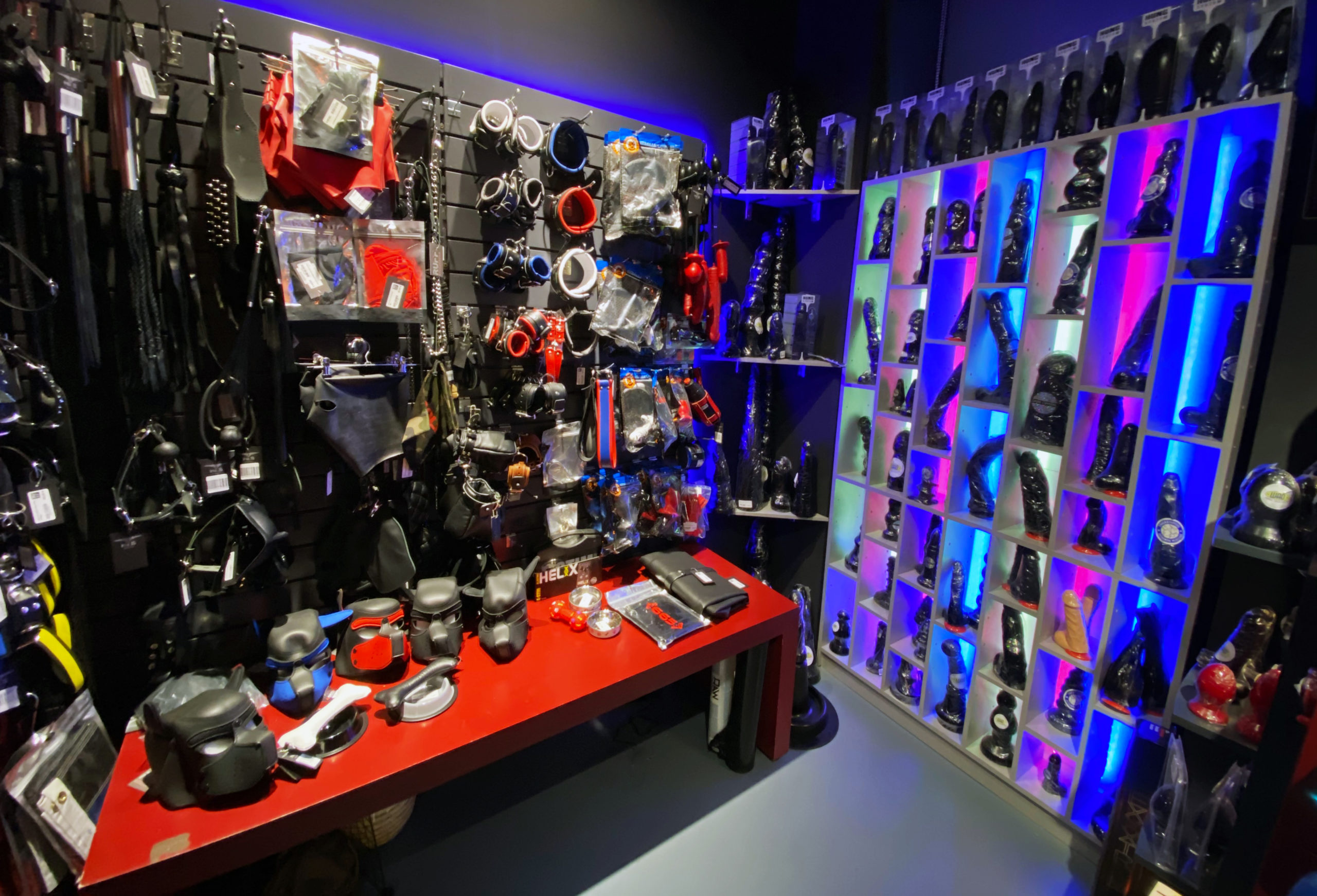 Let's say you came into work one day to find an envelope with a million euros on your doorstep. What would you do with the store? 
"Ohhh…I would add a playroom. (His eyes light up!) I have a cellar downstairs but unfortunately, it is too small to convert into anything worthwhile. However, if hypothetically speaking I was to win a million euros – then a playroom for sure! And it would work really well, don't you think? I wouldn't keep it open any longer than the regular store hours but even throughout the day it would be a success. Imagine: you are horny on your lunch break and you want to meet someone for some kinky fun, where are you supposed to go? There are the saunas of course, but they are not as suitable for play with/in gear or proper playroom sessions and the same goes for the average cruising facility. A playroom inside a fetish store on the other hand – I can think of quite a few kinky scenarios. Now all I have to do is wait for that envelope to show up!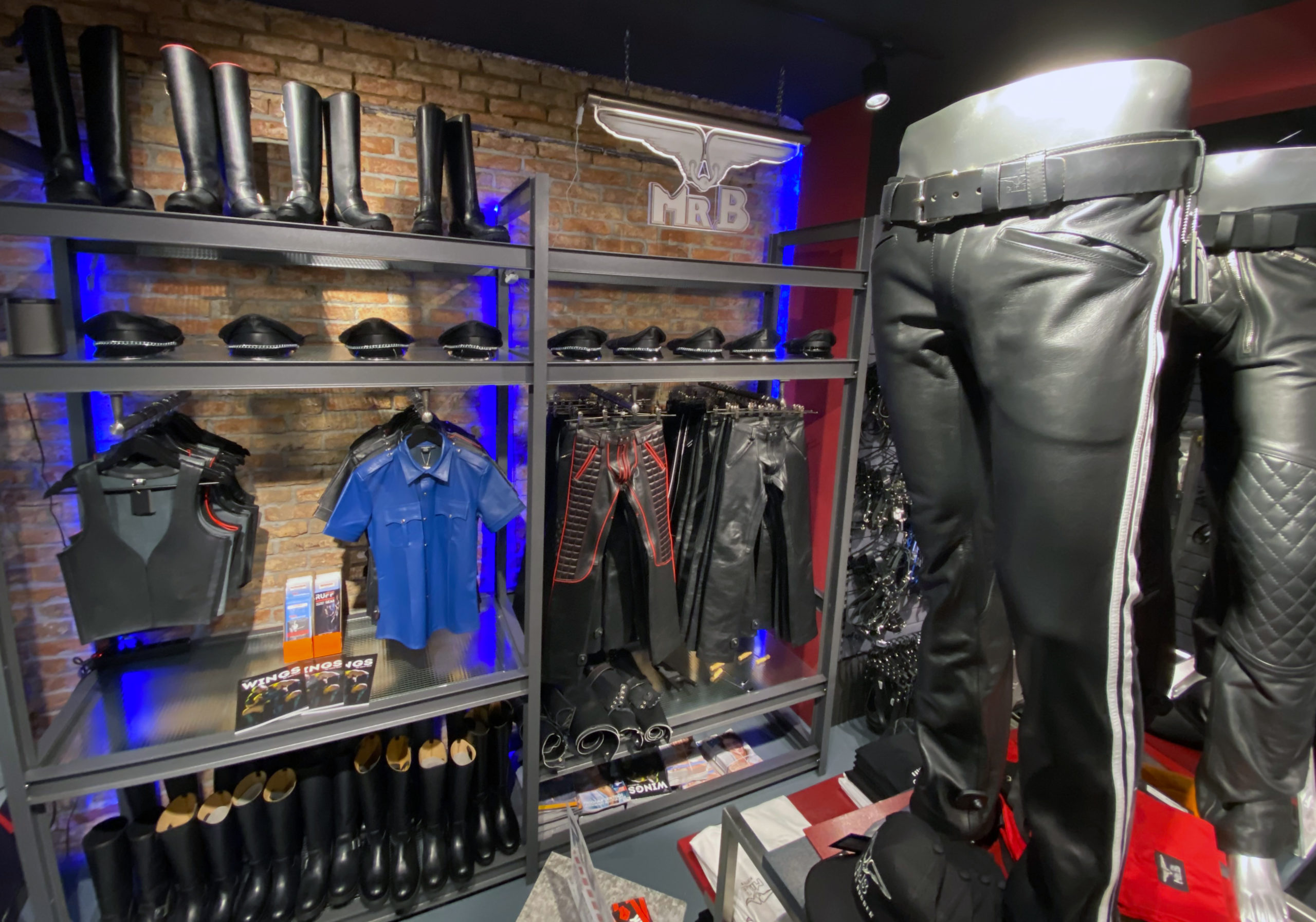 MISTER B AT RUFF
Brückenstraße 36, 60594
Frankfurt am Main
GERMANY