BEAR

–

N

ECESSITY

IS BACK WITH A

TEA DANCE ON OCTOBER 2

ND

AT

 PANAMA IN AMSTERDAM

, 
Bear-Necessity has established itself as one of Amsterdam's most popular parties attracting bears and their admirers from Amsterdam, as well as from abroad. We believe that our passion is the key to the success of Bear-Necessity.  Bear-Necessity is proud to host DJs from the main circuit and from the underground scene. The music and sound at Bear-Necessity have a reputation of uplifting, sophisticated, and fun while our DJs put an emphasis on playing quality tracks and not only the obvious. Panama Amsterdam is its new location. This fantastic club has a capacity of a maximum of 1150 people and it boasts excellent sound with the Pioneer new sound system. Bear-Necessity has been described by visitors as a no-attitude event where people can meet dance and socialize. Bear-Necessity creates a relaxed atmosphere where people are coming to enjoy themselves and dance the night away. It is funny to admit, but we have seen many "new" couples for the night leaving for a home together … 
Sjag Kozak, founder, and promoter, launched Bear-Necessity (or simply called 'BN') early 2008 in Amsterdam, its home base. Since then, BN expanded into regular parties in London & Antwerp, as well as events in Cologne, Barcelona, Madrid, Paris, Alpe d'Huez, and Tel Aviv. 
SJAG AFTER A YEAR AND A HALF OF NO SOCIAL EVENTS DUE TO THE GLOBAL PANDEMIC, HOW DOES IT FEEL TO FINALLY HAVE THE OPPORTUNITY TO ORGANIZE YOUR EVENT AGAIN? 
The feelings are very mixed, on one hand, I am very happy and excited to do this again, on the other hand, I have the fear the event will be cancelled, as in August our party was cancelled at the very last moment due to the covid regulations. 

 
WHY ARE NIGHTLIFE AND QUEER EVENTS SO IMPORTANT IN TIMES LIKE THESE? 
These events are safe spaces and important in order to keep the community united, connected, and visible; our strength is in supporting each other in bad and good times and these events help to do that, by seeing one another again after such a long time. 




BN missed its family members!

 
WHAT CAN WE EXPECT ON OCTOBER THE 2ND? 
It will be the same old-school BN with great music, an attitude-free party, with all the familiar faces we have missed over the past 1.5 years. So come join us and celebrate our community and meet each other again at the dance floor. The only difference will be that this time it is a TEA dance so you can party all day. 

 
WE OF COURSE DON'T KNOW WHAT NEXT YEAR IS GOING TO BE LIKE BUT COULD YOU TELL US A LITTLE ABOUT WHAT YOUR PLANS ARE FOR 2022? 
The plans are to organize as many events as possible to keep our community & family together, and of course the main event of the year the Bear-Ball weekend with Mr Bear Netherlands elections. 

 
ANYTHING YOU WOULD LIKE TO TELL THE COMMUNITY? 
Keep the free love & support to each other, support the gay businesses as they are made for you. we have enough challenges to face from outside our community.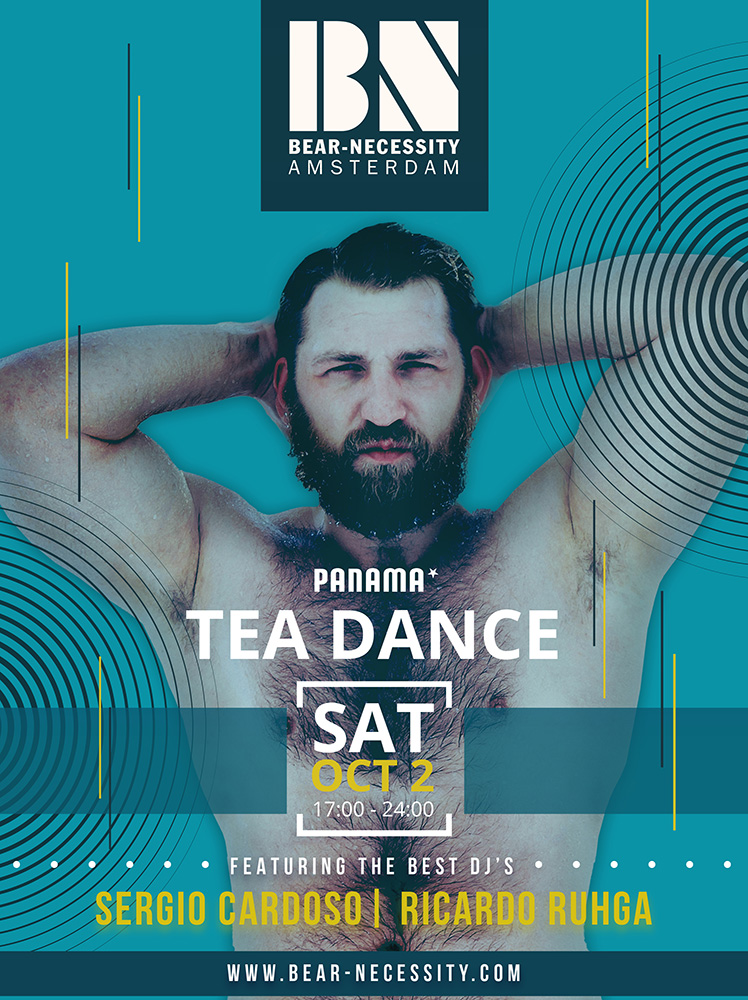 ARE THERE STILL TICKETS AND WHERE CAN PEOPLE FIND THEM? 
Yes, there are still tickets online at www.bear-necessity.com 
and there will be a limited amount of tickets at the door. 
Bear-Necessity is back with the BN OCTOBEAR TEA DANCE!!! 
2nd October @ Panama Amsterdam (17.00-24.00) for the long-awaited furry return of our nightlife & dancing. We'll be joined by DJs Sergio Cardoso & Ricardo Ruhga who've been busy the last months pulling together hot new tracks for you. 
Tickets are available online with limited tickets available at the door, and at the Black Body shop. 
In keeping with government regulations, a valid COVID pass and ID card must be shown, however only if your national QR is accepted by the European Union (please check the Dutch government site at www.government.nl if your national QR is accepted). Without these, entry will be refused with no ticket refund possible. 
Please be advised previous BN-Pride tickets are not valid, Hard copy tickets are to be refunded from the shop where the ticket was purchased. 
We can't wait to see everyone together again!