Suus te Braak aka DJ HizzL (he/him) is a queer lifestyle coach, personal trainer and DJ from Nijmegen in The Netherlands who emits good vibes, both personally and professionally. The 40-year-old recently modelled for Mister B after contacting us himself. #proactive
WINGS sat down with Suus to find out more about his work, his transitioning process (he's an out and proud trans man), and why he got in touch with Mister B in the first place.
---
Suus, it's nice to meet you! Let's dive in deeply directly, shall we (laughs)?! Tell us about your transitioning process. Where are you at right now?
"I first came out as lesbian many years ago, but when I found myself in the lesbian scene, I couldn't identify with it – except for the fact that I'm into women. In 2008, I started working for the COC (the Dutch queer rights organization) where I met other trans men for the first time. I recognized myself in them. In 2016, I went to the VU Genderpoli (the famous gender polyclinic of the VU Hospital in Amsterdam) to find out more about the transitioning process, and what it would mean for me. I quickly realized that I wanted to go through that process. In 2018, I underwent top surgery to remove my breasts and to reshape my chest. Two years ago, I started taking testosterone.
Removing your breasts is irreversible. It's a decision you take for life. Using testosterone also changes you. It influences your mood and behavior. If you decide to stop using it these clear male physical traits will still be there. I talked about it with a good friend who has been in this process for a longer time. He asked me, do you see yourself growing old as a woman (without breasts)? I couldn't deal with that image. It didn't feel right. That's when I thought I should be on hormones."
How has taking testosterone changed you?
"The hormones calm me down. They relax me mentally. For the first time ever, I recognize the person I see in the mirror. I'm becoming more masculine, and the testosterone makes it possible for me to become bigger physically. It affects how I work out, and there are more people addressing me with male pronouns.
It does a lot for my confidence. I had never realized that my confidence levels were really low; that I was hiding myself from others. Earlier this year, I contacted Mister B, asking if I could model for them. I wanted to show myself in a photo shoot that would be seen by a lot of people, and take pictures that they would find beautiful and attractive.
Mister B invited me for a photo shoot soon after. It was a dream come true, and I noticed it was a bit therapeutic as well. I wouldn't have dared to think that I could do something like that with my body. I'm not super ripped, I don't have a sixpack, but I saw a man in those pictures, and that gave me a ton of confidence."
I applaud you for doing it, and for giving zero fucks!
"Thank you, it felt really good! I sent Mister B an email because I'm a fan of the brand, and because we need to see more and better representation of trans men in media. There's too little of it! We're often presented as fragile. They film us in a hospital setting to talk about our issues. And yes, some bad things have happened in my life, but they are nothing compared to the joy I've experienced. Trans men need to see themselves represented like that. It will be a confident boost for those of us who need it most!"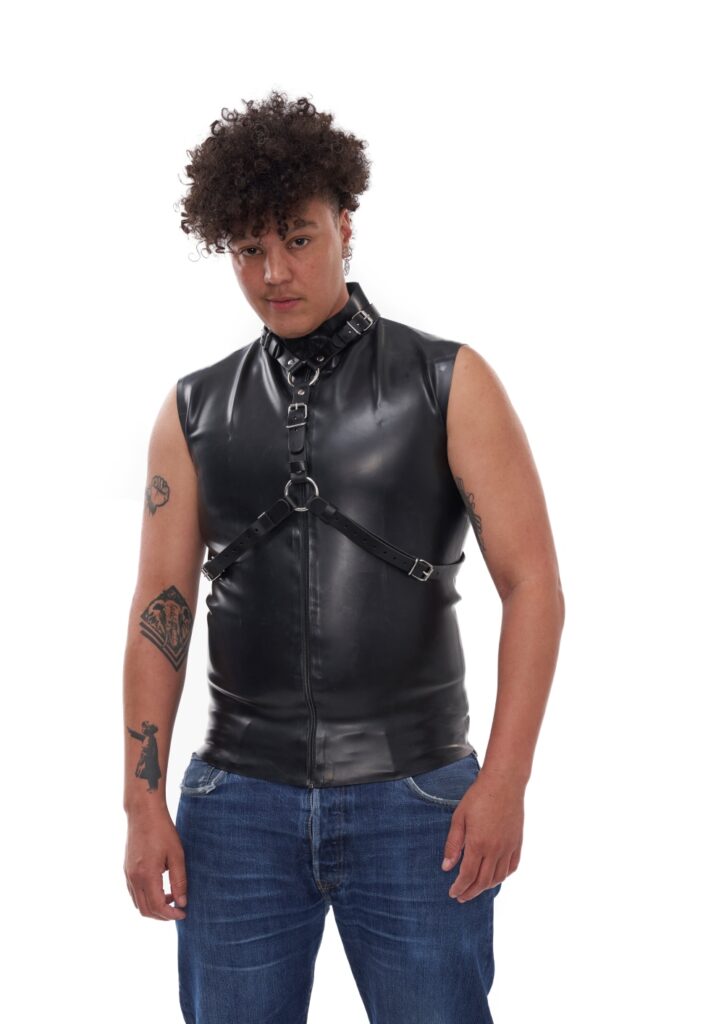 What was the best moment of the photo shoot for you?
"Taking solo pics felt fine, but when I had to work with Alejandro, one of the other models, I felt this wave of insecurity washing over me. He has a very muscular body, and it made me doubt myself. I had told myself not to get into that mindset during the shoot but there it was anyway. Alejandro turned out to be a fantastic human being. He showered me in compliments, which made me feel confident and happy. I told him that I would love to have his body, he told me he would love to have my smile. That was a massive compliment. It was a lot of fun shooting with him. We have kept in contact ever since. Recently we worked out together for the first time. Whenever I'm in Amsterdam I send him a message."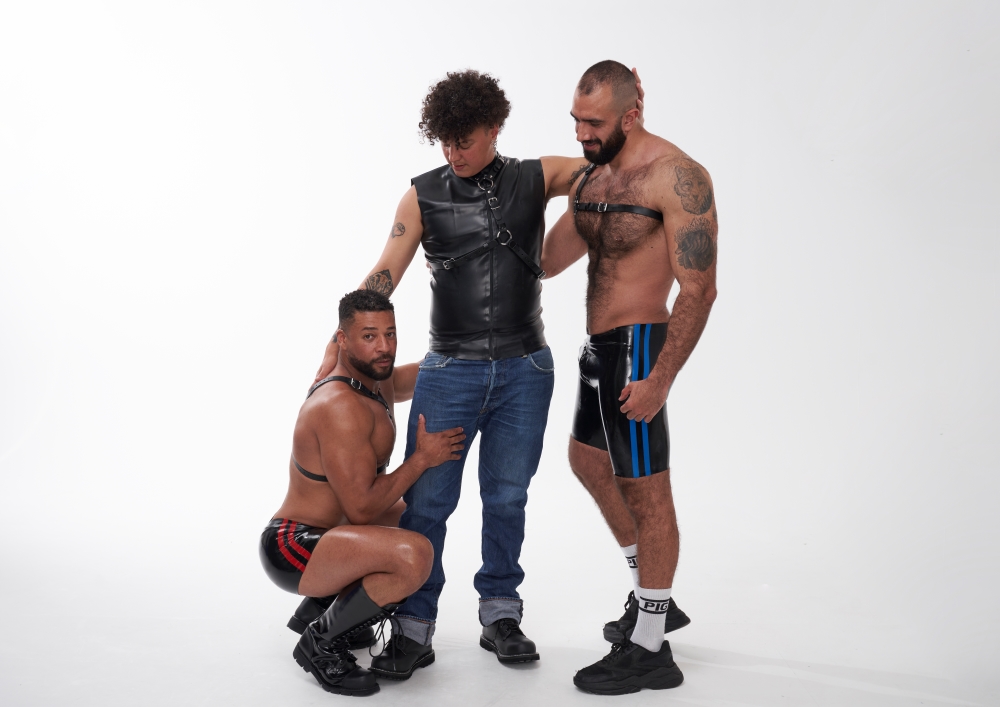 Tell us about your professional life! What do you do?
"According to my therapist, I do way too much (laughs). I run my own company called Hizzfit Queer Lifestyle Coaching. I'm a personal trainer for queer and trans people, I work with cis women who feel unsafe in regular gyms, and I provide lifestyle coaching for trans people to affect positive change during or after their transitioning process. What are the spaces they wish to occupy? How do they present themselves as a queer person? I have developed my own methodology based on the coaching courses that I've completed, mixed with my own experiences. Next to that, I teach Social Work at the HAN University of Applied Sciences in Nijmegen, and I DJ at queer parties all over The Netherlands."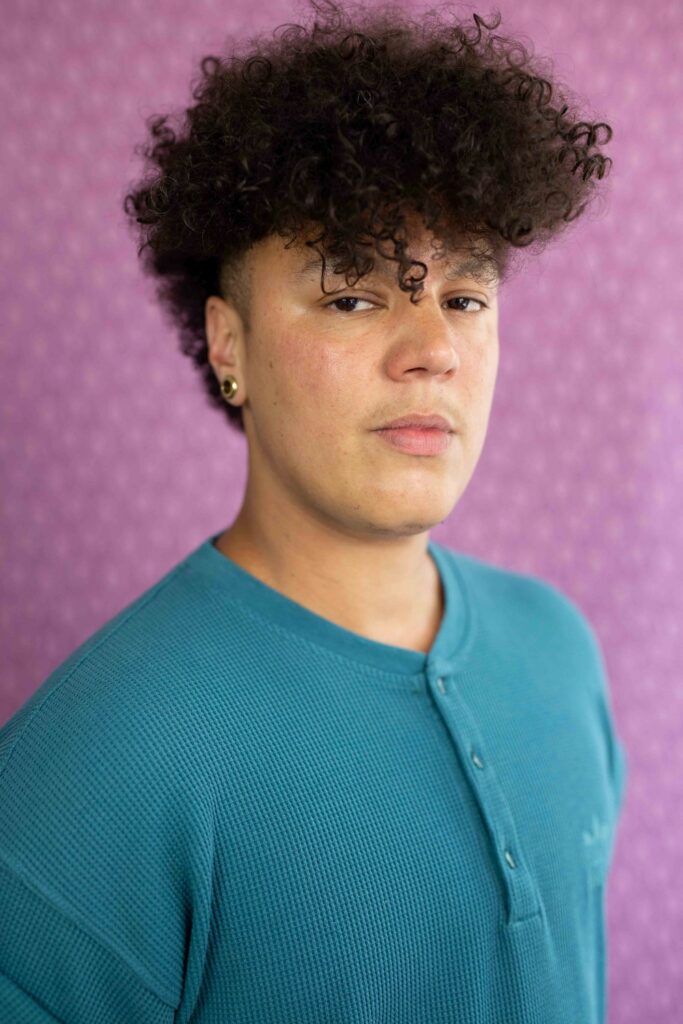 What do you enjoy about DJ'ing?
"It's about owning the stage and creating the atmosphere. I love being on stage, and sharing my queer joy with the audience. I'm selective when it comes to the parties that I play at. It's important for me to be representative; to be a role model. I almost always take off my shirt during a set, or I DJ in a jockstrap. People appreciate it; I see it in the way they look at me. I want to give them a night to remember. There's nothing better than seeing people having fun. It's fantastic to play a part in that."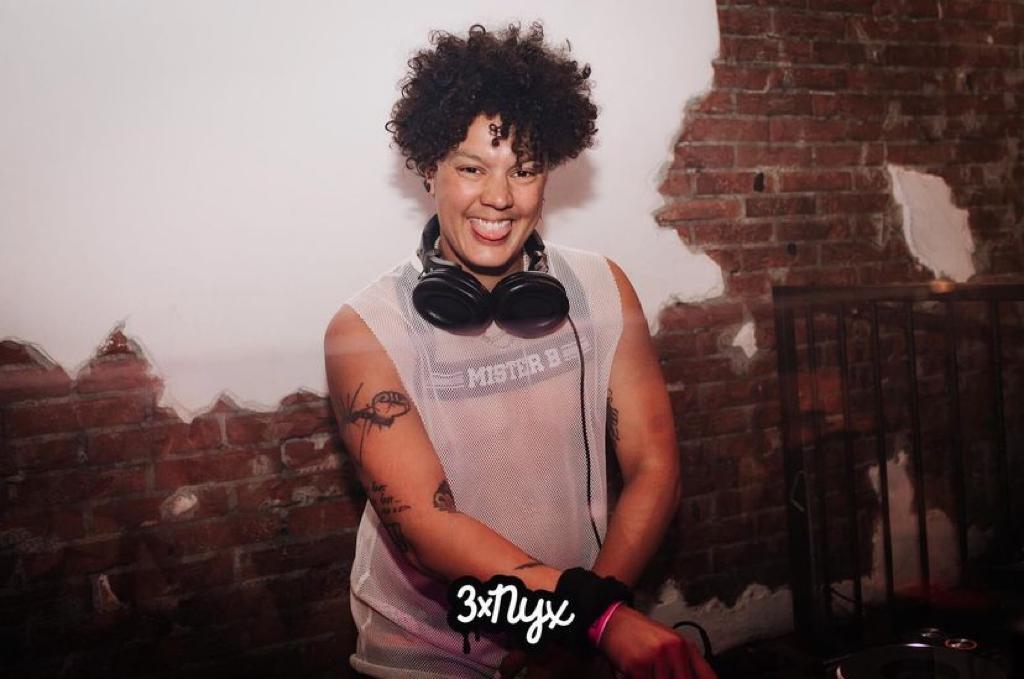 Where can people hear you spin records? What can they expect from your sets?
"My gigs are quite random. I'm a regular at KissKiss and A Queer Sexy Party in Nijmegen, and I've played at De Trut and Club Church in Amsterdam. My style is a mix of nineties house, reggaeton, and Afrobeats. I'm a sucker for hits from the nineties and zeroes, and I love old-skool hip-hop tracks. My sets are happy and shiny. Honey Dijon is one of my big examples. What she does with contemporary house and classic beats is super dope. At the moment, I'm a little bit more oriented on house, but I don't have a stage for that yet. So if anyone wants to book me for a house set, they should contact me NOW (laughs)!"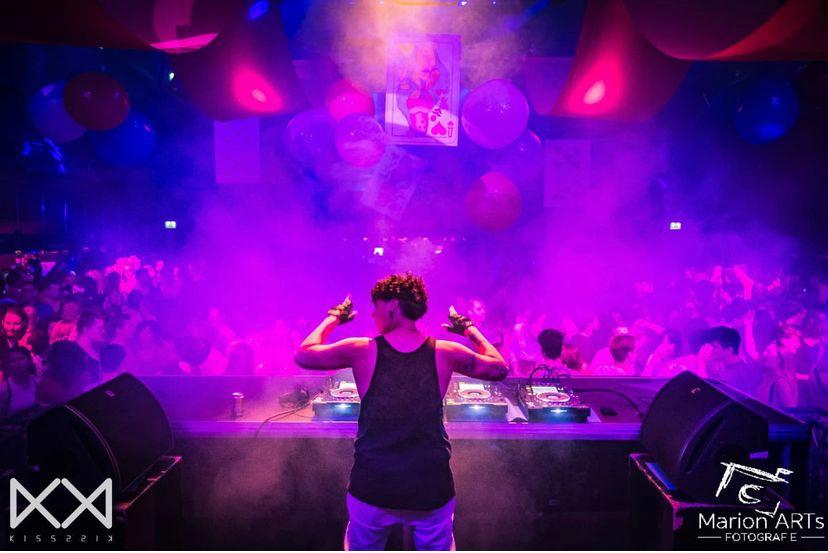 What are your kinks and fetishes?
"I'm still finding out what they are. I own a neoprene shirt that I could keep from the Mister B shoot, I love harnesses, and I'm really into jockstraps – I have quite the collection. My new body makes me more confident. Wearing fetish gear feels like a form of foreplay. It helps me to see myself in a sensual way, and it makes me feel more sexy to my girlfriend. I love going to the Mister B store and touch the different materials. In the past, I didn't vibe with it; these days, I'm more than willing to experiment, and find out what I like and what I'm into."
Clothes in general, and fetish gear in particular, can be very transformative. They change your sexual experience. They change how you look at yourself.
"I'm really open about how I present myself on Instagram. Sometimes I post half-naked pictures of myself in gear. There's this assumption that people in fetish clothing like to hang in a sling while getting their butt whipped. For me that's not the case. Wearing fetish gear helps me to accept my body. It boosts my confidence when I see those scars."
Is there anything else you would like to add? Did I forget to ask anything?
No, I don't think so. I enjoyed our conversation!
I feel the same!
Make sure to follow Suus on Instagram @suus_hizzl and @hizzfit_queerlifestylecoaching. Visit his coaching website here: www.hizzfit.nl