Georg Luschgy (he/him) is Mr. Leather Norway 2022. This bearded, friendly-looking gentleman with his soft voice, and serene and calm expression, loves to bring people together and build bridges, regardless of sexuality, age, preference, and fetish.
Georg grew up in Xanten, a small Catholic town in West Germany. He was a bit of a loner; when the other boys went to football, he went to music and dance lessons. At the age of 17, he meets his wife. "Why did I marry her? I asked myself that from time to time, and to be honest, I loved her, and I was dreaming of a family. But then I found out that guy's asses are more in my focus than girls' boobs. My mum and dad were not happy."
Eleven years ago, George moved to Oslo where he now lives with his husband. Besides his job in IT as a business partner and project manager, he is a Leatherman, kinkster, puppy lover, fetishist, musician, and dancer. He supports the global trans community as much as possible. During the pandemic, he began to make hanky code facemasks, T-shirts and bags, and in 2020 he started his own company G-Point.
Georg, when did your passion for leather start?
"Before I moved to Oslo, I never had any interest in fetish gear. But I met a nice guy, and he showed me the scene. He said: 'Let's go to SLM!' I wore light blue jeans and a white T-shirt. I felt a bit like an alien. A nice Leatherman introduced me to some of his friends, and he showed me around. Before I left, I asked if I was allowed to touch his gear. I fell in love with the feeling and the smell of the leather. After this, I got my own first gear! SLM Oslo is the place where I 'found' myself as a fetish guy and where I figured out that I love leather gear. SLM changed my life."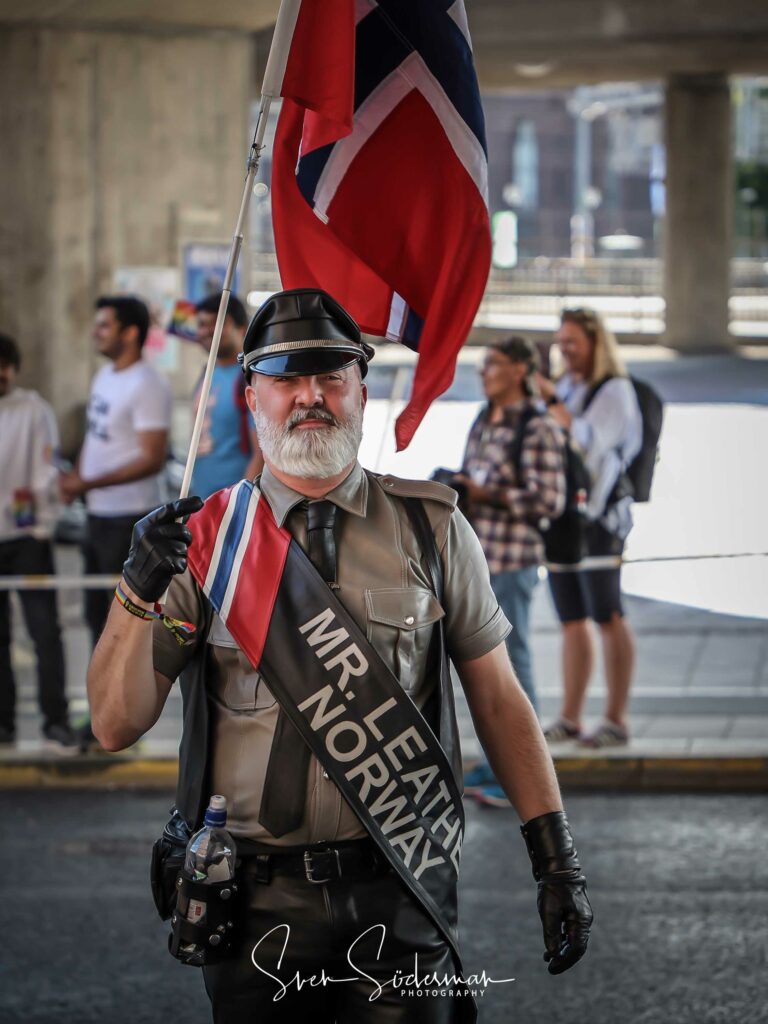 What does the leather scene mean to you?
"It means a lot to me. I found my other 'chosen family'. The scene can be very bitchy – especially when you are wearing different colors or don't wear the special brands – but it is a great community. I met some of the loveliest people who have always supported me. In Norway, we have a small leather/fetish community which is growing continuously."
Why did you stand for election?
"As Mr. Leather Norway, I wanted to bring the community closer together and make the Norwegian Leather community more visible. I wanted to be a contact person and a role model for newcomers. Especially during difficult times with the pandemic, we needed to team up and support each other. Mr. Leather Norway is not just a title for me, it is a part of my life. The 'leather guys' are not the 'bad guys'. We are men with open hearts, and we fight for ourselves and others. My idea was to expand my connections, and the title really opened more doors."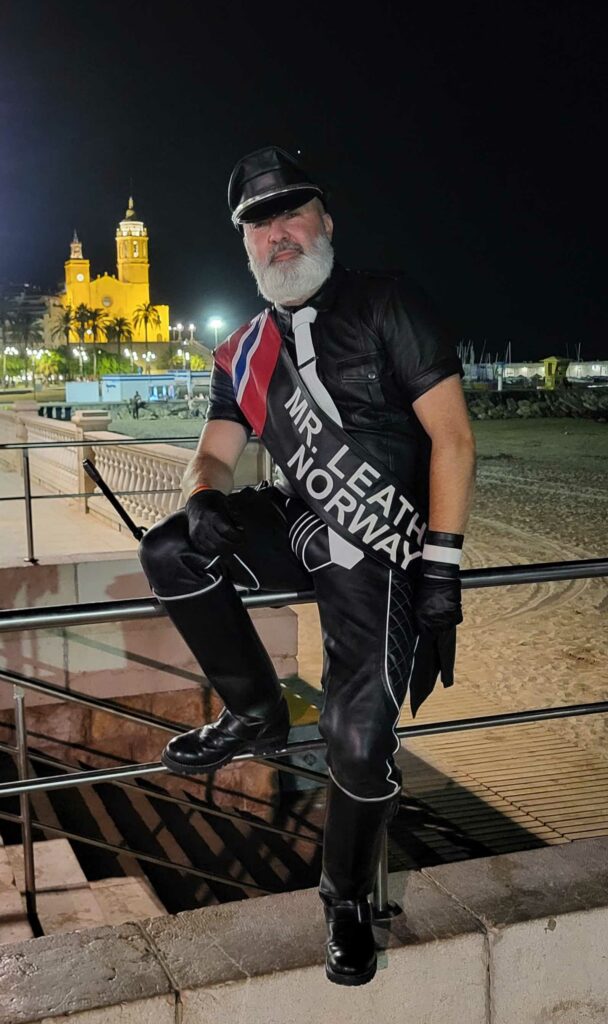 Why do you think you won?
"In 2022, I was the only candidate, and the board of SLM Oslo elected me because I do a lot for our community. Together with my husband, I organize a yearly fetish BBQ, and fetish socials when traveling to European events like Darklands, Easter Berlin, and Folsom Europe."
What were your plans as Mr. Leather Norway?
"My main goal was to become a front-runner for Club SLM Oslo and to represent my club as best as possible. My door is always open for everyone who has questions about kinks, fetishes or needs any support. I also wanted to offer a safe space for everyone. We still have a lot of problems with sexuality-based attacks in and outside our community. We need to support each other against those violations."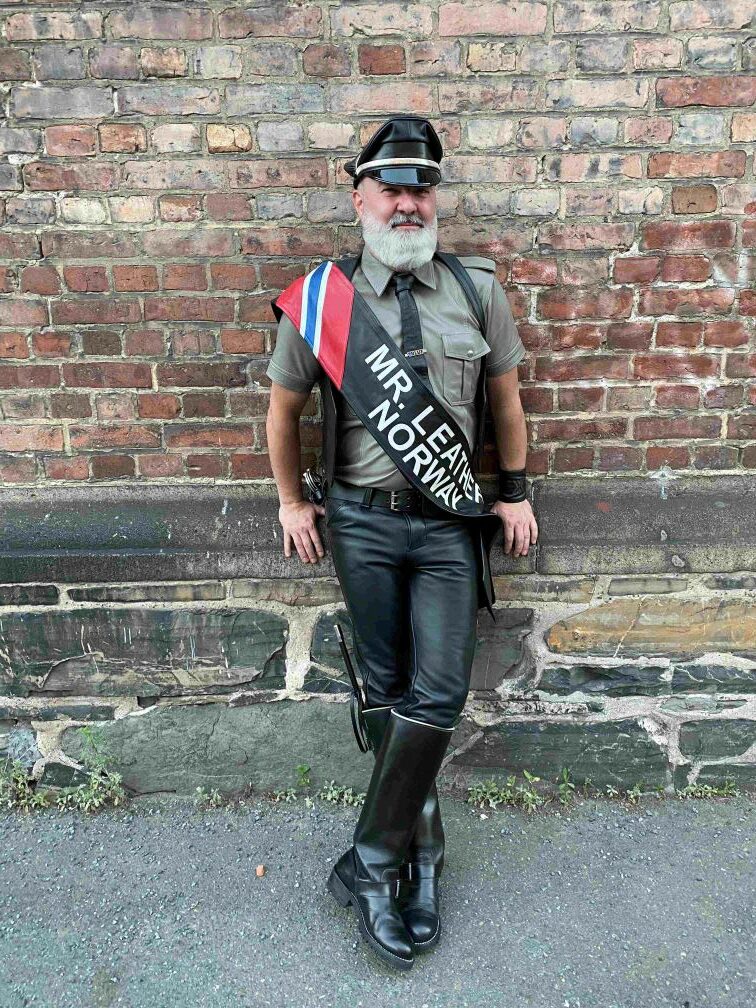 How is the climate in Norway towards the LGBTQIA + scene?
"It is good compared to other countries. For example, we have SKOKS, Skeivt Kunst Og Kultur Senter , which is supported by the city of Oslo. Another example is Tromsø, a small city in the north of Norway. The city created the Action Plan for Gender and Sexuality Diversity in Tromsø, which is used as a guide in and outside Norway.
However, Norway still has some steps to take; conversion therapy is still not banned but the government has started to discuss it. And on June 25th 2022, just three hours after I became Mr. Leather, there was a terrorist attack on our community. One person started shooting into a group of people that was peacefully celebrating Pride, killing two people and injuring more than twenty. Every event was immediately cancelled, including the parade. Still, more than 20,000 people came together on the streets, marched, and demonstrated shouting, 'We're here, we're queer, we won't disappear!' Who would have thought that the first 'act' for me as Mr Leather was going to the arena where people were killed to lay down flowers? My heart was broken."
Is it feasible to build bridges between different worlds?  
"When I want to join a Pride Parade, I send an email to the organizers beforehand. Once I received a reply saying I was not welcome to do so. I was shocked! They said they didn't want any naked people in the parade. I told them I was Mr. Leather and suddenly they understood, and I was welcome to march with them. This year, the same organizers invited me to their panel discussion 'Everything you always wanted to ask, but never had the chance to ask', prior to the parade in August 2023. I also build bridges between the different fetish and queer communities; I'm well connected to trans people, bootblacks, puppies, rubber communities, and to Poly and BDSM groups."
What's on your agenda now?
"A lot! Even though I stepped down as Mr. Leather during Oslo Pride last June, I will still be active, and fight for human rights and our freedom. I will be a frontrunner to connect our community, create safe spaces and keep organizing events. I will continue travelling to many countries. I hope to manage Darklands in Antwerp in February; my highlight will be International Mr. Leather (IML 2024). I'm looking forward to attending the competition as a candidate."
If you could give a piece of advice to your younger self, what would it be?
"Always be yourself. You are great as you are, no matter what the people around you tell you. Fight for your rights to love who you want to love".
Is there something that you want to tell our readers?
"I want to say thank you to our community! Thanks for the support, especially after the attack in Oslo last year. Thanks for messaging, 'We stand with Oslo'. When I was traveling during my title year, many of you approached me and it gave me the power to continue to fight for our rights. Remember: be visible, as the fight never ends!"
Want to keep up to date on Georg's future endeavours? Make sure to follow him on Instagram @mr_leather_norway_2022 or Facebook @MrLeatherNorway2022.