Because of our work in Kink and diversity we were looking for some new inspiration. So why not going to the biggest and oldest kinky party in the world: the Folsom Street Fair!
In the early 1980s, HIV and AIDS tore through San Francisco and weakened the leather community. So in 1984 leather community organizers started a street fair to enhance the visibility of the leather community and create opportunities for members of the leather community to connect. Thus the birth of  "Folsom Street Fair".
Last week the Folsom Street Fair turned 36. It has become California's third-largest single-day, outdoor spectator event attracting slaves, masters, clowns, jocks, boot-boys, ponies, puppies, pigs, fairies and queers. After our donation to the "Sisters of Perpetual Indulgence" at the event's gates we walked onto the fair and saw more than 250 vendor booths, a lot of top-name performers and musicians on 3 big and even more small stages all day long. There were public play stations for BDSM activities… and there were around four – hundred – thousand fellow kinksters. The whole thing crammed into 13 absolutely crowded street blocks and adjacent clubs and bars. Around 300.000 were expected, around 400.000 showed up. Yes, you bet it was crowded!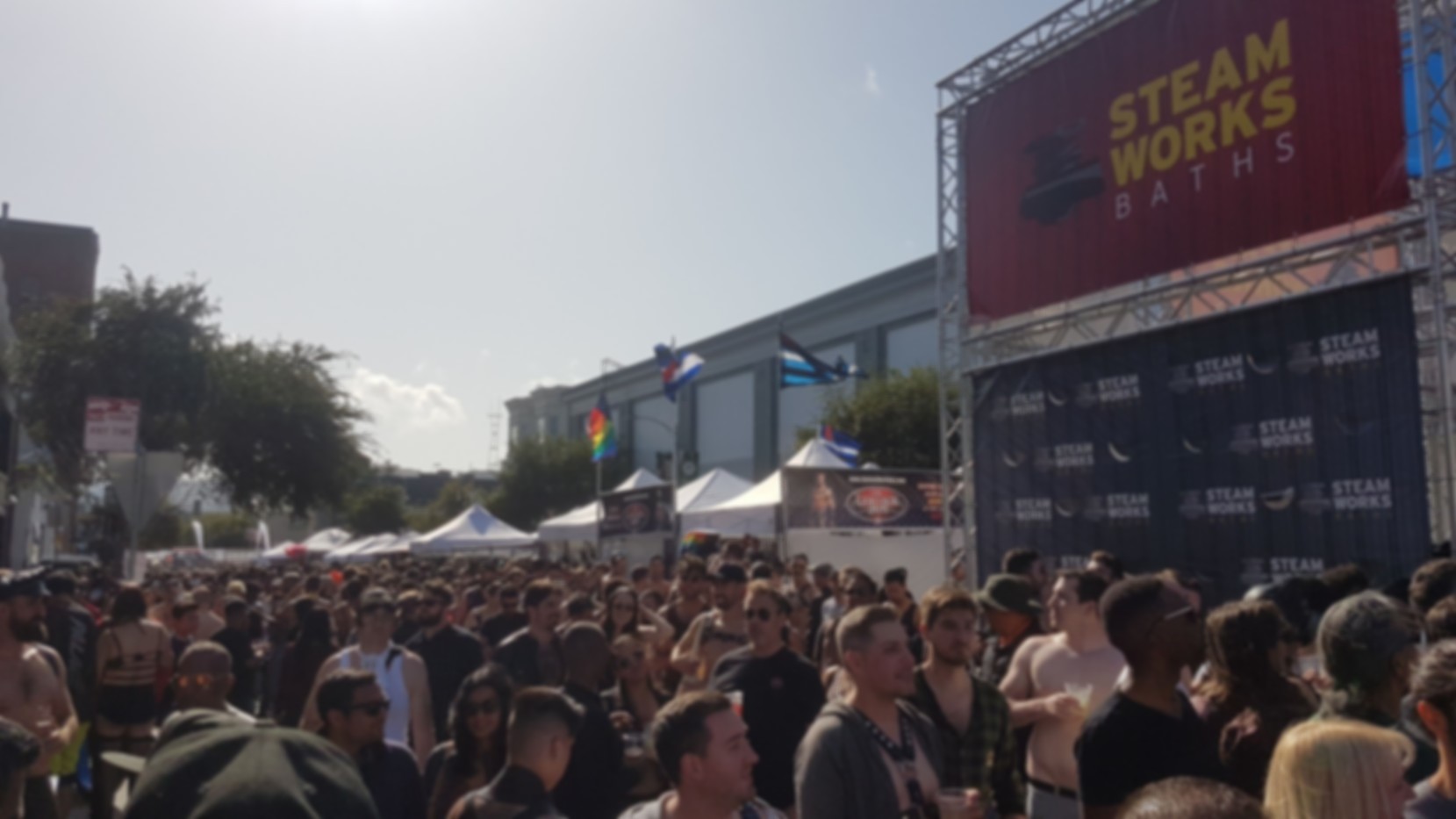 Where the festival was originally created just for people within the leather and kink community, nowadays everybody is welcome to the festival, regardless if they're donning a corset, fishnets, leather chaps, jeans, or nothing at all.
This shows a development in the visitors. Not just black leather but lots of colourful queer folk, lots of men, lots of women and lots of trans and non-binary folks. It was a feast of diversity to us. And of course, large numbers mean diluting the original idea. You shouldn't go there to see what Folsom has been. If you go, you go to see what it has become over time.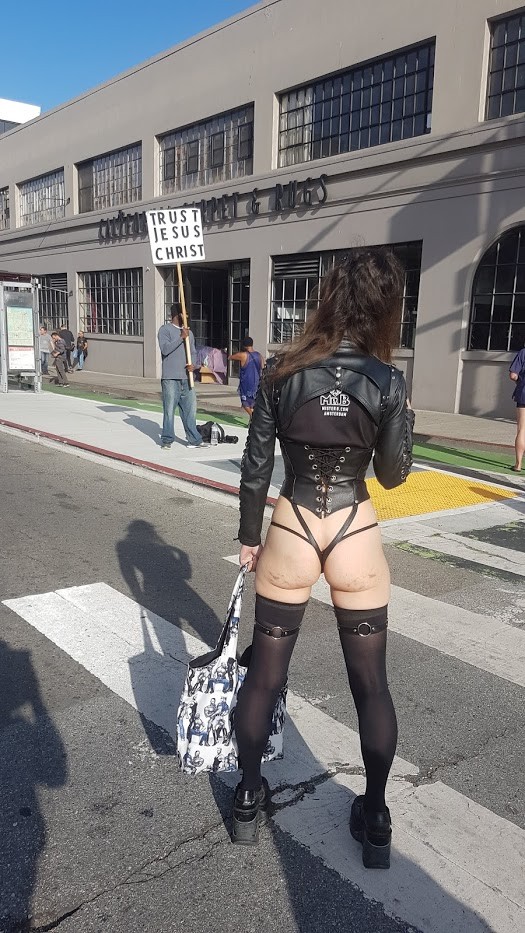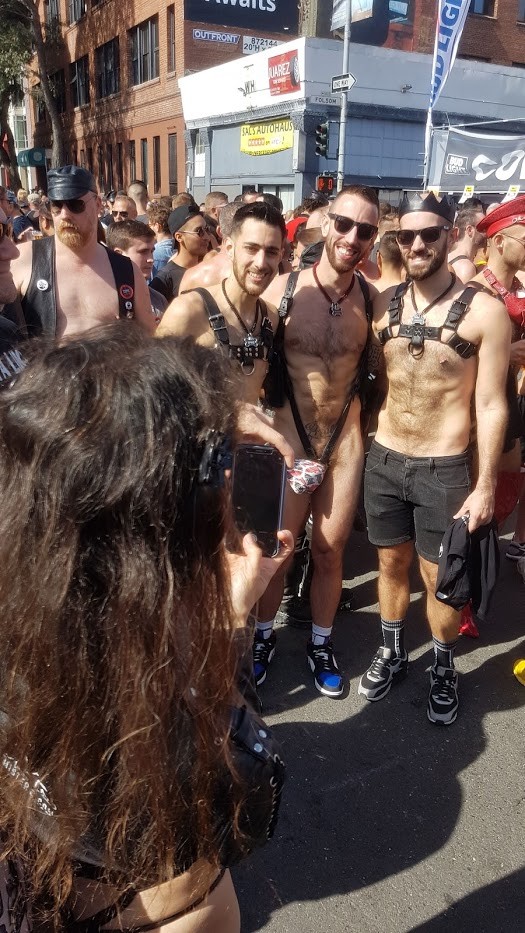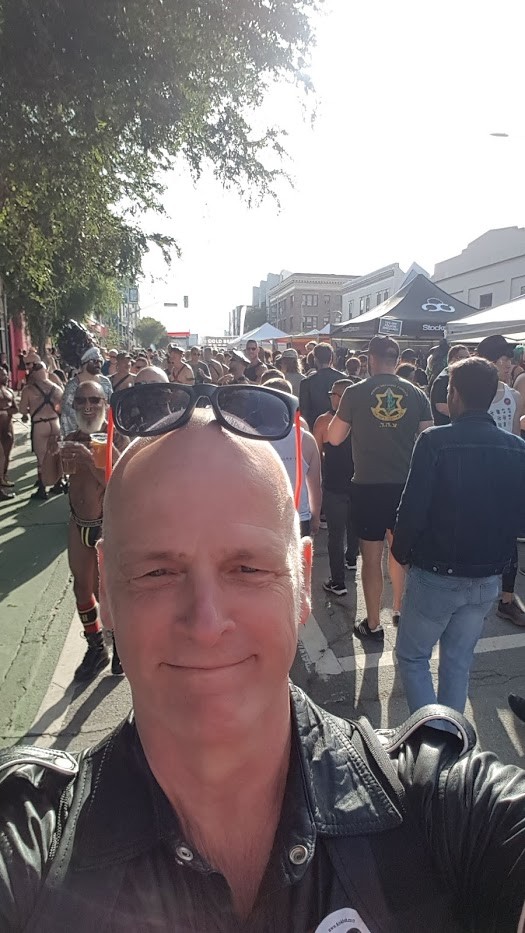 Trends?
It was our first Folsom so we cannot compare to earlier versions but compared to Holland you'll notice:
* Boot blacking is a thing there. Not just men and butches were putting their focus on cleaning, polishing and shining the leathers of their customers. Both with official boot blacking stations or on the floor, both with brushes and bare hands. Seeing someone with devotion a 100% focus on the job and making themselves dirty to make you shine… I could get used to that… 😉 And my boots are happier than ever!
* Puppy play: even though men were clearly on the upper hand: puppies -both male and female and less-binary- were frolicking in playpens or walking next to their master on leashes.
* a few furries: not so many but really intricate furries though.
* a few clowns, and a bit of clown fondling
* a bit of latex-shining
* Lots and lots of dildos & toys in all possible colours. Bad Dragon showed up and gave away little dildos and showed samples (or should I say monsters) for people with the fantasy to fuck a dragon.
* one thousand masks (puppy, cat and fantasy) and  lots of leather straps: harnesses to wear and to lead and to hit with
* a zillion whips, floggers, plaques and other impact-play implements
* and businesses like an ABDL-stand with nappies and rompers
* or https://www.kinkbnb.com/ KinkBnB for renting out your home to other kinksters.
* And at least 20 organisations, associations, societies, charities and clubs organised around all kinds of fetishes and kinks presented themselves.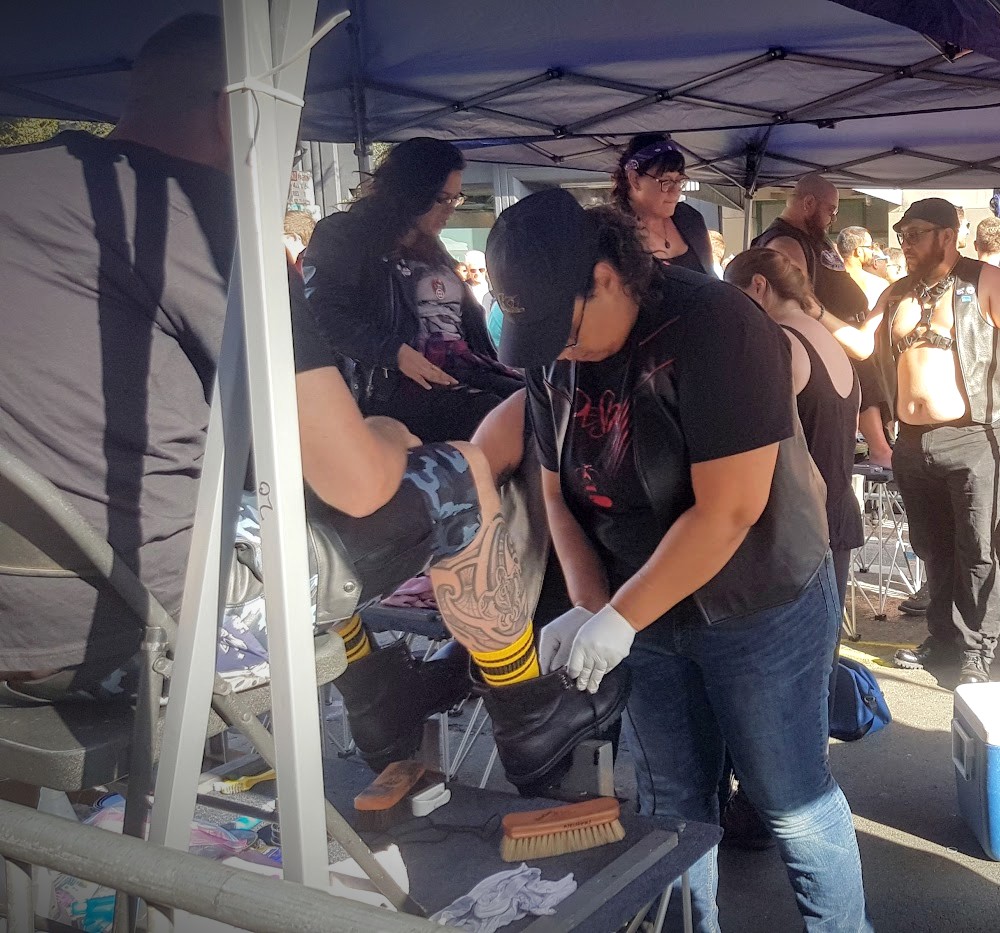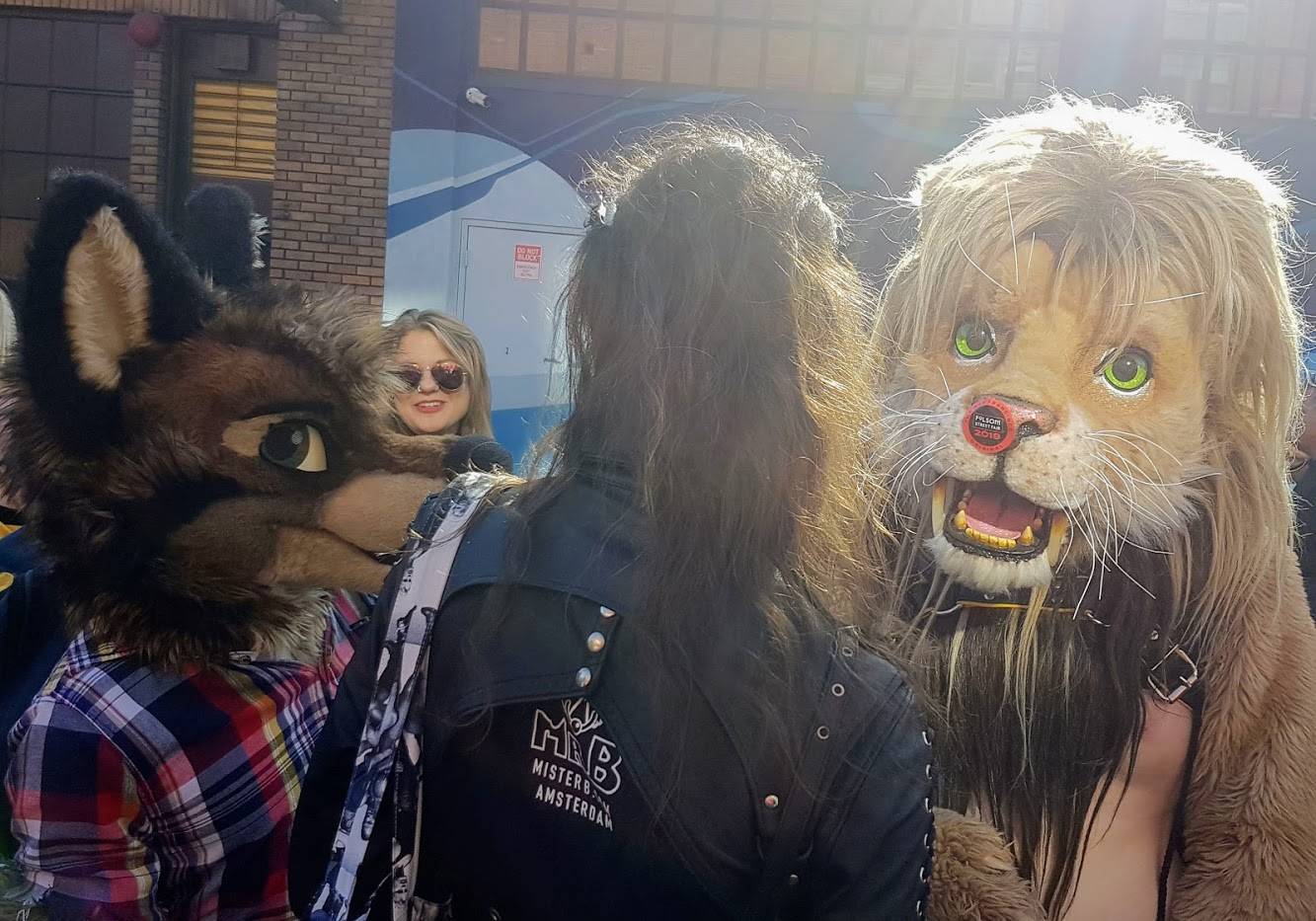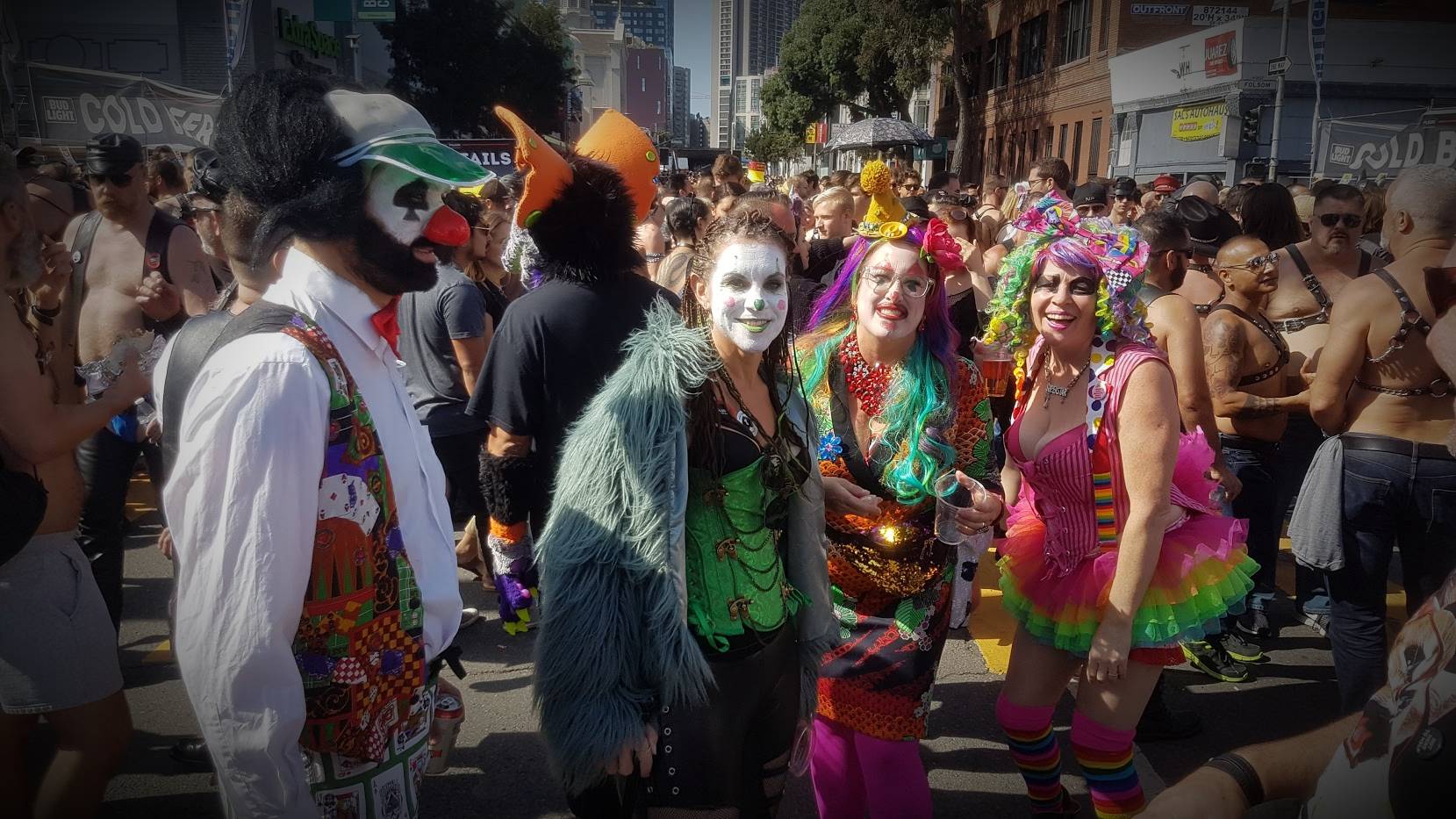 So, how about the inspiration we were looking for?
It was amazing to walk about 400.000 fellow kinksters, between people playing, laughing, dancing, flogging, boot blacking, selling buying.
One would expect a variety of giving and receiving going on within the Folsom Street fairgrounds, but perhaps most important to them is giving back. Many of the funds are gathered in the form of donations collected by the queer activist group The Sisters of Perpetual Indulgence at the event's gates. Folsom now has grown into a non-profit charity, with local and national non-profits benefiting from the proceeds from numerous fundraising booths within the festival including games, beverage and even spanking booths. Over the years, this event has donated over $6 million to local and national charities. The only thing that hasn't grown is the number of incidents… Zero again this year.
It is inspiring to see that 400.000 can have a ball with no casualties or problem at all.  Imagine the atmosphere of that many kinksters enjoying each other, enjoying the view, creating the view.
We LGBT+'s and kinksters are a friendly people and we're worth it to organize for, to gather and to explain to the world that is perhaps frightened for the freedom that we fought for by organising fairs and fêtes.