Do you know how animated Disney movies gave most people unrealistic expectations about love? Well, the same could be said about Netflix shows. While I may now know how to blow glass like a pro and how to build a sex room, I have le petite bone to pick with a certain Emily, living in Paris. The unscripted Paris I was to discover during my first Paris Fetish was nothing like the Paris I had seen on TV.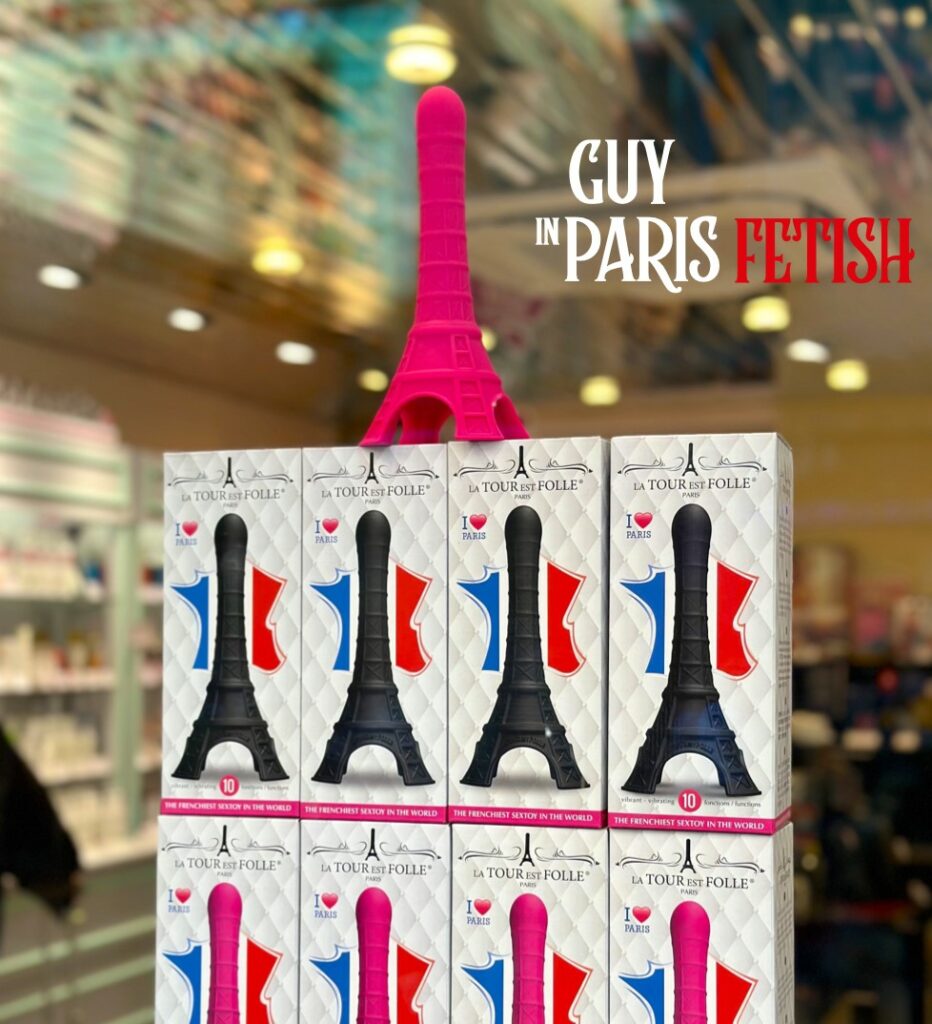 After two cancelled editions and a transitional edition last year, Paris Fetish was now fully back in play. To meet the interests of a diverse fetish community and an even bigger global appeal, this year's programme was expanded to a five-day event. From casual apéritifs (drinks, basically) to workshops, to full-on club nights and sex parties; there was something for everyone, whatever you're into.
Naturally, as a leatherman, I was drawn to the leather events run in partnership with BLUF Paris. Having attended several French events over the past year, I was warmly welcomed into the French fetish community, making some incredible friends which expanded my global leather family. Armed with two suitcases of leather (plus some rubber, more on that later), the four French words I speak (bonjour, croissant, merci and toilettes), and some pretty unrealistic expectations about Paris, I set off to Paris to meet my French crew.
I arrived in Paris on Thursday afternoon, just in time for the Opening Apéro at Le Cox. Breaking out my new Mister B Leather Poloshirt, I got to reconnect with long-time friends and make some new ones. The vibe across the city was casual, easy, and welcoming. I was immediately struck by not only how busy it was, but how international the crowd was. The bar was busy but well-staffed by some very hot bartenders sporting tight Paris Fetish T-shirts, which made waiting for your drink more of a bonus than anything else.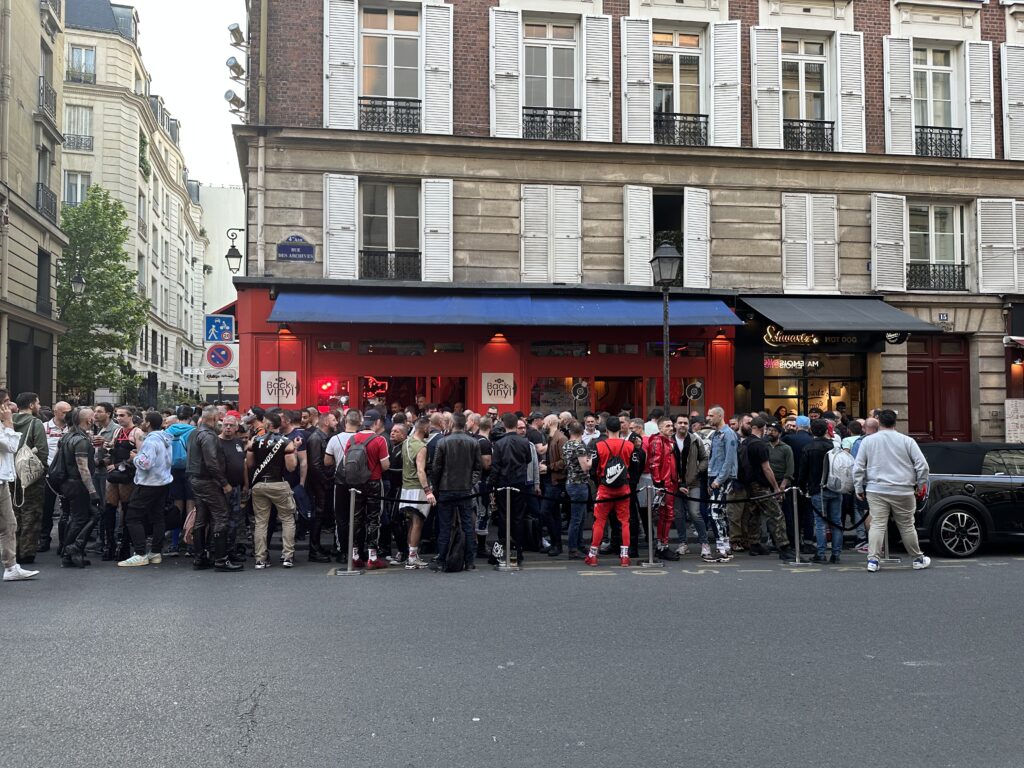 The next morning, I decided to have myself an adventure and took part in my first official photoshoot. A photographer friend I had met during the Mister Leather France weekend in Bordeaux suggested we go for an adventure; he spoke of an abandoned railway track which ran through Paris, complete with graffiti-covered stations as a cool location. A few hours into our expedition, we found the hidden entrance and nabbed ourselves some cool photos. Despite the raging heat, I couldn't miss the opportunity to give my beloved Mister B Leather Motor Jacket its moment to shine.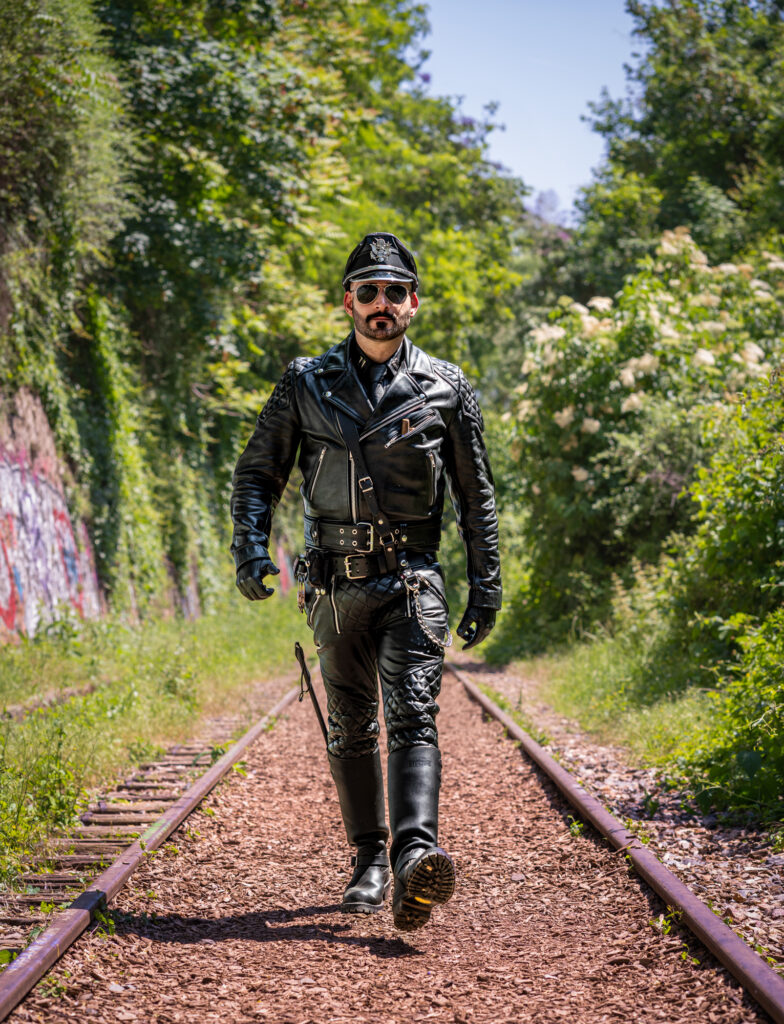 On the way back, I found myself having a lovely exchange with a sweet elderly couple, who were curious about my leather get-up. That once terrifying idea of riding the metro in full gear now felt like that of a different person entirely. Speaking with them openly and confidently made me realise just how natural I felt in my gear, and this particular metro ride had shown me how far I had come.
Back in the city, we met up with our friends Axel (Mister Rubber France 2023) and Nacho (Mister Leather France 2023), and we took some fun French Tricolour themed photos as a souvenir from this weekend. We joked that one day when we're wrinkled and saggy, we'll look back on these photos and remember not just how good we looked, but how we grabbed life by the nipple clamps when we had the chance. We baked in the heat for most of the afternoon, but sure made some memories.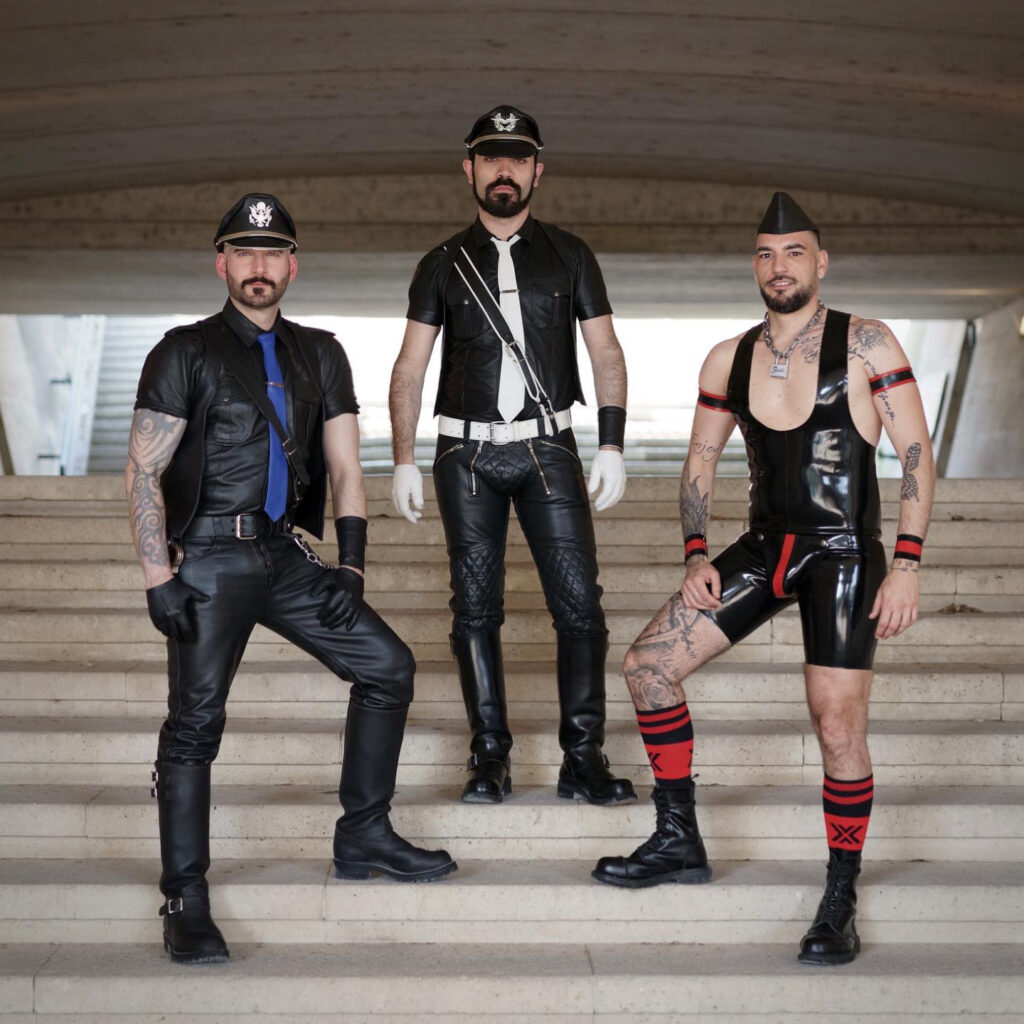 We had just enough time for a quick wardrobe change before we all descended upon Quezal for the Opening Apero drinks. Paris Fetish was now in full swing, with the bar packed full of people with different fetishes. The atmosphere was buzzier and more intense, with many finding it similar to that of Folsom Europe. After a few rounds of drinks, kinksters headed to several different parties, each with its own focus. Rubber guys headed to Krash, Fisters headed to Le Keller, and Sportswear fans headed to The Players party. Naturally, I opted for Full Metal for the BLUF night along with my crew, where sexy guys and plentiful darkrooms meant there was something for everyone. The two hot guys fucking at the bar reminded me I wasn't in Kansas anymore (or more specifically, Dublin), and Paris was my playground to enjoy.
Saturday heralded partaking in the age-old tradition of 'gay lunch' (aka Brunch) with friends. Organised by my friends Nacho and his husband Yves, this unofficial Paris Fetish gathering brought together kinksters in a more casual, intimate setting. As I sat there enjoying my food, I felt I could relax and have a proper conversation. It dawned on me how these weekends can be misleading. This brunch wasn't in the programme but sure was one of my highlights.
By sundown, it was time to get ready for the big event: The Maniac Party. While my DNA is that of a leatherman, these weekends are all about stretching myself and having some new adventures. And so, for the first time, the leather stayed at home. I had played in rubber in the past, but never stepped out in it fully. I was curious to see how it would feel. Painted into my Mister B Sleeveless T-shirt and matching black and red accessories, I was all set for a night of new experiences.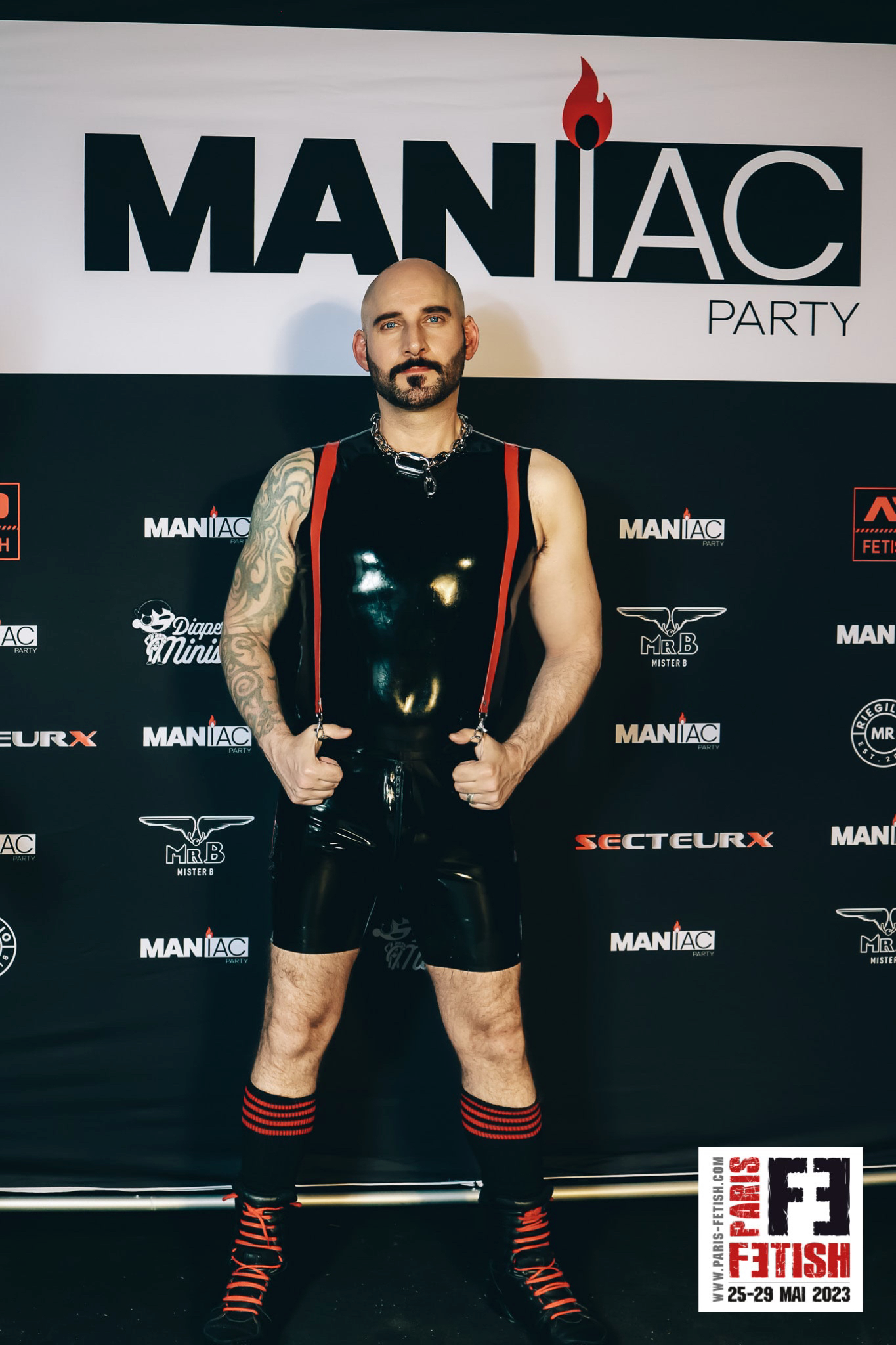 Taking place at La Bellevilloise, the Maniac party venue was 3 km from the centre of Paris, which cost us a bit of time and money. Once there, things moved fairly neatly and quickly. The organisers were extremely friendly, welcoming, and made sure the queues kept moving. I liked how there were different spaces, catering to each person's interests. I especially appreciated the big and clean changing area, and how friendly the staff were. It's these little things that make a big difference to my night. When I go to a venue, I want to feel taken care of, and Maniac did not disappoint.
The party had something for everyone: a puppy play area, a bondage set, a safe sex information desk (nice!), dancefloor, playrooms, and a nice big outdoor smoking area. The venue itself was surrounded by residential buildings, who's dwellers were not quite so keen on their front-row view of scantily clad men in fetish gear. While far from the look many of us planned for the night, the sight of many of us wrapped in white trash bags provided a few giggles and a great buzz on the deck. Once back inside, the bags disappeared, as did my inhibitions. In rubber for the first time, I enjoyed a vastly different energy for the night, an energy of far more freedom. Leather is my second skin, and I had gotten so used to being in it, that I had forgotten what it felt like to be without it on the scene. I felt more exposed, but far more adventurous.
By dawn, it was time to head back. With no taxis available, we cycled our way back to the centre of Paris. There I was, riding an electric bike tipsy alongside my friends through the winding streets of Paris, dressed in full rubber, and with the sun coming up. I felt carefree and alive. Perhaps Emily in Paris should diverge from her polished script and give it a try.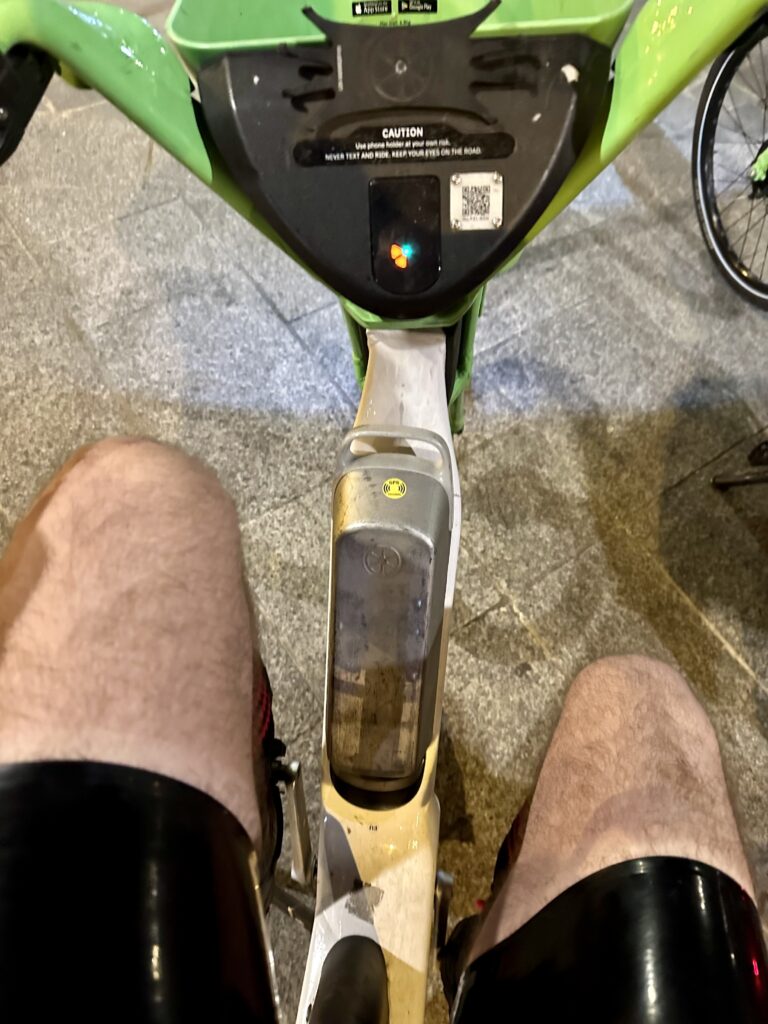 On Sunday, despite hanging to life by a thread from the night before, I headed to the BLUF Paris brunch to see some friends before we all took off back home. After that, a mate and I went to IEM for a spot of shopping, followed by a visit to One Way for the last leather social of the weekend. I had every intention of making a proper go of my last day and heading to the fisting party at Le Keller, but considering it was called Fist Fetish Part 2, it wouldn't have made much sense to me, anyway. I mean, having skipped Friday's Part 1, wouldn't there be some big plot holes to fill?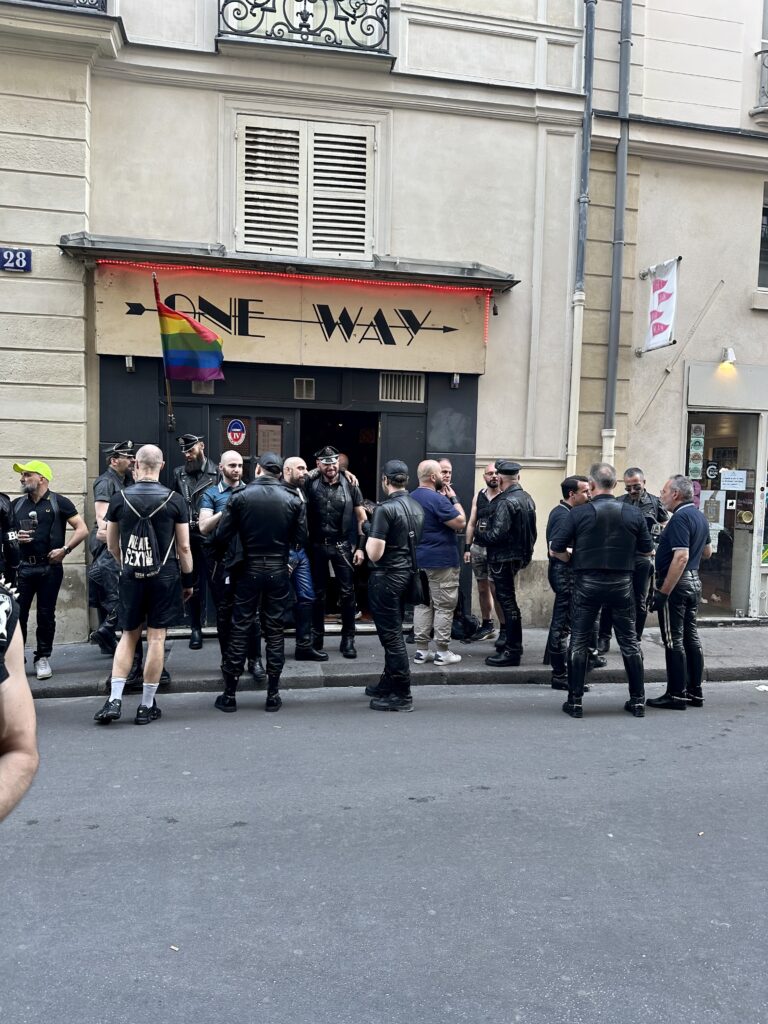 On Monday, I said my goodbyes and made my way back to Ireland. On my way to the airport, I realised the best Paris memories I would be taking back to Ireland weren't scripted, nor part of the official Paris Fetish programme: reconnecting with friends; making new friends at brunch; a photo shoot in the heat; a metro conversation with curious strangers; a gaggle of school kids eager to have their photo taken with a leatherman; cycling through the streets in rubber with your friends. These are the moments you don't expect and can never plan. They are the little, unscripted moments in between the lines of the Paris Fetish programme which struck me the most. While many may not be the headline-grabbing events, they are those which mean the most.
Paris Fetish provides a series of great fetish events with a uniquely French je ne sais quoi, serving as the setting for some little (big) moments and realisations: the opportunity to see how far I've come, try new things and stretch myself by going off script for the weekend. Once I did, I had a blast and made this event count. Alas, no sign of Emily in Paris's airbrushed Paris or her sexy Chef Gabriel this time around. Luckily, there's always next year.
Check out Guy's Paris Fetish highlights on his Instagram and make sure to go to check out these links for the official photos of Paris Fetish 2023.