The days are getting longer, the gyms are getting busier, and the rosebuds are in full bloom – and that can only mean one thing. It's the most wonderful time of the year – festival season!
To help you get festival ready,  the team at Mister B and I have compiled the styling cheat sheet that you never knew you needed. We start by covering the must-have and versatile accessories, and then we'll give you the breakdown on three distinct and complete lewks. To finish things off, we're taking you indoors with two bonus looks for all that after-hours fun! Shop the whole thing, mix and match items, or just whet your appetite and jot down notes for future inspo – whatever you choose to do, I know you'll look fab
#Essential Accessories
No. 1. Chains. My advice is simple – if you don't have one yet, get one. They are hands-down the easiest way to add a touch of fetish to absolutely any look. They're not a crazy expensive investment and yet one for a lifetime.
PRO TIP: Switch out the padlock of any chain with a carabiner for an in-trend DIY workman vibe. If you're a master, a sub without a key-holder or just a fun gal looking for a good time, this is the perfect solution for you.
No. 2. Hankies (or 'bandanas'). Another festival and fetish staple to add fun color, signal your kinks, dry off your dancing sweat and more – all for under 10 euro. Remember: left side means top, right side means bottom, and around your forehead means Y2K hipster.
No. 3. Places to store shit. A vital and yet easily forgotten element to hold your phone, lube, drink tokens, cigarettes, etc. Like dark rooms, sunny days mean less clothes and no pockets. So, this summer don't leave it as an afterthought and get yourself a super stylish (its giving Wild West meets Tomb Raider) belt bag, hip holster or arm band wallet.
---
Whilst you definitely want to stay true to yourself, turning heads is sometimes about nailing that context. So, to help with that, we're taking you on a 'club/bus/another club/no sleep' party trip through the '23 summer. First stop Tropikali…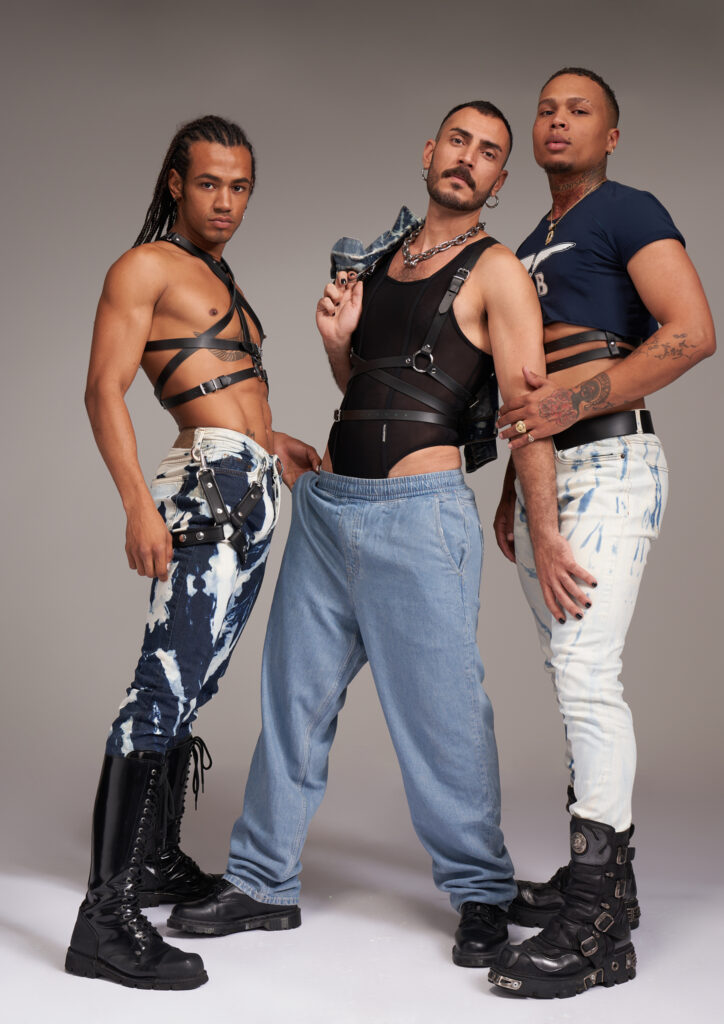 #Tropikali (June 11th)
Tropikali is by no means a 'fetish' party – however, it is an environment where people can be themselves and express that through their looks. No one wants to see another buttoned-down Hawaiian-print shirt, Mary. So, we've pieced together the perfect look that's festival-ready without being cliche, and fetish without being impractical.
Grab yourself a Mister B Serve harness and some Bleachers & Co denim shorts (available at one of our Mister B stores) and pair them with a bandana for color. You're going to be on your feet all day, so appropriate footwear and socks are essential. These 10-hole leather boots not only give your look a touch of butch, but they're uber comfortable too.
---
 #Wasteland Summerfest (July 1st)
Wasteland preserves its kinky magic by enforcing a strict dress code. To quote them: "We expect our guests to expose creativity and fantasy into their outfits. The dress code is vigorously checked by our Doorbitches. There are no ticket refunds if the dress code is not adhered to. The decision of the Bitch is final".
Here's a look we've specifically curated to get you right past those Bitches and into the party with no problems. The focal point of this look is the spectacular gladiator-esque O-ring skirt. Pair this with the 'Statement' harness, adding a touch of 'fierce'. Bring back a touch of steel from the skirt in the upper body with these 'linked' armbands.
---
#Superflirt (August 27th)
Superflirt, the love child of Meijt and Multifest, is the newest event to grace the Amsterdam queer scene. As equal parts queer and kinky, Superflirt invites you to express your fetishes in a fun way. There really is no right and wrong, but if you've ever wanted to step out of your comfort zone and try a new look, this would be the time.
Start daring with a leather skirt and the Legend harness from Mister B's new fetish/fashion collection: SERVE. Style with a bright pink jock to draw the eyes to the good stuff! Finally, on the feet sport some punk-inspired leather boots and knee-high socks.
The great thing about festival season is that come closing time, the night is still young, and opportunity is buzzing all around in the evening summer air. We suspect many after-parties are also happening, and you'll want to be dressed appropriately for those too. (And not 'appropriately' by you're mother's definition of the word!) So to round this down, we've got you covered with two festival after-party looks.
#Festival-after 1
We recommend grabbing a pair of shorts and pairing it with a neoprene harness and the essential wrist wallet. Accessorise with a bicep band and socks in the same colour. The great thing about the new neoprene collection at Mister B is that there's a wide range of colours to choose from, so you can always keep in line with the theme of the party.
#Festival-after 2
Layer some mesh shorts over a coloured jock strap to get the attention of the person you want and stay cool in the heat of the party. Finish the look off with other pops of the same colour: a stretch club harness, matching arm bands and socks for example. Pro tip: One armband on the left signals that you are top, whilst on the right arm means bottom.
And that completes our festival season style guide. My work here is done. Don't forget you can always get more personal advice at the MisterB store. But for now, happy shopping and we'll see you by the DJ booth.
Check out the full event agenda here: