An interview with drag sensation Ryûq Qiddo
Miss Rona has left the building officially (hopefully) which means there are a lot of
dolls
back in drag and on a stage near you. WINGS caught up with one of our favorites: Parisian drag sensation Ryûq Qiddo (he/she/they). Why did he 'quit' drag for a few years? Has she 'pulled a Madonna' and re-invented herself? And how exactly did they use that butt plug to conquer their new hometown Barcelona? Read on and find out! 
---
Hey beautiful! Nice to see you again. We know each other from Amsterdam, where you lived and performed before moving to Barcelona. What have you been up to since you relocated to Spain?  
"I stopped doing drag for three years when I moved to Barcelona in 2018. In Amsterdam I worked as a bartender in Club Church and as a drag queen – and I felt completely out of balance when I left. Coming to Barcelona I wanted to focus on my boy-self and on having a regular daytime job. It was never my intention to stop doing drag. During the pandemic it just wasn't worth all the work that goes into it, for a gig that would probably get cancelled anyway. I used the time to learn how to do hair, I practiced my makeup skills, and I taught myself how to stone my clothes – I stone everything at the moment. I also tried to become more flexible; maybe someday I will turn into a stunt queen (laughs). I kept a close eye on new trends and new gurls, and I tried to get fresh ideas and new inspiration. It wasn't just the pandemic. I didn't recognize myself anymore in what I was doing. I felt disconnected. I was doing it for social media; for followers and likes. In the end I felt pressured to take and edit a portrait pic every time I finished doing my makeup. That was not a healthy process. So I stopped."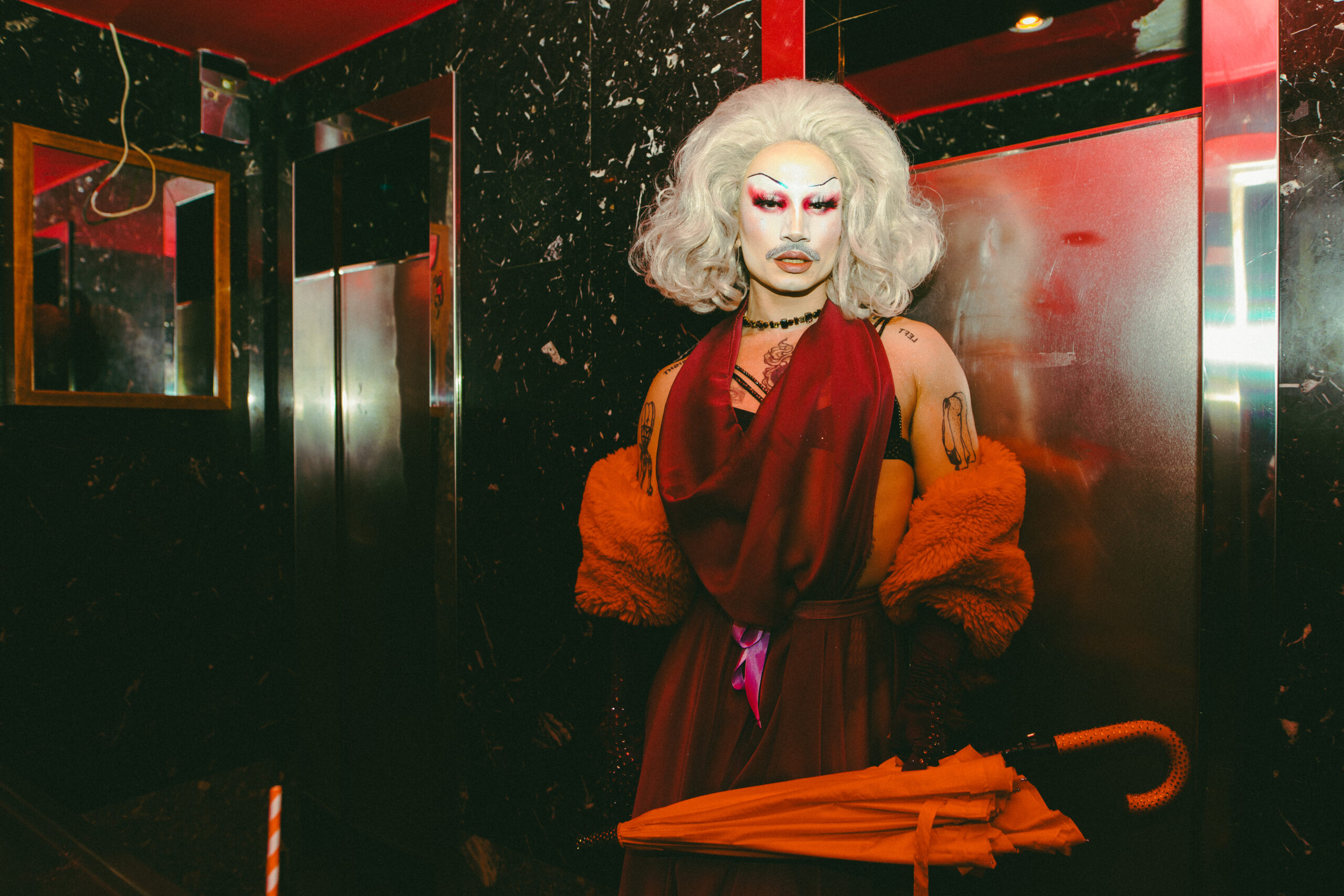 But in the summer of 2021 you picked it up again. What has changed? 
"Now that I am back, I am only doing things that I want to do. Last week for example I had a sexy, slutty fight in champagne and Chantilly whipped cream. It was messy and ugly, but the audience was intrigued. They went crazy. I wouldn't have done something like that in the past because I didn't want to ruin my drag. I am having a lot more fun now. I feel free and people are really responding to that. I see myself more as a drag queer than as a drag queen. I like confusing people. I don't hide my bulge. I am not afraid to embrace my masculinity. In the past I sometimes compared myself to the fishy gurls, but these days I am at peace with myself. Recently someone described my drag as 'looking like a man, feeling like a woman. And that is basically it. A lot of women are in love with me and with what I do. To them it is kinda liberating apparently. They realize they can be feminine in any shape or form."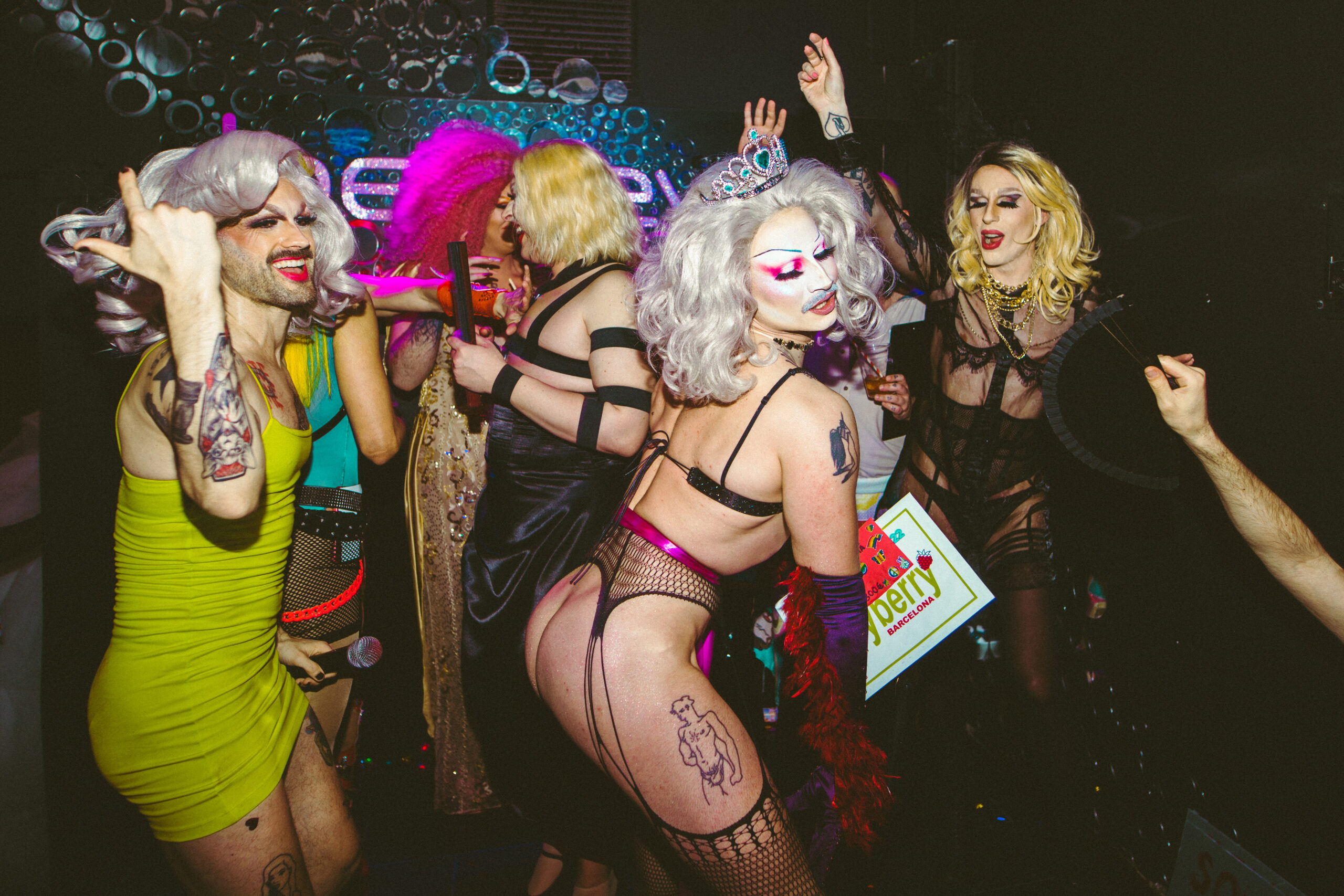 What is it like to do drag in a new city? 
"It is hard; especially when you are on your own and don't know anyone. The Barcelona scene is really different. I am still not exactly sure how it works in clubs here. Most of my (drag) friends live in Amsterdam and Paris. In Paris I could go to parties, arrive at the door without a ticket, and they would let me in for free. The same goes for Amsterdam. They know that it is in their interest to have queens at their party. But in Barcelona I would just have to wait in the queue, which I refuse to do (laughs).  
But I am making more friends here. I was recently crowned the Face of Pluma 2022. Pluma is the drag house that I hang out with a lot. I won the competition with a striptease to Marilyn Monroe's 'My heart belongs to daddy', which was the first song that I ever lip synced to. It felt like being reborn. I kept removing one piece of clothing after the other, until there was nothing left. Then I opened up my ass cheeks and revealed a butt plug that had been there the whole time. The walls were shaking when that happened. Then I thought: 'I am going to do more stuff like this.' I don't want to do family friendly drag. Drag is becoming too popular, too polished and too clean. I don
't feel aligned with that. Despite RuPaul, it is still counter-culture. I wanna shock and confuse. All the queens want to look beautiful these days; I want to be a sex freak and do something a little bit more punk."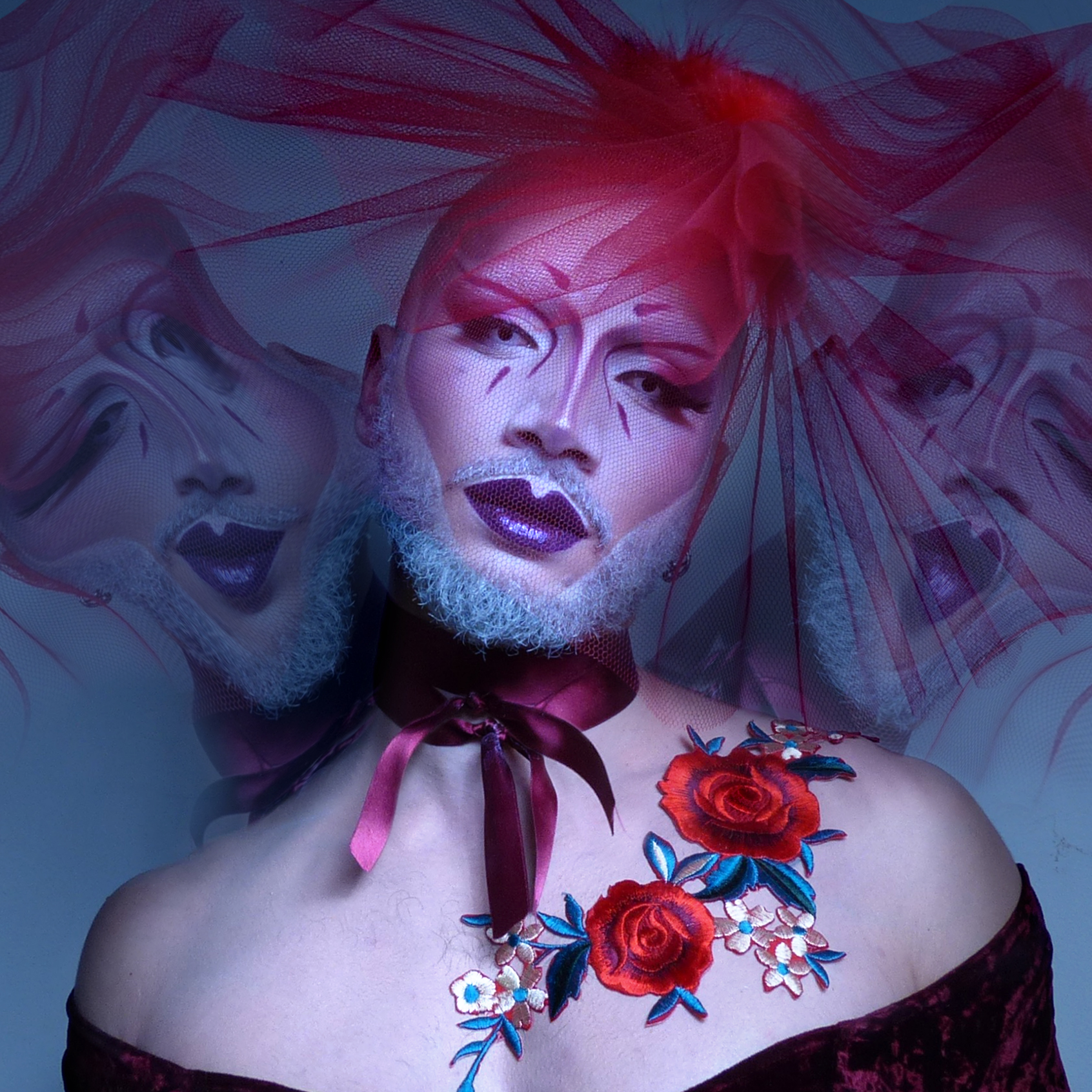 That is what I personally love about your drag. And the same goes for how you play with gender. The femininity in you is clear and abundant; your masculinity shines through and is always present. You are quite fit, with broad shoulders, and there is something that happens on stage when that body of yours is dressed in leather fetish gear and delicate lace underwear. It is beautiful and strange. How would you describe your drag persona? 
"I see myself as a strong, scary woman like Grace Jones. Someone who is here to fuck this shit up (laughs). At the same time I am sweet and approachable. My drag is super queer. If you are looking for a female impersonator, it is not me. If you are looking for a queen that performs to commercial music, it is not me either; I don't dance well in heels. I perform to songs that are vulgar, energetic and have a lot of emotions; with lyrics that help you tell a story; with moments of rage and calmness. Classics like Pat Benatar's 'Heartbreaker' or 'Venus' by Bananarama."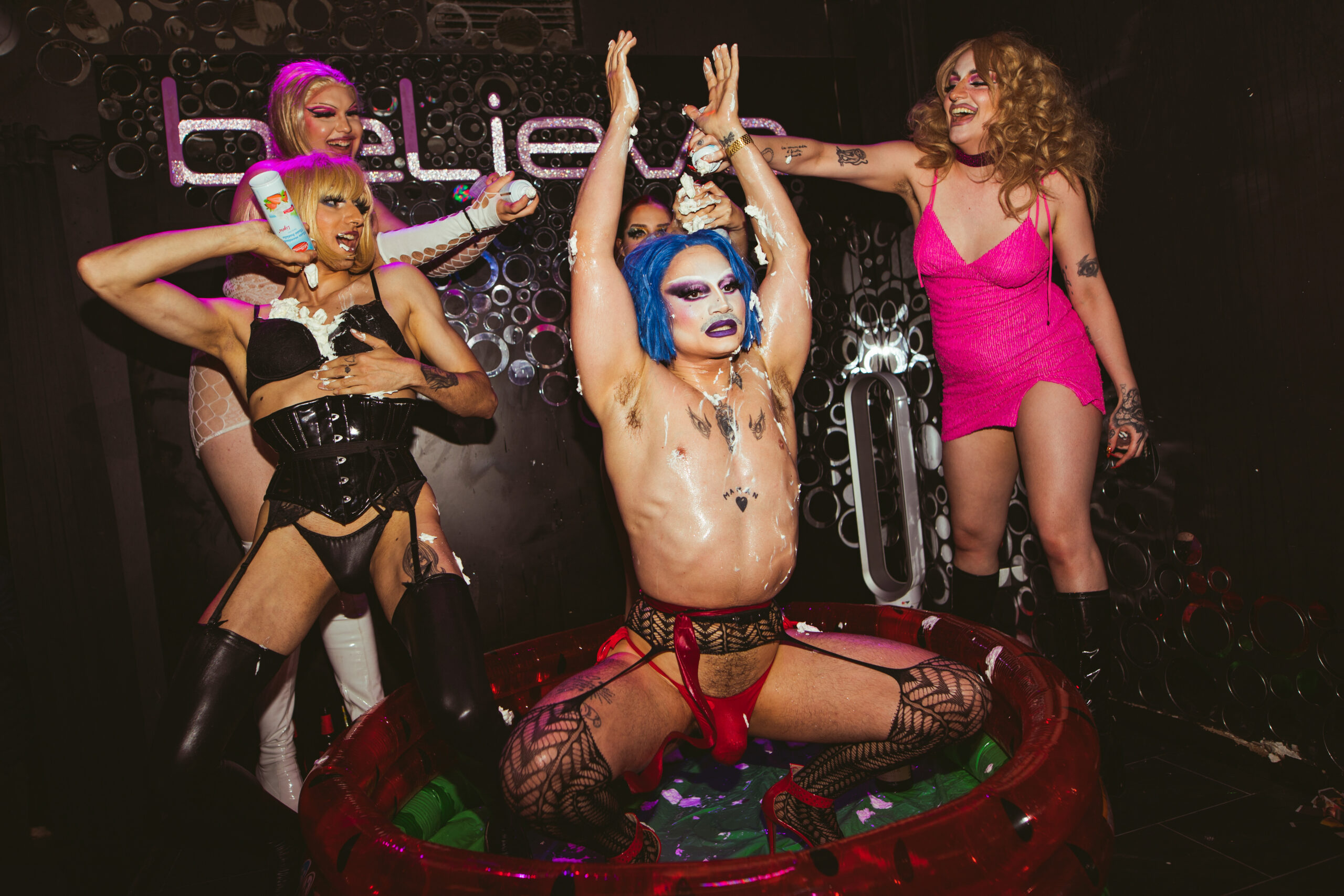 What is your favorite moment in drag? 
"When I started doing drag I always got booked with Le Felip (another infamous Parisian queen; you can check her out on Instagram @le_felip). Our energies work well together. She is tall, thin, fishy, chain-smoking and vulgar. I am the same, but butch. I always compare us to Eddie and Patsy from Absolutely Fabulous. A friend connected us to a famous queer artist: Rebeka Warrior from Sexy Sushi. She was doing a concert at a French festival and invited us on stage. There were thousands of people in the audience. We had no instructions and went totally wild. We drank a lot on and off stage – there was beer everywhere basically – and we even sang in the microphone. It was crazy and soooo much fun. I didn't care about anything; not even about looking pretty. I just felt honored to work with such a talented artist."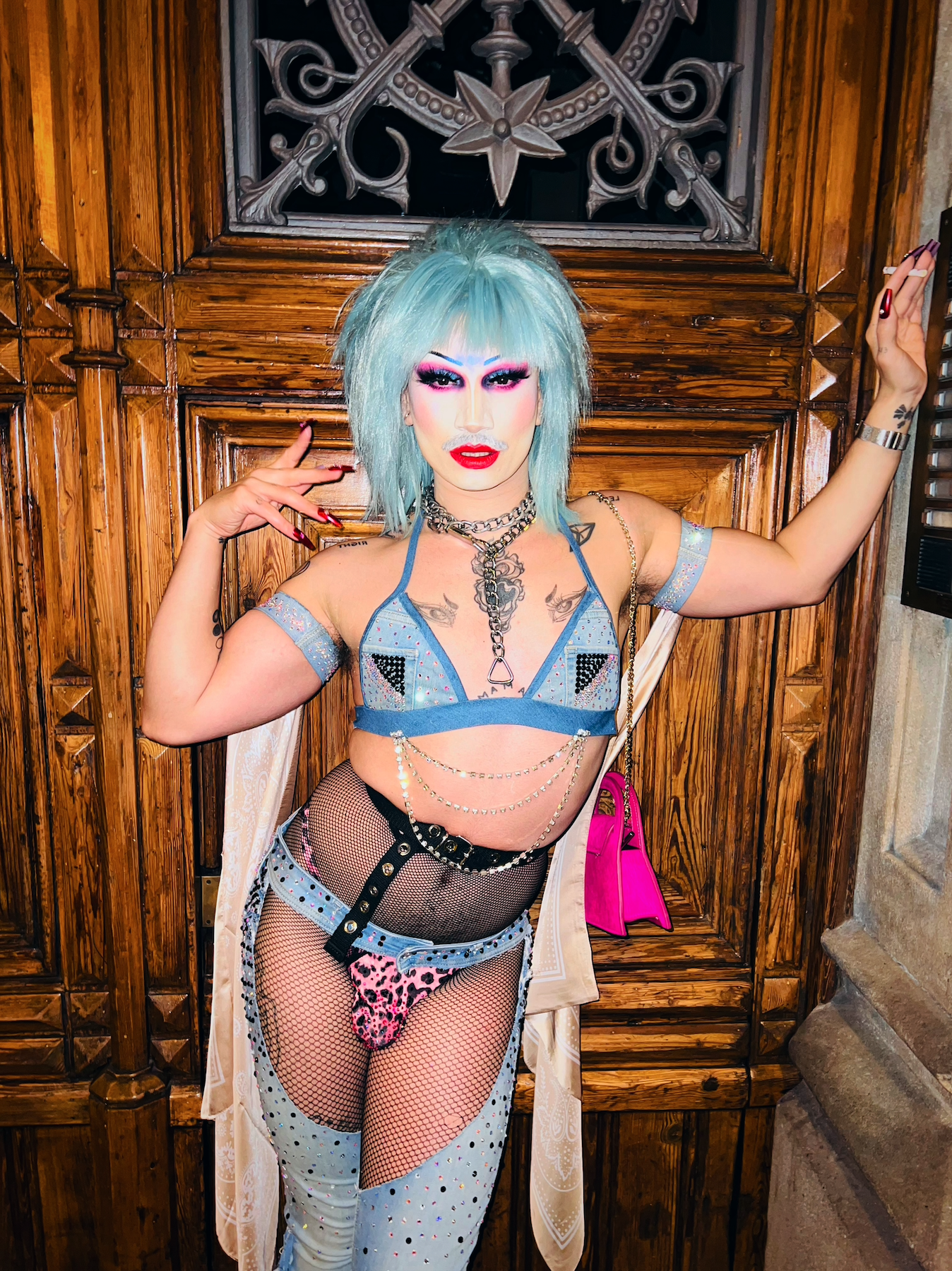 Is there anything you would like to share with our readers? 
"Go out and see your local queens to have a better understanding of what drag is. Don't focus too much on what you see on Drag Race; it is just a tiny representation of what drag can be. It is good that RuPaul is trying to be more diverse, but I feel it is not going as fast as it should. Drag is about freedom and experimenting with your own image. I gained confidence through it. It opened up a lot of creativity. I explored my identity through drag. That is why I do it. It is really liberating and I think that that is what drag should be. There are no written rules on how to do it. People should remember that!"  
Want to know more about Ryûq Qiddo or see him/her/them perform? Then check out @ryuq.qiddo  and @plumabcn on Instagram.