Stephan Metzlar-Rudolph is Mr. Leather Netherlands 2020
IT IS THE MONDAY AFTER LEATHER PRIDE AMSTERDAM, AND THE ELECTION OF MR LEATHER NETHERLANDS 2020 LAST FRIDAY. TO FIND OUT WHAT THE WEEKEND WAS LIKE AND TO GET TO KNOW THE NEWLY ELECTED TITLE HOLDER WE HAD A  CONVERSATION WITH MR LEATHER HIMSELF STEPHAN METZLAR RUDOLPH.
Good morning Stephan, congratulations on your new title, how does it feel?
I still need to get used to it. it's such an incredible feeling. The day after the election I had to look twice to realise the sash is real.
Tell us a little bit more about yourself, where are you from, what do you do and what made you want to compete for the title?
I'm 44 years old, was born in the GDR in grew up in a small town called Boizenburg. I moved to the Netherlands about 20 years ago and I would never go back. In 2013 I moved to Amsterdam to move in with Dirk, back then my boyfriend. Since 2014 my husband. I was inspired to compete when I saw what great work my predecessors like Raymond, Evert and Axe have done. Not to forget my leather mum Suus. I have a mission: fighting the stigma on HIV, and I thought being a titleholder gives me more opportunities to accomplish that mission.
What is it about leather and the leather community that draws you to it?
When I was 18 I went to New York for about a month. I wanted to discover my homosexuality. So I ended up in a leather bar close to the youth hostel where I was staying. The moment I opened the door, I smelled the leather and heard the crunch of it. I was immediately welcomed and felt part of it, one of the men. Every time I have met people from the scene it has been the same. They all are friendly, open and very welcoming. A couple of years ago my husband and I decided to live our fetish dream and started wearing leather.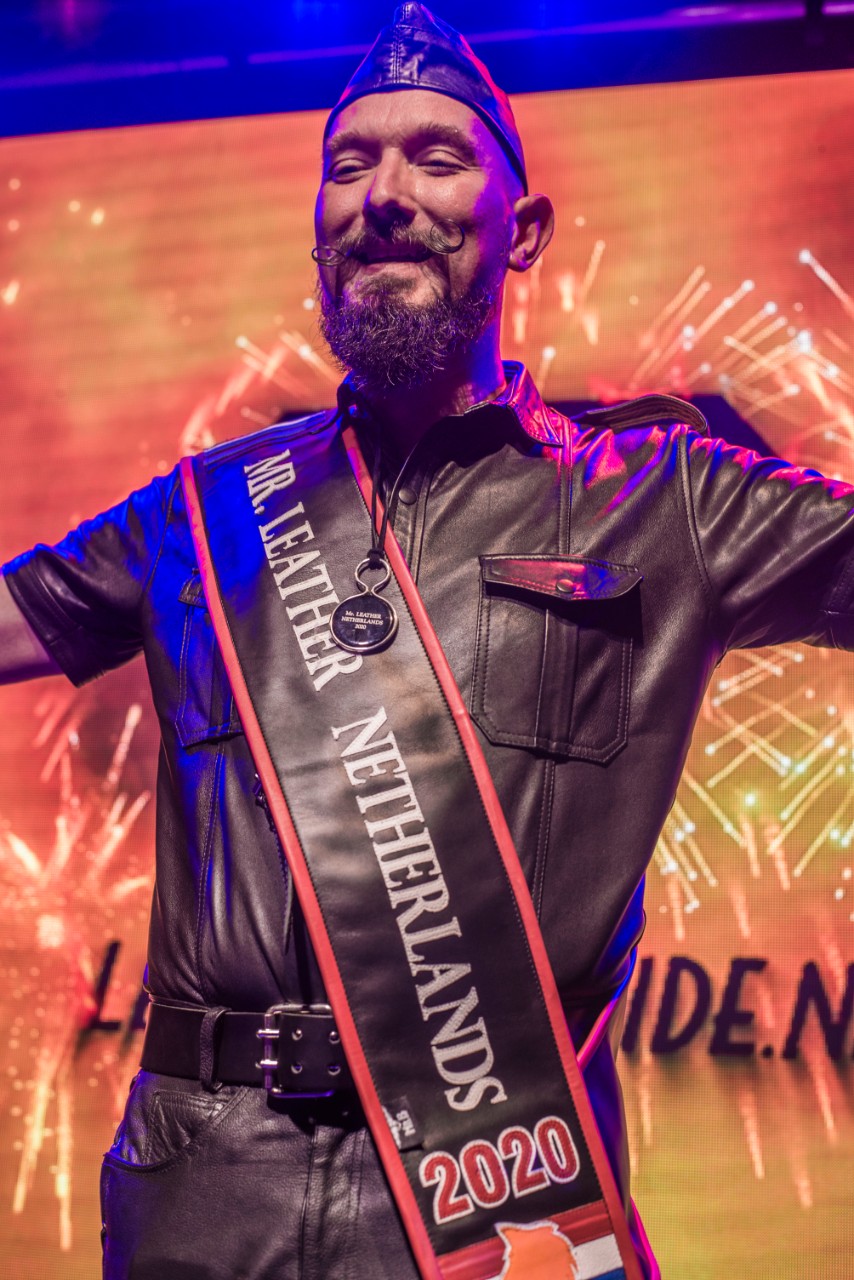 Could you explain a little about the process of competing and what you had to do?

I was thinking about joining the competition for a couple of months. After talking to people in the community I sent an email to the organisation on the 13th of July. A couple of weeks later I got a form to fill out with more information about me and why I want to be Mister Leather Netherlands 2020. So I became officially a candidate. 6 weeks before the Leather Pride we received more information about the event. There were 2 blocks of 5 minutes, one for an interview and the other to perform on stage. Dirk, is a music producer, and I thought of an act to present myself during the event. We asked Niki Today as director and made this incredible video: Menergy (Mr. Leather Netherlands 2020 Anthem)
What are your responsibilities as Mr Leather Netherlands 2020?
The main responsibility is of course to represent the Dutch leather community. The organisation also expects the newly elected Mister Leather to compete in the Mister Leather Europe Election.
What are your plans for your title year?  Any specific events you are planning to visit?
I have two main topics for my title year. The first is to enable different parts of the LGBTI+ community to get to know each other better. I organize IDAHOTIQZ with my friends, an event on IDAHOT, on the 17th of May 2020. We started this year and it was great to see that members that represent all the letters within the rainbow community came together, overcoming prejudices and accepting one another. The same goes for visibility in the Netherlands. So I will continue the great work Axe has done and visit several Prides and other events all over the Netherlands.
The second topic I mentioned earlier. Fighting the stigma on HIV. I have been positive for about 26 years. The first years I spent fighting the virus, the last couple of years I'm fighting the stigma. My goal is to bring the HIV/AIDS organisations in the Netherlands together and set up a campaign. A great start would be the 'Power of Love' event at Carre.
A week before that is probably the first international event I will visit: Evidence in Nice France. Next year the European election will be held there. So I would love to take a glimpse this year. For the beginning of March Darklands in Belgium is on my agenda.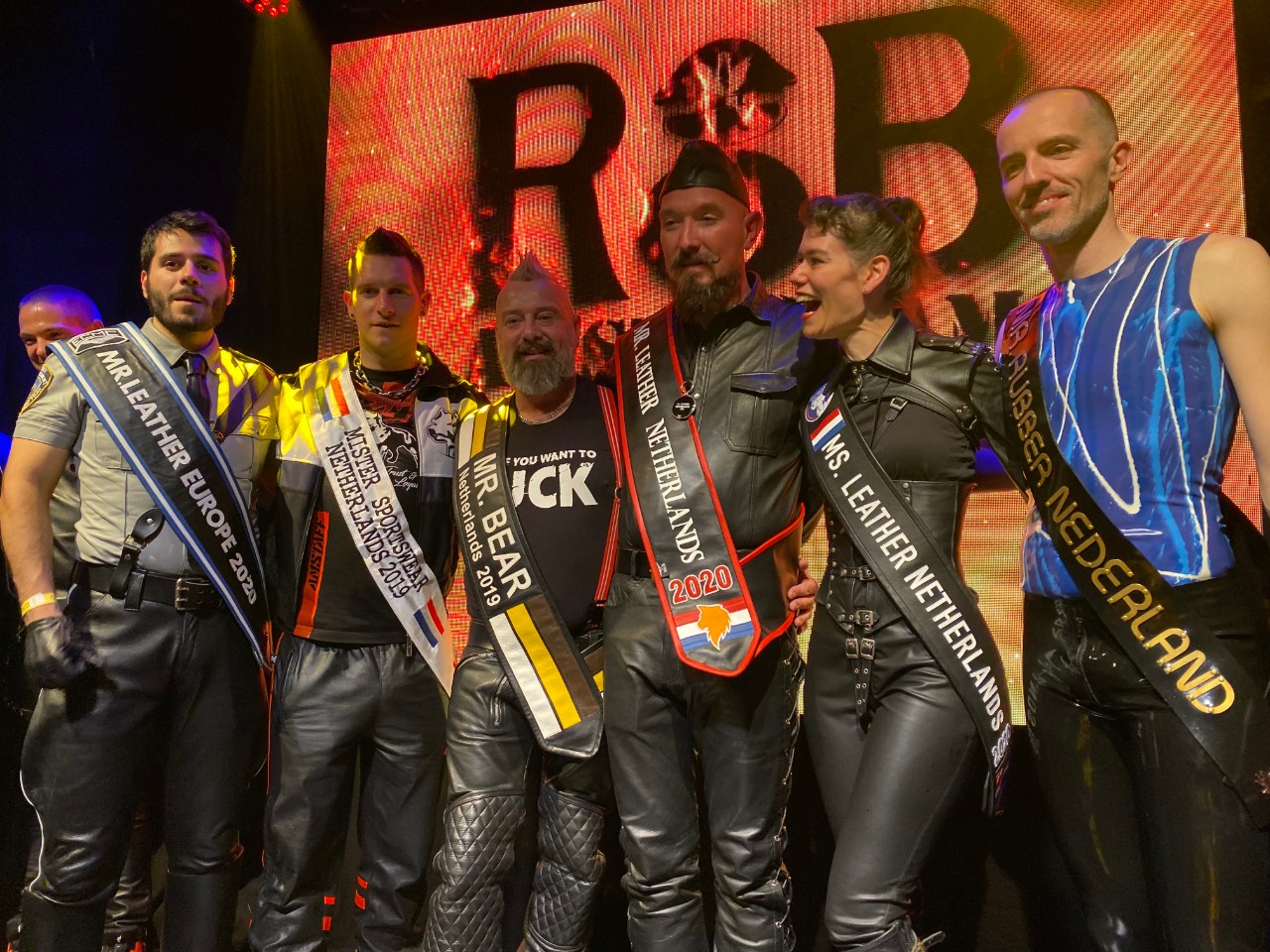 What is your favourite leather item you own? And what is something that is on your wish list?
That's a hard one. The jury asked the same thing. It is probably my Mister B leather skirt. I just love it. It's so soft and can be formal but also a bit more slutty. And I would love to buy a leather kilt.
Next to leather any other fetishes or kinks you'd like to share with us?
My favourite colour is yellow. So I love watersports. I'm open to most fetishes and kinks and have not many limits. Ask me to join a nice bondage or BDSM session and I say: yes!
Next to winning, what was your favourite moment this last weekend at Leather pride Amsterdam?
I really enjoyed the dinner, organised by BLUF, MSA and LFN. Great to see so many men and women socialising in the middle of the city.
Thank you very much for your time, the Mister B WINGS Team wishes you a fun title year.
Thank you very much!