On May 25, 2020, George Floyd, a 46-year-old black man, was murdered in Minneapolis, Minnesota, US, by Derek Chauvin, a 44-year-old white police officer. Floyd had been arrested after a store clerk alleged that Floyd made a purchase using a counterfeit $20 bill. Chauvin knelt on Floyd's neck for over nine minutes while Floyd was handcuffed and lying face-down in a street. Two other police officers, J. Alexander Kueng and Thomas Lane, assisted Chauvin in restraining Floyd. Lane had also pointed a gun at Floyd's head prior to Floyd being put in handcuffs. A fourth police officer, Tou Thao, prevented bystanders from intervening.
This awful display of violence was filmed by bystanders and quickly went viral. Since this happens far too often in the US, people were done. This unleashed outrage and protests on a global scale. It also got people thinking about their own racial bias and behaviour. The video was so graphic that it was almost impossible to ignore the apparent injustice displayed so openly by white law enforcers.
https://en.wikipedia.org/wiki/Murder_of_George_Floyd
As a person of colour, the following months were very intense, from reassessing my own internal racism to deciding whether I had the energy to help educate my white friends and to receiving death threats on Facebook for supporting a BLM (Black Lives Matter) protest during the pandemic. Many people around me were either trying to educate themselves or doubling down in their racist ways of thinking.
Many companies also had to reassess their way of marketing and hiring and look at their internal racial biases. At Mister B and WINGS Magazine, we have been keeping the internal conversation going. Looking at diversity in our staff and in our marketing and promotion as well, to make sure everybody feels included and represented. This was just a start. It's three years later now, and I can say it is an ongoing process of being present and keeping an open mind for feedback. Things will never be perfect or done, the work continues.
At Mister B we are currently working on different internal projects, for instance how our products are named. Previously, our Mister B FUCKTOOLS dildo line consisted of a black version and a skin tone version. However, there is not just one skin tone. Often, products named skin tone or nude refer to the skin tone of a white person. So, next to our black dildos we have introduced light-skin and dark-skin to be more inclusive. Furthermore, we no longer refer to 20-hole boots as skinhead boots, but we call them punk boots now. Next to that, we stopped gendering products. Why should something be called a female or male strap-on harness? People can identify however they want. Having a vagina doesn't automatically mean you are a woman. The names of the products should reflect this.
Where does a fetish reference come from and is this something we want to align ourselves with? For instance, we used to sell leather Breeches. This is something we no longer carry in our assortment. It is an ongoing project to make sure we are present, aware, and don't get complacent.
Representation matters. Mister B is for everyone, so everyone should feel seen by us. Working with diverse models is something that is very important to us and to me. Whether it is different body types, different genders and gender expressions, or people of colour, everybody looks good in Mister B gear. The beauty of fetish is that it amplifies how you feel. Also, working with people from different walks of life makes the job so much more fun. Getting to know them and see what they love about fetish is very interesting. The responses from the community have been amazing.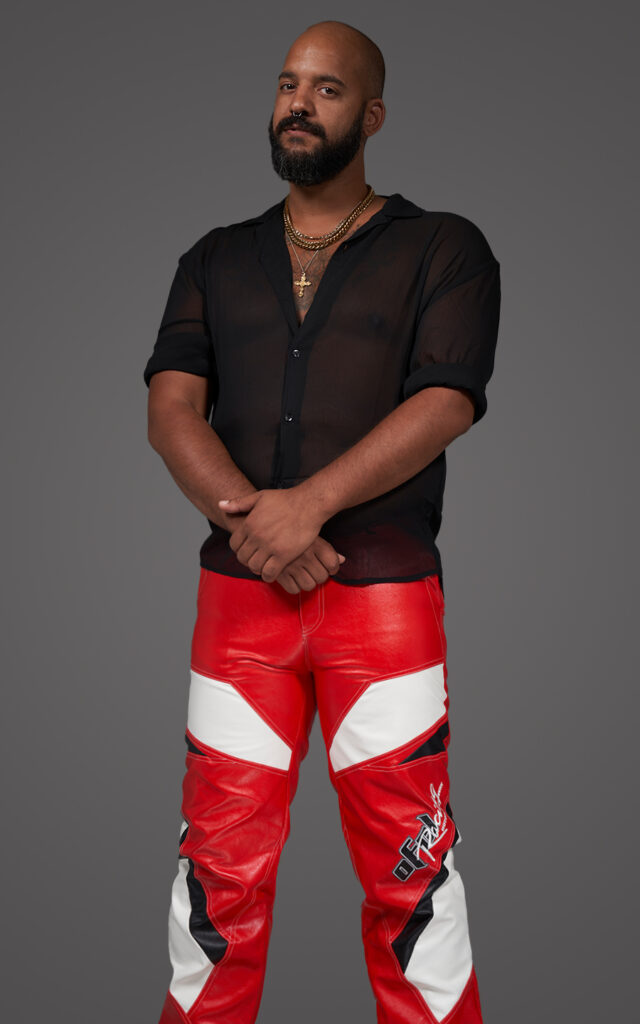 Over the past three years, I have had many conversations with fetishists of colour about their experiences, and we featured them in the magazine or during our live WINGS Talks. What I have noticed is that change is for sure happening within the scene. However, there is still a lot of prejudice and people of colour still deal with a lot of microaggressions.
Microaggressions are the everyday slights, insults, putdowns, invalidations, and offensive behaviours that people experience in daily interactions with generally well-intentioned individuals who may be unaware that they have engaged in demeaning ways. – adapted from Sue et al., 2007.
Not to mention the glorification of racist right-wing ideas within our scene. Whether or not this is used as a fantasy, one might want to ask oneself, 'Why do these practices turn me on?' and unpack that. Don't get me wrong, I am not kink shaming anyone. What two consenting adults do in private is none of my business. And fantasies can be extreme because they are fantasies. Just keep in mind you could hurt and offend people in the process.
So, three years later, where are we now? Mister B has an ongoing internal project about inclusivity and diversity, in which we educate ourselves and create a safe working environment. Whether it is about our hiring process, our language inside and outside the company, or the people we work with. It is an enriching process that brings us closer to each other as well as to the community.
Personally, I'm in a good place. Within the last few years, I have found acceptance and pride in my heritage I never had before. Celebrating blackness, as well as my queerness, as a positive. I am very happy my job gave me the room and the platform to work on this publicly and share my and others' stories.
We are not there yet. Currently, a lot of queer and trans rights are under attack which unproportionally effects queer POC (People of Colour). Next to that, trans rights and women's rights are under attack. It starts with attacking one part of the community, but it will not end there. As a community, we have to work together.
So, do the work, follow social media pages that talk about these topics, talk to your friends, and make some new friends that maybe don't look like you. Why not look into the experiences of other people within the community? Try not to judge but have a conversation. Talk to your family or co-workers, and educate them on sexuality, gender, race, and queerness. It is proven that having a queer person in your inner circle significantly decreases homophobia and transphobia.
Keep up the work!
Tony de Wilde
Editor-in-chief
Mister B WINGS Magazine