Rubber. It's a magical, mysterious material. It's smooth, it's sensual, and it can give you the feeling of a second skin. It warms when you wear it, and it's pleasant to touch or to be touched in. It can make you feel super sexy! Depending on the type of garment you're wearing, it can also give you a huge ego boost. If you wish, you can transform into anything or anybody with rubber, which makes it perfect for all kinds of role-playing. Nowadays, latex is not only worn in the BDSM, kinky or fetish scene, but it's also very present in the fashion and club scene. Rubber is often worn as a bold fashion statement; it's not just reserved for fetishists anymore.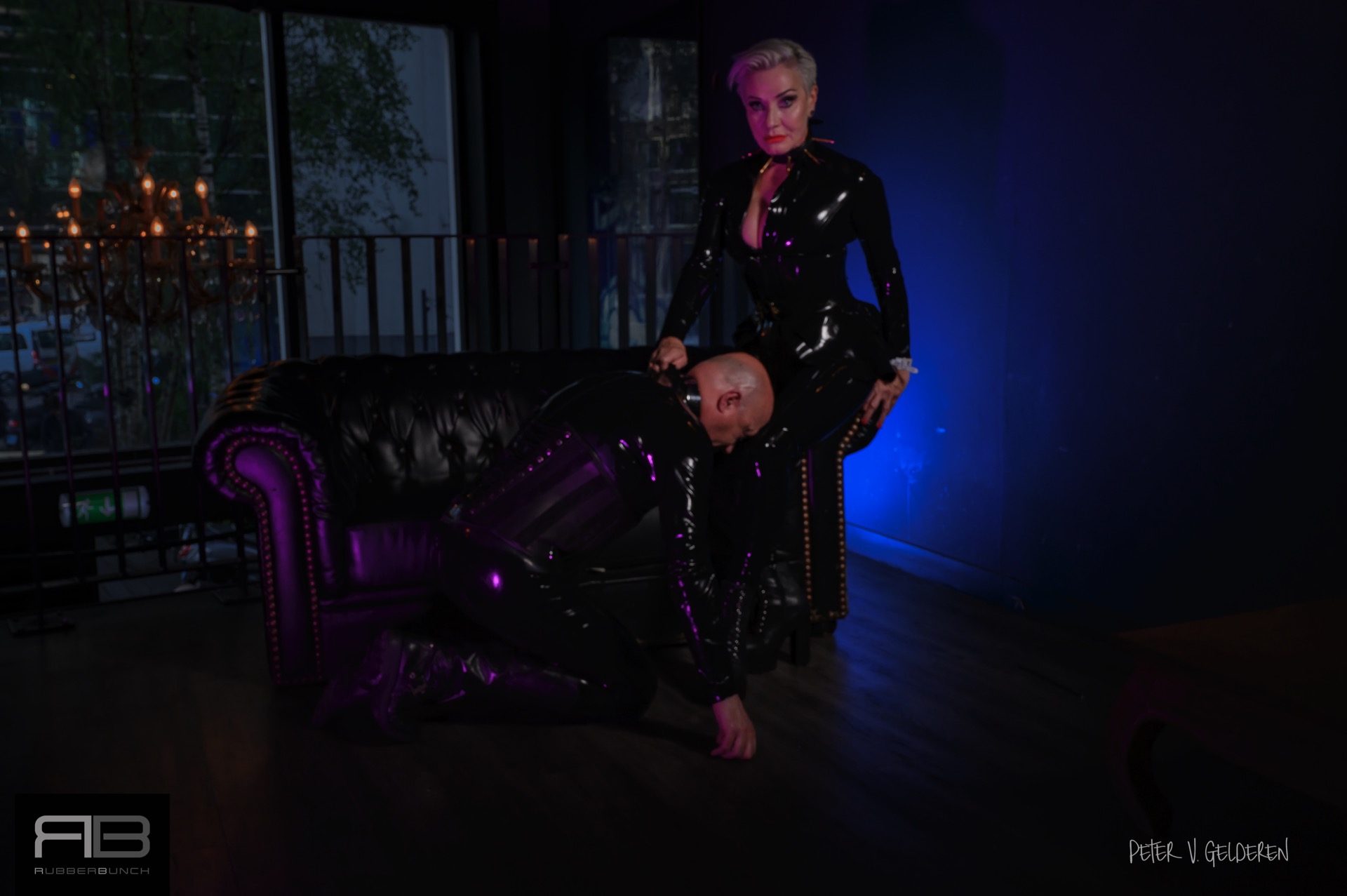 But beware: latex is addictive and once you start using it, there is a good chance you eventually will be spending (a lot of) money on it. And we haven't even talked about rubber play yet, playing in your latex outfit, or both! There is a huge range of (gas) masks, toys, inflatables, bondage and sleeping bags, restraints, collars, cuffs, and more. Check the Mister B shop for all the things you want to know more about.
Whether you're a hard-core rubber fetishist, a rubber doll, a rubber fetish fashionista, or you just like to wear latex every now and then, perhaps just for dancing and posing, at the RubberBunch you can have a blast with whatever turns you on. At the party you can dance to Berlin techno until you sweat, you can socialize, you can play, and there are shows and demos for you to enjoy.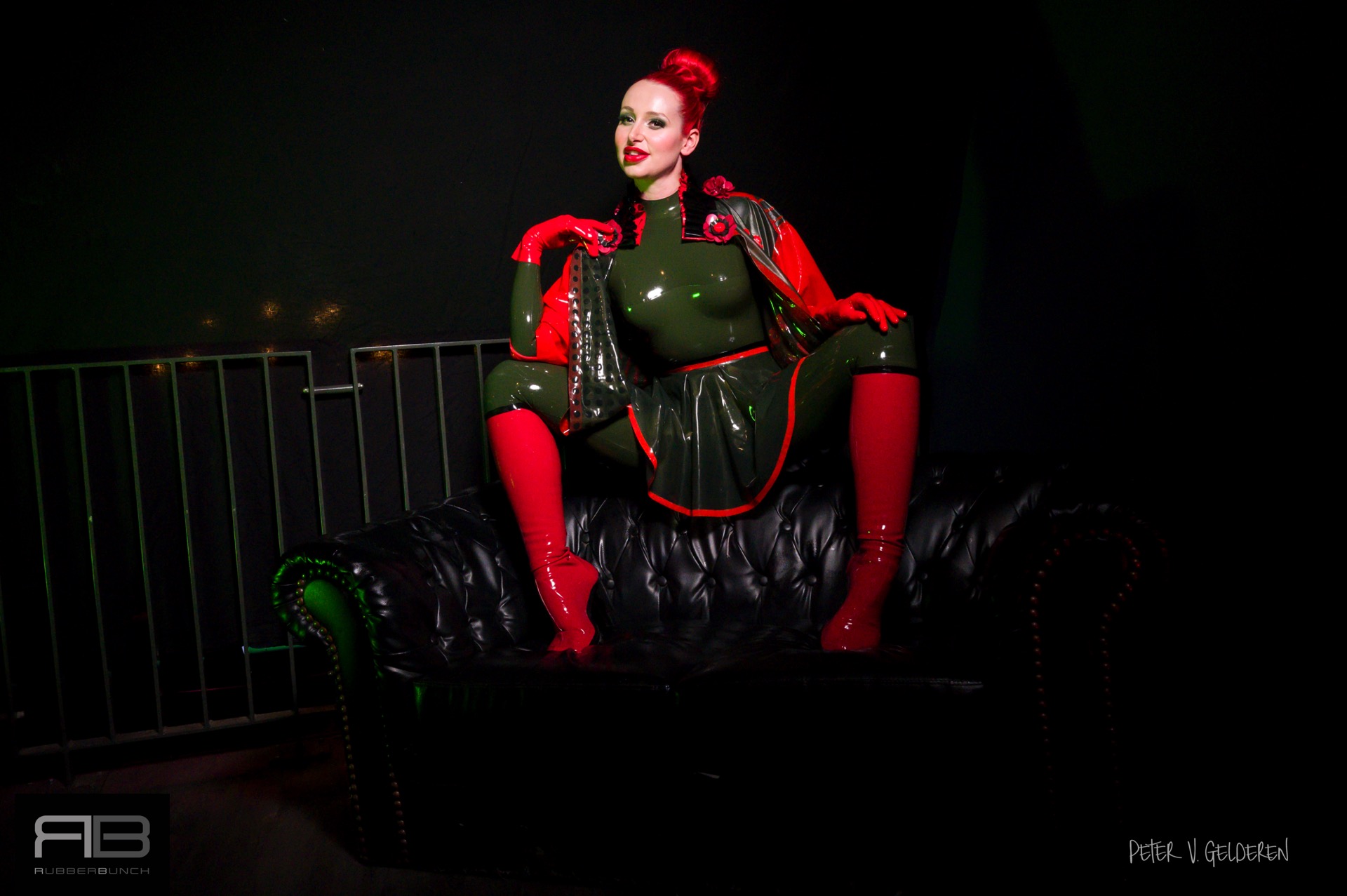 The last edition we did a breath play demo with special rubber masks and the time before there was a vacuum bed demo. In addition to the party, there is the Rubber Munch. The munch is accessible and very suitable for those who find a party (yet) a little too exciting, or for those who don't like loud music or staying up too late.
The idea for the RubberBunch arose to me a couple of years ago. During my work in the fetish scene, I often got into conversation with people who wanted to connect with like-minded people; they wanted information and had trouble "coming out". There was a lot of frustration and misunderstanding among them.
I guess people often think and judge too easily about (people with) a rubber fetish. It's often dismissed as vain, or just as a "sex" thing, but it's so much more than that. It can be a lifestyle, and a way to let go and de-stress. And it's super creative and extravagant. Extravagance is a thing that sometimes is undervalued by the Dutch; we need more extravagance because it's so much fun. There are already so many boring and ordinary things in life.
So, I thought: how nice would it be to start something where rubber is what connects people? A place where anyone who is interested in rubber can go to. A place where you can have fun and dress up without feeling like a freak or an outcast? Often young, novice rubber enthusiasts in particular do not know where to meet like-minded people. Much of what is offered to them is mainly focused on BDSM, while as a rubber lover you may not like edge play at all.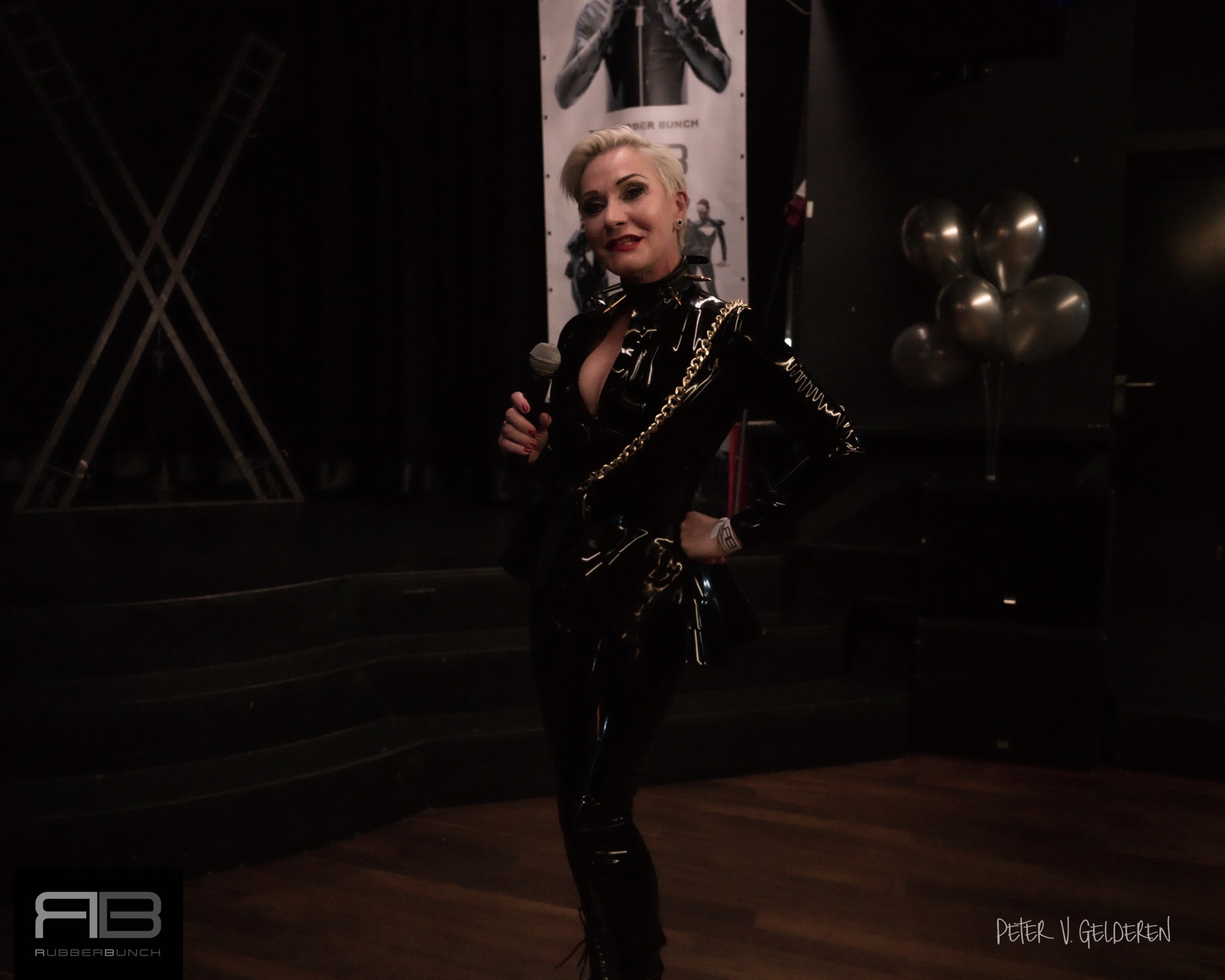 At the RubberBunch we try to offer something for everyone. The party, which is being organized in Amsterdam, has a play area for you to bring your toy box or your rope – you don't have to. Of course, there is also plenty of opportunity to stroll, dance, and chat. The atmosphere is very pleasant with all ages, nationalities and genders that can be found there. You will especially be surprised by the amazing outfits throughout the party.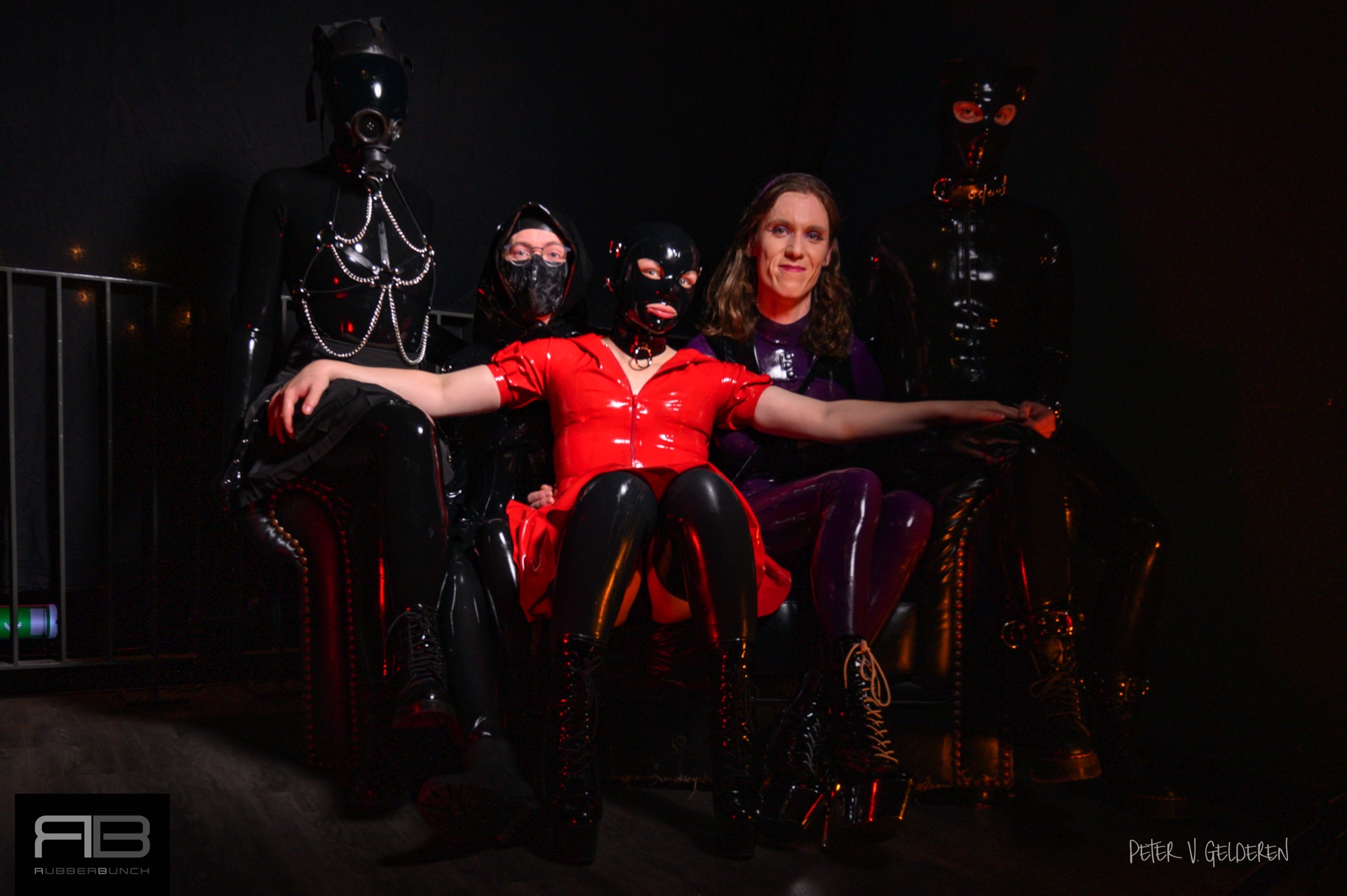 The munch, which takes place in Utrecht in the late afternoon, is slightly different from a "normal" munch. The RubberBunch munch is suitable for everyone, also for partners of rubber lovers and for those who may not have a rubber outfit (yet). There is no mandatory dress code, but if you want to, you can dress up, or bring your fetish outfit and decide later if you feel comfortable changing.
With The RubberBunch I like to help "new" and discovering (rubber) fetishists on their way in this wonderful, magical world. And by offering the munch and the party, I try to offer something for every rubber lover out there. How great would it be if the beautiful and diverse community of rubber lovers gradually emerges? It's evolving already!
Are you a performer or an artist, is there a demo you want to do, or do you want to participate in The RubberBunch in another way? Please contact us and maybe we can work together.
The next RubberBunch party will be on November 5th in club Akhnaton in Amsterdam, and the next RubberBunch munch will probably be inin ACU in Utrecht (date yet to be announced)
I hope to welcome you to The RubberBunch! Check out the website (www.rubberbunch.com) and join the group on FetLife www.fetlife.com/groups/208578)
The RubberBunch is sponsored by Mister B.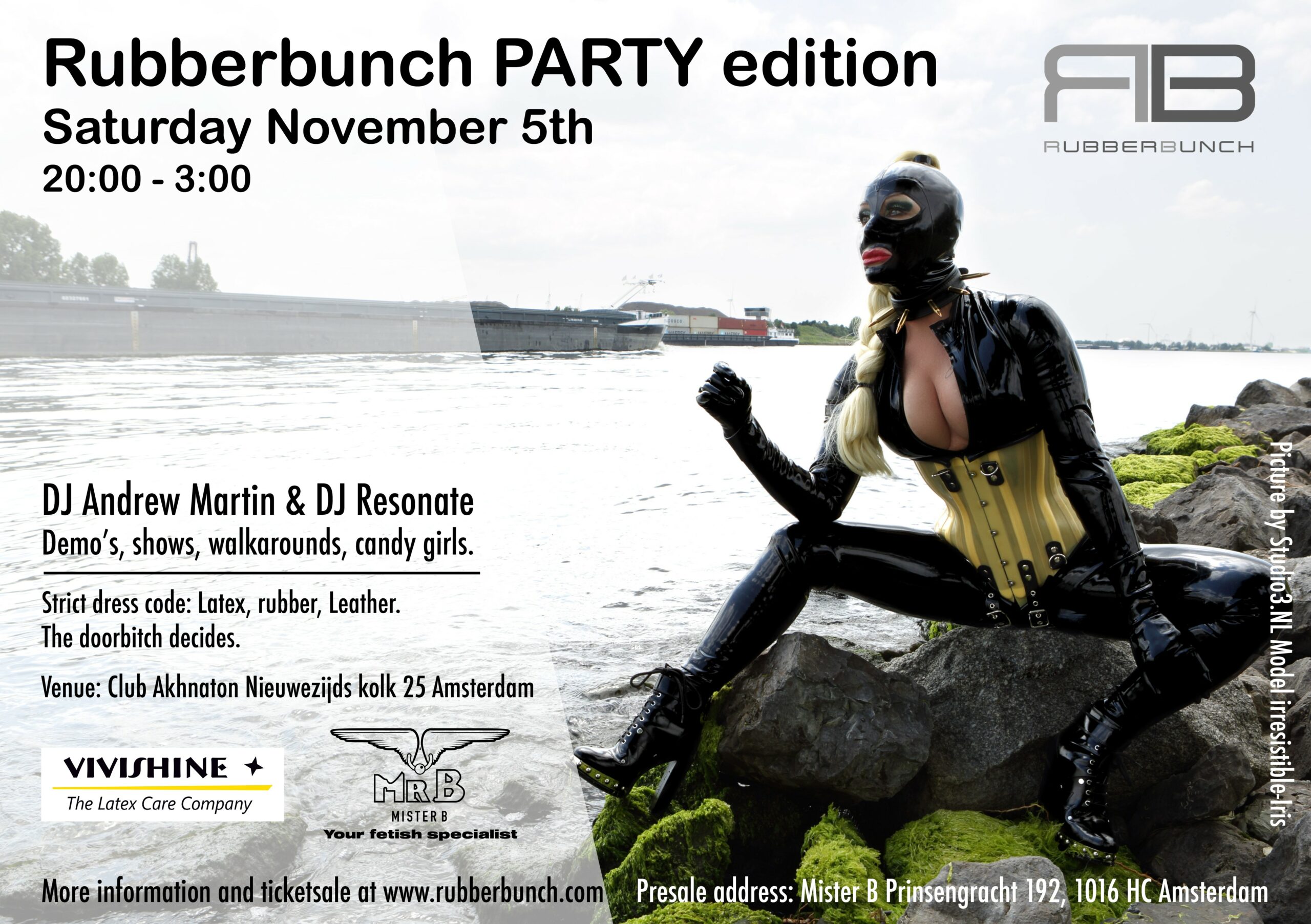 ​