This Mister is not somebody to sleep on. Great fetish gear, a charming personality, a teddy bear heart, a strong sense of self-awareness, good morals, an opinion that demands to be heard… oh, and eyes you could get lost in. That's right, Miroto Markov (he/him) and his newly won Mister Leather Berlin '23 title are here to make a scene, and we love it.
Take us back to the turn of the century, where it all started.
"Indeed. It was underground Berlin back in the day, so of course, I never had to go far before seeing latex or rubber and other elements of fetish. But when the first leather shop opened, something shifted inside me. I walked into that store, looked around, and thought, "I'm in Heaven!" I was like a kid in a candy store – but really. I was only 18 years old, living without my family in a foreign city, slinging beers to get by. And the people from that store took me in. I remember the manager even lent me his leather pants so that I had something to wear for leather pride. They became friends for life and remain some of my biggest supporters."
You were gone for fifteen years. How was it coming back?
"I was living in the Canary Islands for fifteen years, but when I returned to Berlin last year, I noticed the difference. And I've got to say, it's not so pretty. When I went out for the first time in rubber, all the leather guys were questioning, "But you're a leather man! Why are you in rubber?" It took me aback because the Berlin scene I grew up in never had that small-mindedness. In the Berlin that I knew – the community that took me in and raised me – everything was accepted, people were mixed, and fetishes were united."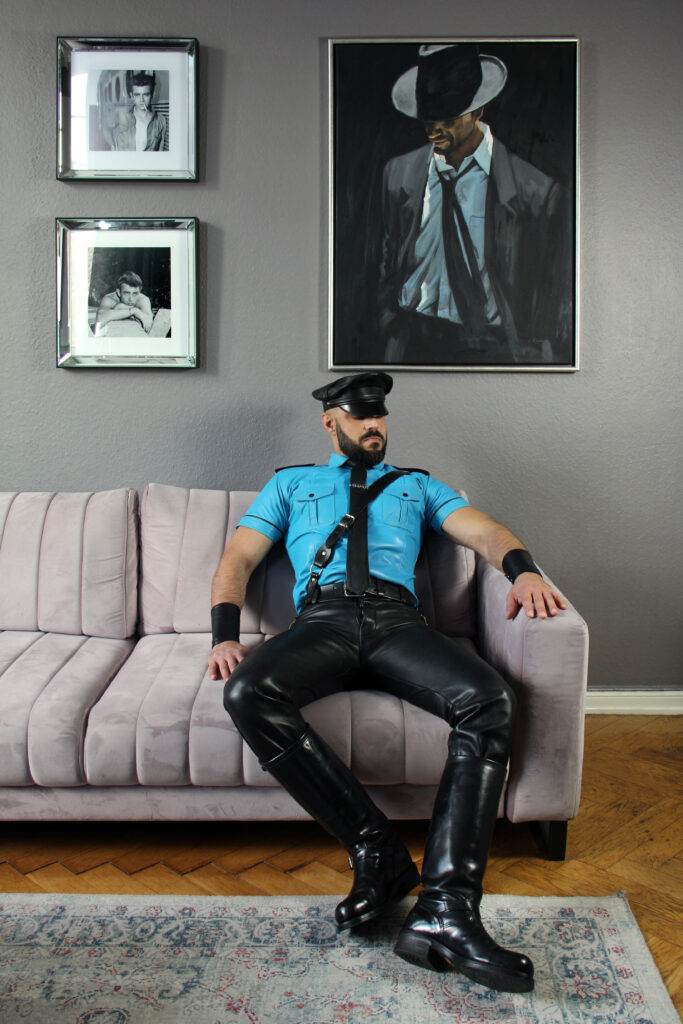 So, the Berlin scene has changed. But how?
"I think people have forgotten that the diversity of Berlin makes it a city we love. Where's this new mindset coming from where everyone needs to be labelled, divided, and segregated? And based on what? On what they happen to be into? It seems absurd. I don't want a scene where people are divided into subgroups and where people cannot 'find their place' because they feel restricted to one thing or the other. That is actually what pushed me to enter the Mister Leather Berlin competition."
And then you became a fetish-scene vigilante. Why?
"Before the elections, a friend and fellow competitor came to me and told me he had a problem fitting in the scene. He didn't know what to do because people laughed at him and teased him. It really hit close to my heart. And then, one night out, I overheard one of his closest friends laughing at him and mocking him. So, I stood up, went over to him, and well… let's just say that friend was put in his place and hasn't opened his mouth since! It's an unfortunate reality, but that kind of catty behaviour happens a lot in the scene; people bitch and bully behind people's backs. Making derogatory comments about some of the 'tops' or 'masters' because of how they act, what they're wearing, their dick size, or whatever. It's toxic behaviour that I just cannot stand. It doesn't really matter how it's said. Even if it is said with a laugh, people need to realise that their words can hurt. And when those words come from people that you care about, it's even worse."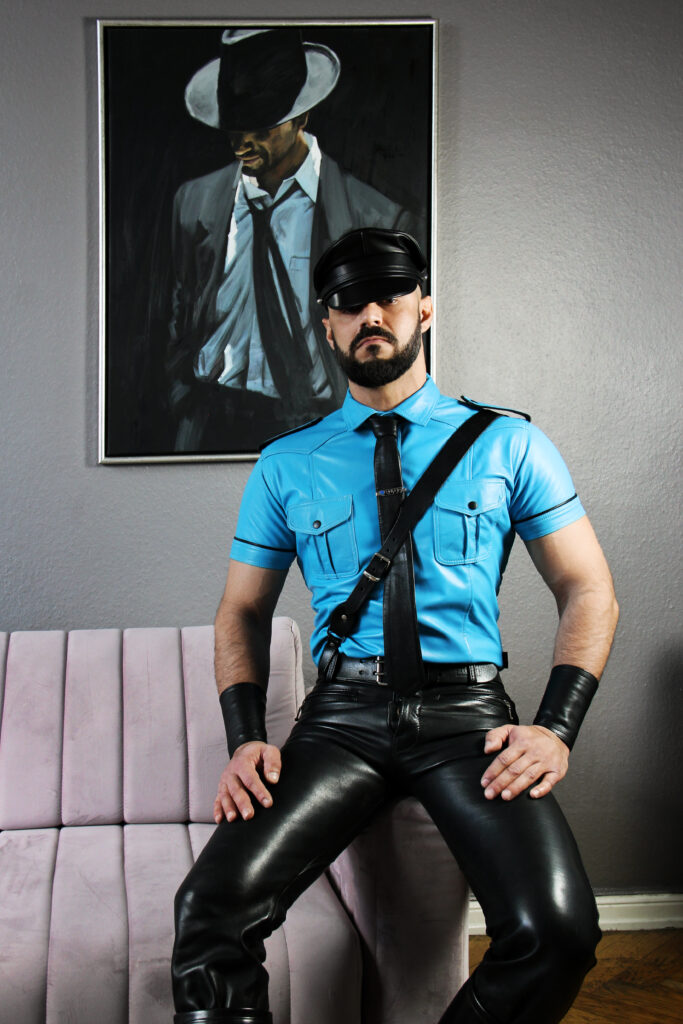 It's not all on you. How can we do better?
"First, I encourage anyone with a platform to use it, and if the only platform you have is your voice, don't just sit by quietly when you see toxic behaviour. Be loud. Make a point. Be visible. That's the most important thing. Most people don't even realise they're doing it because it's becoming an intrinsic part of the culture. So, it's up to you to explain that it's not right or OK. I'm not advising people to start picking fights, but you should know what you stand for, and stand for it."
And what about those who feel rejected from the scene?
"As hard as it may seem, keep being unapologetically yourself and don't give the haters the power. Be visible. Let them see you happy in your skin, whatever you wear or do. Once people start seeing more of this in the scene, they will stop trying to put everyone into a box. And I'm a living example that you can be everything. I am not just a Leatherman; I'm a rubber man, a Doberman, I'm a bondage master, I'm into puppy play, and I can be a dom and a sub. I'm an example of being everything and not fitting into a category. My sash may say 'Mr Leather', but in this title year, I plan to represent all the Berlin fetish scenes."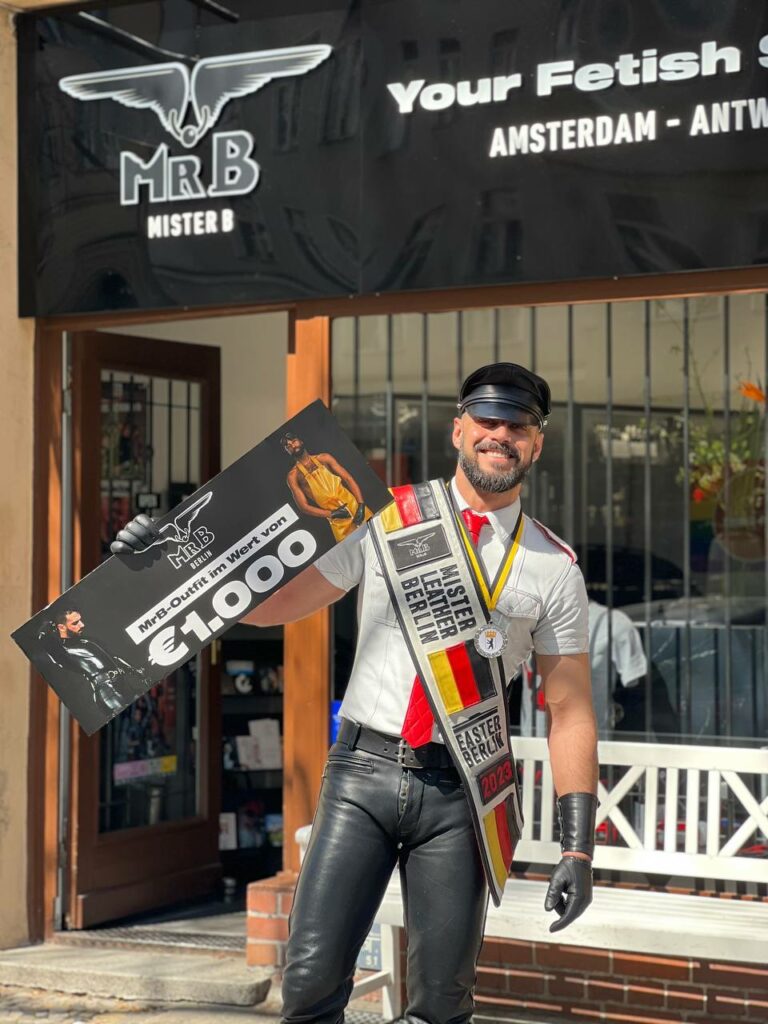 It sounds like you're cooking up something deliciously disruptive…
"Oh, I am so ready to shake it up. When I see a group of leather guys, I'm making a beeline towards them wearing rubber. When I see everyone wearing all black, I'm going head-to-toe colour. That's what I do. I make a scene, even if it's just by my outfit. Everyone loves to wear the same thing in the fetish scene; granted, it looks nice. I just wish they realised that to belong to a group, you don't need to lose your personality, and all look the same. People get frustrated that I refuse to toe the line and do what's expected of me, but they will just have to get used to it."
As the photos in this article can attest, Miroto Markov is one fine specimen. Lucky for us, he often posts on Instagram with new content to feast your eyes on. Head over to his Instagram @miroto_markov and give him a follow.