For over three decades, Mister B has been designing and producing the best-looking, high-quality leather fetish gear for men. From trousers to chaps, shirts to shorts and collars to hoods, if there is a way to wear leather, we've done it. When you're looking for quality leather clothing that will make a lasting impression, then you come to Mister B.
Our collection of leather clothing is fairly extensive, so it's impossible to choose a favourite item, so here we highlight some of our most popular pieces. If you haven't already got a pair, we know you'll swear by them, our classic, staple leather jeans, the iconic Mister B Leather FXXXer Jeans. Like all our jeans, these are handcrafted in our leather workshop from strong, yet supple 100% aniline full-grain cow leather. They have a uniquely shaped pouch and a full zip, which automatically draws the eye to the crotch. Wearing them will guarantee you a lot of attention. More of a statement piece is the Mister B Leather Indicator Jeans, which have detailed, stitched padding along the legs. These, like many of our other jeans, have the detail and design that compliments your shape and form, creating an image of leather that will make your friends jealous.
We recommend pairing your leather jeans with our classic Leather Police Shirt. You can find these items are all available in black, but also in a variety of other colour options. To finish your look off, add the Mister B Leather Jacket with belt and Motor Boots and then you'll be making them all drool.
Leather, sex and BDSM go hand in hand, especially with our range of leather bondage gear. Limit your sub's movements with our Mister B Leather Ankle and Wrist Restraints, or go full tilt and put them in the Mister B Leather Straitjacket. Mister B also offers a full line of premium bondage gear for hardcore fetishists and players. These items are comfortable, durable and sleazy. Bondage has never looked so hot. The Mister B Premium Muzzle Head Harness for example is a first-class mind fucker that will make your sub shut up immediately and the Mister B Premium Bondage Fist Mitts will take care of their hands. We have the complete collection for both the experienced or newer leather fetishist and quality items that will last you through years of kinky, leather excitement.
MISTER B LEATHER CARE
· Mister B Leather products are made from completely natural, full-grain leather and handcrafted with great care. With such fine quality natural products, texture and gloss are normal and a part of its charm, making each piece unique for you. With the correct care, Mister B Leather will last you a very long time Leather is a strong material and your garment should last you from about seven to ten years
· Because it's a natural material it's susceptible to heat and moisture
· Though all leather is strong, it is available in different thicknesses, depending on the type of garment it's used for. This means that sharp objects, including long fingernails, can easily scratch a softer leather garment
· The thinner the leather, the more susceptible it is to stretching
· Leather has a porous surface, which means it can absorb the oils from our skin or hands. Therefore, lighter coloured leather, like white or beige can take on visible stains and marks from other materials or darker leathers
· Do not use dark or black leather creams on white or light-coloured leather garments
· Do not wash leather garments because soaking them in water will dry them out, instead, clean spots or stains with a damp cloth and then dry them right away
· The stitching on your leather garments is susceptible to damage from certain liquids such as leather creams, oils, and urine, to name a few
· Poppers, household solvents and other chemicals can cause damage to your leather garments

In General: Maintaining Leather
To make sure your garment stays in great shape, use Mister B Care Leather Polish once or twice a year depending on how often you wear your garment. Use a cloth or sponge to rub the product on the outside of your garment and always stay clear of the stitching. The oil in the polish, will nourish and shine your leather and keep it supple. You won't need to use the Mister B Care Leather Polish too often on larger leather garments like pants, shirts and jackets, but more often on items like bicep bands and harnesses. The more you use it, the more supple the leather becomes and the garment may not return to its original tight fit.
With Leather Accessories like harnesses and biceps bands, the care is a little different, since the leather is thicker and fasten with metal D-rings, rivets or buckles, etc. It's important to polish these items more often, since a harness is prone to get extra sweaty and oily, after wearing. The metal in the harness is at risk of rusting, but you could avoid this. To do so, after you wear the item, simply wipe it clean right away. Both clean and dry it, then use the Mister B Care Leather Polish to keep the metal oily and the leather supple. Mister B Care Leather Polish is a semi-transparent black polish, which works well on black or darker-coloured leather garments, but is not recommended to use on lighter-coloured leather.
If you have any saddle-leather gear that is years older or hasn't been worn for a long time, you may notice that the leather becomes very dry or even begins to break a bit if it's been a very long time. What you can do to give new life to these items, is use our Mister B Care Leather Oil on them. This will nourish your worn-down leather. Rub in the oil and let it sit for 15 minutes to absorb into the leather. Then take a clean, dry cloth and wipe the entire garment to get a smooth result.
Washing Leather
Cleaning your leather garments is not like cleaning clothing made of cotton or other natural materials. With leather, after you wear it enough times or decide it's time to clean it, hang it inside-out to dry and air out. Once it's dry, turn it back out and wipe it clean with a damp cloth and only if you feel it is necessary, based on the type of stains, use only mild soap. Make sure the leather doesn't get too wet and make sure to dry it after because the prolonged wetness will dry it out.
Storing Leather
Because leather is a natural material and responds to heat and moisture, it is best to store your garments in a cool, dry, dark place.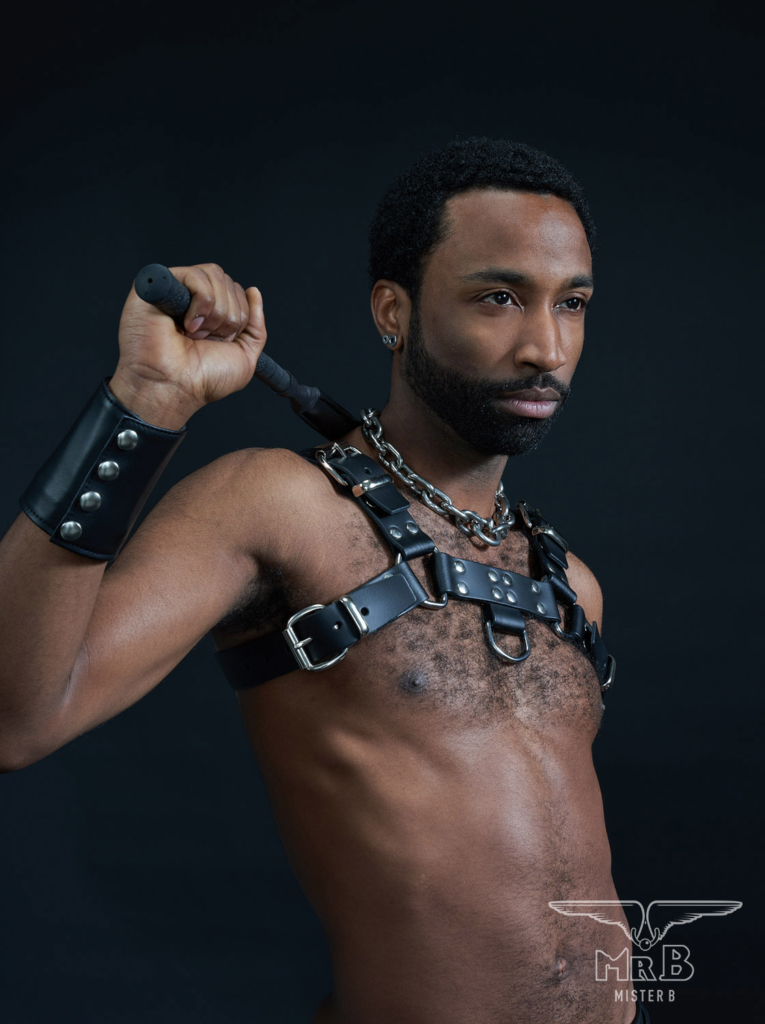 Dressing in Leather
Again, because of leather's ability to respond to heat and moisture, your body heat and sweat will help the garment to eventually fit you perfectly. This means that when you first fit into your leather garment it will feel stiff, rigid and tight, but as it warms with your body in it, it eventually gives out enough to create a perfect custom fit you your body.
When trying to get into a new and tight pair of leather shorts or trousers, we recommend you don't yank or pull on the belt loops as they are held in by stitches and can wear away easily by such heavy tugs. Instead, grab at the leather and pull upwards while moving your legs around and bending your knees to get the right give. We also recommend wearing your tight leather trousers at home for a few hours before wearing them out, to ensure the fit is ideal for their debut. Once they reach their best fit, they will remain and just become more and more comfortable as you wear them.