Yes, you read that right! Dating site Planet Romeo is no longer displaying paid advertisements on their site. They have made this rather unusual decision to let go of their second stream of income, we at WINGS asked them the reason behind this decision.
What are your reasons to go ad free?
A year ago we decided to turn off automatically delivered advertising through networks like Google or Facebook. As various scandals in the past have shown, targeted advertising and privacy don't go well together. That being said, "Candy Crush & Co" were irritating anyway.
On the other hand, we naturally tried to sell advertising space directly to larger companies. Even if many companies are very LGBT+ friendly, they would rather not like to see their product next to a bare bottom. At ROMEO, we stand for sexual freedom and not shameful hiding. Rather than remove all explicit photos, we'd prefer to say "No thanks".

What will be the effect for the user experience?
From time to time, you will still see some advertising banners. These will mainly be from us. For example, when we have big news or we want to seduce you with a PLUS upgrade. In addition, we also want to keep the option for collaboration with other companies open to exchange traffic. Either to become more popular in countries where we don't have so many users, or simply to support great LGBT+ projects.
On the homepage, we will keep our advertising format "Local Ads". This is a special offer for smaller businesses who want to reach their own local LGBT+ community. We want to continue this kind of support. To help people in times of Corona and uncertainty, we are currently offering this service free of charge. However, next year we will revise this feature and make it as easy as a PLUS registration for everyone.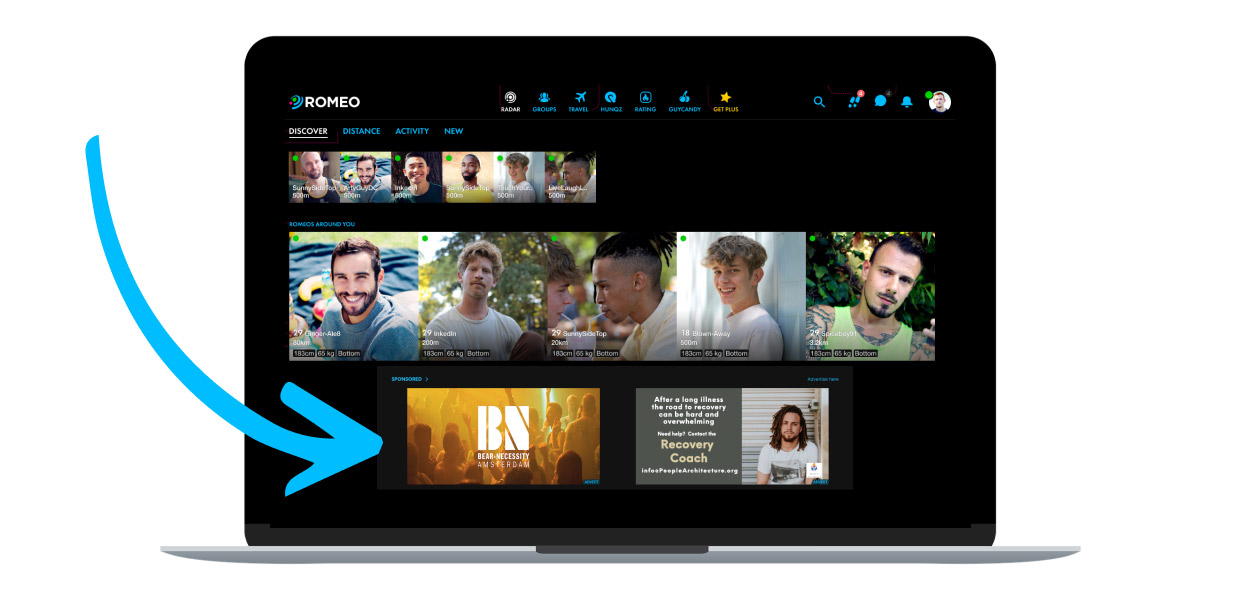 What does this mean for ROMEO PLUS users?
One of the PLUS benefits was not to see advertisements. Dear PLUS users, we ask for your understanding for this change. Rest assured, since PLUS will be our only source of income we will definitely reconsider your benefits. We already have ideas for new great features exclusive for PLUS members. We also want to honestly announce that we are also planning to become a bit more restrictive without free features in the future.
Because we have removed Ads step by step during the last year, you may not feel this change directly. As a positive effect, we have already noticed that there are almost no negative comments about advertisements in the App stores.
With this official end to advertising, we want to ensure clarity for our users. Only you pay us, and therefore you are the only ones who matter.
About ROMEO We at Romeo are 70 colourful people from over 15 countries, working for you in Amsterdam and Berlin. Most of us are gay ourselves and proud to connect millions all over the world across borders, cultures, and languages. With ROMEO, we want to provide an open-minded and friendly home for every gay, bi, and trans person, on their journey for hot Dates, making friends and finding Love.