On Sunday, August 27 from 1:00 PM to 11:00 PM, the first edition of SUPERFLIRT Festival will be held on the grounds of Kaap Amsterdam, located between Zeeburg and IJburg. The queer and open minded SUPERFLIRT Festival is a collaboration of Multifest, known for Wasteland, Valtifest, O.W.A.P, Manifesto and O.H.A.F. and the queer label and event organizer MEIJT. Amsterdam. The ticket sale has already started.
Today I am talking to Martijn, one of the initiators.
Smiley, optimistic, involved, and overflowing with energy. That is the best way to describe Martijn "Meijt". His energy is contagious, and so is his sense of humor.
For fun, Martijn started "MEIJT" in 2017. He didn't have to think twice about a name, because MEIJT, loosely translated from Dutch, means GIRL, and we all know that this word is indispensable in the gay community:  It is a designation that's hard to ignore in the gay scene:  "GIRL you look so good!" (pun intended). The initial idea was to start an online page filled with typical gay quotes, but it quickly grew into a platform for the gay community.
MEIJT grew into one of the largest and most famous brands in the gay scene of the Netherlands, Belgium, and even far beyond. With thousands of followers on our socials, own events, parties, promotions, videos, promotions, a webshop and Gayducation, MEIJT has become an established concept.
With thousands of followers on social media, and their own events, parties and video productions, MEIJT. Has now become an established concept in the Netherlands, Belgium, and far beyond.
And now, it's time for something completely different:
Creating SUPERFLIRT. A new, fresh queer festival, which, just like Martijn, is full of positivity, fun and enthusiasm. However, with an activist touch.
I ask him:
What made you decide to set up a new queer festival in Amsterdam?
For years we, that's Martijn, Gerard and Bryan, have been coming to almost all major queer festivals, queer events and queer parties in the Netherlands. All three of us are experienced in the queer scene, both as visitors, but also as employees/organizers of queer events through, among others, MEIJT. (Martijn and Gerard) For example, we have been in contact with various people from the queer scene for years and we have a lot of contact with organizers, artists, drag queens and DJs.
I've noticed over the years that I've become a very activist person. I really try to commit myself to the queer community and notice that it hits me very hard when negativity or annoying news reports come by. Through the platform MEIJT. of course we see everything passing by in the background. We are tagged and dm'd daily in and with annoying and shocking news items. That touches me a lot. We think it is important to continue to pay a lot of attention to this.
This also resulted in SUPERFLIRT Festival: organizing a festival for and by the community. Back to basics, to the things that matter: the community, fun, unique and queer parties and providing a great experience for the visitors, at an acceptable price. We think there is room for a new festival in view of these aspects and we will work hard for a great experience and experience!
There is a lot going on in society and in our community. Together with the best party labels of the moment, we are going to create something positive.
We would like to go back to basics with SUPERFLIRT Festival. Quality music and quality performances featuring all the best of the queer scene. We have seven stages with eight stage hosts who all create their own atmosphere and can build their own party. And in the afternoon we host the drag olympics, which used to be always organized at the Homomonument There is a big demand for that.
A high quality festival by and for the community based on the idea of connection. For example, I don't always find the music very representative at festivals. That gets just too little attention. That is why we want seven different stages. All parties that join us stand for quality, are extremely creative and have the know-how to organize a good party. They also represent the queer community.
The first edition of Superflirt Festival will be held on the grounds of Kaap Amsterdam, located between Zeeburg and IJburg. The queer and open minded Superflirt Festival is a collaboration of Multifest, known for Wasteland, Valtifest, O.W.A.P, Manifesto and O.H.A.F. and the queer label and event organizer MEIJT. Amsterdam.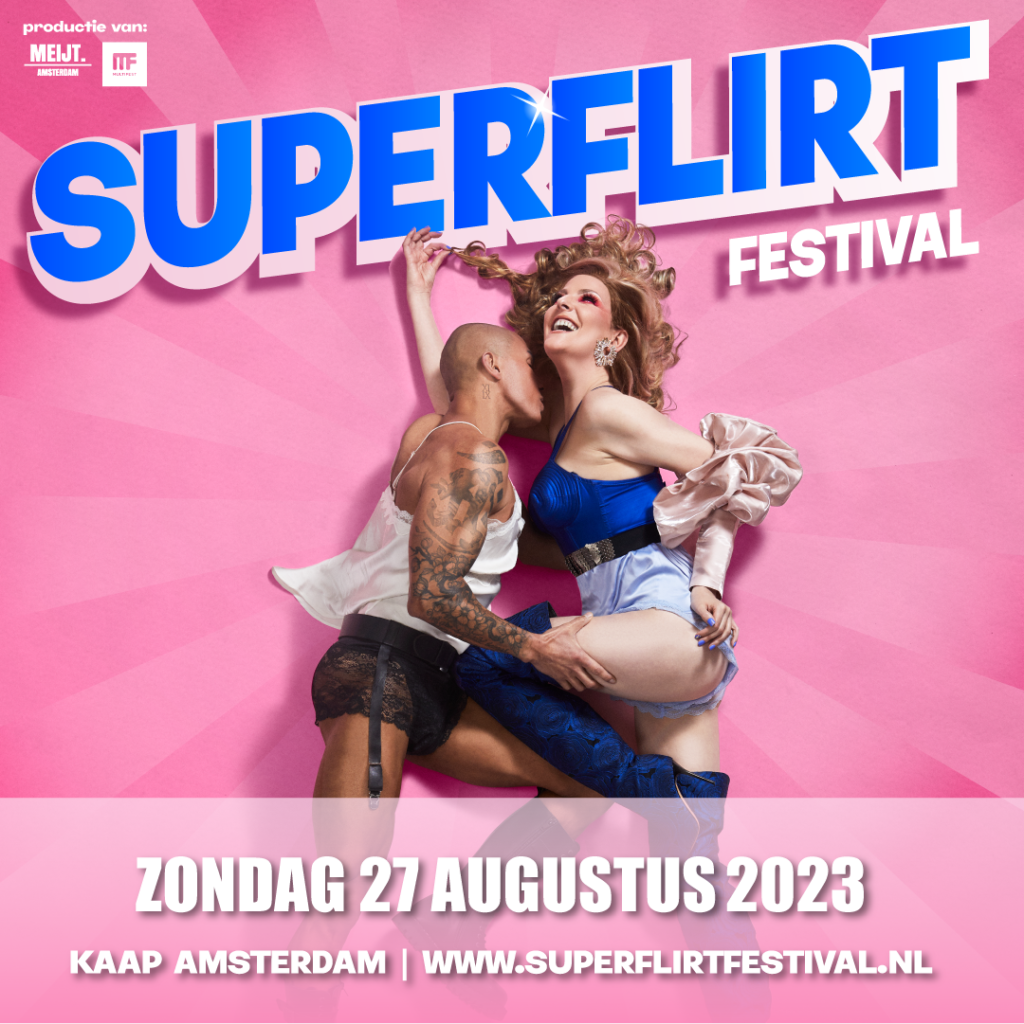 Who is this festival for?
For everyone, but mainly for and by the queer community and everyone who feels connected to it. We don't exclude anyone at SUPERFLIRT festival, but we mainly focus on the queer scene. We celebrate that we can and may be ourselves, we celebrate freedom, we celebrate love, we celebrate creativity and we celebrate how wonderful it is to bring all subcultures from the queer scene together and mix them on a day that is organized from positivity.
What can we expect from this new festival?
SUPERFLIRT really should become a festival for the entire community and for the entire country. Not a party that will only be organized from a commercial point of view, but really a party for everyone. Expect a joyful, entraining and loving day, carried by the music and performances of the stage hosts.
What shall we wear?
Everyone is free to wear what they want, but SUPERFLIRT Festival will be a colourful party and colourful outfits will greatly contribute to this.
What is allowed and what is not allowed at SUPERFLIRT festival?
Love, flirting and fun are allowed!
What kind of shows, music and performances can we expect?
You can expect completely different forms of music, performances, etc. We have 7 stages, each with its own look and feel, and music style. We go from pop to house, to techno, to circuit, to underground and urban. The performances will be different per stage in accordance with the look & feel and the music.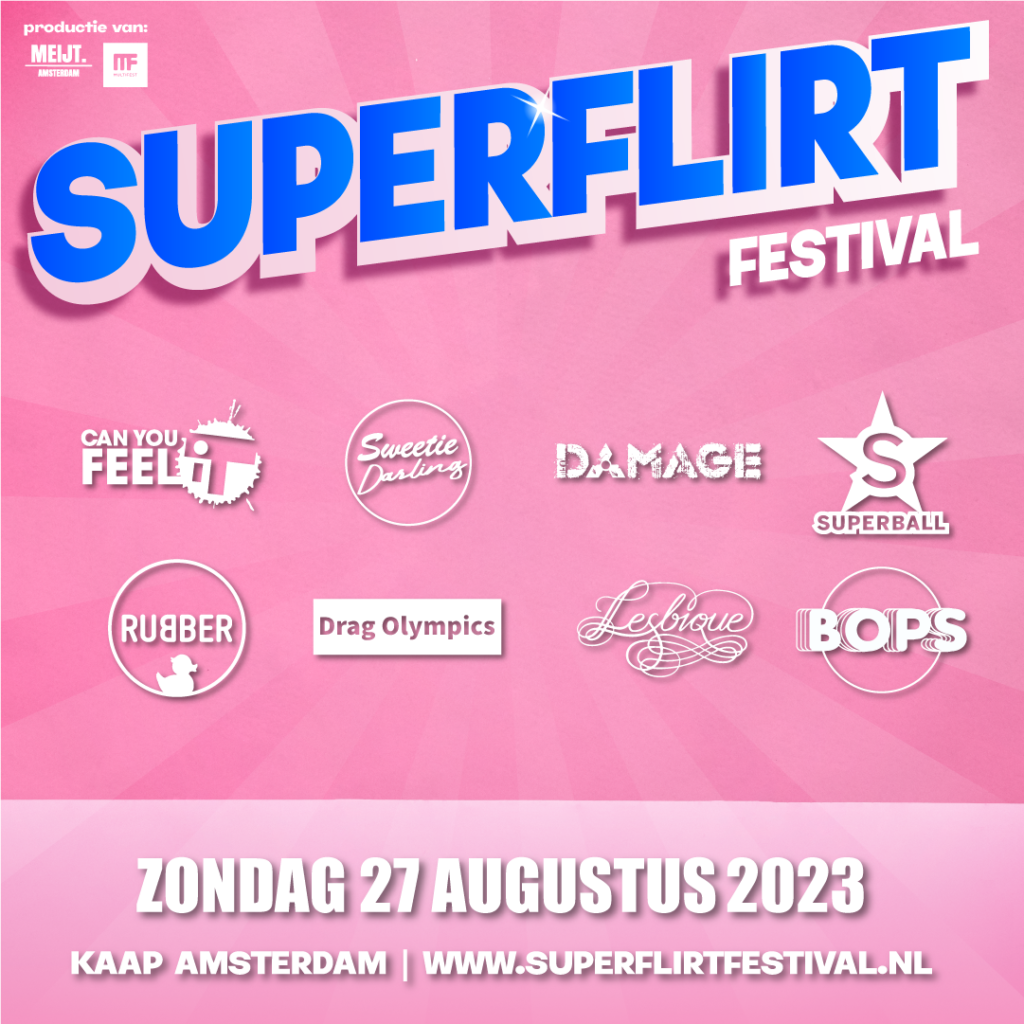 What do you think of the current climate towards people from the LGBTQ+ scene in Amsterdam?
And by that I mean the political climate, as well as the social climate?
I think that the climate in Amsterdam has deteriorated a bit both politically and socially in recent years. Both a city and politics are always evolving, but I sometimes miss the feeling of 'standing strong together' and standing up for your own community. I feel that this will definitely come back and together we have the task to contribute and work on this.
What would you like to see different overall, or what would you like to achieve?
More togetherness and a sense of community, more acceptance and the right to individual freedom (live and let live).
SUPERFLIRT Festival partly originated from the MEIJT. platform. The best thing about MEIJT. is that there is an increasingly better balance between entertainment and education. The platform was created to entertain. We are now many years further and we have been able to develop into a concept in the queer scene. For example, it is nice to be very involved in the community. We think it's important to use the platform for positive and educational purposes for the queer scene. This is why we enter into many collaborations, including with the GGD, Man tot Man, Soa Aids Nederland and PREP NU. In addition to education, the events have grown since covid. For example, we have a very large following, who visit our events. For example, we host various separate events, such as CLUB.MEIJT. in Club Oliva, Headrush in the Oosterbar Amsterdam. We can be found at many major queer events in the Netherlands as well.         Recently we also started a collaboration with Mister B and Mister Jock.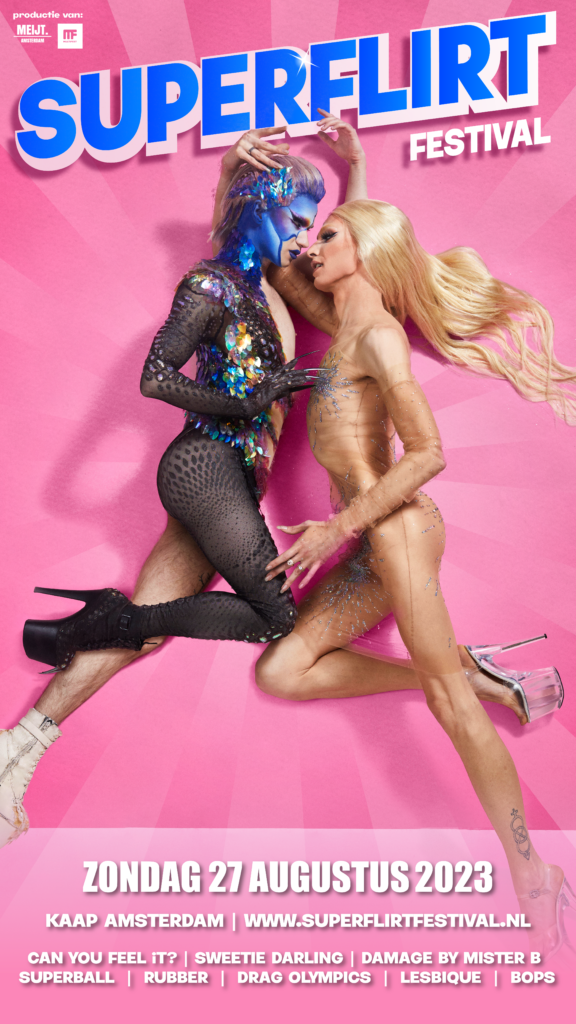 What are your future plans?
The future for MEIJT. and SUPERFLIRT Festival looks bright. MEIJT. will remain a platform for and by the community. We think it's important that it stays that way. However, we will continue to grow and, above all, continue to dedicate ourselves to the community. There will be more and more room for education, but at the same time entertainment will always be and remain an important basis. MEIJT. will continue with more and more new video productions. Many events will also be continued, and our goal is an annual edition of SUPERFLIRT Festival.
More information:
As a new production, SUPERFLIRT Festival is proud to offer its visitors no less than seven stages, each hosted by leading labels who will program very varied from their own identity; from House, Techno and Circuit to Disco, Ball and Pop. At SUPERFLIRT Festival there is a great variation between the stages and you can flirt with:
Can You Feel iT?
Sweetie Darling
DAMAGE by Mister B
Superball
Rubber
Lesbian
BOPS
Drag Olympics
As a big surprise, SUPERFLIRT Festival offers the Drag Olympics a new home; participants literally dig their heels into the sand for this well-known and hilarious Olympiad, which includes a heel race and a handbag throw. Anyone can sign up to participate to put the best heel forward!
Cape Amsterdam
Kaap Amsterdam offers an easily accessible and medium-sized festival site, which guarantees a certain intimacy. SUPERFLIRT Festival believes that an open, accepting and positive atmosphere should be the basis for an optimal experience. Various measures will be taken to ensure a "Queer safe-place".
Contributing to the LGBTI+ community
This new and vibrant festival is a production for and by the LGBTI+ community and everyone who feels connected to it. This means that cooperation is only entered into with commercial parties that make an important contribution to this community and that SUPERFLIRT Festival offers space to social organizations that are relevant to this community.
All information can be found at http://www.superflirtfestival.nl and on Instagram and Facebook. Do you have questions or want more information? Send an email to info@superflirtfestival.nl.