Last March, I lost my Darklands virginity. I was ready to indulge myself in a world where anything is possible. And boy, did I indulge… I kind of knew what I was getting into, but I didn't expect to need a full week of recovering, both physically and mentally.
Like I've stated in my column for the 14th issue of WINGS, I considered Darklands as an opportunity to try out different styles of fetish clothes in my search for what I'm into. To kick things off on Friday, I wore a black Dale short, a black leatherette tanktop, white Sk8erboy socks, and my beloved black harness, black boots and white briefs, all by Mister B. As soon as I entered the day fair, I felt like a kid in a kinky candy store. I was nervous and anxious as well, but a few beers did the trick. The vibe was so open and welcoming. I was mesmerized by all the gorgeous people and their gear. I think it's safe to say that nearly every fetish was represented: leather, rubber, sportswear, crossdressing, drag, puppies, pigs, bears, daddies, twinks, naked people, furries, superheroes, uniforms, diapers, and the list goes on.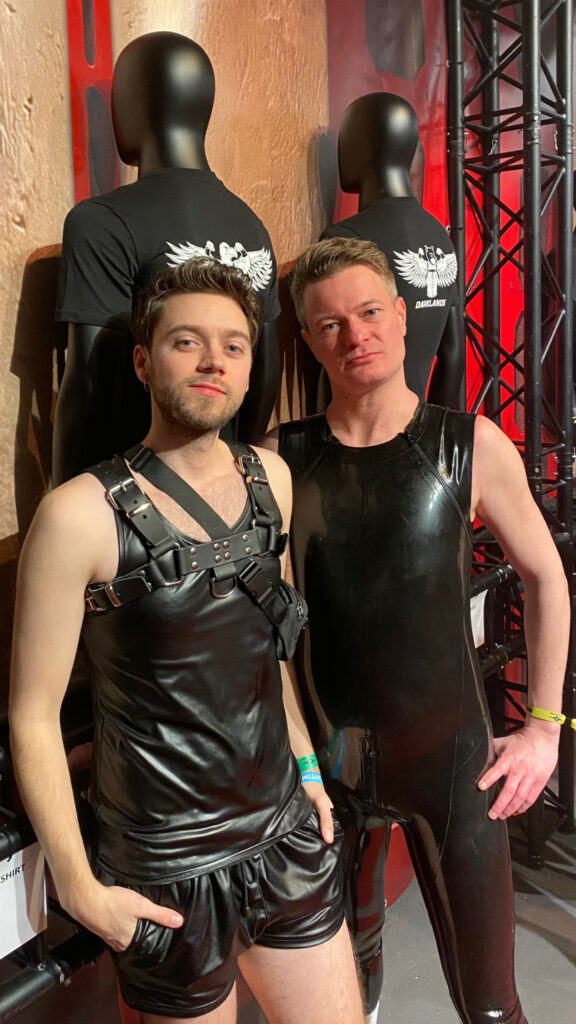 Then, it was time for Fusion, Friday's main party. Remember the indulging I talked about? This was it. It all began with a sensual fisting performance by three hot guys on stage. I had never seen anything like this before (except in porn). The (presumably straight) female bartenders were just as baffled by the show like me, but in a good way; I could really appreciate this form of performance art. As if there weren't just three men putting fists up each other's asses on the same stage, the fabulous Sederginne performed her iconic Holding out for a Hero. This somewhat hilarious juxtaposition made me realize there were no set rules of what to expect at Darklands.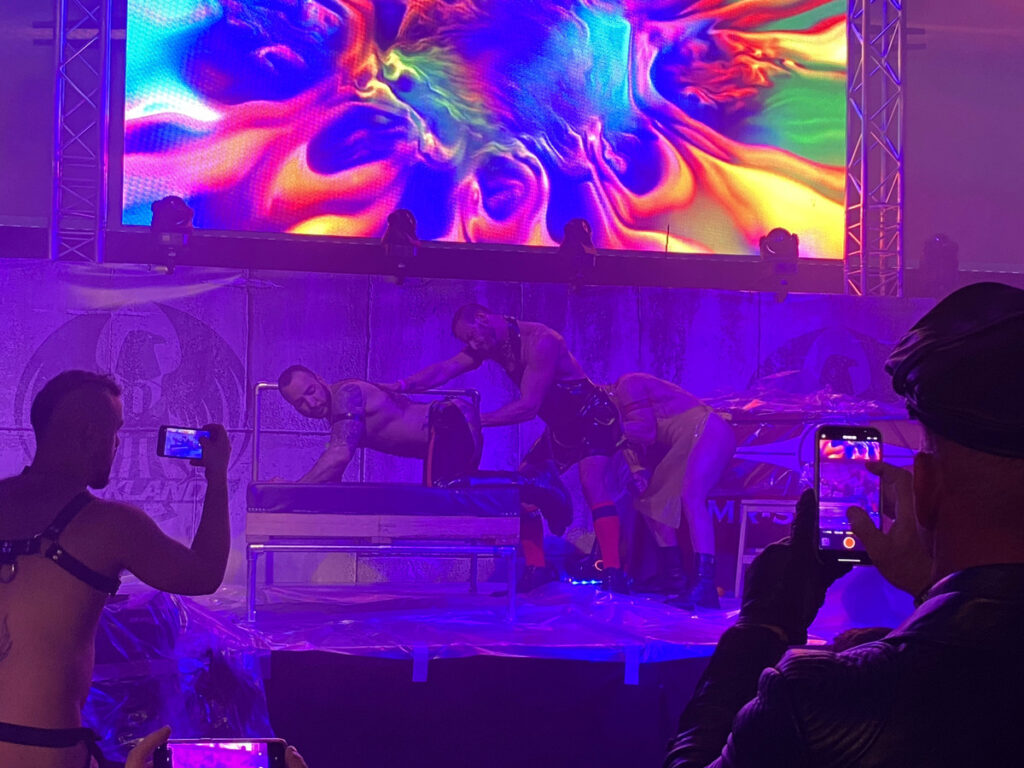 I danced my ass off, met some great people, and kissed a lot of cuties. And of course, I also explored the play area. I was lingering near the swings where one guy, who was only wearing boots, was eyeing me from the get-go, so we started chatting. "Do you wanna fist me?" he asked at some point. I got anxious. "Uh…I don't know how really…I've never done that before." I told him with hesitation. "Don't worry," he said with his beautiful seductive eyes, "I'll teach you, OK?" Normally, I would have walked away, but it was the overall vibe that kept me there. I felt this new sense of freedom to explore my boundaries, yet in a safe and comfortable environment. I nodded yes.
We went to the nearest bed, he got on his back, he grabbed my left hand, and lubed it up. I grabbed his neck with my right hand, we kissed, and before I knew it, my hand was up his ass. Damn, what a feeling! The guy (such a sweetheart) guided me through the whole thing; how to move, when to push or pull, and when to turn. It lasted for maybe two minutes, but I really enjoyed this being-in-control thing for a bit. After that, he wanted me to tell him what or who to do in the play area – basically using him as my sex toy – but I soon found out that I really didn't care what he would do and that it didn't even turn me on; I guess being the sub feels more natural to me.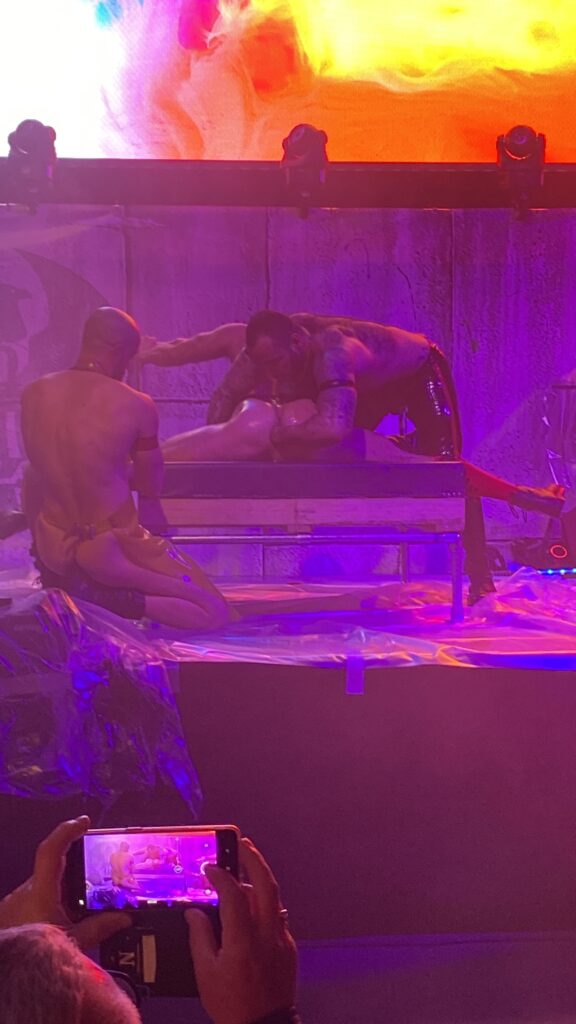 Speaking of which, later at night, I ran into a Dom I already knew from back home. They had a leash, but their sub just got released from duty, which meant there was an open spot. For me. I had a harness but no one to serve, so the newly freed sub suggested that I be put on the Dom's leash (sub-helping-sub, how sweet). And without hesitation, I complied and followed my Dom around wherever, and I fuckin' loved it. Whether it was dancing, drinking, or being social, I just did what they 'told' me to do. And yes, they also took me into the play area – like I had a choice? – and pulled me down, forcing me on my knees, telling me to serve them like a good boy is supposed to do. I did, and again, I fuckin' loved it. I'm so thankful they helped me get out of my comfort zone to experience giving up (sexual) control.
Saturday morning, I woke up with one of the worst hangovers of my life. I skipped the day fair and stayed in bed until 10pm, when it was time for another main party: Rage. I wore a red and black lycra wrestler's garment by Dale Mas with white Sk8erboy socks and white sneakers. I really felt my pussy in this outfit! However, my hangover was killing my vibe, the music wasn't really my thing, and it was way too crowded. I had been told that on Saturday there would be more 'one-day-folks', people who just came to party and have sex. Perfectly fine, but the overall vibe was just different than the night before. I might have been influenced by this asshole (he seemed so cute at first) who was the embodiment of judgement and ignorance. I asked if he also went into the play area, and a derogatory "Uh…No, I'm not like you," was his response. A simple 'No' would have sufficed, dickhead.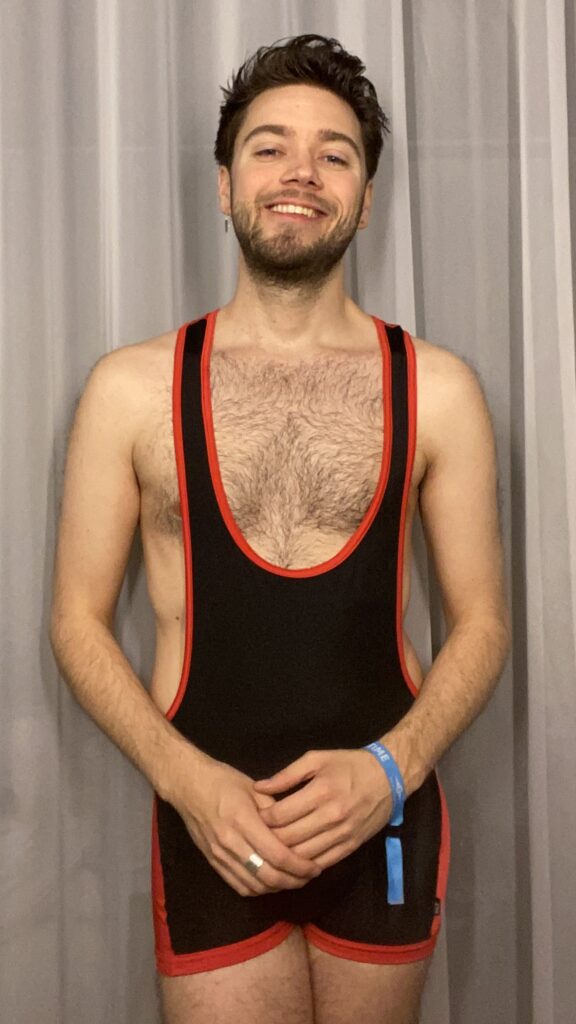 Sunday, however, made me forgot about all that. Again, I had the same hangover struggles, but I was back alive at 6pm and ready for Fury, the closing party. I wore black boots, a black patent leather skirt, and a choker with silver chains hanging from my chest. I spent the entire evening at the Riegillio stage, and it was fantastic! Honestly, the music there really brought people together, and not just on Sunday. From Jennifer Lopez's Waiting for Tonight, to Daft Punk's One More Time, to Gala's Freed from Desire, to Haddaway's What is Love?, to Aqua's Barbie Girl, it was all there. And of course, it wouldn't be a queer party without the complete discography of ABBA.
I still have this vivid recollection of Thank You for the Music being played and performed by Ivana at the very end, and literally EVERYONE joined in. And just like Ivana, I cried happy tears. The image of all those beautiful people being together, in any form and shape, regardless of fetish or sexual preference, just being themselves, was so wonderful to see and be a part of. Darklands is so much more than just sex. Yes, there was a loooooot of sex, but above all that, Darklands oozes loving community vibes from its pores, without any judgement lurking around the corner.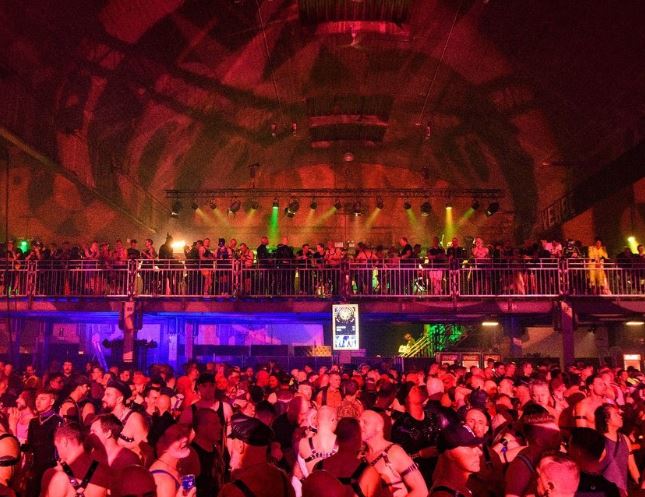 A big thanks to Darklands, Mister B, to everyone who was there with me, and to all the beautiful creatures that I've met, for welcoming me with open arms and making me feel at home, in whatever way I wanted it to be.
Note to self: Seeing the official Darklands aftermovie, I realized I missed out on so many activities, shows, and experiences, and that really sucked. I was not even there when WINGS won the Media of the Year Award… Next year, I will not shoot my bolt already the first night, to avoid being worthless for the rest of the weekend.
If you want to know more about Darklands, visit www.darklands.be, and make sure to follow them on Instagram @darklandsfest for the latest news on the 2024 edition!