NEXT TO HALLOWEEN AT THE END OF OCTOBER IT IS ALWAYS TIME FOR LEATHER & FETISH PRIDE AMSTERDAM, AS WELL AS THE ELECTION OF THE NEW MISTER LEATHER NETHERLANDS. DUE TO THE PANDEMIC THE EVENT WAS OF A SMALLER SCALE THAN USUAL BUT STILL VERY SUCCESSFUL, WE NOW HAVE A NEW MISTER LEATHER NETHERLANDS TIO, AND WE ASKED HIM A FEW QUESTIONS ABOUT THE CONTEST AND HIS PLANS FOR HIS TITLE YEAR.
HEY TIO, FIRST OF ALL, CONGRATULATIONS ON WINNING THE TITLE OF MISTER LEATHER NETHERLANDS WE WOULD LOVE TO ASK YOU SOME QUESTIONS.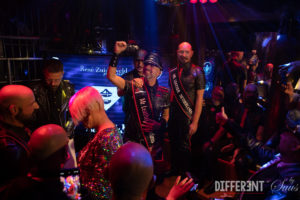 WHAT WAS IT LIKE PREPARING FOR THE CONTEST? WHAT DID YOU HAVE TO DO AND WHAT WERE IMPORTANT POINTS FOR YOU?
Preparing for the mister leather election was a great journey. I have talked to previous misters, but most of all, I talked to the community. If I become mister Leather, I will represent the leather community in the Netherlands. For that reason, I want to know what the community wants and expects of me as a Mister. So, I have asked about 20 different leather men a few questions like: what do you want me to do when I become mister?  or what issues do you find important?  The answers taught me a lot about what is going on in the scene, next to the community I also had some conversations with current and previous titleholders.  What to expect, the do's and don'ts and what to focus on. 
Furthermore, during the actual contest, there was the act to prepare for. At first, I didn't know what to do, all I knew was that I wanted to tell something about myself in the performance. About my private life, my work, my love for leather and of course what my plans as a titleholder. That got me thinking of Elton John's song "this train don't stop there anymore'. I love that song because I work for the Dutch railway company. So, I wrote a Poem, replacing the lyrics of the verse So, I performed this together with the chorus from Elton.  I was very glad I'd written all the words, and now the big task of remember them during the performance haha. 
My further preparation was diving a bit into of the history of the mister Leather Amsterdam/Netherlands election. To see what I could expect.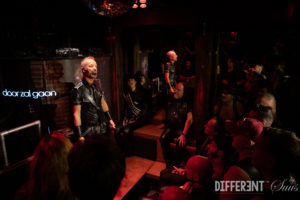 Photography: DifferentbySuus
DID YOU HAVE FUN DURING THE ENTIRE LEATHER AND FETISH PRIDE WEEKEND? WHAT WERE SOME OF YOUR HIGHLIGHTS APART FROM WINNING OF COURSE?
Yes, I had so much fun. I got to know a lot of great people. Before the weekend everybody was telling me not to forget to enjoy myself. Every now and then I took a moment to look around. To give me some time to really enjoy the moment, especially on the night itself. Djoni and I were having fun and we were supportive of each other. It was so important to the both of us that we would compete in friendship. And we did that. One of the highlights was for sure doing my act. I had been practising it for three weeks in a row.  To be able to do it without forgetting one word was so great. I was really afraid to forget all the words but the audience loved it. 
Furthermore, I really enjoyed the MSA 50th anniversary dinner. There you could really see the history and the future of the leather community together in one room. I felt very welcome! A really special moment for me was when I gave a little speech at the meet and greet, Sunday at The Web. I told the story of a boy who lived in Amsterdam at the time the first mister Amsterdam was elected. A few years later he died from HIV and Hodgkin disease. This boy was my brother Mark. I know if he was still alive, he would have been so proud of me. So, I dedicate and named my sash Mark, so if anybody sees me walking, they can say, there is Mr Leather Netherlands together with Mark. 
(Btw, don't know if I even can call my sash by a name haha)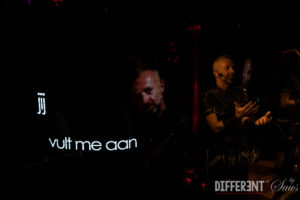 Photography: DifferentbySuus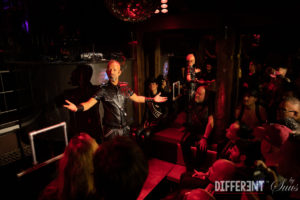 Photography: DifferentbySuus
WHAT ARE YOUR PLANS FOR YOUR TITLE YEAR?

 
I want to be visible;  I want to be reachable I want to reach out to members of the community and listen to them. I want to reach out to people outside the community with an interest in leather and introduce them to the scene. I want to be visible to the people outside the community in leather. So let them see a Leatherman is just a person and a part of the society. I would love to organize socials and events in and outside Amsterdam. Of course, attending prides in the Netherlands, after all, I am mister leather NETHERLANDS and I have to be there for the entire community.  But I would also love to represent the Dutch community abroad, and let them know we are very well alive!! 
YOU ORGANIZED THE BRABANT LEATHER SOCIAL, ARE YOU PLANNING ON DOING THAT MORE OFTEN?
Yes, very soon we will announce the next date for the fetish social Brabant. We have found a home in DHG in Tilburg, with the possibility to expand. So there will be no limits. The idea is to organize it about 4 times a year.
So check out our Instagram to keep up with the dates: @fetishsocialbrabant
Photography: DifferentbySuus
ARE THERE THINGS IN THE SCENE YOU'D LIKE TO CHANGE OR ARE THERE ANY THINGS THAT YOU FEEL VERY PASSIONATE ABOUT?
I don't think I can change the community, if there will be changes it has to come from the people themselves. The only thing I can do is listen to the community and act on it. The thing I am very passionate about is bringing people together. In ideas, in thoughts, but preferable in person! In the community, there are different thoughts about how to dress or how to act as a Leatherman. Let's discuss those differences, and maybe we will come to the conclusion, we really don't think that different. I think talking to each other makes our community stronger. And there is always room for different thoughts, please yes, we are not all the same. Our differences are what makes us special. 
WHAT IS IT ABOUT LEATHER THAT DOES IT FOR YOU?
The feel, the smell, the look well, what's not to like. It isn't just sexual for me. That is not the biggest thing for me. It is the way I feel when I have my leathers on. It makes me feel strong from the inside. It makes me feel protected, and yes, when I see myself in the mirror, I can even say I am sexy 😊 
WHAT IS YOUR FAVORITE ITEM OF GEAR? AND WHAT IS SOMETHING THAT IS ON THE TOP OF YOUR WISH LIST?
I love my fxxxer jeans. I have one with white linings, and the next thing I will buy will be a black one. This weekend I saw the boots Andre Donker was wearing, and they went straight into my top three of most wanted items of gear.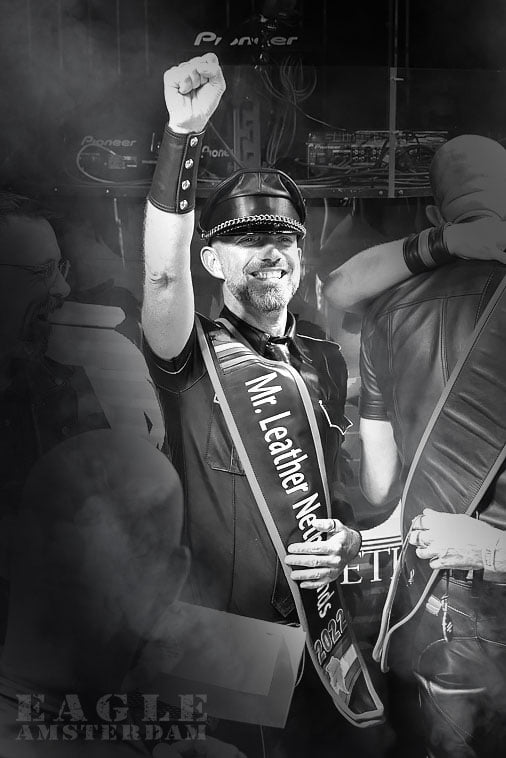 WHAT IS IT YOU DO IN YOUR DAILY LIFE?
I am a train manager with the Dutch railway NS. Talking about that, something I am very proud of is that because of the day of diversity, there was a big picture of me in leather in the central train station of Amsterdam. They also did an interview with me talking about my work as a train manager, but also as a candidate for the mister leather election. So that was the moment I knew the NS stood behind me. And that is just so wonderful to have. 
ANYTHING YOU WANT TO SAY TO OUR READERS?
The most important thing I want to be able to achieve this year is that I am very approachable to the people in the community. So if you see me somewhere and you want to talk with me, please do not hesitate to do so, even if there are people around me. Cause I really want to be easy to access. I really want people in and out of the community to know that I am here to listen to them. I am always open for new ideas and thoughts.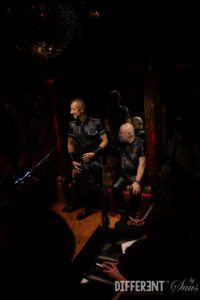 WHERE CAN PEOPLE FIND YOU ONLINE?
Facebook: Tio Lelieveld
I use my own personal Facebook account because I want to show the world, I am not only the Leatherman, but there is more to me than just that. Everything combined is who I am. So, there will be some posts in Dutch, and sometimes in English. But hooray for Facebook translation. Besides that, the Facebook friends I have are very diverse, and this is also my way to let the people with another lifestyle get to know my leather side.
Instagram:@mystertio  same story as FaceBook
Twitter: @2022mister  this is a new one, I will post everything on there from where I will be and what is important to know.
ALL PHOTOGRAPHY IS BY DIFFERENTBYSUUS