Soft and sturdy, subtle and sensational, deeply 'earthing' and absolute heaven; it may not spring directly to everyone's mind when thinking of sex, fetish or kink, but electronic stimulation, e-stim in short, really has the potential for all of the above… all at once, if you will! That is: if you know what you're doing, and you equip yourself with the right kit.
The guys at E-Stim Systems are all about that, so it's time for WINGS to wire up and plug into a little personal past, present and future with co-owner and founder Wayne Allen.
---
WHEN AND HOW DID E-STIM SYSTEMS COME ABOUT?
'My girlfriend (now my wife) Caz and I first looked at e-stim back in about 2004. At the time, everything available on the market was either really expensive, or cheap, relabelled imitations from China. I already had a background in electronic engineering and as I've always liked to tinker, I built a unit for ourselves to play with. We took it to fetish clubs, friends saw it and wanted one for themselves. We soon found ourselves making them on the kitchen table and selling them around the UK at fetish fairs and in clubs. One or two became ten to twenty and the business grew from there. We took on a workshop in 2004, and just kept growing. Now we sell thousands of units around the world.
As we would never compete with the mass market devices, we decided to offer something both in product and service that others couldn't replicate – so we soon offered a lifetime guarantee on the electronics. It also helped that we involved our friends and customers in development: all of our sales team actually use E-Stim Systems themselves, so our experiences and advice are tailored and very personal. Our Sales Director (and primary contact to Mister B) Mick and us actually first met at a fetish fair, and although it took a while, he eventually joined us fulltime.'
HOW DID MISTER B AND E-STIM SYSTEMS 'MEET', AND WHY DO YOU THINK THEY'RE SUCH A GOOD MATCH?'
'Mick had been aware of Mister B for a number of years when we met your colleague Max – After Sales Specialist at Mister B's wholesale unit, and a familiar face to many in the scene (red.) – at the Erotic Trade Only show in Birmingham, and I decided to take a chance and give them one of our Series 1 units, suggested that they try it, and if they liked it they would talk to the purchasing department about Mister B taking the product on…which they did, and the rest is pretty much history: we have become solid business partners ever since, which goes to show that anything is possible, everything big starts somewhere small, and that one spark is all you need J
I believe Mister B and E-Stim Systems stand for so many similar things. Both are strong on customer service and offering quality products, and are each renowned in their own areas. We both attract people who live to enjoy the products, both (as) customers and staff, and neither of us are interested in just selling pretty boxes off the shelf for maximum profits – quality and service always come first. We also believe in growing together – our relationship with Mister B has always been based on mutual respect and understanding – as together we can always offer more to the customers than we can individually.'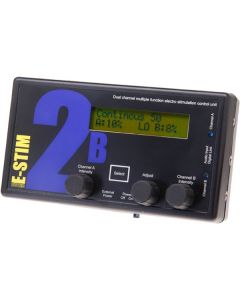 WHAT IS YOUR ABSOLUTE FAVOURITE ASPECT OF E-STIM PLAY?
'That really is a hard, if not impossible question to answer. E-stim is so versatile we can incorporate it into so many aspects of play, from control to intense sensation (torture/torment) games. It's hard to find a style of play where we haven't tried to incorporate e-stim.'

CAN YOU NAME A CERTAIN E-STIM SITUATION/SCENARIO THAT IS PARTICULARLY IMPORTANT/MEMORABLE FOR YOU?
'Developing the ABox, which was our first box to use audio. We had been invited to a play party in a very large and expensive house. It was also my birthday, and the other guests discovered that they could sing 'Happy Birthday' to me to great effect, as I was wired up. On a similar occasion, we decided to test the range of one of our E-Stim Remotes, by wiring Caz up and seeing how far she could run – she was dressed as the Easter Bunny, so it was a case of see how far she could make the bunny jump – literally.'
WHICH ASPECT(S) SHOULD THE 'E-STIM CURIOUS' AMONG US TAKE TO HEART FIRST AND FOREMOST?
'Always take it slowly and start building up. E-Stim is not an instant thing. Take your time to properly know what you're doing. Relax and enjoy the sensations. Always experiment is my mantra. A few blobs of conductive gel in the right places also help to smooth things along.'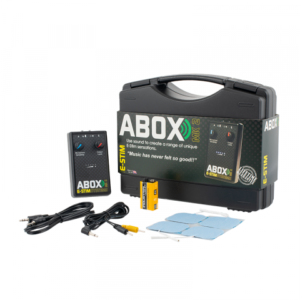 DO YOU HAVE ANY 'TIPS & TRICKS' FOR THE MORE EXPERIENCED E-STIM PLAYERS AMONG US?
'Yup. Experiment. You will never hit the point where you think you have tried everything. And in case you think you did, change it up!!
Secondly: if you haven't already, consider upgrading the E-Stim Systems 2B with the digital link. It allows you to upgrade the 2B to the latest firmware with all the new bells and whistles, as well as link it across the internet. There now even is the possibility to record and replay sessions from your computer. We also have users writing their own programs (also called 'code') to control the 2B, so the sky really is the limit when it comes to expanding play with the 2B.'
WHAT IS YOUR PERSONAL E-STIM SYSTEMS FAVOURITE AND WHY?
'I still have a soft spot for my original Series 1, the box that started it all. It's still going strong and it just works, but at the moment I just love playing with the super versatile 2B. We are constantly working on new code for it ourselves as well (check it out our online forum), but it is actually hard to stop and release code when so many new ideas just keep on popping up.'
WITH YOUR CURRENT KNOWLEDGE, WHAT WOULD YOUR E-STIM STARTER KIT CONSIST OF?
'I actually think we got it right in the first place because of how we came into it all, so in this case I would recommend the descendant of the original Series 1: the Helix Electrobox, as part of one of the kits – Helix Red or Helix Blue – depending if you feel more inclined for anal or cock play. I'd also drop in a tube of gel, and that would make my e-stim basket complete…at least for starters J'
WHERE DO YOU SEE E-STIM GOING AND HOW DO YOU PLACE E-STIM SYSTEMS IN THAT CONTEXT?
'Playing across the internet has increased highly in popularity – especially lately, with the inability of people to travel and socialize due to covid – and we have been at the forefront of development, being the first to offer secure internet e-stim control from virtually any device with a modern web browser. We originally thought the idea would be a bit of a niche, but it has turned out to be very popular!
As to the future? We have a number of new developments being worked on at the moment so it will be a case of 'watch this space'. We are always striving to improve in everything we do, both in product and service, exploring new things as well as keeping all our existing customers satisfied and happy…a lifetime guarantee indeed.'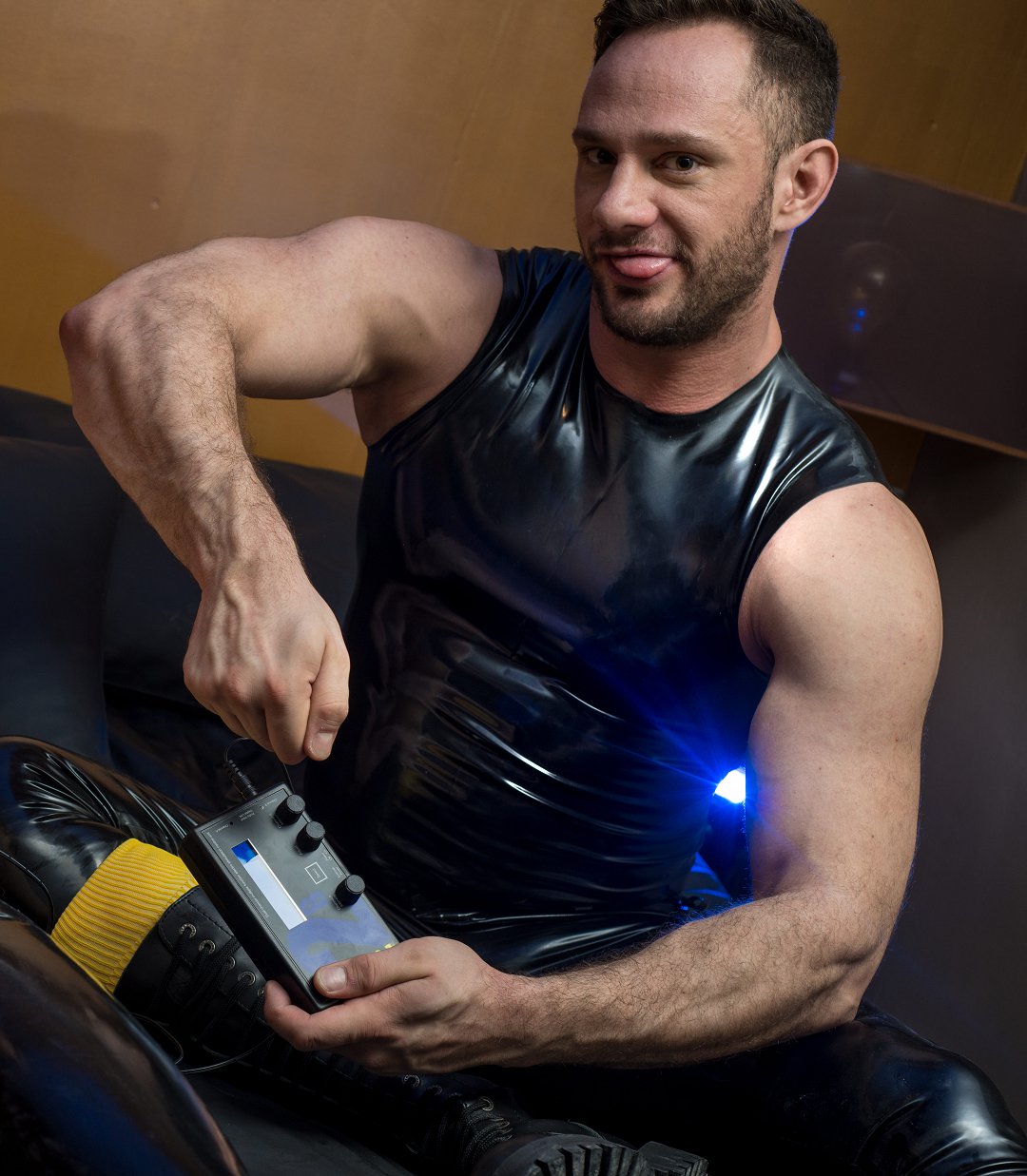 FOR MORE INFORMATION ABOUT E-STIM PLAY, CHECK OUT OUR PREVIOUSLY RELEASED ARTICLES ON: WWW.MISTERBWINGS.COM
FOR THE FULL MONTY ON E-STIM SYSTEMS PRODUCTS, CHECK OUT: WWW.MISTERB.COM