WHAT IS THE ARRESTED MOVEMENT PROJECT ABOUT?
The Arrested Movement project is a photo series and awareness initiative based on positive body image for men. Unlike how the majority of media and most accumulated statistics focuses on women, the topic of body positivity isn't limited to one gender only. Men feel too. Men need to be included in the conversations at hand.  We ALL need to be seen and heard. Mental health around this issue is a big problem nowadays, and the consistent lack of diverse male body representation in the media and social media has created a true epidemic in that sense.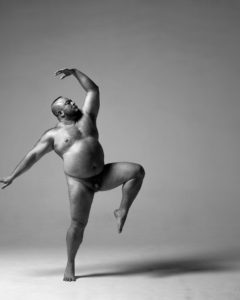 HOW DID IT BEGIN?
The portrait series originated after a sequence of great losses in my life.  I was dealing with anxiety and depression, started to eat more to cope, and was gaining weight. That's when old body insecurities started to creep back in. I was in London, where I had the pleasure of photographing a certain gentleman, and it was that photo that, once posted, seem to hit a nerve. It was the catalyst for me to create a small photo series.  Upon putting a post online looking for participants, I was inundated with responses from men.  After me photographing close to 40 men that first weekend, some of the men had posted on their social media what they had done, and what it was for.  In turn, their social network started to reach out, thanking me for creating this series, sharing their own personal stories, and asking if I was planning on going to their city to do a similar portrait session. At that point I decided to make a list of some cities and set out to speak with as well as photograph a wide variety of men.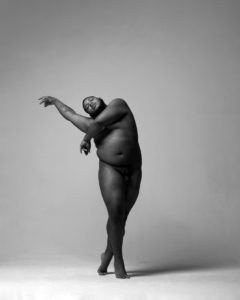 WHERE IS THE PROJECT GOING?
Arrested Movement was always meant to be an artistic project that highlights the diverse beauty of male bodies, while fostering body positivity among men. The objective is to have a series of gallery shows partnered with a book. The book of selected images will be (re)launched in 2021.  For the past couple of years, I've been working ambitiously with a friend on a creating a documentary or docu-series focused on male body image, and we're anticipating to connect with a production company soon. I started an Instagram Live chat podcast series this past year. I'm also looking to create a men's retreat focusing on mental health and self-empowerment, and recently I have been talking to – and still avidly looking for more! – illustrators within the LGBTQ+ community about collaborating on a series of illustrations based on selected Arrested Movement portraits.  Ideally they'd interpret these images in their own artistic way to help promote the message and conversation about body positivity for men.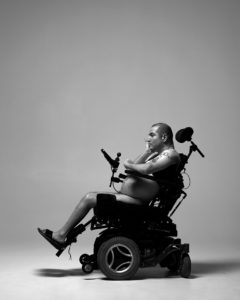 WHAT WAS A SURPRISE YOU DISCOVERED DURING THIS TIME?
I had quite a few of those actually. From men who reached out to thank me for creating this platform of representation, to men sharing their own stories and struggles with me. Everyone has a story. Everyone is on their own journey. However, there was one man in particular that stood out for me. He pulled me aside on set, and opened up about his story, sharing his numerous medical conditions, and said that he wanted to participate in this series to make sure that there was proof that he had existed in this world.  I gave him a big hug when we were done, and I excused myself and went outside and cried. I had hoped that the message of this series was heard and understood, but that moment shook me. And it definitely fueled something in me, validating that what I was doing had great purpose.

WHAT IS YOUR PROUDEST MOMENT FROM THIS PROJECT?
I would like to say that my proudest moment has been being featured in certain magazines, like Italian Vogue, Fstoppers, and Out Magazine – but I think it's an accumulation of many things.  Realizing that this series and its message actually spoke to an immense group of people, the outpouring of messages globally, and having men literally say to me that seeing a platform of diversely shaped bodies photographed as equals and presented beautifully, has changed the way they see themselves.
Or perhaps it was when a group of men from Poland ('Bears of Poland') reached out, invited me, and funded my trip and portrait sessions in Poznan, during an LGBTQ+ bear event which hosted many men from eastern European countries…because they wanted to be included in the message, as well as create a sense of brotherhood.  That experience showed me how much this series and message is really needed.
This journey of producing the Arrested Movement project has transformed the way I look at and treat myself, as well as how I see my fellow men. The act of self-acceptance and self-love is something that I and many others work on daily. What I've come to find out while on this journey, through all the wonderful men I've had the pleasure of connecting with, is that we are not alone in our thoughts and feelings. Our own insecurities may be individual but are not singular in this world. The mainstream media and the juggernaut that social media has become, has constructed a generic hierarchy of what's deemed to be beautiful in society. It's formed such a detachment from our fellow human beings and generates massive judgements, both simplistic and damaging. We need to always remember that we are all one and the same, and I hope that this series reminds people of just that.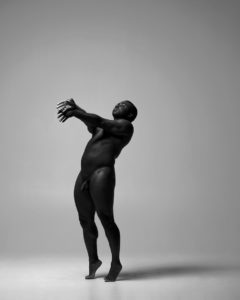 WHERE CAN PEOPLE FIND OUT MORE ABOUT ARRESTED MOVEMENT?
You can find myself and the series on:
Instagram @arrestedmovement  @anthonypmanieri
Twitter: @AM_loveyourself  @anthonypmanieri
Facebook: facebook.com/arrestedmovement
Youtube: youtube.com/arrestedmovement
Web: arrestedmovement.com