HellHound, Fantasy Toys from Hell – Review
Mister B recently released a new line of high-grade silicone dildos and buttplugs named 'HellHound: Fantasy Toys from Hell' but to me, they look more like they come from a planet called Eternia. That's the magical world where He-Man, the Strongest Man in the Universe, battles his archnemesis Skeletor, the Evil Lord of Destruction.
Piled on top of each other these purple and black anal toys actually remind me of Snake Mountain, Skeletor's base of operations, and like the Evil Lord of Destruction they can do some serious damage (in this case to your hole). All you Generation X folks and Zoomers know what I'm referencing here – you either played with the He-Man action figures as a kid in the eighties or you have been binge-watching the recent reboot of the He-Man and the Masters of the Universe cartoon on Netflix. For all you Millennials out there…Google it.
Let's get to reviewing these fantastical monsters that will change your life for the better!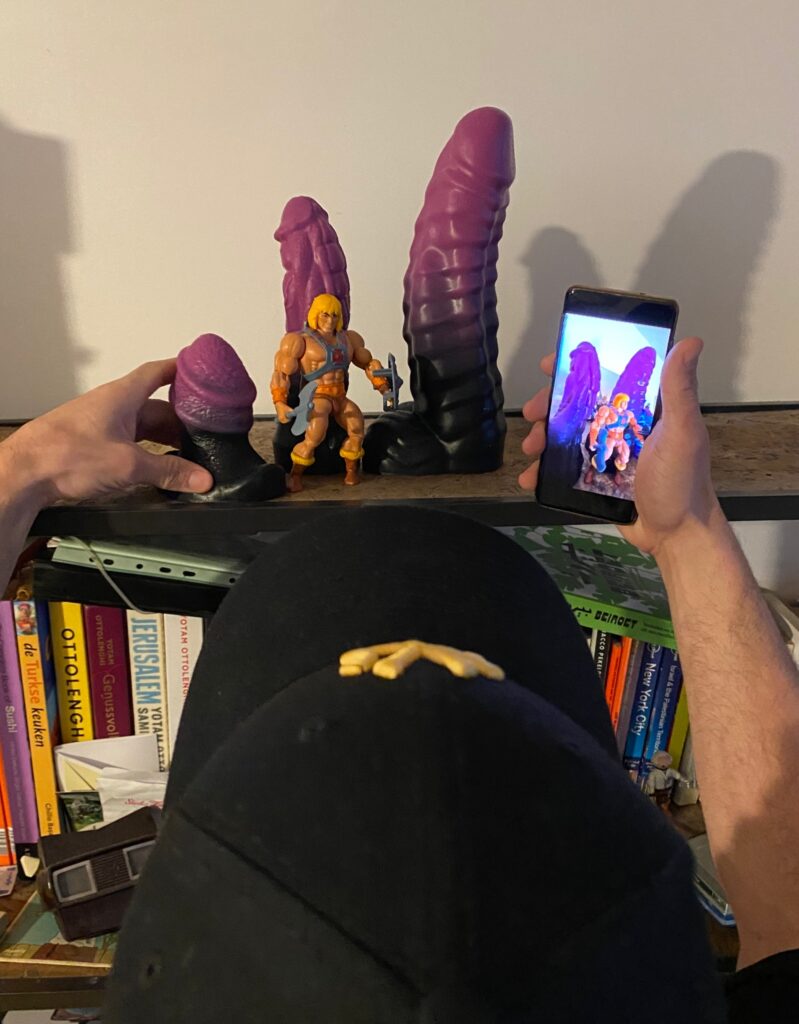 ---
Look and feel
HellHound dildos are basically demonic dicks. They are massive and covered in scales and veins. The toys look otherworldly and even kinda scary, which as a kinkster, is exactly what I'm going for. If you want to get fucked by a monstrous cock or get probed anally by an alien joystick these dildos and buttplugs will definitely get the job done. HellHound toys are made from a high-grade silicone that feels super soft and squishy and they are available in multiple sizes. The buttplugs range in size from XS to XL and the dildos come in sizes S, M and L. There are eight different toys to choose from. I had the pleasure to try out three of them.
HellHound Sphinx Buttplug
Usually, I make the mistake to order sex toys online that are way too big for me. To keep myself from getting frustrated yet again, I requested a size M this time, which in hindsight was a smart move. The HellHound Sphinx Buttplug that I played with has a flared base (I'm getting technical here) to keep it from popping out once it's inside of you. The toy is roughly the size of my clenched fist. There are two ridges around the plug that resemble a screw and because of that, I asked my sex partner to twist it around while putting it inside of me. The toy fills you up, it feels really comfortable and I can recommend getting (finger)fucked with the buttplug still inside. It's a guaranteed 'Hell yeah' moment!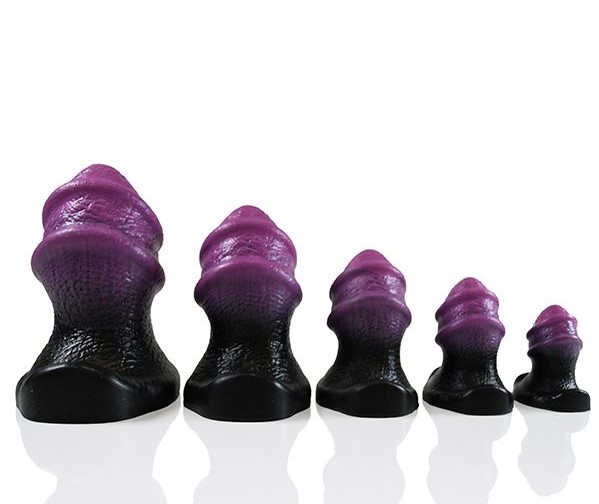 Sphinx Buttplug. Bulbus and round, the HellHound Sphinx is relentless in expanding your tender hole. Ribbed and ready to plug you for your explicitly sinful journey through agony and ecstasy, this plug will be by your side.
HellHound Sphinx Buttplug comes in 5 sizes: XS, S, M, L and XL.
---
HellHound Argus Dildo
The HellHound Argus Dildo that I took for a test drive looks animalistic, kinda like a cross between a lizard's body and a doggy dick. It even has a hint of robotics in its design, like an evil Transformer (I'll stop with the action figure references starting from now, promised). Size M is perfect for newbies wanting to try out anal sex toys. The HellHound Argus Dildo has a slight inclination and loads of differently shaped ridges on the back for some extra stimulation. My favourite part of this toy is the testicles at the end of the shaft. If you want to get them in you will need to take some deep breaths and say your prayers. It might hurt a bit at first, but hey, that's part of the fun, right?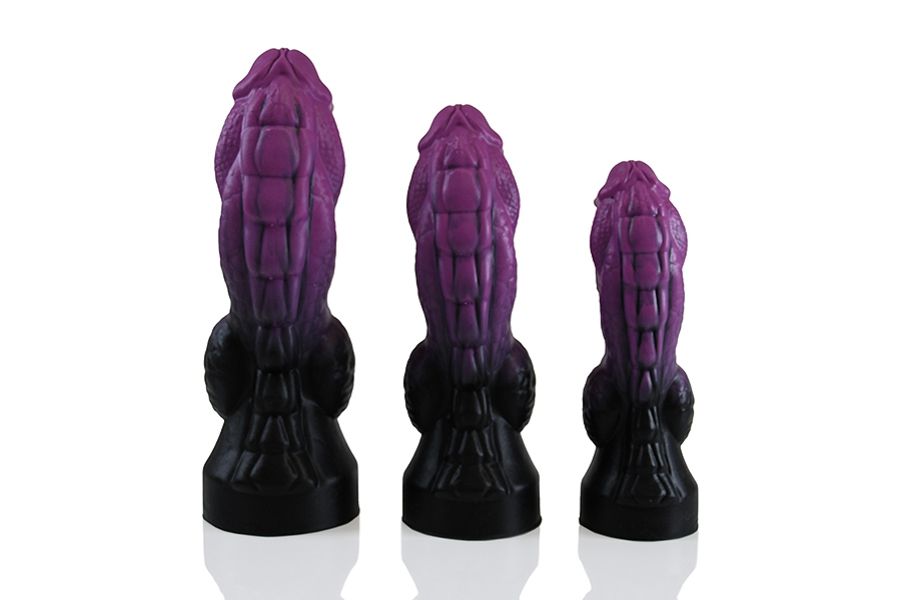 Take cover from the hulking and heavy, evil beast of a shape, the HellHound Argus Dildo. A thick phallus and bulging knot make this fantasy toy a real stretcher. You will scream with pleasure from the sensations of the Argus raging its way in and out of you. You'll be drooling like a hound in heat for more of the HellHound Argus Dildo
HellHound Argus Dildo comes in 3 sizes: S, M and L.
---
HellHound Drogon Dildo
Just like the Vanessa Williams song goes, I decided to 'save the best for last: the HellHound Drogon Dildo. In this particular case, I did request a size L – I got greedy – but luckily Mister B sent me a size M anyway, which was more than enough. This fat purple beast is HUGE and intimidating. It's a dragon cock covered in ten ridges that expand and get bigger the further you go down the shaft. Use a lot of lube before putting it inside your partner's hole and hear them moan and groan, then slowly push it in and slowly pull it out. You can dig deep with this one but you will need some practice and experience for that. Watching it enter and exit is an event in itself. You see the hole open, close and adapt to the toy while the flesh of the sphincter hugs the dildo. It's a thing of beauty and pleasure and it made me really, really horny. All HellHound toys come with a hole in the base so you can attach them to a fuck-machine. This opening is also great for grabbing onto with your fingers or thumbs, so you can pack more of a punch while playing with them. You can't help but want to take it all!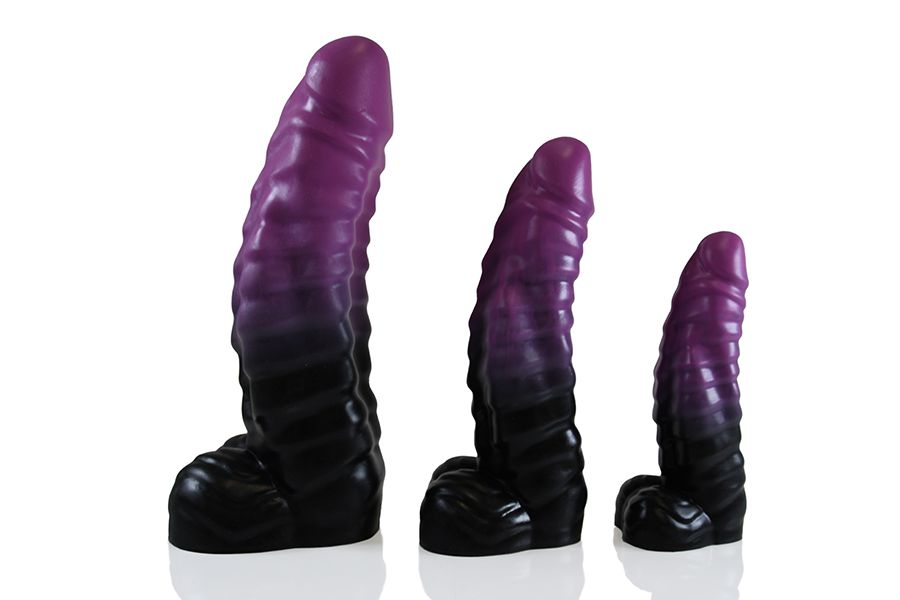 Behold the most demonic creature of the underworld, the HellHound Drogon. Be afraid, be very afraid of the power of the Drogon. The magnitude of its size is intimidating as it will force its way into any opening it ventures. Brace yourself for the ride of a lifetime with the most remarkable beast, the HellHound Drogon Dildo.
HellHound Drogon Dildo comes in 3 sizes: S, M and L
Want to know more about the other available HellHound toys?
Then check out this article: https://www.misterbwings.com/news/hellhound-fantasy-toys-from-hell/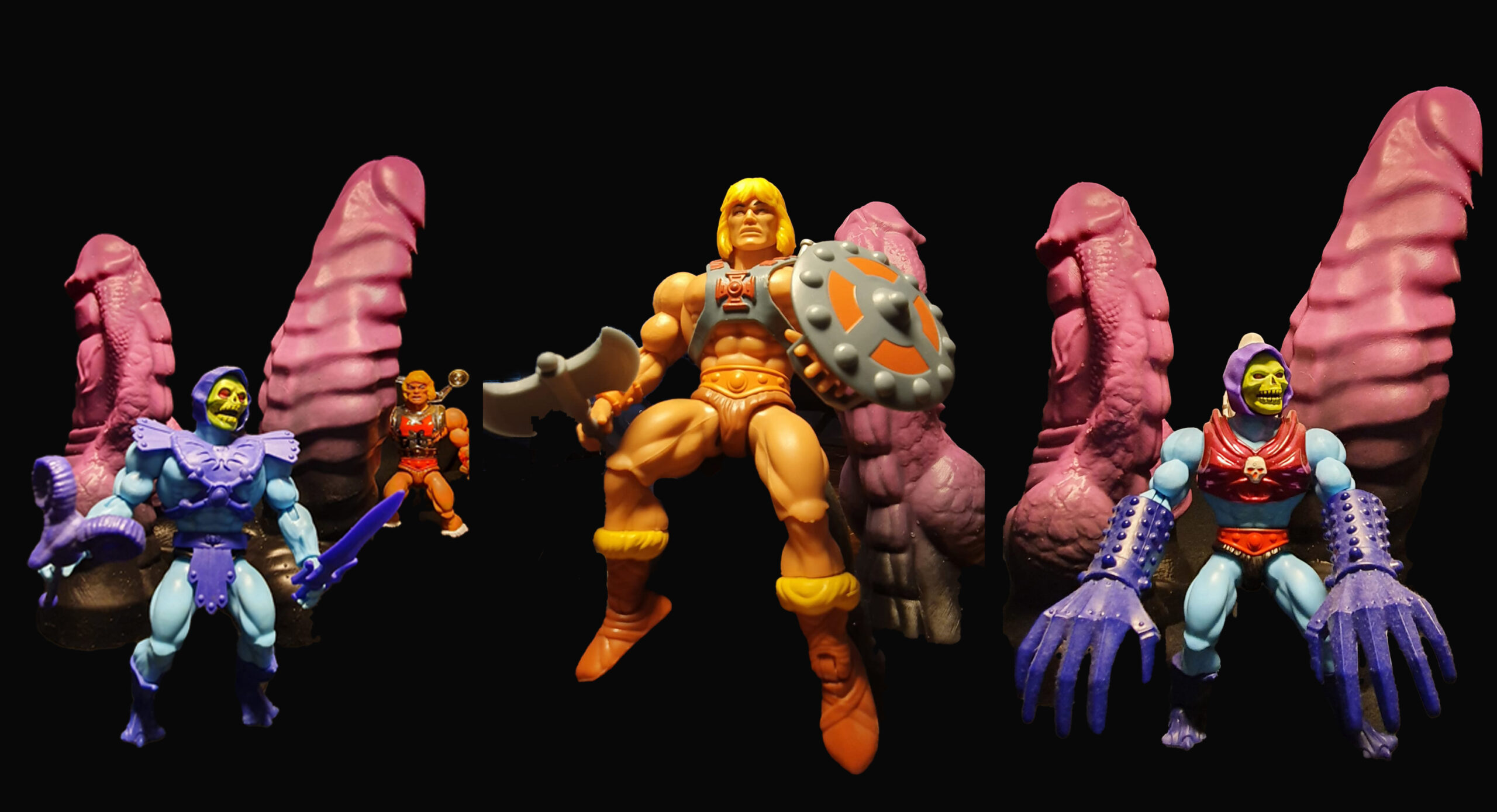 Take some deep breaths and say your prayers
Final scores
HellHound toys look freakily fun and because of the high-grade silicone, they are super comfortable to play with. I had an absolute blast trying them out and I think you will too. If you are not sure about what size to get I recommend visiting your local Mister B store to see them in person.
Hellhound the fantasy toy collection