This issue, we pose the Big Q to a very fascinating fetishist: Damian Dragon. Damian has been an active and impactful member of our community for several years, and believes fetishes and kinks are continuously evolving. They wax or wane, but they always come full circle. His play runs the gamut from a purely hot BDSM scene to the ceremonial and ritual aspects of BDSM. Through the organic nature of play, Damian likes to see what elicits a response, and then decides whether to carry it further or to follow another path. Kink and fetish are really a state of mind to him, while gear is a secondary enhancement, albeit a key player. Here's what we learned from Damian about his work, his life, and his journey.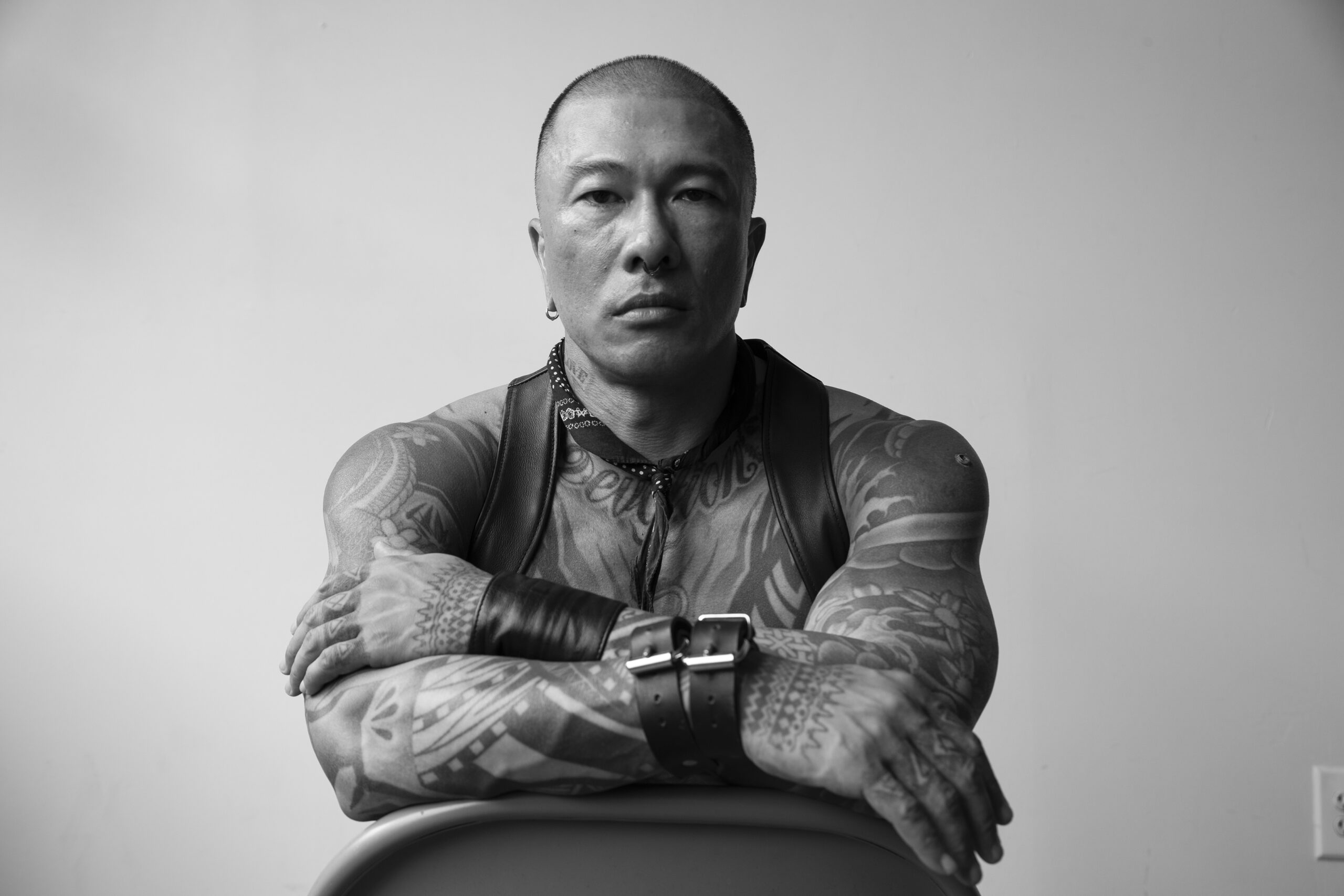 How long have you been working as a content creator? 
"I started off with porn in 2009 – all studio work – and I've been doing self-produced content since 2017. The studio work was with Buck Angel and I also worked with Raging Stallion. I took a break when I was with my partner at the time, but then I decided I shouldn't be compromising my life to be with someone. So, in 2017 I started working Peter Fever, AlternaDudes, CumPigMan, besides doing my self-produced content. My studio work is more an advertisement for my self-produced content. Right now, I'm in the process of setting up my own content website.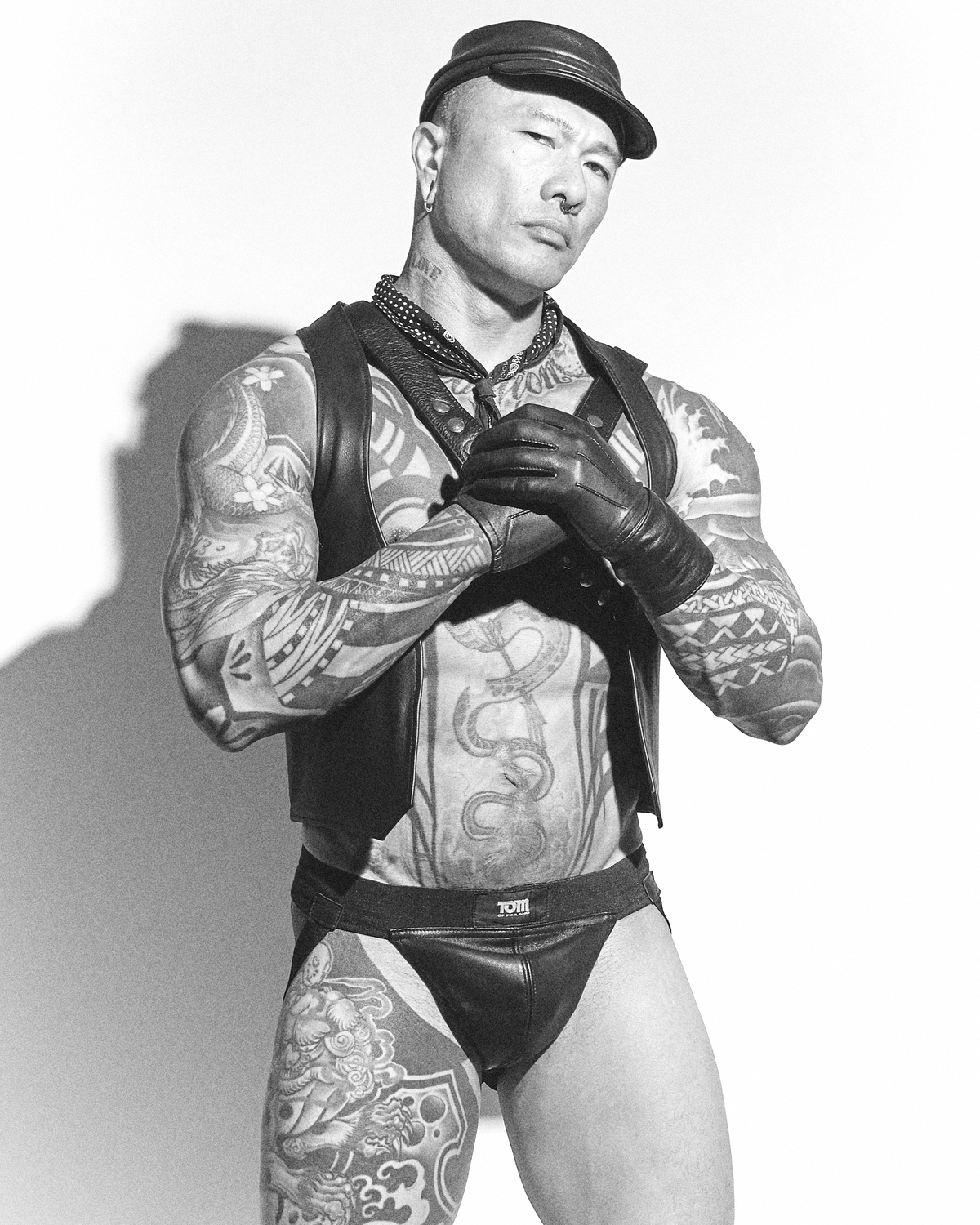 What drew you into your line of work? 
"At first, I started modeling, but then I slowly got more into the BDSM scene. I started getting more tattoos and people wanted to see them, so the clothes started coming off more in photo shoots. And the more I explored and learned about myself, the more I realized I enjoy exhibitionism quite a lot. So, my work began to turn more into erotic work, and then around 2008 I met Ricky Finn, a Raging Stallion regular. I expressed to him my interest in getting into porn, so during Folsom one year, Ricky brought me to their studio and showed me around. Then later at an event he introduced me as one of their newest models and it certainly was something I was curious about, and something which I wanted to do. I didn't just fall or get pulled into it; it was more of a welcomed invitation at the time." 
What themes can we find in your work? What are your top fetishes?  
"Let's see…. I really like boys who like transgressive roles. I also like restraints, ass play, exhibitionism, and voyeurism, edging, cum control, wax play, kicking, clothespins, Bros, and boys that call me Daddy. In terms of gear, I like jockstraps and white briefs kicks, boots, socks (especially white Nike dri-FIT), caps, sports gear, and of course, leather gear. 
As for my top fetishes, I'd say CBT for sure, and impact play (wood paddles, floggers and chains are my fav) where I switch as well from Dom to top. Also, I like anal play with toys and although I do this more as a top, I have gotten more into this as a bottom since last summer. I was just playing around with another top guy, and he was really skilled with his fingers; he was able to make me cum handsfree, and he showed me what the prostate could do for me. It was really enjoyable, and that eventually turned into getting fucked with his cock. Now, I can also cum handsfree from being fucked."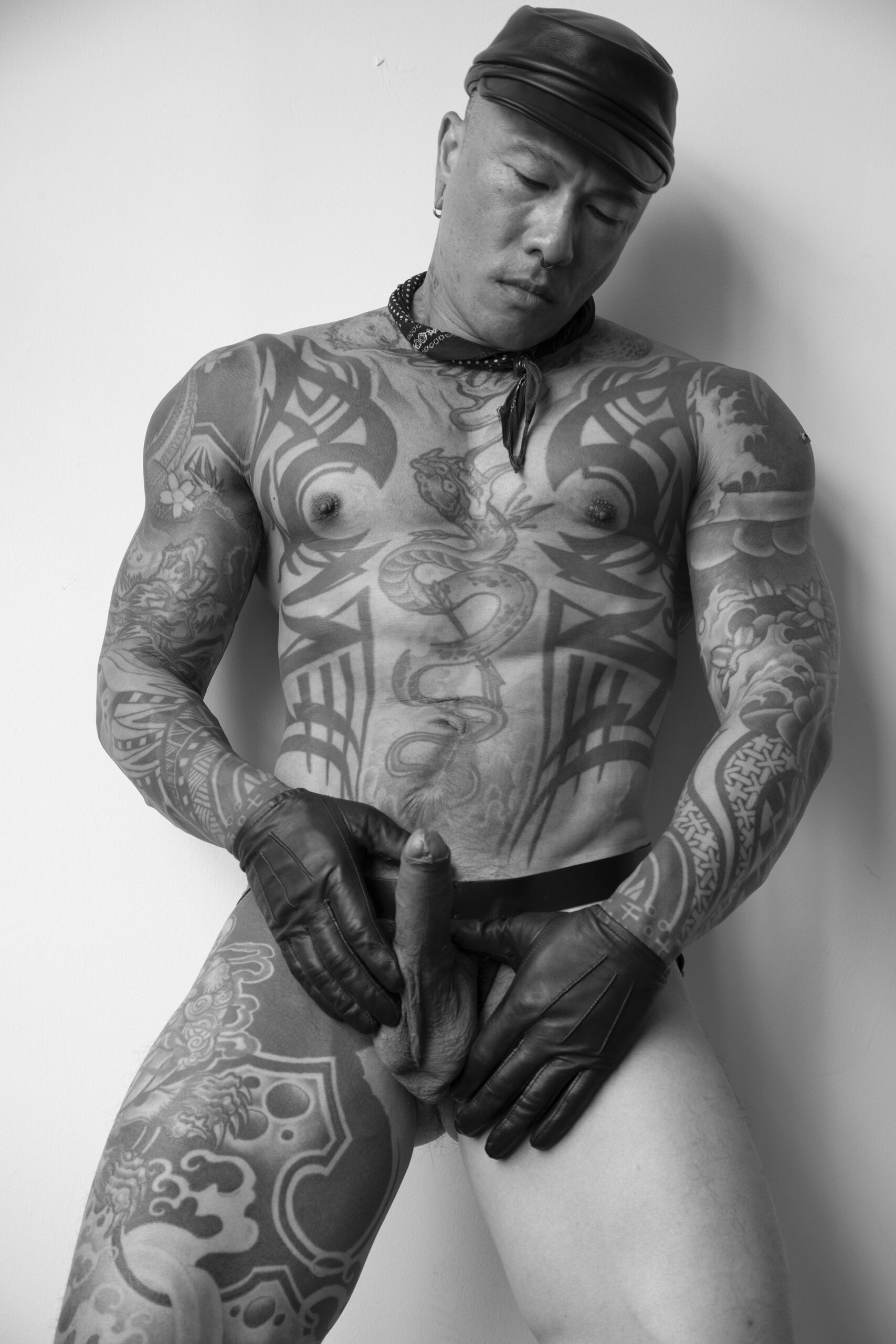 How is all this reflected in your work? Does it inspire the work you do? 
"There's a bit of a cross over between my personal fetishes and my content themes, with some personal inspiration for sure. When I first started filming personal content, I built up most of my fans through jerk off videos. Then I did a transition into sex and more fucking, and recently I'm more focused on BDSM videos. For me, BDSM is not mainly about penetrative sex. In fact, I don't really even see them as needing to go together in a session; BDSM encompasses many forms of play. Personally, I can get off from let's say, for example, fisting another guy, or from a guy tugging on my balls. There's a whole series of things that can take me to places when I'm having sex.   
So yeah, when filming, recently I have been focusing more on BDSM content like fisting, which by the way is a big fetish of mine as well. Other scenes I film involve restraints, CBT, nipple play, and impact play. For my website currently being built, you'll be able to click through on the kind of content you want to see. If you want to see let's, say, more fisting, or more fucking, you can directly go to your preference."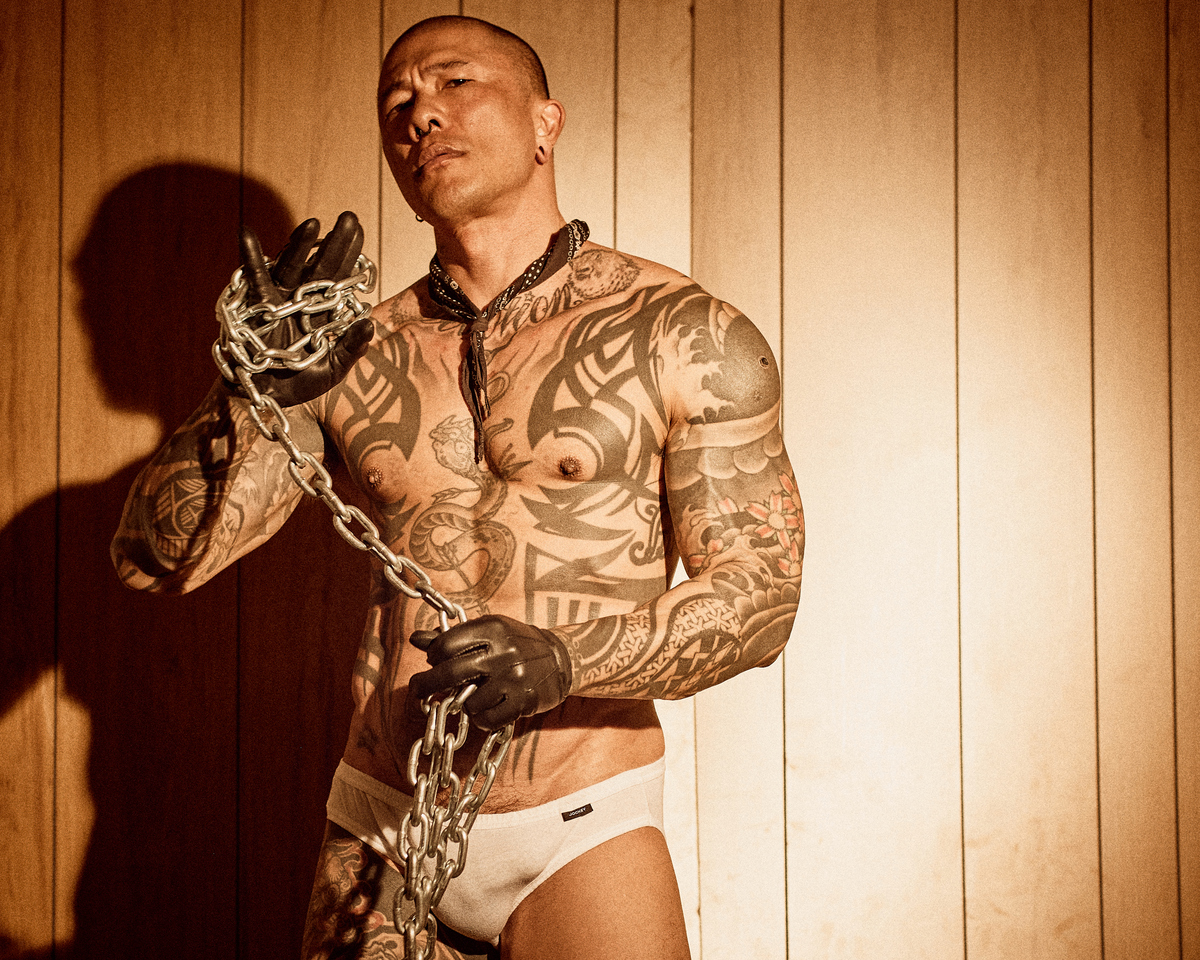 How does it feel to film BDSM scenes? 
"I find it comforting and familiar to film BDSM scenes. I experience the act of being Dom or sub in BDSM almost therapeutic in a sense, because you are concentrating on those feelings in that exact moment of time. It's the only thing you're thinking of; it's like a form of meditation for me. When I have many things going on in my life or when I'm going through a hard time, practicing BDSM helps me bring control into my life. I believe if I exert control in one aspect of my life, it will spread to other aspects of my life. In a positive way it's just another way BDSM helps me.  
Often, I also take on the role of Daddy with younger boys, and I try to be the father that my father was not to me. It brings me the notion that if I can offer the gift of teaching other boys bring control into their life through this kind of play, it would make me feel good in return. I feel as if I've brought a positive change in their life. In our scenes, I can teach them control and discipline, and like with me, they can bring that into other aspects of their life in a positive way. Similar to some of my clients who often have to exert a lot of power and control in their corporate lives, bringing in discipline and control into a BDSM scene can learn them bring this into their work lives. They see that they can lose control by submitting to somebody else, and then regain control through their experiences and reactions to the scene."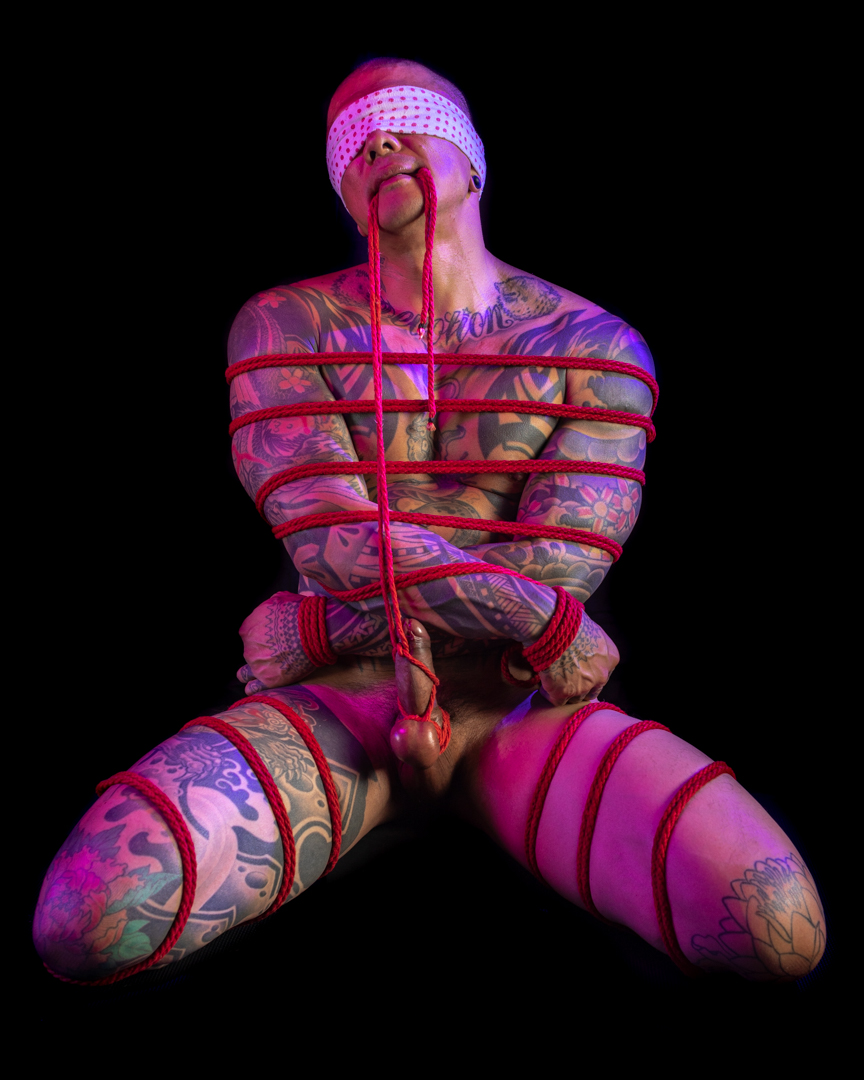 I see you've done work with Behind Barz. Personally. they're my favorite piece of chastity gear available in the market, but I've not seen much of this fetish in the US. 
"When I was living in LA, I was introduced to the belt and to chastity by a friend who works for the Tom of Finland House. He is also an avid chastity kinkster and he is a permanent wearer of the Behind Barz belt. Then I have this other friend, Jason Jackson, who also had one, and with him I tried it on myself for the first time. It felt very interesting at the time, as something I was discovering. It hasn't remained a huge part of my fetish life, though it is growing recently.  
A lot of boys that I play with are into being caged. I understand the mentality of guys who are into chastity long-term or permanently. I understand how it puts them into the mindset of a sub, and how it makes their holes hungrier. You can find videos on my site where I've put boys in the belt. When it comes to my penetration scenes, I do appreciate how chastity curates such a strong desire to be fucked in the boys I've locked; where the cock no longer is the source of stimulation, and just becomes null. I personally don't do chastity on myself because I am still quite cock oriented.  
In terms of the US reaction to the Behind Barz belt, to be honest, a lot of guys haven't seen this kind of chastity here. They're far more used to the more common cock cages. Still, being caged is a big and definitely fast-growing scene here in the US."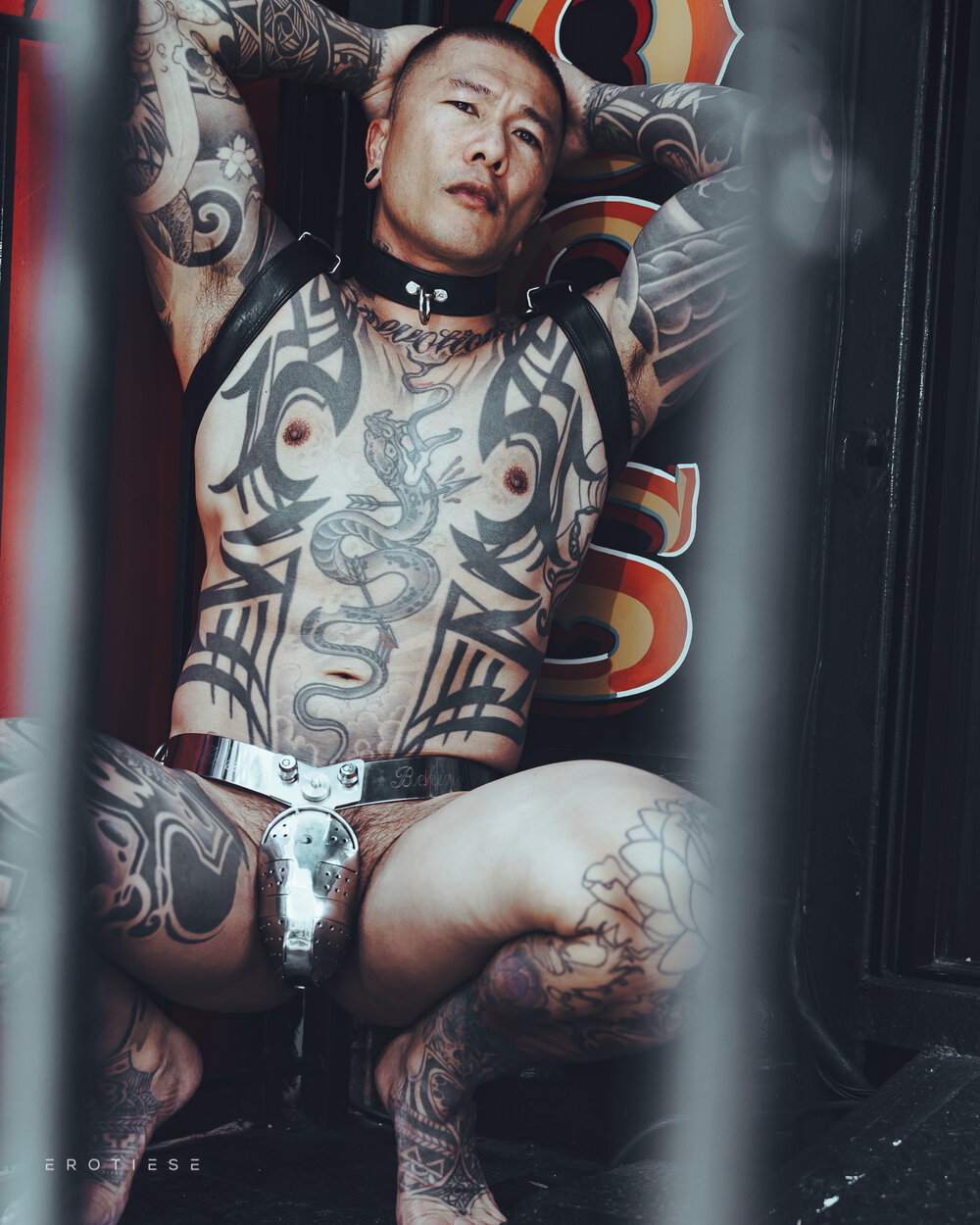 Earlier you mentioned your tattoos, and I see you have many. Do they tell a story? And what do they mean to you in terms of your identity? 
"The story of my tattoos is one of reclamation of the body. When I came out, I started dating this guy who ended up beating me and putting me in the hospital. After that, I sort of dropped out of sight of the gay community and fell deep into the rave scene, doing a lot of drugs. There was a day that came where I said to myself: if I keep doing drugs, I'm going to lose my mind. And then I discovered that through practicing BDSM, I could bring more control back into my life, which comes into that philosophical notion I was alluding to earlier. This also came into the reclamation of my body through tattooing; it empowered me to recreate myself in a manner that I wanted to see myself in. My tattoos can be a little protective of me and sometimes people see them as protection too, which may discourage them to come and talk to me. But if they can break through that, they can see another side of me.  
I started with a tattoo here and there, on my ankle for example, and then one day I decided to go big. I knew these guys who did my tattoos and I trusted them very much. I brought them these ideas I had for tattoos – which drew inspiration from Japanese and Māori tattooing – and they helped me create something great, and it allowed me to see myself the way I wanted to be. My tattoos are markers of time. They show my personal development, and also my personal history."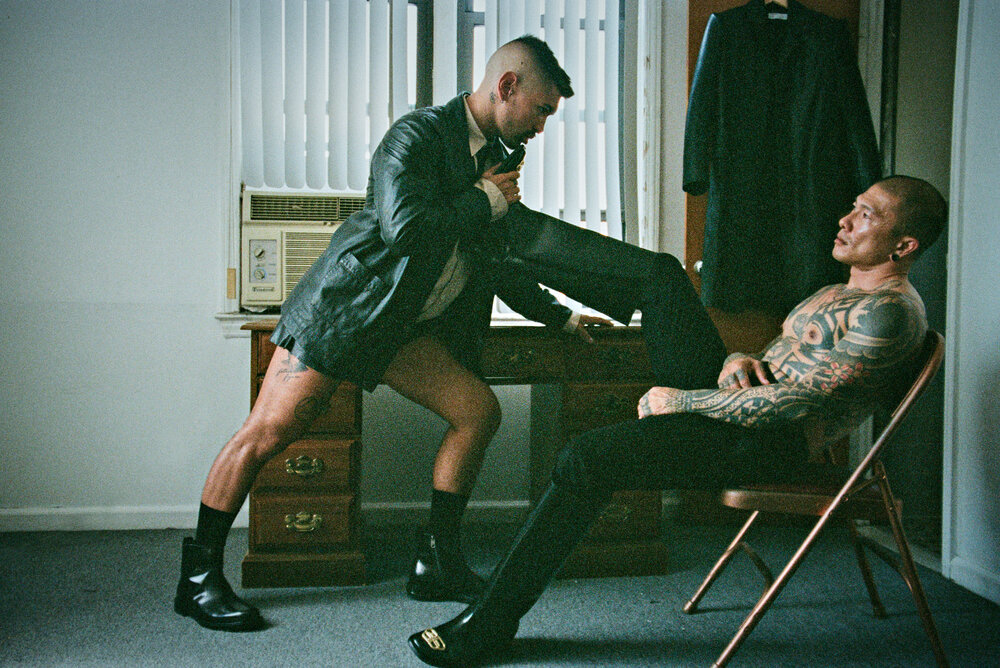 Tell me about your best AND worst experiences in your line of work. Anything super fun, or super crazy? 
"Worst experiences are when I'm training fisting bottoms, because the whole feeding process is a bit different for them. I've had a few experiences where the bottom wasn't entirely clean – which is of course understandable, but still an unpleasant fact of this kind of play. 
Some of the best experiences would be my long term BDSM scenes. I like to add a philosophical element to the scene; I like to teach but also to better understand what it is that my playmate is hoping to experience, or to get out of the scene. When I get ready for these scenes – get into gear and get the toys ready – they can see how invested I am in creating this experience for them. And I like to see that in them. 
An interesting story about me is that I've always enjoyed to play with the Old Guard. I've learned so much from those sessions, particularly how to read subs I'm playing with, and to best understand what they're feeling while we play."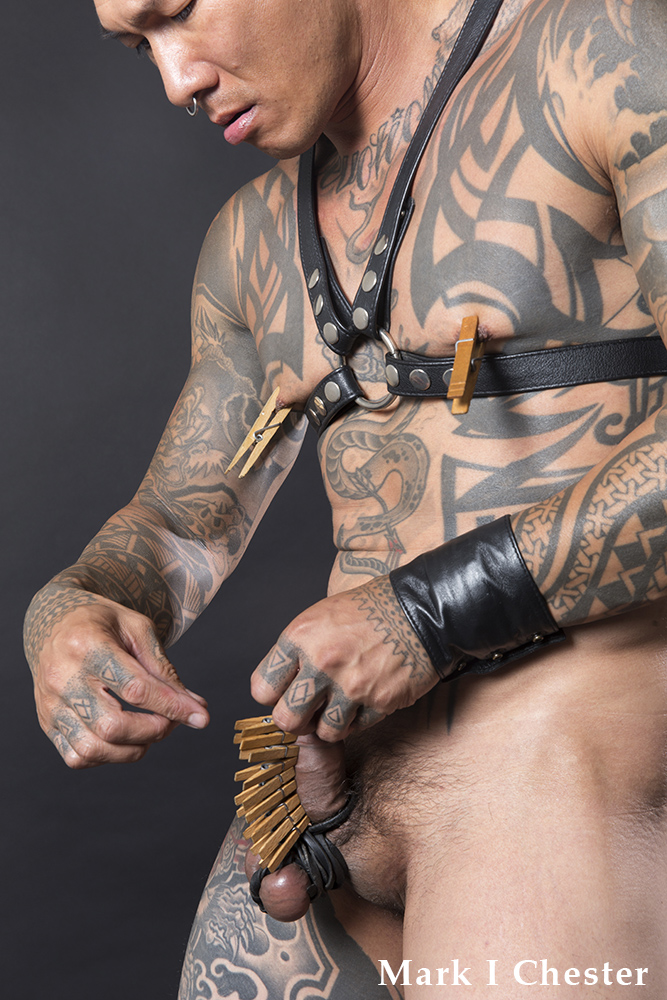 As an Asian American, how do you feel your work has been received in the scene? And does it affect you or your work in any way? 
"It's very inspiring to read messages from my fans, especially from my Asian fans who see me as a strong presence. I try to show that Asian men can be strong and powerful, and that they can be comfortable in their own roles. Especially for younger Asian men who find themselves in situations where they are not comparable to traditional western values. This was very prevalent in the '80s and '90s, and I speak from experience growing up in the US in the '90s when I was coming out; we're preassigned roles as effeminate, submissive, and bottom, even before we have a chance to explore ourselves or to find out what we're into.  
Now that I'm out and I see what people are like today, I see a much broader spectrum of acceptance when it comes to ethnic background, body size, age, and all these sorts of things. And to see that my work inspires my fans to explore who they are, to have the confidence to do so, makes me very happy. They see somebody like themselves doing things they want to do in a very positive light, and it inspires them to make decisions and to make experiences for themselves. This allows them to define themselves and to push themselves forward. For men of Asian descent less so in Europe, but definitely in the US. I certainly hope I've had a positive impact in doing this. I try to be accessible and easy to talk to, but people have to get over the exterior image that they may think to see at first."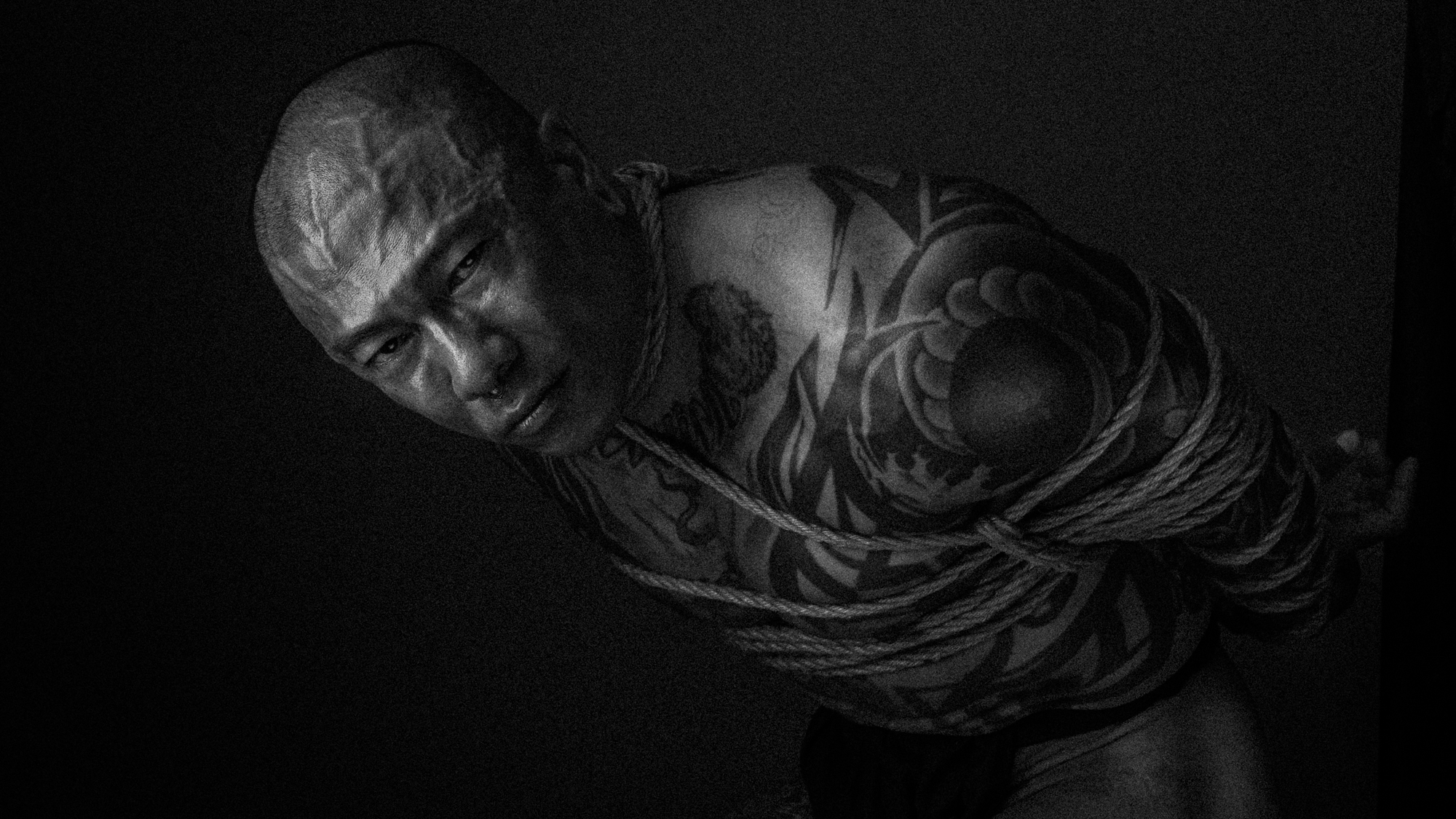 Is there anything else you would like to share with our readers? 
"Go out to experience for yourself before someone else decides what your experiences will be. That's how you grow personally and learn and figure out what you're about. In doing that, learn how to play safely within your given scene. 
A lot of people have this image which they hold up on social media, but you should remember to try and push past that social media image. Dig deeper and get a better understanding of what they're about and what inspires them to do what they do. That's very important." 
To find out more about Damian Dragon, you can check him out almost everywhere: 
rawfuckclub.com/damianxxxdragon 
Follow him on social media:
Twitter: @damianxxxdragon 
Instagram: @damianxdragon 
Or visit: