An interview with the newly elected Mr. International Rubber
Hey, world! Meet your new current reigning Mr. International Rubber: Pusckatt Pumera ONYX (he/him). This fierce rubberist from Fort Lauderdale, Florida, knows how to make a difference and serve a look. As a gender nonconforming individual, he (deliberately) pushes the boundaries of what it means to be a rubberman.
---
Pusckatt, first of all, congratulations on winning the title of Mr. International Rubber. Why did you want to take part in MIR, and what does it mean for you to have won?
"For me, taking part was about representation. I felt it was time for a black person of color to take up the mantle. As a well-rounded, gender nonconforming person of color, I realized that I represent many different communities. You don't often see representation like that in the fetish scene. When competing on stage, I wanted to be present and in the moment, so that others could identify themselves through me."
Most titleholders commit themselves to a charity after they win, but you already do tons of volunteer work. Can you tell us a little bit about that?
"I'm passionate about giving back to the community and supporting individuals who experience homelessness. They are often overlooked and mistreated. Many people are just a few paychecks away from living on the streets, especially with the way the economy is over here. These folks don't necessarily have the opportunities that many of us are fortunate to have. We should be compassionate towards others; it can happen to any of us. We often take things like running water, a hot meal, and having a roof over our heads for granted. I do a lot of volunteer work, which is my way of giving back to the community. I pass out toiletry bags and snack bags, and provide access to HIV testing across southern and central Florida. During the Christmas holidays, I handed out packages that included snacks, toiletry items, and thirty 10-dollar gift cards to buy food with, to homeless people in the Tampa Bay area. I try to give them whatever tools I'm able to provide."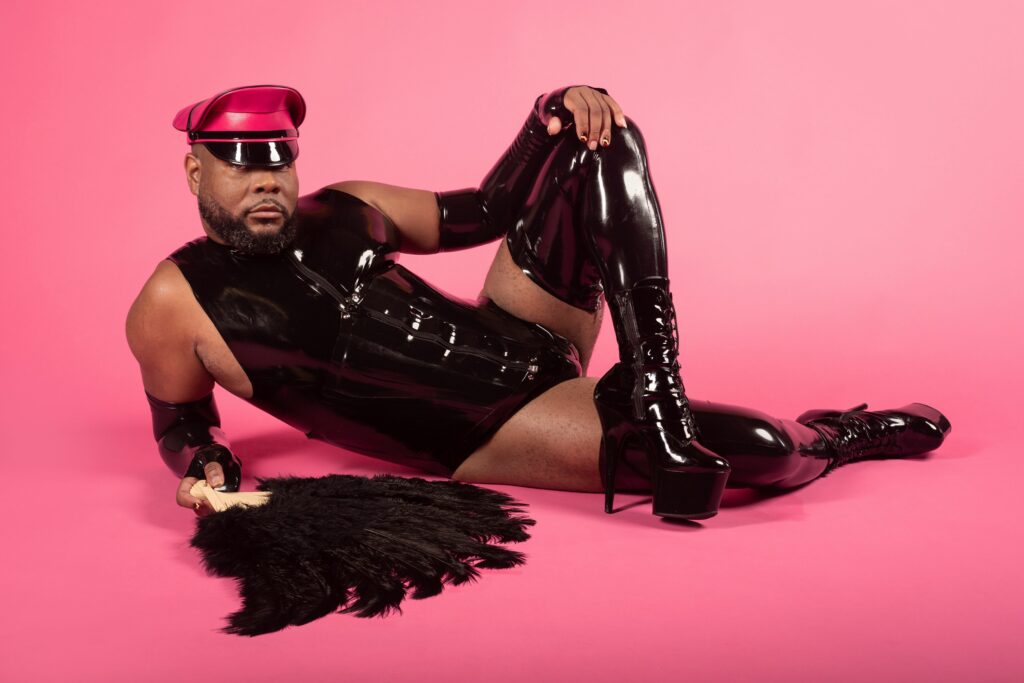 I love your looks, the high heels, the pink latex. I'm living for it! How did you develop your style? Tell us about your process!
"The first thing a lot of people notice is the pink latex. I chose that color – fuchsia – because it stands for impact play, which I really enjoy. Most of my outfits start with a pair of high heels, then I think of what I can create outside of that. I will have one or two pieces more representative of my feminine side, like a corset or a feathered fan, and blend those with items that feel more masculine, like a Muir cap or a formal uniform top with piping. It's what expresses me best! When I look at myself, I don't think I'm hyper-feminine or hyper-masculine. I ride a Harley Davison, paint my nails, and enjoy both equally, so why wouldn't I mix them?!"
Is there a look that you are particularly proud of?
"One of my looks combines a black leotard, a black corset and a pink Muir cap. It's the look that stands out for me most. A pup named Kilo asked me to be part of a photoshoot when he was running for Florida Puppy. He wanted me to be part of his fantasy. I asked him what I should wear, and he told me to pick something I would enjoy wearing because, according to him, I always look fierce. I had this black leotard that I hadn't worn yet, and I managed to pull a look together. When I saw the pictures afterwards, I was like, shiiiiiiit, I look GOOD!"
You describe yourself as a rubberman that pushes the traditional boundaries. In what way do you do that?
"I push the boundaries when it comes to being gender nonconforming. I don't care what others think of me. I enjoy expressing myself and I feel comfortable doing so. What fuels me more are people coming up to me in bars, pulling me to the side, telling me they have high heels at home, yadda, yadda, yadda. And I'm like, why don't you wear them when you go out? They're afraid they won't be accepted. They tell me they don't see anyone else doing it. I try to empower them. They belong here just as much as anyone else. The rubber community in South Florida isn't big. When I go out, I always show up in latex. In the last year and a half, I've seen more and more folks in rubber and heels. Some people came to MIR in high heels because of me, people I didn't know personally. I felt their support. Something similar happened at Mid Atlantic Leather recently. There were folks I met there that went back to their hotel to get more gender-bending items. It made me proud. We are evolving as a scene, there's room for everyone, but sometimes you need to remind people that you exist."
You are President of the Deep South chapter of ONYX (ONYX is the longest existing leather and fetish club for people of color, with nine chapters in major American cities including New York, Atlanta, and Los Angeles). What makes your chapter unique?
"We are one of the fairly newer chapters. At ONYX we work to educate and empower our members. We create safe spaces for those who feel they don't have one, and that's important to me. Many leather organizations tend to only include leathermen. For us, leather, rubber and fetish all fall under the same umbrella. I think that's a powerful statement to make. ONYX Deep South is very progressive. It's a nurturing family that has been 100% supportive. They fully embraced a gender nonconforming rubberist like me and even made me their President! When I joined, I never could have imagined that I would be the President of an organization for leathermen, but here I am!"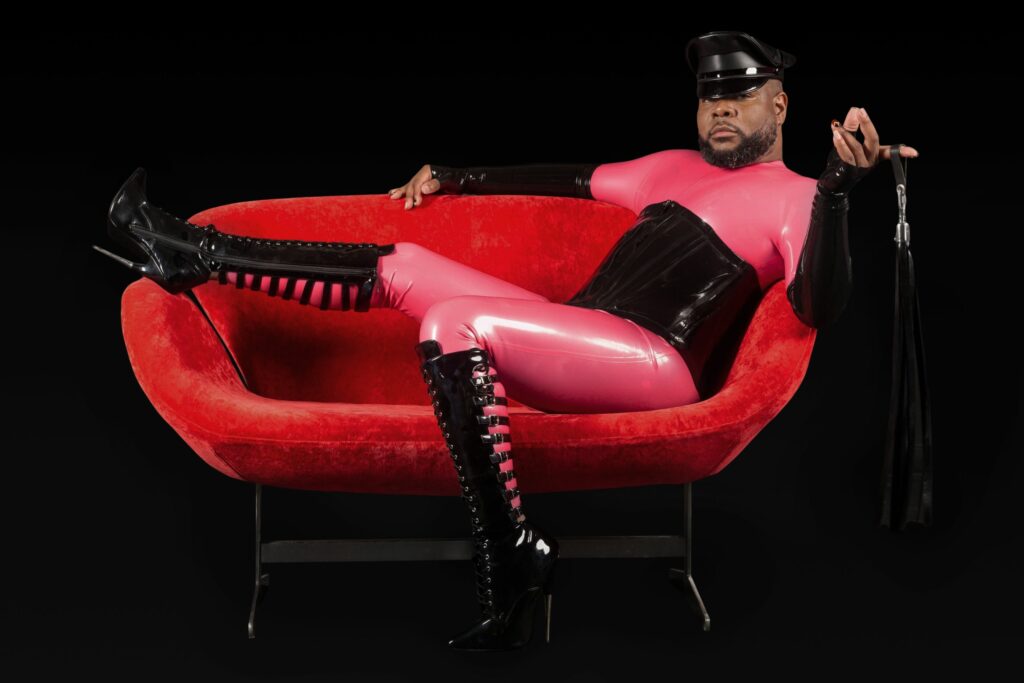 You sound like someone who cares for others, someone who has a big heart! It seems fitting that you are the President of an organization with the same values and spirit.
"I enjoy everything I do. And I'm willing to make a sacrifice for the generations after us. You can fit the mold and live a life in which you conform to existing gender norms, but doing that makes it much harder for others to be themselves. You shut off their potential to live a comfortable, happy life. That's why I push the boundaries. When I don't see any people of color on the flyers of bars that I go to, I talk to the managers: 'You say you are open and inclusive, but I don't see myself represented by you!' You have to advocate. You have to do it for others who might be shy or timid. They need to find their footing and they need to be encouraged. That's really where it all starts at!"
In closing, is there a charity that you would like to give a shout-out to? There might be readers who would like to show their support or make a donation!
"One of the causes I'm close to is the Ujima Men's Collective. They do outreach in minority communities with a focus on black same-gender-loving men by providing HIV testing and safer sex education. You can find them online: www.ujimamen.net. And I'm cofounder of the MPAC Black Support Group, a safe space for gay men of color, where they can come together to discuss navigating everyday life. It makes it easier for them to talk about their lives when there are no people from the outside involved. If your readers want to learn more about this initiative, they can reach out to me on my socials."
Follow Pusckatt on Instagram @mr.internationalrubber26 and @pusckatt.onyx to find out more about his many adventures in rubber. He will be attending fetish and rubber events in Antwerp, Berlin, Manchester, Mexico City, Barcelona, Paris and many more cities around the world. Say 'Hi' from us when you see him!