This past Locktober, Mister B ran a Twitter contest asking followers to share a word that best explains their experience in a chastity cage. For the entire month of October new tweets kept popping up with words like horny, loved, secure, devoted, complete and so many more personal and descriptive examples of the experience. There were over 100 submissions and words, so it was difficult to choose a winner for this contest, but it had to be done.
The selected winner had not just one word, as instructed (we love a rebel), but two short phrases. They made their own interpretation of the instructions given and articulated two interesting ideas, showing that they have a lot to say about the practice.  The winner is @SoHottyX and as stated in the post, we asked them to tell us about their experiences in a cage, their chastity history and some advice for newbies. Here is what they had to say.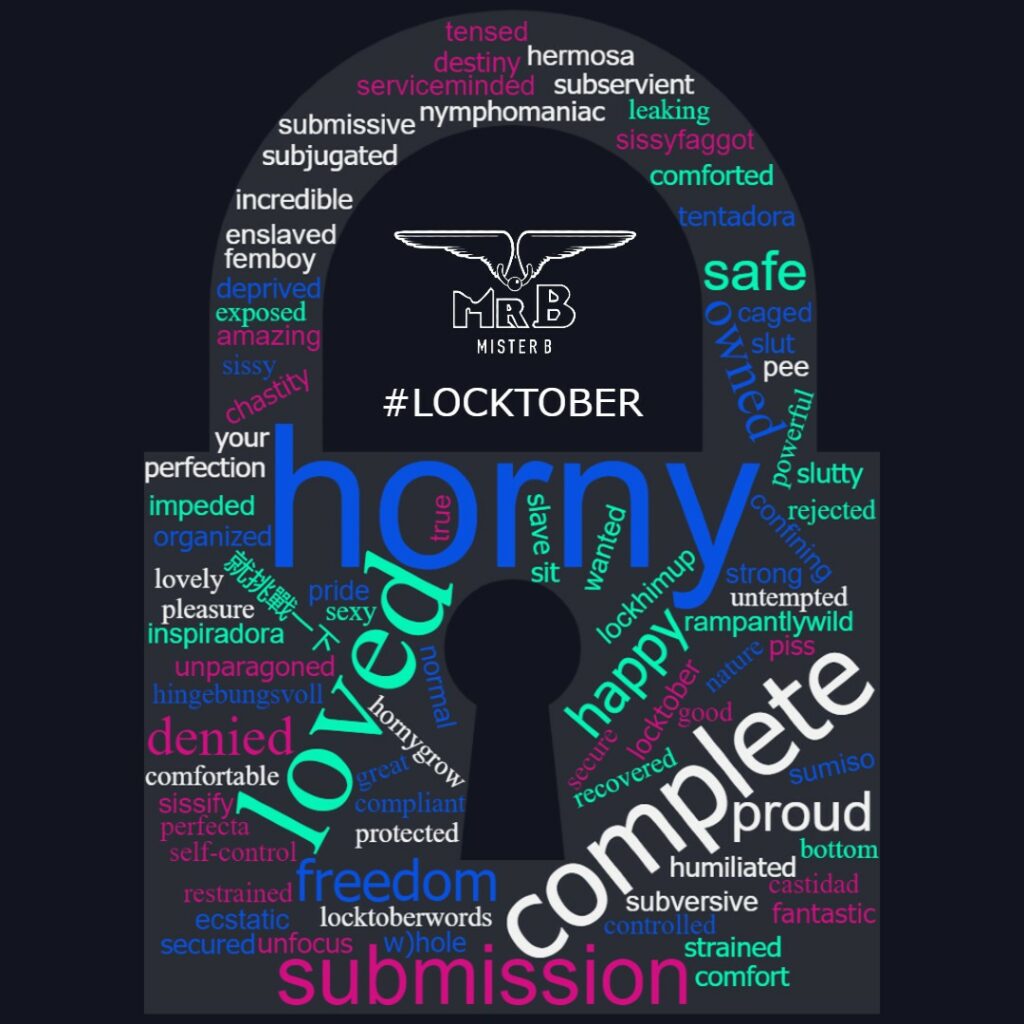 To start off, I just found a picture of the first cage I bought back in 2017. It was a cheap CB6000 knock-off and was really uncomfortable, pinching my skin. It was just too big and impractical. I ordered it after seeing a lot of cute boys wearing ones on Tumblr (the olden days) and thought to myself "why not?". I am a true verse, sexually, with slightly dominant behaviour or what one would qualify as very bratty. The chastity thing was some sort of a challenge for me. I wondered how I would react to it on, but more importantly whether it would really change anything in my behavior. Unfortunately, after the experience with the CB6000, which turned out to be such a disaster, I didn't see the point of a cage that I had to remove every time I put clothes on. So, overall, my first experience was a flop, so to speak.
Fortunately enough, I also got in contact with @Thebavarianboi and @cagedjock after that first attempt and both of them encouraged me to give it another try. They suggested I try a Holy Trainer cage this time instead. This second experience turned out to be much better, and I was able to wear it under my clothes, as well as during the whole day without any problems. It was a lot easier for me to get into it all.  In the meantime, I had set a new personal goal, which was to get in sync with my boyfriend's sex drive. Mine was low at the time, compared to his, and I used the cage as a tool to improve it by not wanking anymore and building up my horniness. It proved to be very effective. I quickly bought another Holy Trainer, now that I knew I was into it. The material was a lot better than that of the knock-off cages, of course, and I was able to start my nights with the cage on – which was a big step, as many other locked boys could attest.
Since 2018, I've been wearing a cage daily, saving both my cum and top side for my boyfriend. I had no key holder back then and still don't, but the idea is to stay locked until my boyfriend wants to bottom. I basically save my cock and energy until it needs to be useful and used. As for the cage, after a long period with the Holy Trainer, I wanted something more convenient to clean daily. Again, @Thebavarianboi gave me a great piece of advice and I ended up ordering a custom-made metal cage from Red Chili Devices and haven't changed since. It is the perfect fit for me and is now a part of my look.
I'm really happy to receive that new Holy Trainer cage that I won from the Mister B Twitter contest. It's a newer design and I picked a smaller size than I'm used to so I can discover the benefits of a new experience.  It turns out that it's much more comfortable than I thought it would be. I always enjoyed the black look of the Holy Trainer and I am really happy I now have two very different looking options.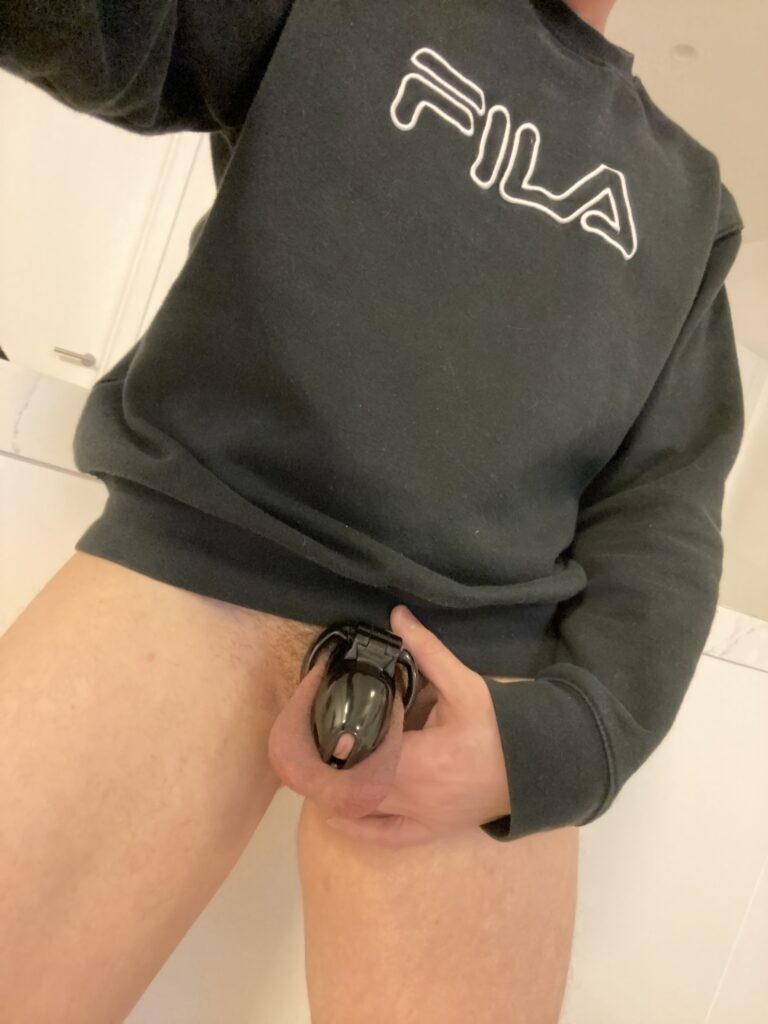 You asked about my longest period in a cage. I always have difficulties answering that question properly. For me, there are two aspects to chastity. There is the time you spend caged and then there is how long you can go without cumming. I can be caged 24/7 for months, unlocking for an hour or two when my boyfriend wants to bottom or I can spend periods wearing the cage in an on-and-off pattern, but without cumming. My conclusion is that the time I stay caged is not that big of a challenge for me. What is a lot more difficult to deal with is if I am able to control my sexual urges (or not). To me, chastity is really about self-control, taking back my sex life and gaining control of my sex drive. I want to be the one who decides what I want to do, not my cock. If you think you wank too much, you don't bottom enough or you don't have the energy to top, or like me, you're not in sync with your partner's sex drive, then you should probably try chastity. It can be a helpful tool for both bottoms and tops. For bottoms, it obviously changes the focus, taking the cock out of the equation and bringing attention where it should be, that is, the hole. The horniness could give you more motivation to be fucked, and you can get more pleasure from the hole and prostate. It's even a way to get to know your body better. As for the tops, it can provide an opportunity to become a key holder and play with a horny sub or bottom and try out new types of rapport with partners. A top can also experiment by wearing a cage to gain better control of themselves, of course, and an understanding of the bottom's role.
As for tips for those new to chastity or curious about trying a cage, I would like to share the great work of @pupnoen which you can see in the image attached from their Twitter.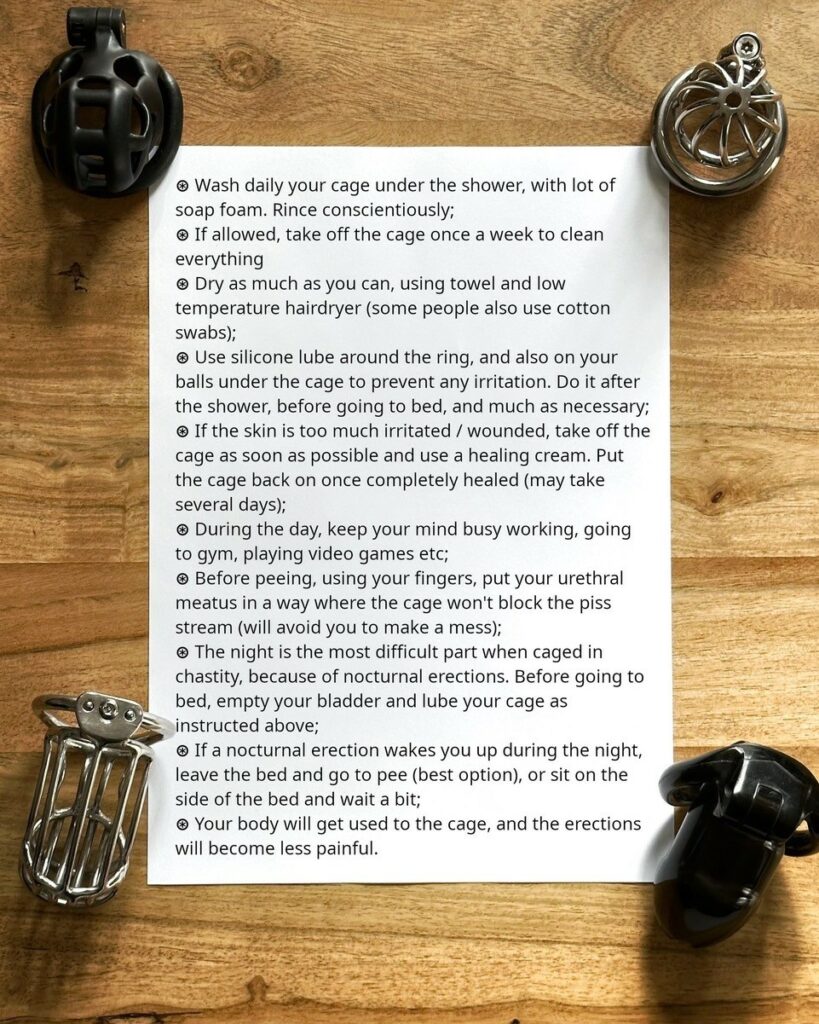 You can find SoHottyX on Twitter @SoHottyX  
Link to WINNING Tweet: https://twitter.com/SoHottyX/status/1576154538729299968?s=20&t=X6o1oyieu4wZRBXBL_PIUA