Cover interview with drag icon Inti
Early this summer, Mister B did a photo shoot with former Drag Race España contestant Inti for our 2023 Pride campaign. Inti (she/her/they/them) is an indigenous, non-binary drag performer who was born in Bolivia, and raised in Spain. She combines fashion, fetish, art, and elements of her cultural heritage to create looks that are both thought-provoking and visually spectacular.
WINGS sat down with Inti to talk about her time on Drag Race España, how she has learned to deal with criticism and to discover what her fetishes are.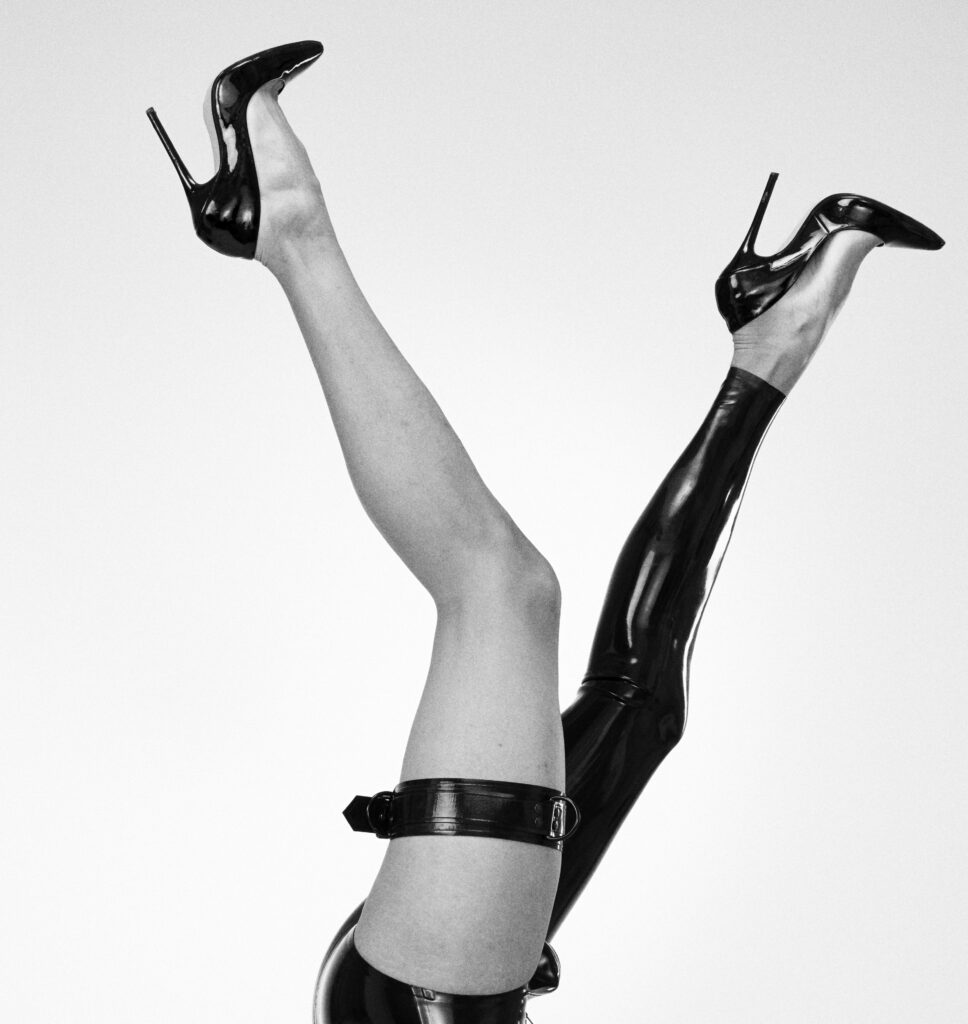 Inti, what are you up to at the moment?
"I'm living my London fantasy. I wanted to live there ever since I was little, and I finally moved to London some months ago. I feel a connection to the city, its people and its art. Growing up in Spain as an indigenous person from Bolivia, I have always felt like an outsider. However, London is full of outsiders. There's freedom there to express myself, people don't stare at me, and no one stops me because of the way I dress because EVERYONE dresses differently."
Are you doing drag performances in London?
"Not in the way I would like to. I'm having a bit of a rough start since I'm not part of the UK drag scene yet, but I think I have something new to bring to the table. Little by little, I'm getting more bookings."
You also work as a model. Is it difficult to get bookings as a non-binary person? Is the fashion industry open to what you have to offer?
"I've never felt more accepted than in the fashion industry. I've been lucky to work with queer pioneers like fashion designer Palomo Spain and visual artist Filip Ćustić from an early age on. They left their mark on this crazy transvestite's career path. Filip creates this amazing futuristic art. He works with pop icons like Rosalía and Lil Nas X. He's the most genius person in the world to me. I was 14 when we did our first photoshoot together. Filip regularly invites me to his studio for pictures. Recently, at a fashion show, he told me that he is very proud of me. We grew up together and he's like an older brother to me."
Your claim to fame is competing on the very first season of Drag Race España in 2021. What was it like to take part?
"Amazing. I might come across as ungrateful because I decided to leave the show early on in Episode 3, but I'm truly grateful to be part of queer Spanish history. And I'm proud to have been the first Latina to walk down that runway."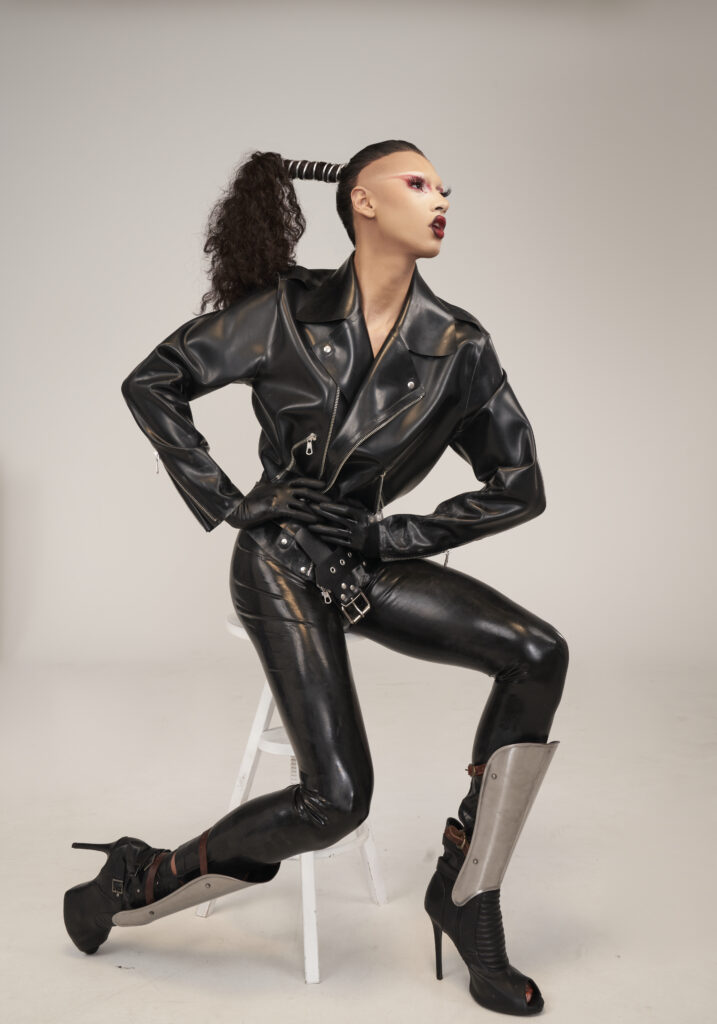 What's your favorite memory of your time on the show?
" The food. I don't know if I'm allowed to talk about it, but the eliminated queens had a different diet than the queens who were still competing. It was mostly traditional Spanish and Catalan food. Very tasty. I ate so much that it gave me nightmares; beautiful nightmares on a full stomach. It looks like I don't eat much, but I REALLY enjoy eating."
What's your least favorite memory?
" Being around Sagittaria 24/7. We clicked, but she's like a little brother, annoying, but I love her anyway. Recording any type of TV show is intense, especially Reality TV. It feels like you're in a pressure cooker nonstop."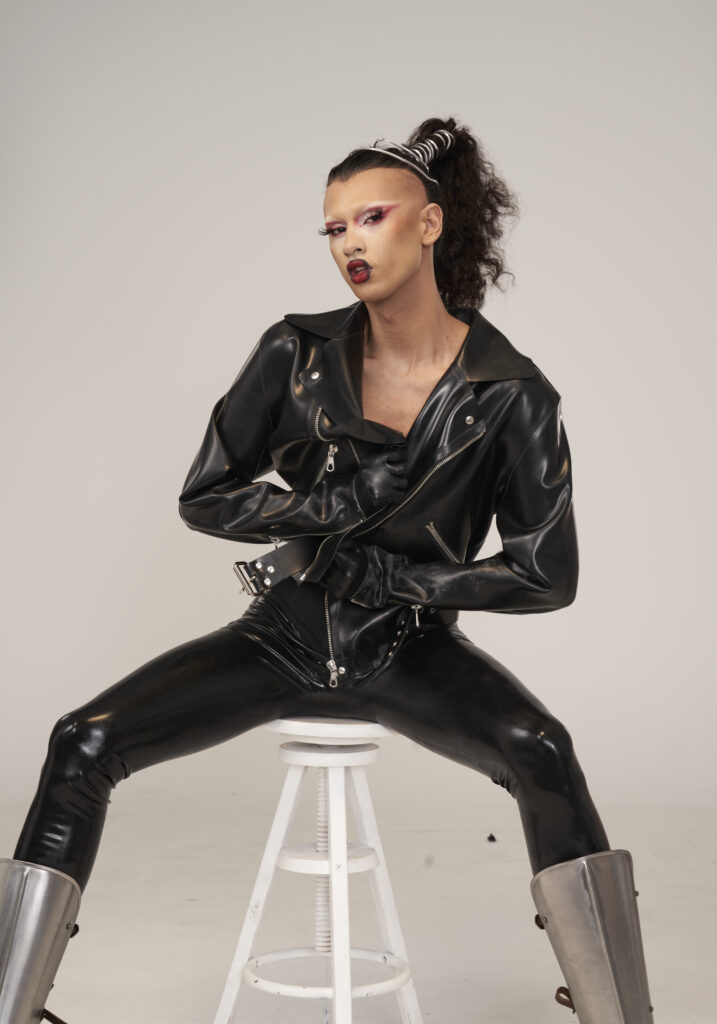 Your looks transcend drag. They're infused with fashion and art, and they're definitely not copy-pasted from anything you see on TV.
"Thank you! I try to avoid the obvious. I'm passionate about what I do, and I try to create something amazing that people will enjoy whilst staying respectful to the art of drag."
Are there moments when you think 'This is it!' when you're creating a look?
"Never! There's always something that can be improved. One of my brothers who does ballet taught me that. But yes, there are days when I don't want to take of my make-up before going to bed because I'm really feeling myself. Then I wake up the next day and scare myself when I look at that cracked face in the mirror staring back at me."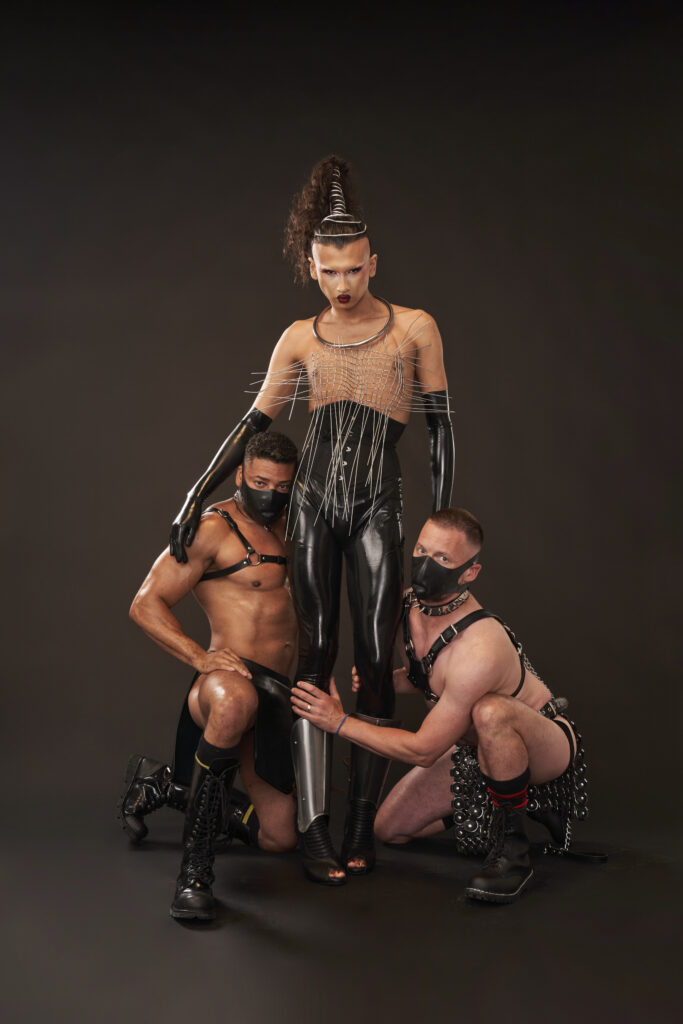 You use a lot of indigenous Bolivian elements and references in the outfits you create. Is there a look in which you succeeded in embracing your heritage the most?
"The outfit that I left Drag Race España in . It was the best look I could possibly do at that moment. That's also the main reason why I decided to leave on my own account. It was the peak of my career, I was filled with pride and felt that my ancestors were there with me, even though that sounds very hippie. The headpiece is from Bolivia – it wasn't a hat that was made in some Spanish garage. I felt that energy. I felt powerful."
And then you thought: 'This is all I have to give. Fuck 'm!'
" Basically, yes. You saw me leave, and everyone did. It scared me as well. When I'm in drag, I'm myself. I'm not a character, I don't change my voice, I don't change my attitude, I don't change anything. It's one hundred per cent me. Inti is the best version of me. That's why getting critiques from the jury felt so personal. I've learned since then that what I do is not who I am. That makes it easier for me to receive feedback. Not everyone is going to like me for their own reasons, but that doesn't matter in the end."
Have you always had trouble dealing with criticism?
"Yes and no. I was only 20 when I competed on Drag Race. Young people think they know everything. As you get older, your skin gets thicker. I come from the ballroom world . If they don't like your vibe, you get chopped, regardless of your talent or look. You think you did everything right, but they chop you because you're not vibing. It taught me to get a thicker skin. It made me realize that even though my name is Inti the world doesn't revolve around me."
Let's talk about your name! You chose to call yourself Inti, after the ancient Incan sun god. Why did you pick that name for your drag persona? Did you consider any other options?
" Oooof, there were so many names. I used to call myself Cara, which to me was an elegant and funny name. Cara means 'dude' in Portuguese slang. Getting called dude, while being super feminine, was hilarious to me. It also means 'expensive' and 'fearless' in Spanish, but in a sassy way. That's what I desired to be: sassy and fearless. In the end, I wanted to be taken more seriously. I didn't want my name to be a punchline, so I changed it into Inti, the god of the sun. No one can live without the sun. Light is important. It brings happiness and peace. And I love Rihanna's album Anti, which sounds similar. There were a lot of reasons."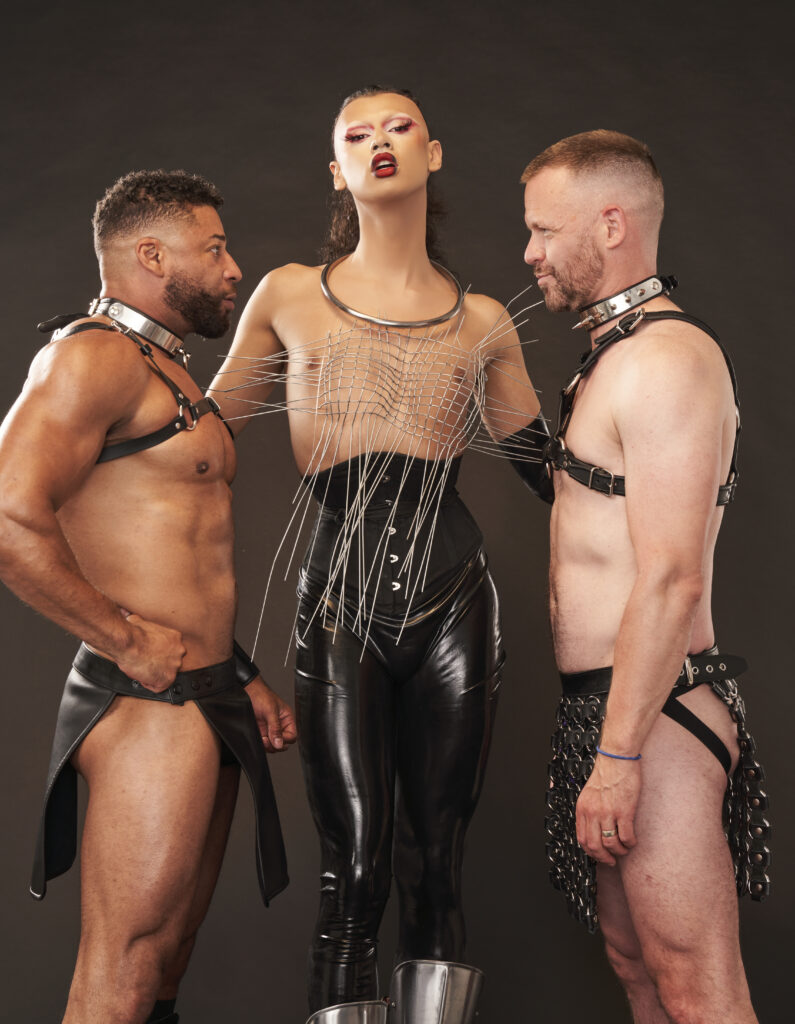 Thank you for that perfect segue! We all know chains and whips excite Rihanna, but what are your personal fetishes?
"I love rubber. I borrowed some latex from a friend for a photoshoot once. The moment I put it on, it felt good. It's soft and it almost feels like a second skin. I love playing with candle wax as well. Every time a drop of wax hits your skin, this rush of adrenaline shoots through your body. There's this interesting fear of getting burned. I'm still figuring out what my fetishes are. It amazes me when people have one specific thing that turns them on. I haven't found out what my biggest fetish is yet, and that kinda makes me sad."
Based on what you're saying, you might be into sensations and sensation play. Things that heighten what you're feeling. Maybe you should try playing with a blindfold once…
"Yes, that's true! I never thought about it in that way. I love being blindfolded. When you have your eyes open, you're focused on lights and images. Being blindfolded makes you focus on all your other senses. I am greedy in sex and want to feel everything, everywhere, all at once."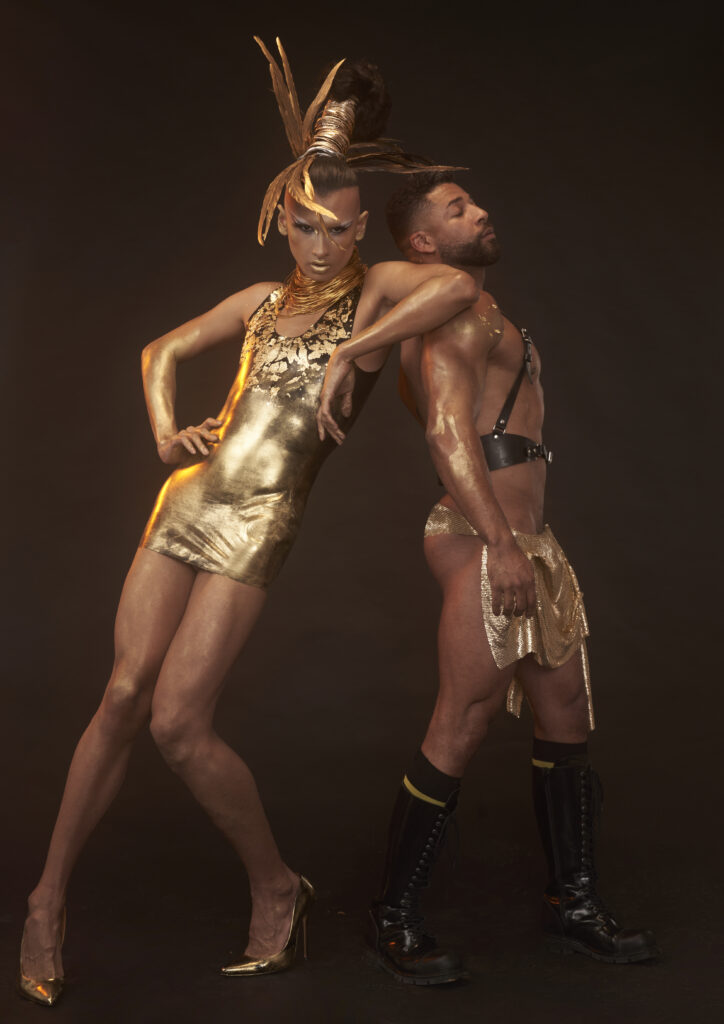 Do you ever go to fetish parties?
"I've been to fetish parties many, many times, as you should when you're a queer icon like myself . I think I've gone to the wrong ones though. The parties in Spain are all a bit soft. I would like to visit Darklands in Antwerp or Folsom in Berlin. The last time I went to Berlin was with my mom, who is a Jehovah's witness, and I was 10 years old. It might be a good moment to go back."
What's the naughtiest thing you've done recently?
"I'm a Scorpio and I'm very sexual, but to be honest, at the moment, I'm actually more in my celibacy era. I hope to be in my porn-star-BDSM-sexual-object era pretty soon though."
Can you leave us with something that might get you cancelled?
" Not everyone is going to accept me for what I'm about to say, but straight people are appropriating gay culture by using poppers. I said what I said!"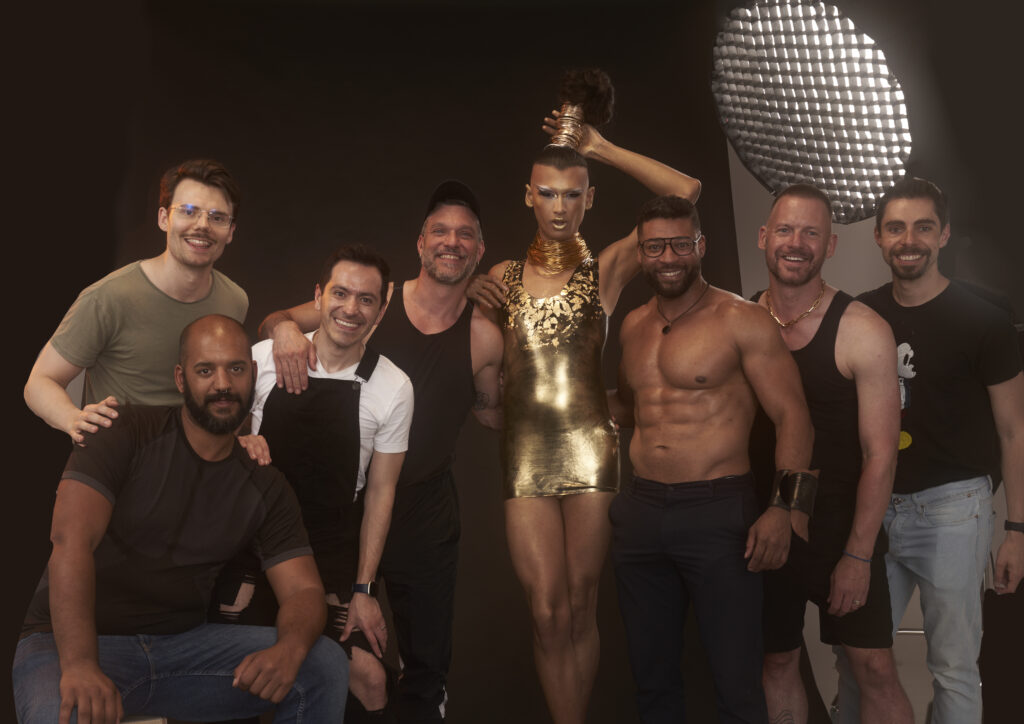 Make sure to follow Inti on Instagram @i_am_inti.
And if you're looking for a model or drag performer that will blow your socks and jocks off, you might want to slip into her DMs!