25 YEARS AGO, ON MARCH 2 1994, OUR FOUNDING FATHER WIM BOS OPENED THE DOORS OF THE VERY FIRST MISTER B STORE IN THE WARMOESSTRAAT IN AMSTERDAM.
FAST-FORWARD TO 2019 AND YOU CAN VISIT OUR STORES IN AMSTERDAM, BERLIN AND ANTWERP AND YOU CAN FIND OUR PRODUCTS IN SHOPS ALL OVER THE WORLD. TO CELEBRATE OUR 25TH BIRTHDAY WE SPOKE WITH FIVE ICONS OF THE FETISH COMMUNITY ABOUT MISTER B'S IMPACT ON THE SCENE AND THE MARK WE HAVE (LITERALLY) LEFT ON SO MANY OF YOU – FOR WHICH WE ARE VERY THANKFUL!
Mister B gave a similar kick-start to Germany's capitol at the turn of the century. According to Onno Tang, our retail manager and former manager of the Berlin store, our arrival turned the city's Schöneberg district into 'Europe's fetish epicentre': "We were the first real fetish store in the neighbourhood. Today there are approximately 15 or 16 similar stores in an area of 300 square meters. Mister B Berlin is special because it attracts customers from all over the world. It's 70% tourists and 30% locals. There are a lot of men coming over for parties like Folsom and Easter Berlin. The customer base is pretty hardcore. It's all about BDSM and leather. This makes the scene a bit more rough and tough. As a leather man, going to Berlin always feels like coming home. I love the atmosphere in Schöneberg and especially the Motzstrasse where our store is located. It's always sexy and 'gemütlich'."
According to Richard Bolk, owner of barbershop Cuts and Curls and long-time leather man, Mister B was the first of a new wave of gay fetish companies that started their businesses in Amsterdam in the mid-nineties: "It was Mister B, Black Body, followed by myself and BDSM hotel The Black Tulip. People were less prude and everyone seemed to be interested in fetish at the time. They came to Amsterdam for the weekend just to have a little bit of sex. I remember going to the opening of Mister B with my first long-term boyfriend. Some of the stuff they sold back then reminded me of the gear they had at RoB – which isn't strange because Wim Bos used to work for them – but they also had a lot of new designs. It struck me how open and accessible the place was. Up until then fetish and leather stores were hidden behind black blinds and double doors, but Mister B had an enormous see through shopping window."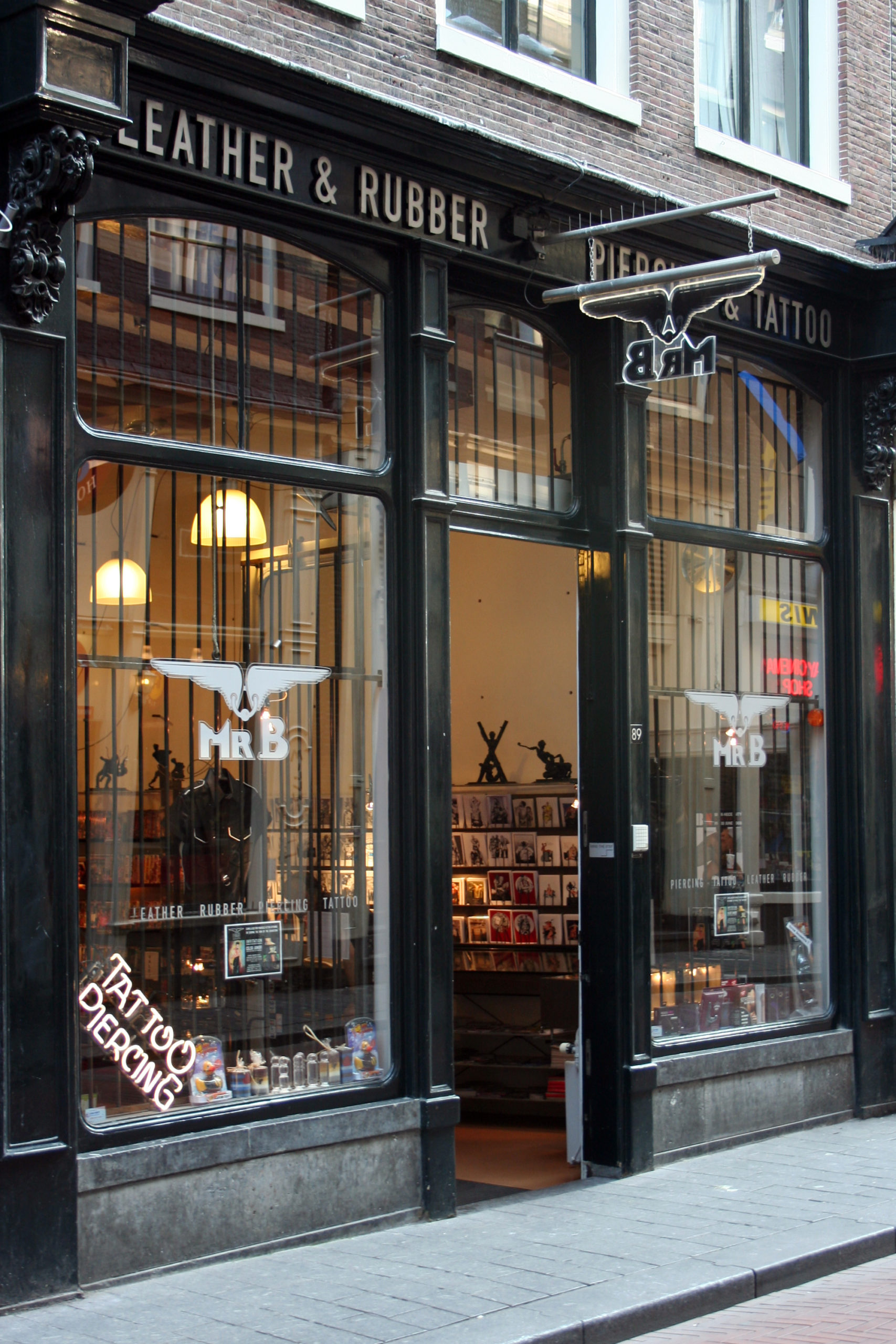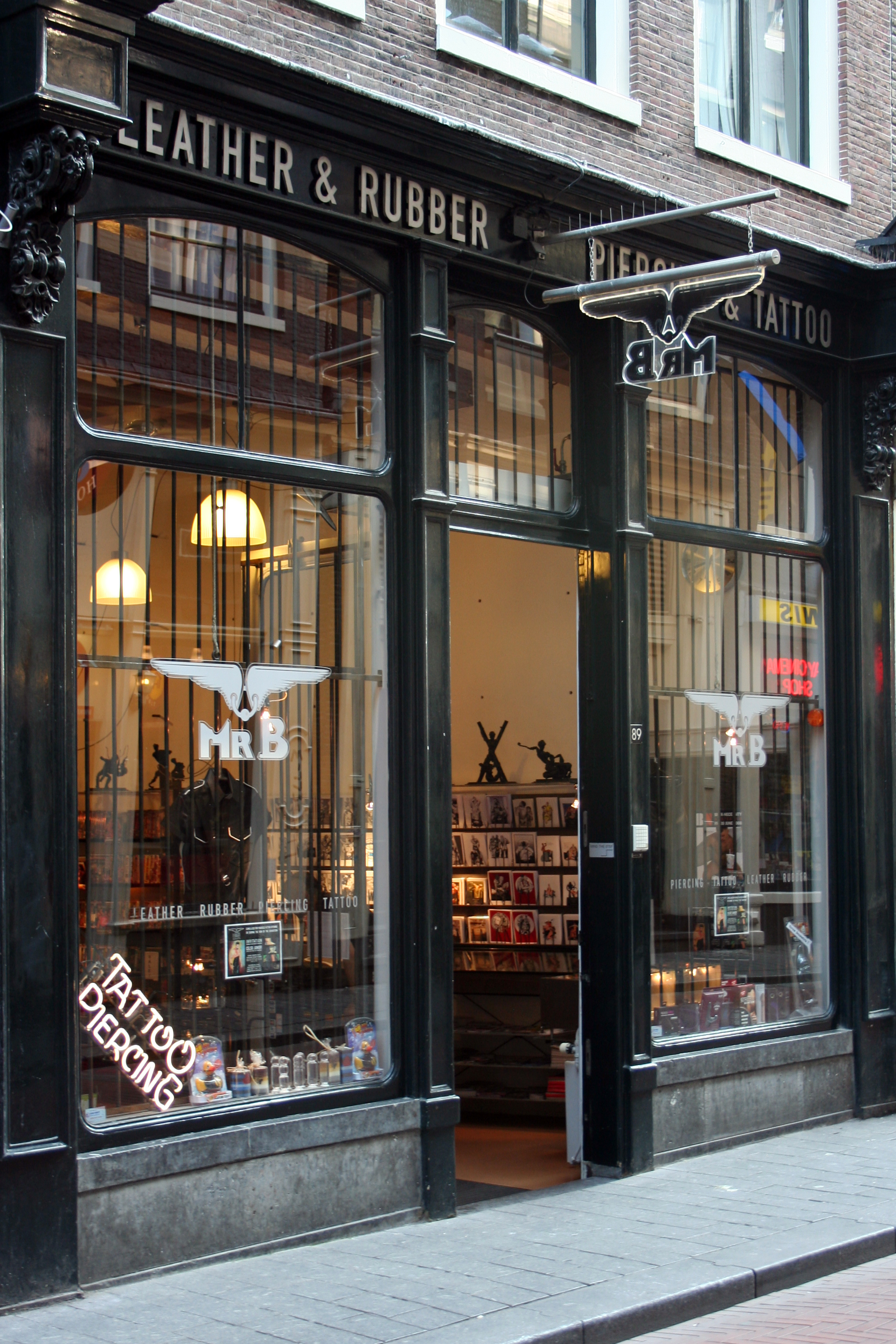 Former location Mister B Amsterdam
This openness was exactly what the original Mister B, Wim Bos, was going for. "To me it has always been important to be open to the outside world about who we are and about our sexuality," Bos explains. "I wanted people on the street to be able to look inside. And I wanted our customers in the store to be proud of themselves and show what they were doing. 25 years ago that was a revolutionary idea." From the very beginning Mister B was much more than a regular fetish store. Of course Bos wanted to sell sexy clothing and the kinkiest toys, but he also wanted Mister B to be a company that supports the community. Bos continues: "Something I cherish a lot is a black and white photograph of Rob Meijer and Dai Evans that Erwin Olaf took. It hung in my office for years and I looked at that picture everyday. Rob Meijer was the founder of our competitor RoB and Dai was his boyfriend. They were dear and sweet friends of mine and beautiful people. Both died of HIV at the beginning of the nineties. They lived in their store and were inviting to anyone, sometimes too much. It would happen that employees took all the food from their fridge and they would have nothing to eat, even though they were very sick at one point. That picture of Rob and Dai inspired me. I wanted to be more businesslike than them, but just like them I wanted to be there for our community. I wanted to promote emancipation.
I wanted people to be proud of who they are. Rob and Dai inspired me to strive for these goals through Mister B."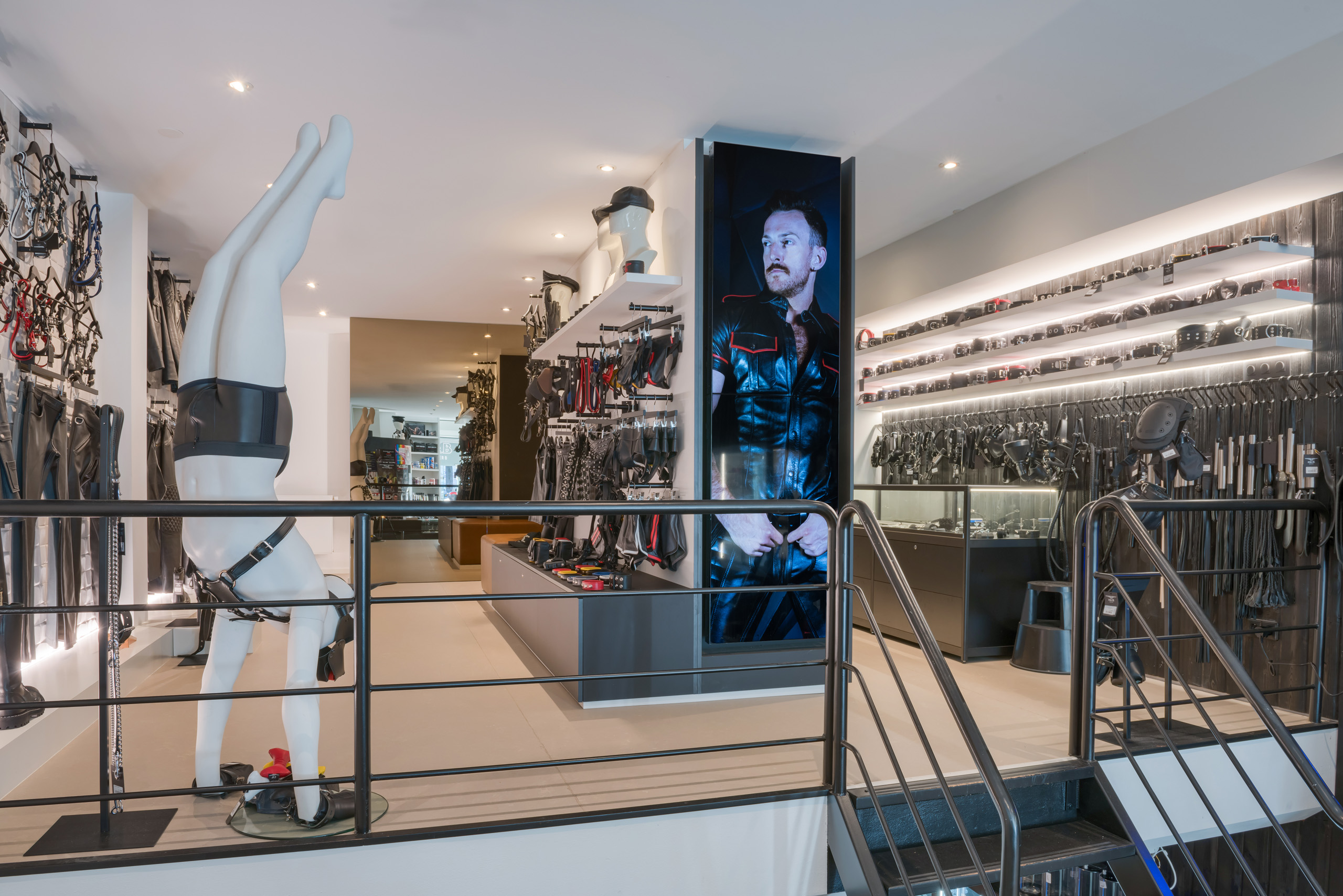 Aforementioned Dutch photographer Erwin Olaf is known for his enormous and artistic body of work, which includes the official portraits of King Willem-Alexander and Queen Máxima of The Netherlands. The world-renowned artist also did two photo shoots for Mister B, including one in 2013 to celebrate our 20th anniversary. He packed up his equipment and travelled to the legendary leather bar The Boots in Antwerp for a series of photos about cruising leather men. Olaf: "I wanted to work with Mister B because I support what the company stands for; its liberal mentality speaks to me. For a shoot like this casting is key. What I do is nothing more than registering the talent of the models and making the atmosphere relaxed. Usually I'm the most prude one on set," he laughs. "There was almost no room to move at The Boots, so it really came down to precision work. Not just for me, but for everyone involved. I almost don't allow anything during a shoot. You can stand in one spot, move a little bit to the left or right, and that's it. The attitude of your models is really important. You do it together and if it works out you get a great photo, like the one where all these boys are standing in a hallway pissing." Olaf likes working with Mister B because there's always humour involved, which also goes for his own side projects. Olaf: "One year during the Milkshake festival in Amsterdam I came up with a game called 'cockring throwing'. For a couple of euros participants got three rings and you had to throw them over a big assortment of dildos in front of you. Mister B sponsored the dildos and the money we raised went to a charity that works hard to prevent gay kids from getting bullied. Unfortunately some of the dildos got stolen during the day," he laughs loudly at this.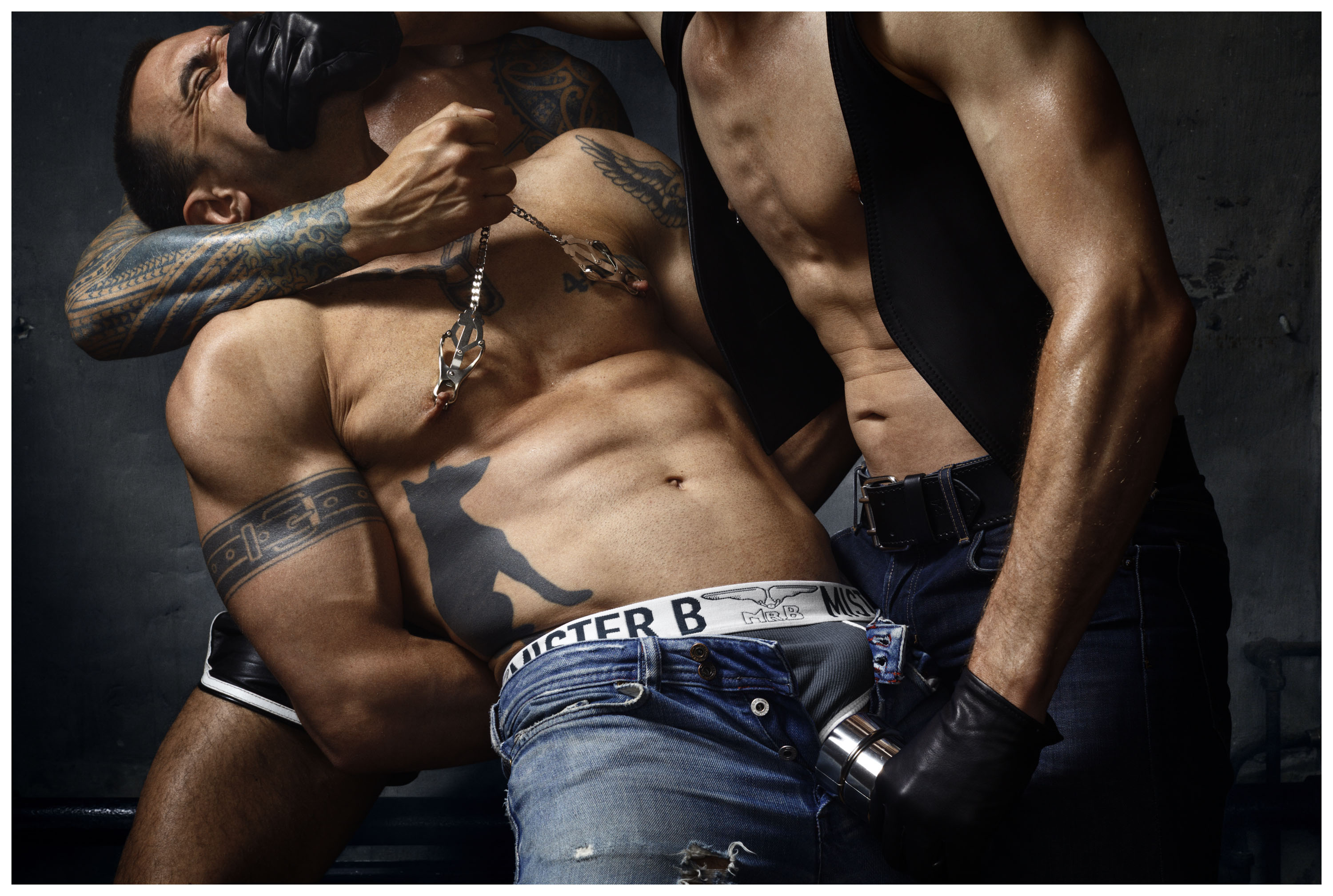 "Mister B means a lot to us," says Jeroen van Lievenoogen, executive director of the Leather Pride Belgium and editor-in-chief of gay fetish magazine Alphatribe. "Without Mister B or more specific without Wim Bos, Leather Pride Belgium wouldn't exist today. Wim has advised us throughout the years. He taught us for example how to maintain good relationships with partners and advertisers. But most importantly he helped us after we had a catastrophic year with a lot of snow and ice. We suffered heavy financial losses. Wim came to Antwerp and told us to keep going with the event. He guaranteed us a certain amount of sponsoring so we could continue and he promised us to help if we needed it. That's why Leather Pride Belgium is still alive and kicking. We're very grateful to him." Van Lievenoogen is happy that Mister B opened a store in Antwerp in December 2014. "It made our scene stronger and it gave us some more importance. Two years before we had said goodbye to another fetish store, Plan B, so Mister B filled that void and gave our community a new boost."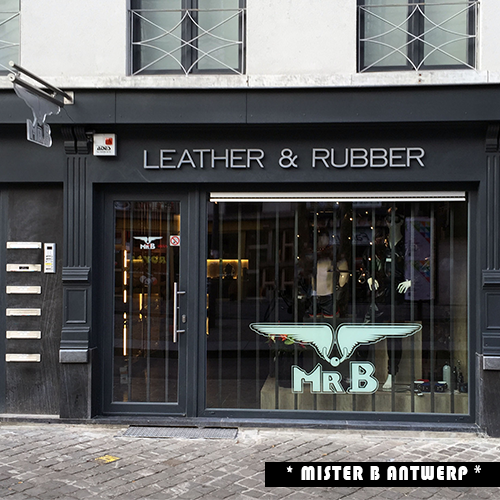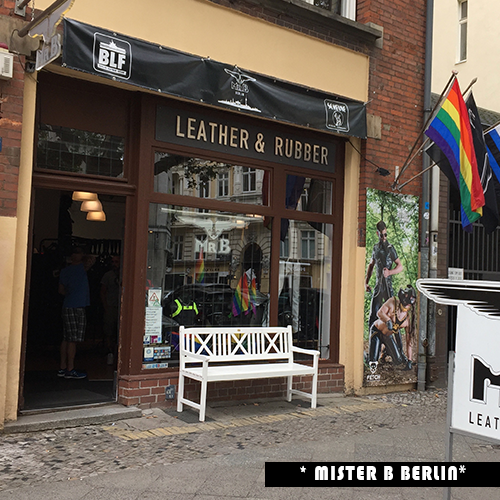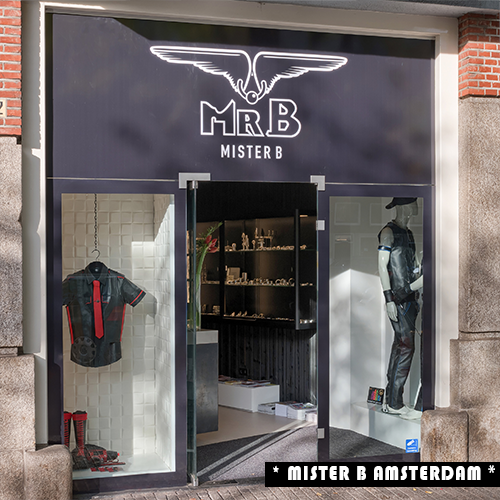 Amsterdam Barber Richard Bolk also praises Mister B for its effect on the Dutch fetish community: "Mister B's openness made BDSM, leather and sex, in general, more accessible and acceptable for discussion. And it gave people who aren't full-on 'leather queens' the possibility to discover their fetish side. Leather to me is not a religion. You need to pick what you and your partner find exciting, not all of us get an erection from looking like Tom of Finland. I appreciate Mister B's sense of community. They have sponsored everything and everyone in Amsterdam's LGBT spectrum. From drag queens to Mister Leather, from puppy competitions to the AIDS Foundation and from the Kink Academy to the protest against the persecution of gay Chechnyans. Mister B clearly takes a stand, unlike other companies." Looking to the future Bolk has one piece of advice he would like to give to the crew at Mister B: "Keep being innovative. That's the talent you have had for the last 25 years and I think that's what will make you stand out. Mister B has a feel for new trends and for the desires of young kinksters and people new to the scene. Mister B has the balls to think out of the box and I respect that."
In 2017 Wim Bos stepped down as the owner of Mister B. He put his company in the capable hands of Nelson Jorge Sousa da Cunha and his enthusiastic team. Like Richard Bolk Wim Bos hopes that Mister B will find a way to constantly renew itself: "We live in an ever-changing world and we should always find a way to change with it. We have to come up with new ideas and products ahead of time. What do our customers find exciting five years from now? What are their wishes? What do we need to produce? That's how you survive! We brought together a group of people that has fresh ideas for our future customer base. I sincerely hope that Mister B will keep offering new things and that we continue to support our community in other ways. We should be social. We should help people in their development. We should be conscious of the society we live in and we should be critical of it when necessary. I've been that way all my life and I hope Mister B will continue to be like that as well."
WANT TO KNOW MORE ABOUT ALL THE MISTER B ANNIVERSARY FESTIVITIES THIS YEAR?
 FOLLOW US ON FACEBOOK OR INSTAGRAM.