Written by Frederik A.K.A Toytorture 
Restraints are one of the most essential BDSM toys out there. They range from simple cuff style for fettering someone when rope is too difficult or stressful to handle to elaborate creations to make even the most extreme bondage fantasies come true. So finding a good pair of restraints is a common step when venturing into kink.
Types of restraints
The most common type of restraint is cuff style. This type of restraint consists of a body that is wrapped around the person's body and a belt to close it. The wider the body, the more intense the bondage feeling. Depending on the area of the body to be restrained, these range in size from small (wrist) to extra-large (waist belts). When the restraints are attached to joints like the wrist or ankles, a padded body is highly recommended in order to prevent injury to these sensitive body parts.
Special restraints are available for extreme forms of bondage like suspension bondage. These are designed to distribute the force of gravity as ergonomically as possible for a safe and secure scene. There are also more elaborate restraints available that combine different body parts, such as shoulder-to-wrist for more complex bondage situations.
Materials
Restraints can be made out of any material that is somewhat soft, flexible and can withstand force. Due to the large number of materials available, only the most common ones are described here.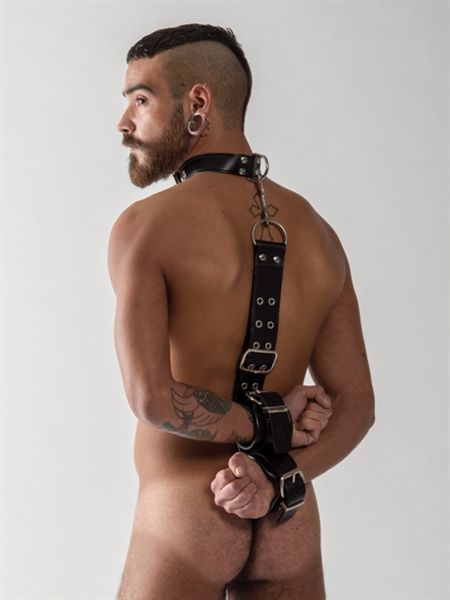 Leather
This is the most common material used to make restraints. These can withstand much force and are comfortable to wear over an extended period of time if the thicker, sturdier hide on the outside is lined with a soft (and optionally padded) hide on the inside. 'Kink on a budget' is not the wisest approach when purchasing leather restraints. Good leather restraints are an investment that will last a lifetime when cared for properly and will be used in almost every scene. Also, cheap leather restraints will most likely be made out of cheaply tanned leather, which could cause allergies.
Fabric
Most fabric restraints are made out of nylon, though I have also seen cotton, canvas and even Kevlar ones. They are lighter and smaller than leather restraints and tend to be on the lower end of the price range. This makes them good for starters or if you want to keep a little emergency set in your toy box just in case you forget you bondage bag. Depending on the material, they are very easy to clean and disinfect.
Rubber
There are two types of rubber available: soft latex that is also used on fetish wear and thicker, harder rubber. With few exceptions, rubber restraints are not made for rough play. They will restrict movement, but if the sub really struggles or fights against them, they will probably break. The thicker rubber ones are able to withstand more force but are also stiffer. They are quite inexpensive, but most of the time are nothing more than rubber mats cut into stripes with metal hardware added. Being stiff, the edges are hard and can cause bruising when struggling in them, especially if the edges are not deburred. The latex ones are a bit more comfortable, since they are as soft as any rubber attire piece. Sadly, durability must take a back seat to comfort. A layer of fabric can increase the strength, yet still cannot compare to leather restraints. The greatest advantage of rubber restraints is that, unlike leather, they can get dirty and wet and can be easily disinfected.
Neoprene
Neoprene is a bit sturdier than rubber and can handle dirt and moisture, and even deal fairly well with oils, so this is a material you may want to consider in a gunge or oil scene.
Metal
The most common style of metal restraints is probably law enforcement cuffs. They are most commonly available as a hand cuff, but there are also ankle cuffs or combinations of both available that further limit movement. They come in many different styles, from historic to high-tech. When purchasing law enforcement cuffs, it is highly recommended to opt for the professional ones. Cheap novelty hand cuffs have mediocre locks that can jam easily. When playing with hand cuffs, a bit of caution is advised. Wearing them for an extended period of time, especially when in a tight setting, can cause permanent nerve damage. Also, they should never be jammed onto the wrists like on TV because the delicate bones of the wrist can break easily.
Other metal restraints are inspired by historic metal restraints. There is a metal version available for nearly every type of restraint. Since most of the metal restraints are not adjustable, they are often made to measure to fit a sub. What makes this kind of metal restraint interesting is the knowledge that, without the key (or heavy tolls), they are inescapable and the sheer weight of the bondage gear that literally weights the sub down.
Closing Mechanisms
There are four ways to close a restraint.
Buckle
Probably the most traditional closing method that works like a belt. Good buckles have a roller buckle, which makes it easier to pull the strap through the buckle. The hole spacing determines how accurately you can adjust the restraints. If the strap is made out of more than one piece of leather, the holes should be reinforced with metal rings so that the pin will not accidently harm the edges of the hole. Some restraints feature an eyelet at the end of the pin or a locking post behind the buckle for a padlock. The clicking of the lock and knowledge of not being able to escape the restraints increase the bondage sensation for the sub.
Double D-ring
There are two D-rings on the end of the strap for threading the strap. The advantage of this kind of mechanism is that the restraints can be adjusted steplessly.
Velcro
Industrial strength Velcro is strong enough to withstand even the force of a heavily struggling sub. They can be adjusted steplessly and knowing that just pulling on them to end the bondage is a comforting thought for subs just starting out with bondage.
U-Bolts
When using u-bolts, the strap has slots punched into it that the u-bolt goes through. You can use a carabiner or a padlock to fix the restraints.
Attachment points
Attachment points are where different bondage hardware like ropes, carabiners or tension cords are added to tie a person down. They are usually held in place by the closing strap. There are two ways to connect the strap to the body: either sturdy rivets or stitching. In order to handle the force restraints are subjected to, it is important that heavy duty nylon thread is stitched in a cross pattern.
Some restraints have only a leather loop as the attachment point. This is the most simple attachment point, but due to the friction of the material, most bondage hardware will not run smoothly through these loops. A better choice are D-rings. They are usually made out of steel but plastic is sometimes used, especially on the lower end of the price range. Metal D-rings are durable and strong – provided they are welded. A more affordable option are restraints with non-welded D-rings. Such hardware is easily spotted: there is a little gap instead of a weld seam at the bottom of the D-ring. Over time, however, the gap at the bottom can be pulled further apart, eventually making the D-ring slip off the restraint.
The number of D-rings is really a personal choice. For 'basic' restraints like wrist and ankle ones, a single D-ring per restraint is enough for most situations. But generally speaking, more is better when it comes to the number of D-rings because it gives the top more room for creative or stricter bondage.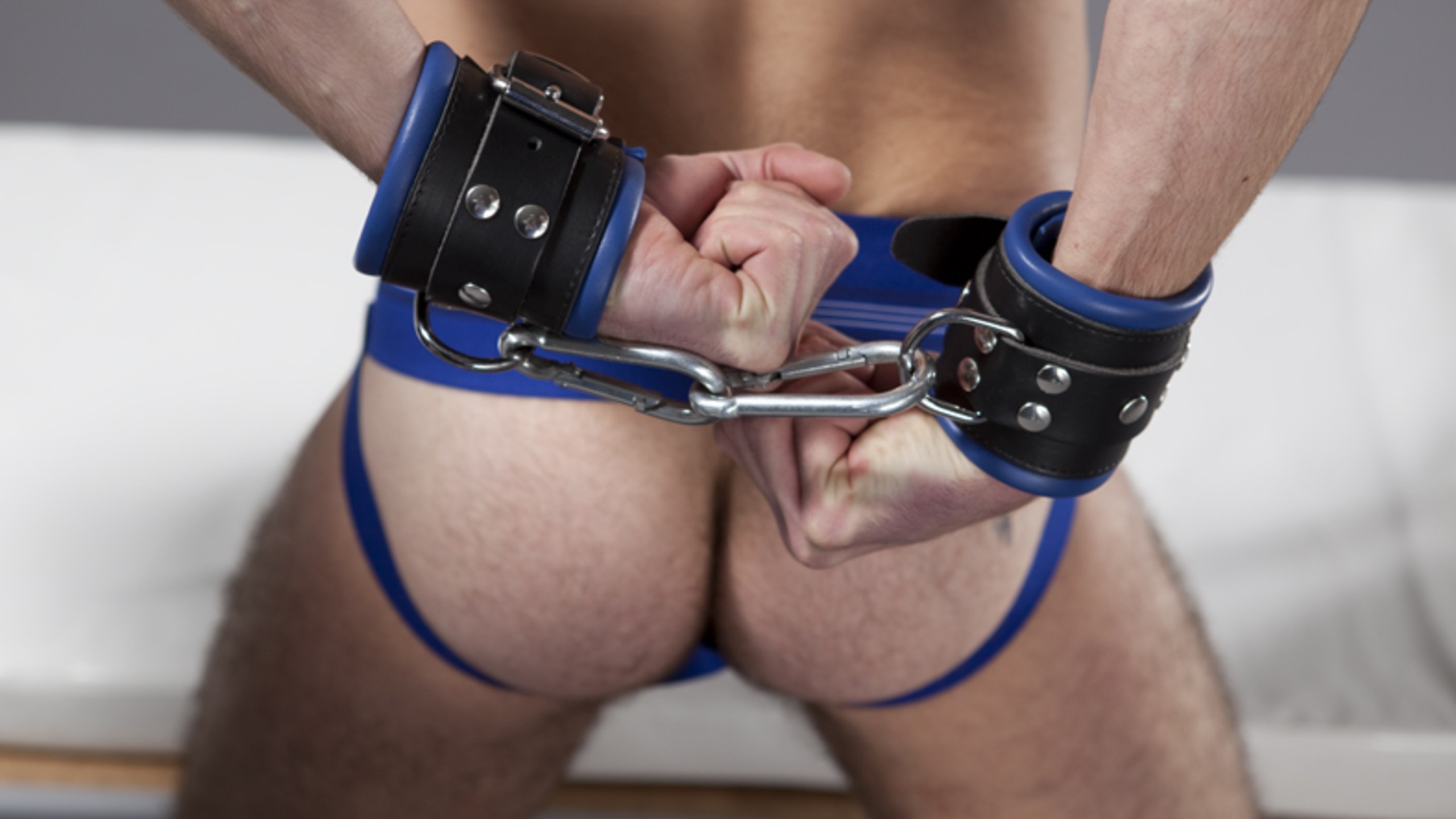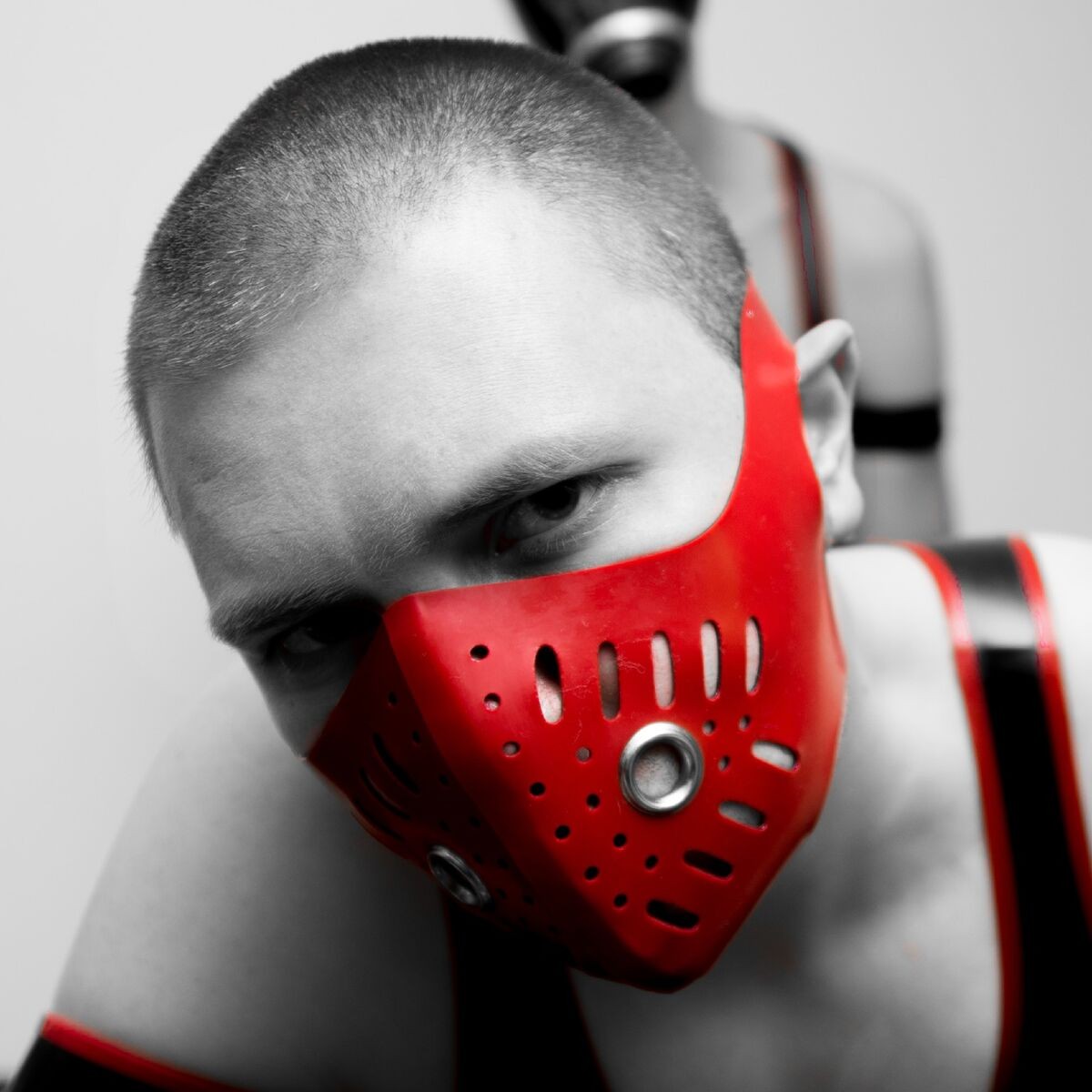 WHO IS FREDERIK?
Frederik discovered his passion for kink quite early in his life. Living in the scarcely populated northern German provinces for most of his life has not stopped him to explore Leather, Rubber, Fisting and BDSM.
Being a toy collector and user as well as a masochistic switchy sub at heart he started ToyTorture.com in 2012. The websites focuses on reviewing the best BDSM toys for gays and talking about play and kink from his perspective. Following his motto "Perverting the world one kinkster at a time" he is giving speeches and demos on BDSM. He is also a member of the Chicago Hellfire Club and the Quälgeist e.V. to support organizations which foster a welcoming and open environment for kinksters.
If you want to keep up with him and his kinky life follow him on Twitter @ToyTorture.