Hey everyone, Marco here! During Folsom Europe 2022 in Berlin I had the distinct pleasure to host a panel on online sexwork at the Mister B stage. You can watch that panel here. WINGS thought it might be interesting and fun to get a little bit more in-depth with our sexy panellists in this two-part interview series.
This week we're talking to the super charming English Leather Master (ELM) and his sub (ELM's sub) – both go by he/him pronouns – to find out more about their favourite and worst moments while filming content, and why you should be extra careful with raspberries on set. Next week we'll catch up with our third panellist (and dom top dreamboat) Leo Rush, so, stay tuned!
Gentlemen, what's the best thing about being an online sex worker/content creator? What do you enjoy the most?
ELM: "Working for myself is one of the best things. It allows me to be creative, to use my terrible acting skills (laughs), and it has taught me how to run my own business. It's sexy and fun. What more could you ask for? I like to come up with new concepts; it's exciting to see if they will go off or if they completely bomb."
ELM's sub: "Creating content has introduced me to a lot of new fetishes. It has opened new doors for me. I like to show people that you can be yourself on platforms like JustForFans and OnlyFans, and that you don't need to have a six pack to do this work."
What has been your all-time favourite moment while making content?
ELM: "The silly moments are my favourite. There's this spanking video where I'm trying to get him to act. I can go into character really fast, but he can't. He finds it extremely difficult. I told him: 'Just say this line. That's all you need to do!' And it took him twenty minutes! At one point we just burst out laughing."
ELM's sub: "My standout moment is the first time that Master fisted me, which we filmed. It was a special moment for me; it was my gateway into ass play. Now I just look at big objects and I want them shoved up my ass."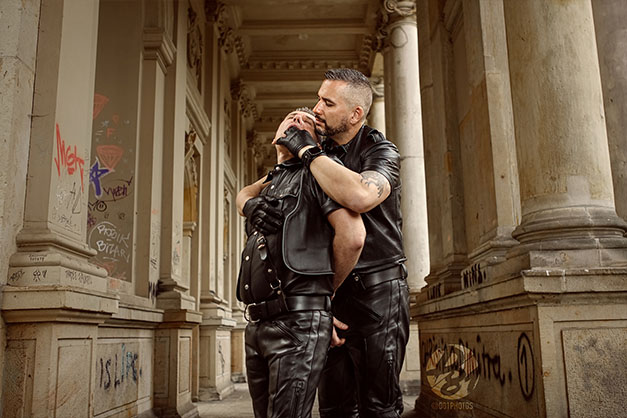 What's the worst thing that has happened to you while making content?
ELM: "I can tell you the most bizarre thing that has happened to me. A few weeks ago I was filming an edging video with huge amounts of poppers. I was completely off my head and it took me about two hours to come. Seconds after I came, he sent me a message: 'Master, there has been a massive accident in our street. There's a car on its side, can you come out and help NOW?' So, I ran out, with this semi hard-on still in my pants, off my head on poppers, trying to work out what time of day it was; and five minutes later I was redirecting traffic."
With a purple glow on your face?
ELM: "It was white actually (laughs).
ELM's sub: "My worst moment involves electro play. We were filming a dungeon scene and the electro box wasn't working the way it should have. The current wasn't coming through properly. Master was flicking the switch, and unbeknownst to me, he dialled it up to almost one hundred percent, but nothing was coming through."
ELM: "But he was making these little moany noises, so, I thought it was working."
ELM's sub: "Then Master started playing with the wires. It turned out that one of them was broken. When Master started bending it, it suddenly connected, and the full voltage hit me. I am a masochist, but the electricity went from zero to one hundred and it was a lot to deal with. It was my worst moment. After that I had to learn to trust the electro again. I'm still not quite there yet."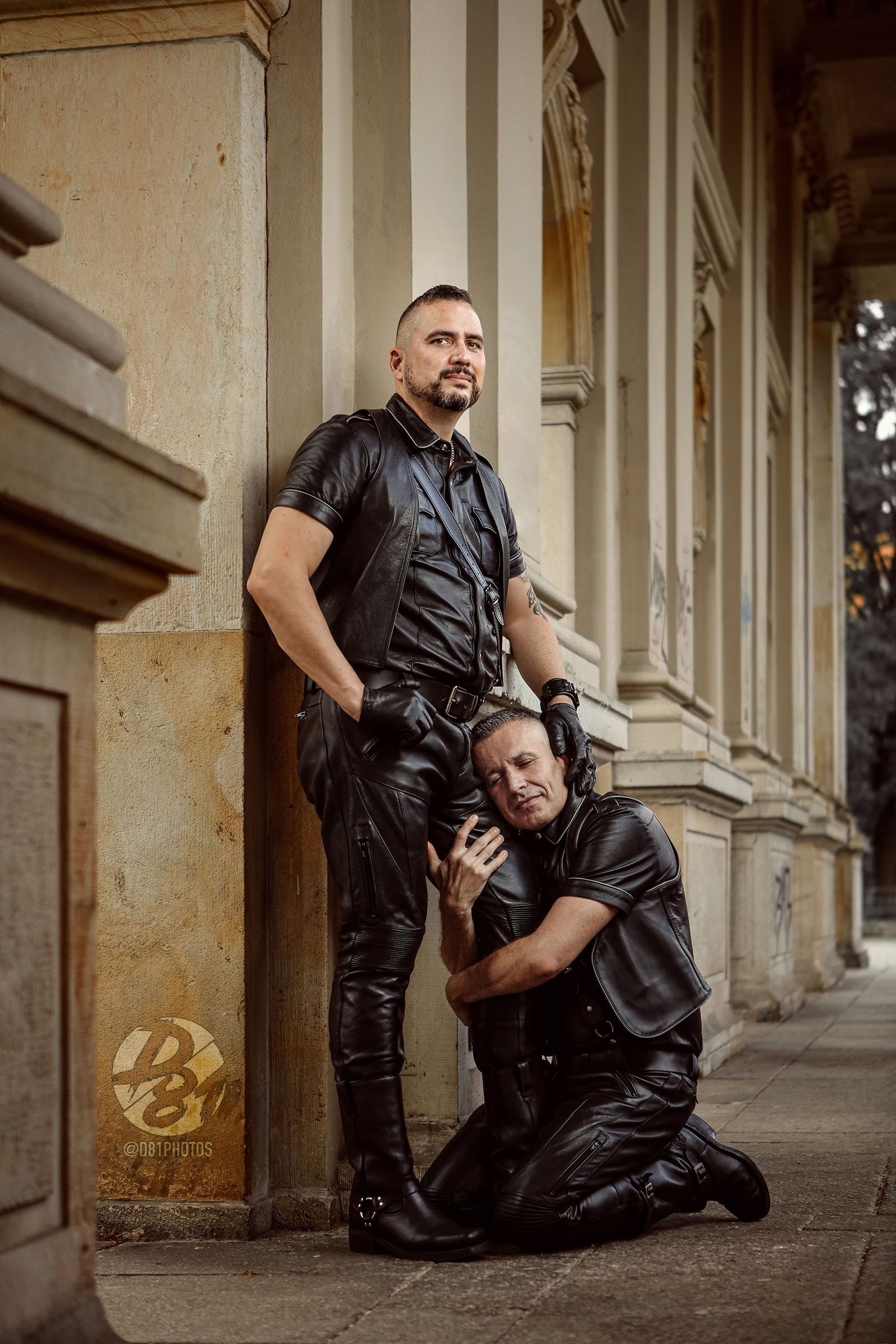 What have you learned about yourself by doing online sexwork?
ELM's sub: "I have learned that I like pain, and that I can't act. I'm always real. I've also discovered that I like to talk about being sexual with the community. I like to get up on stage and promote sexual positivity by speaking publicly about it, like we did at Folsom for both Recon and Mister B. I can be shy and quiet, but once I talk about stuff I believe in…"
ELM: "(interrupts his sub and laughs)… he never shuts up!"
ELM's sub: "It's a great place to be! I don't want to preach on stage, but I love to help people and spark a conversation."
ELM: "I've learned to hone my business skills and to manage my time. I've also learned how to say 'no'. It's important to know what your boundaries are as a sex worker. I like to 'click' into other people's fetishes, but there are limits! Especially when they have an effect on us, or on people's perception of us."
Name three kinks that everyone should try!
ELM's sub: "Don't ask me, I'll get everyone into trouble (laughs)."
ELM: "Changing people's attitude towards a kink that they aren't into is number one. Take water sports; some people see it as degrading and dirty, but you could also consider it as a gift that comes from inside of the dom's body. Once you change your attitude to something, it can be really fun. Number two would be fantasies that can never happen, like macrophilea (check our interview with porn Godzilla Rogan Richards for more on this topic). Figure out how to incorporate them into your sex life; masturbate to those fantasies, or include them in the filthy stories that you tell each other. And make sure to try out fun stuff like balloons, tickling and gunge; or pie someone in the face. That would be my number three. But be careful if you're edging your sub's cock with cake! It's sticky and it can get really dry. And make sure not to get any raspberries in your boy's eyes."
ELM's sub: "Because then you WILL end up in the eye clinic!"
ELM: "True story."
ELM's sub: "Ass play is my number one. You can go to places that you didn't even knew existed when it's done properly. Boots make me go to a different place as well. Boot worship in public, on the streets, licking them for an extended period of time, and really getting into it. Combining smoke play with breath play is my third recommendation. Taking smoke from Master's mouth and then feeling his leather glove covering my mouth and nose so I keep it in. Playing with the heat and ash of a cigar turns me on as well; but the person you're playing with should know what they're doing, because it could go wrong otherwise."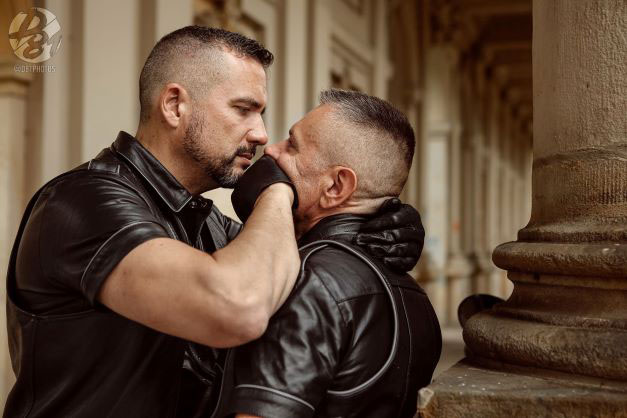 Is there anything you would like to say to our readers in closing?
ELM: "Pay for sex! Pay sex workers and pay online content creators. Learn how to give back to the people you jerk off to. Someone is making that stuff. By subscribing you pay for their bills to some extent. And if you want to get off for free then do it on the right platform like Pornhub, because they pay the content creators through advertising revenues."
ELM's sub: "I would say: have fun with sex and be yourself! Experiment, and be what you are in your core when you're playing. My advise is: try it, then try it again. But be aware of safety aspects and possible consequences. And screw shame!"
Follow English Leather Master and his sub on Instagram @englishleathermaster and @elmssub; and @englishleatherm and @elmssub on Twitter. And make sure to subscribe to English Leather Master and his sub on the following platforms:
Check out the Folsom Wings Talks Panel here: