One of the Best Toys I've got!
Topped Toys Review Interview with Rick
To find out how this Topped Toy worked out for our friend Rick, Frank decided to interview him and ask all the questions about his playtime with the new toy. Through a video conference call, Frank and Rick got caught up on life during the lockdown, the exciting new things in their lives, and how Rick's ass and his new blue Chute 75 were getting along. Let's cut right to the conversation about the toy.
So Rick, I have some questions about how you feel about your new topped Toy! Let's start. My first question is, do you often play with ass toys, dildos, butt plugs, etc?
Oh yeah, I do. It's one of my favorite pass-times. I love cock and ass toys, dildos, anything with for ass stimulation really; I like proper dildo action and I especially love all-day wear. For instance, the stainless steel cockring anal lock, which I wore for 24 hours once! It was very interesting and super-hot! I wore it to work, the gym, and for a bit around town. I loved the feeling, but it was slightly distracting at work, to be honest.
Ya, I can imagine it would be. But a fun distraction! Do you use other butt plugs?
Yes, many different ones. That's why I was excited about this assignment. As soon as I saw the toy I thought 'mmm I can't wait!' It's got a good shape, size, and a nice color. It looks like it was designed the right way, with all the right things in mind. And the super soft sexy feeling of it was already getting me worked up before I got started. I knew I'd enjoy it from before I even put it in me.
Sweet! It's a sexy toy, right? So tell me, what was the setting like for this experience? 
I was at home, it started in my shower. Played with it there a bit first, then I moved into my bedroom. I liked taking it out and putting it back in. In the shower, I started and it was feeling great. It's a little hard not playing with yourself when you have something like that keeping your hole open and having that pressure there. It was nice to relax and feel that pressure and not feel it popping out. The design of this toy was perfect for pulling out and putting back in again by using your ass muscles. I love the curved shape.
I know what you mean. As opposed to The Grip, which I think can be too much for some to pull in and out, the Chute can be perfect to use this way. I really liked pulling mine in and out too, it's such a horny feeling because it's such a squishy toy!  How would you describe the feeling of it entering your body for the first time?
This toy went in easier than others. I was a little intimidated at first because it's quite large, but when I first got it in while I was in the shower, the way it slid in my hole gave me a very satisfying sensation and instantly made me hard. I knew I'd like to keep it in and have it give me that gentle stretch for a while. I loved it right away.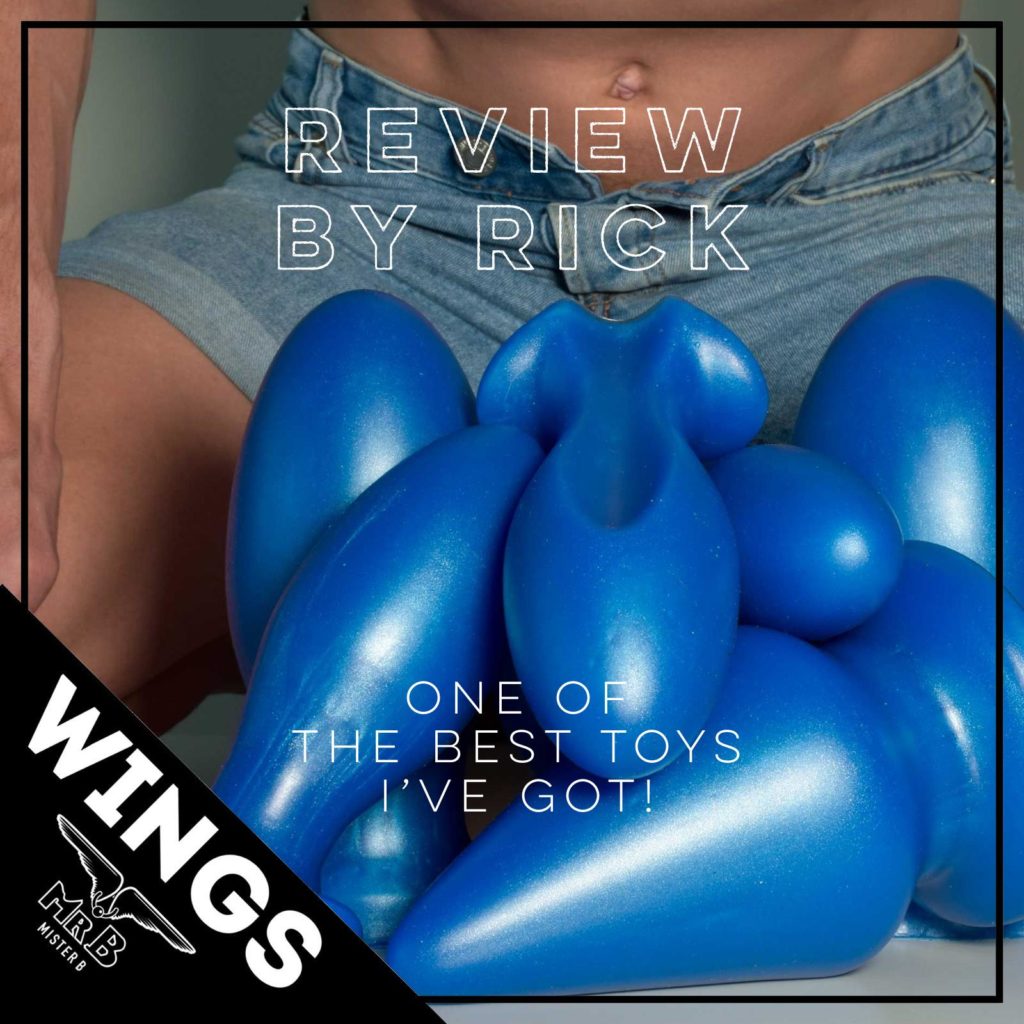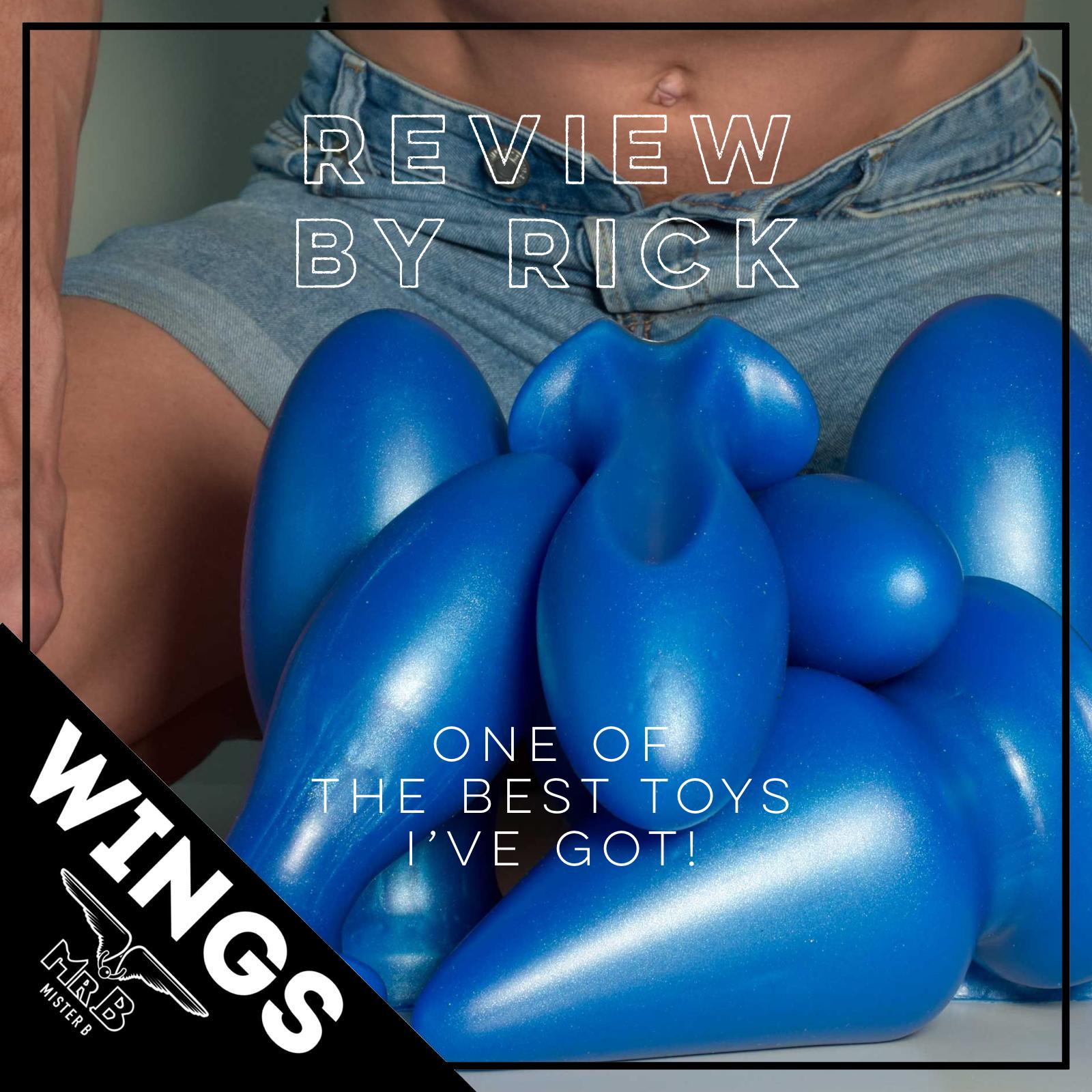 "…walking around with my ass being stretched, I must say, is a favorable experience."
Your toy, the Chute 75 is about 6.1cm diameter, that's about 7.5 inches in circumference, so is this a normal size of toy for you?
Well, when I'm cleaning I use a smaller toy when I want a fucking sensation I use a dildo around this size or even larger at times, but this toy is a perfect size for stretching and letting me relax with it inside. It's got a nice sized neck too. The neck is a bit thicker and I loved it and I didn't have to worry about it slipping out.
For how long did you keep it in you?
It was about four to five hours overall because I wanted to see how it went sitting in me for a while. I made sure I had a lot of water-based lube inside beforehand, knowing I'd leave the toy in for that long. At that point, I decided to do some housework, I watch a little TV, get lunch, and of course, squeeze in a little fun time too. But walking around with my ass being stretched, I must say, Is my favorite.
How would you compare it to other toys you've used?
It was a little soft in the neck to insert, which was a slight challenge to get in 'logistically'. However, at the same time, my ass was so receptive to the smooth soft cushion feel of it going in, so it's definitely better than others in that regard. Besides, that same flexibility which makes it a bit challenging to get it in, makes it excellent to move around with. The base is not too big, which makes it great to walk around with it inside because it sits right at the sphincter.  A little hard to hold and handle with slippery hands covered in lube, as you'd imagine, but overall it's a winner! It would be amazing to wear this toy in my ass while I'm fucking someone else's. I tried it alone this time, so I didn't get to try the chute on anyone, but I am up for it!
What is the overall rating you'd give this toy?
I'd say it's a nine out of ten overall! Satisfaction, pleasure, sensation all guaranteed! Great for stretching, warming up to a larger toy too. It's one of the best toys I've got, to be honest. I'd say it's a great beginner or advanced toy, great for solo play and partner play, and a nice warm-up for fisting. The next steps for me would be using it for longer wear, trying it with a partner, and I want to try the next size up soon too!
 Would you recommend this toy?
Absolutely! I do…and I have actually! I've recommended it to my physio, and he's getting himself one now!
Sweet! Maybe he can include it in his toolkit for rehabilitation therapy? 
 Ya, sphincter-therapy!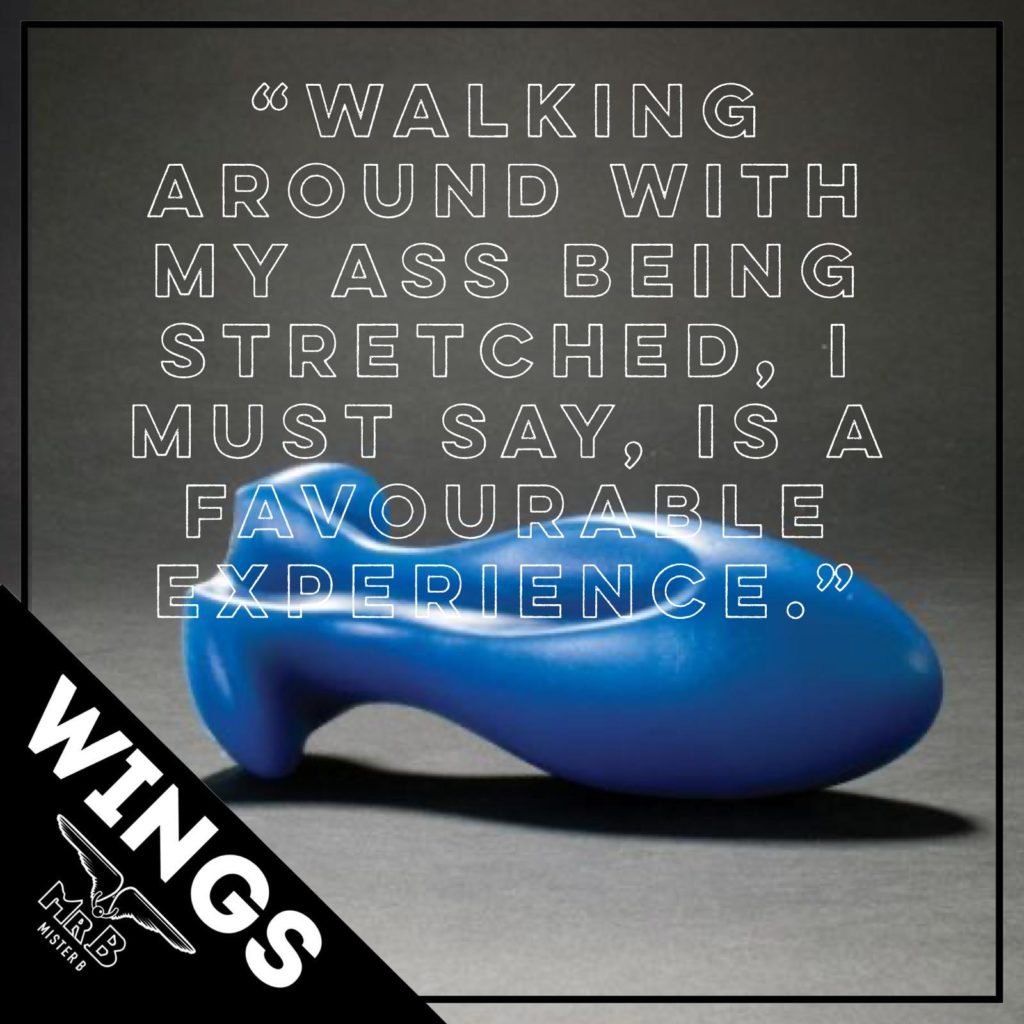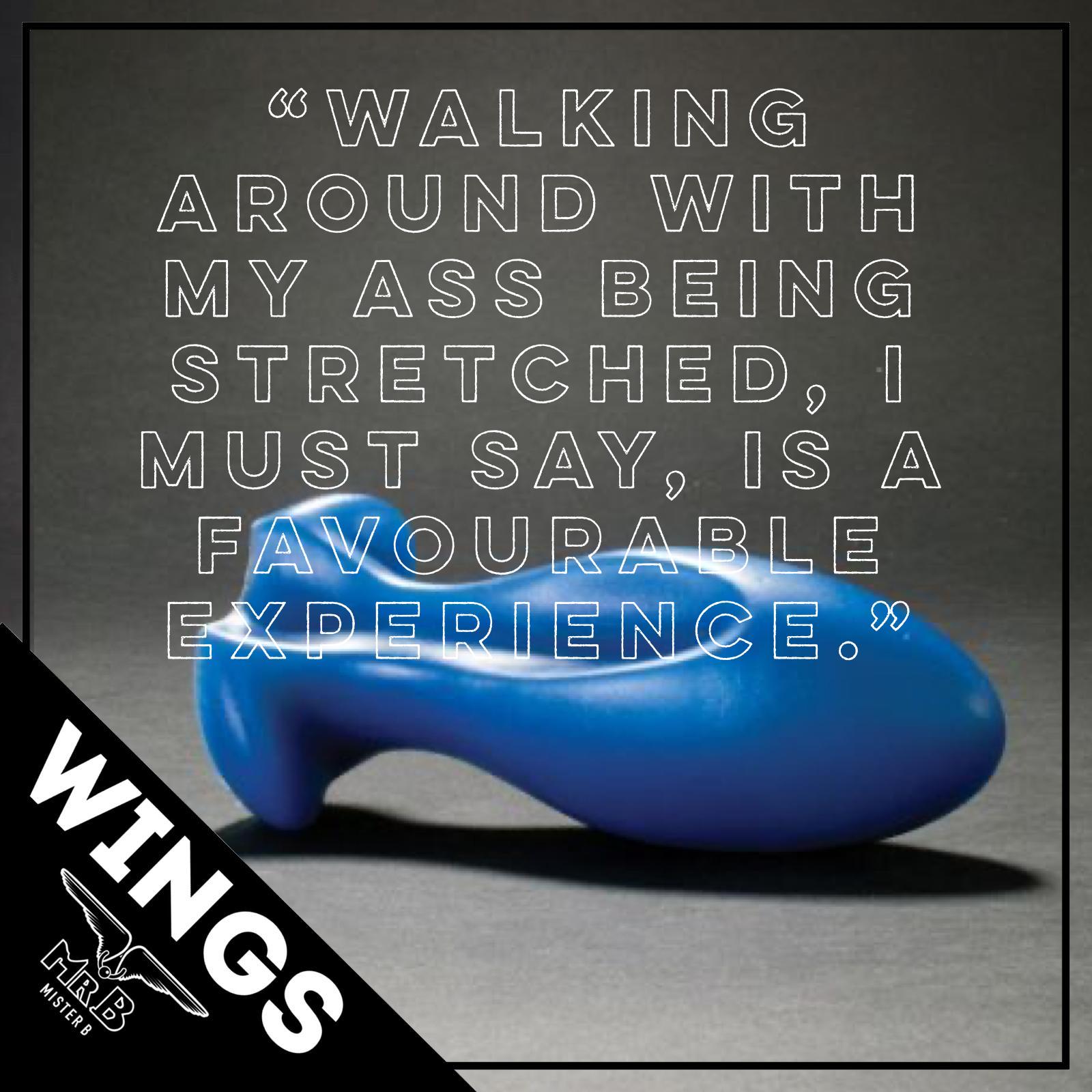 Topped Toys Chute 75 – Blue Steel
The Chute series is perfect for groups. Similar in shape to the Gape Keeper to allow for a comfortable fit, the Chutes also feature an indented channel along one side to allow for double penetration with the plug.
Get ready for a double header. The Chute 75 is a plug that's designed to please you and your partner. Slide the super soft platinum silicone plug in for a stretch, then let your partner guide his shaft alongside it through the fuck channel. But don't worry, the channel tapers off before the widest point so you'll feel every inch of stretch.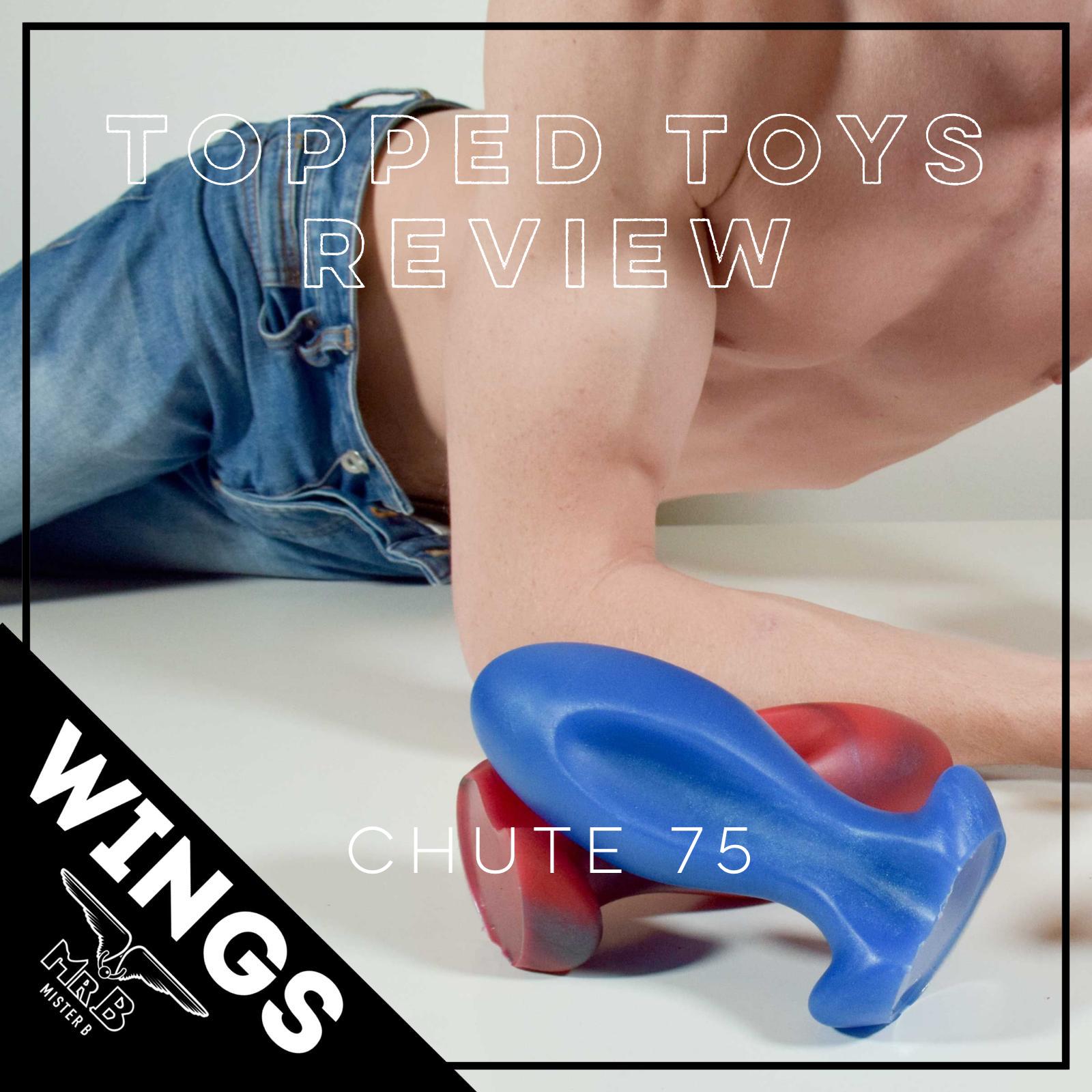 Topped Toys Chute 75 – Blue Steel
ONE OF THE BEST TOYS I'VE GOT!
This toy went in easier than others. I was a little intimidated at first because it's quite large, but when I first got it in while I was in the shower, the way it slid in my hole gave me a very satisfying sensation and instantly made me hard. I knew I'd like to keep it in and have it give me that gentle stretch for a while. I loved it right away
Positives
The soft silicone was a big plus and pleasure to play with
8.3
Topped Toys Chute 75 - Blue Steel