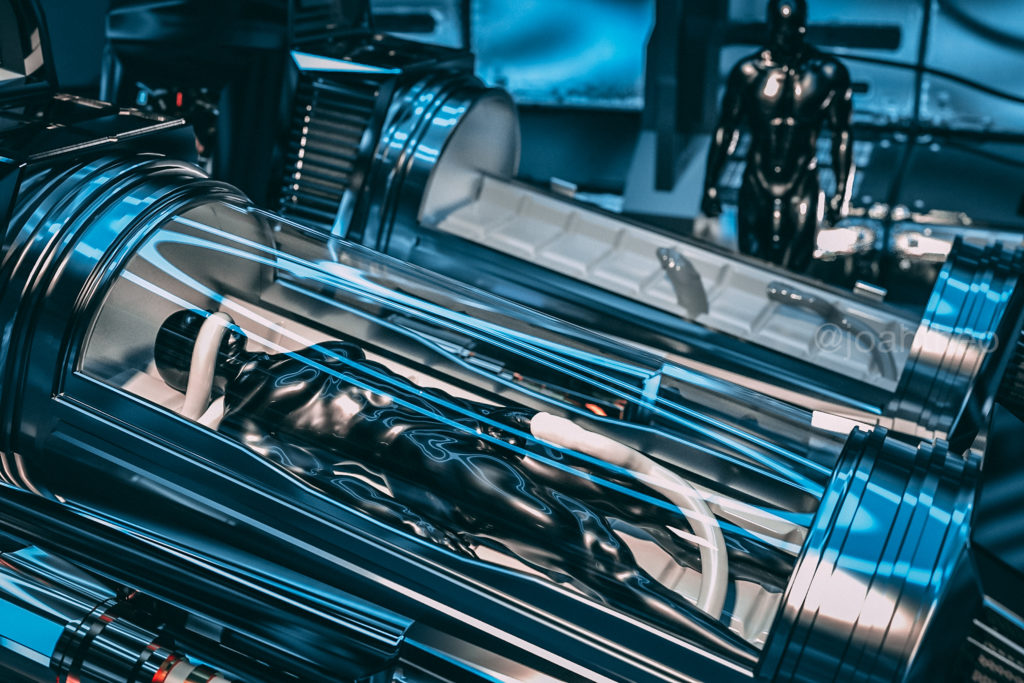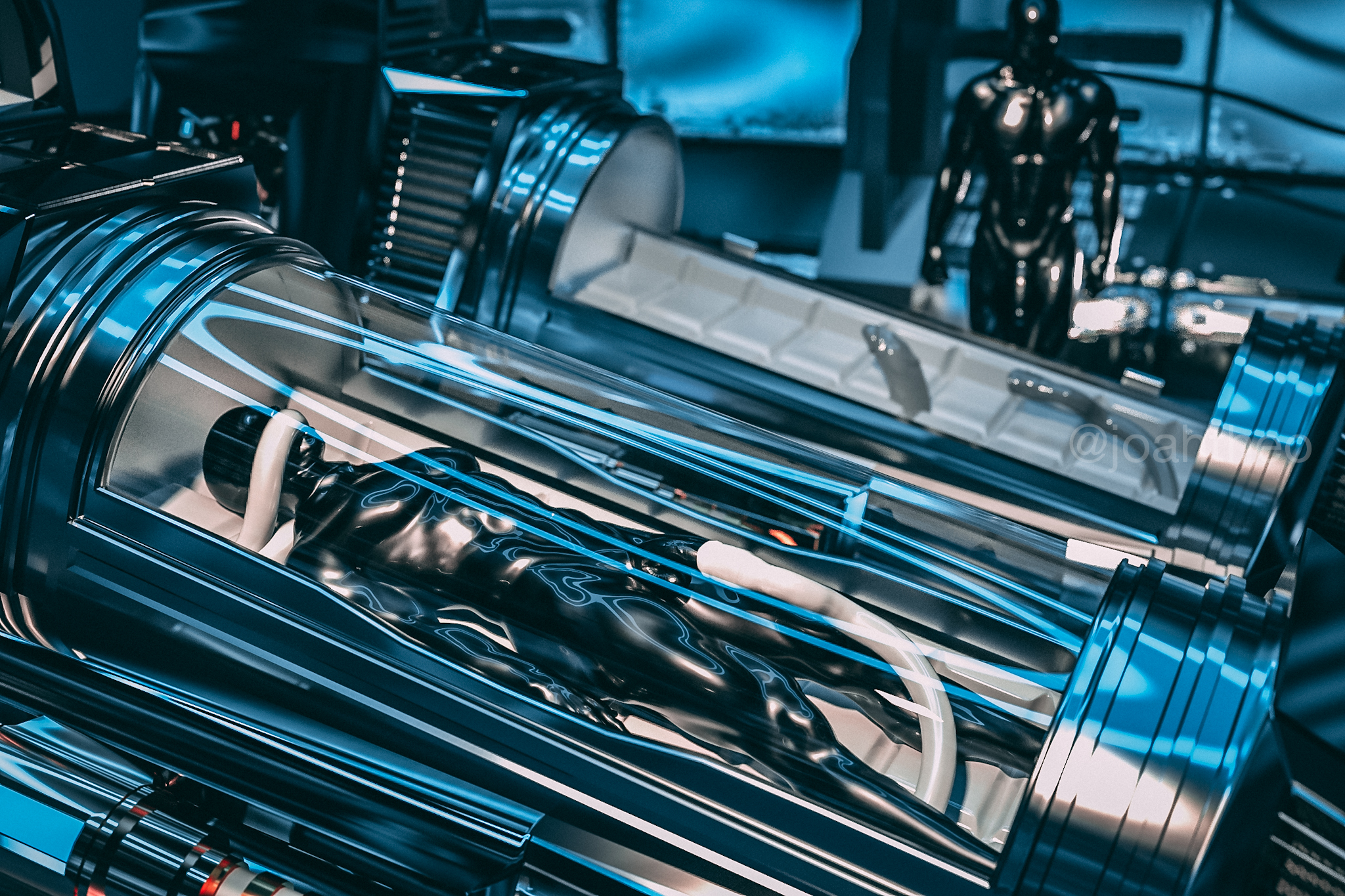 It's been over eighty years since Touko Valio Laaksonen (better known as 'Tom of Finland') started sketching erotic imagery undercover whilst serving in WW2. A lot has changed since then. For starters, male nudity was decriminalised in 1962. The internet had its official birthday in 1983. Homosexuality in the US became legal state-wide in 2003. Only Fans (yes, that IS going down in the history books!) was launched in 2016. Despite many arguing that 2020 doesn't count, here we are in the year 2021, and the question remains: What about the future? One thing for certain is that the future is digital. Joah Theo, a graphic-designer/artist, shares with us the hows, whys and whats of creating erotic imagery in the digital age.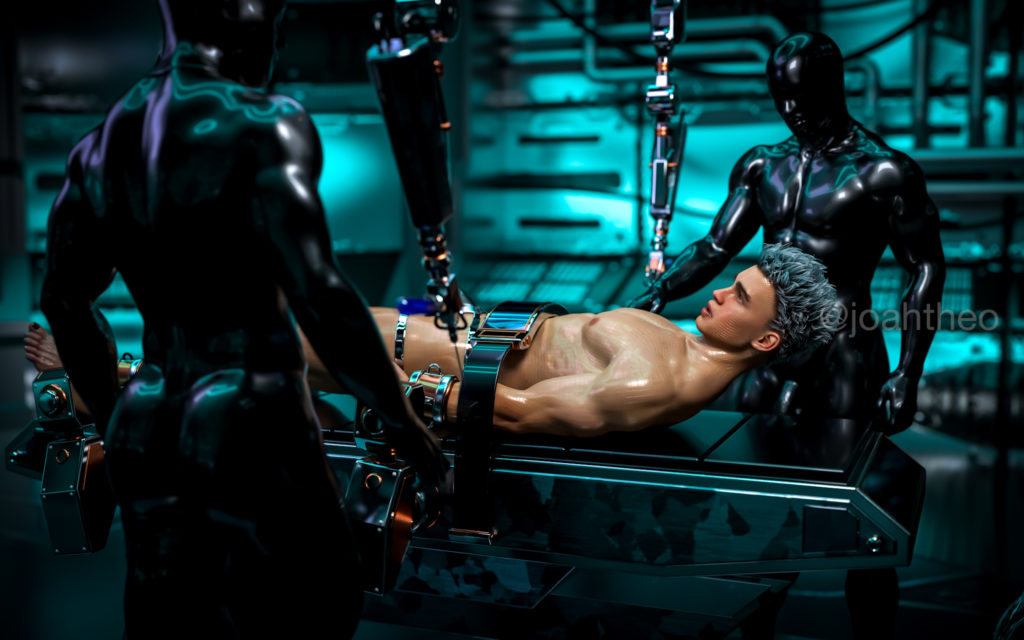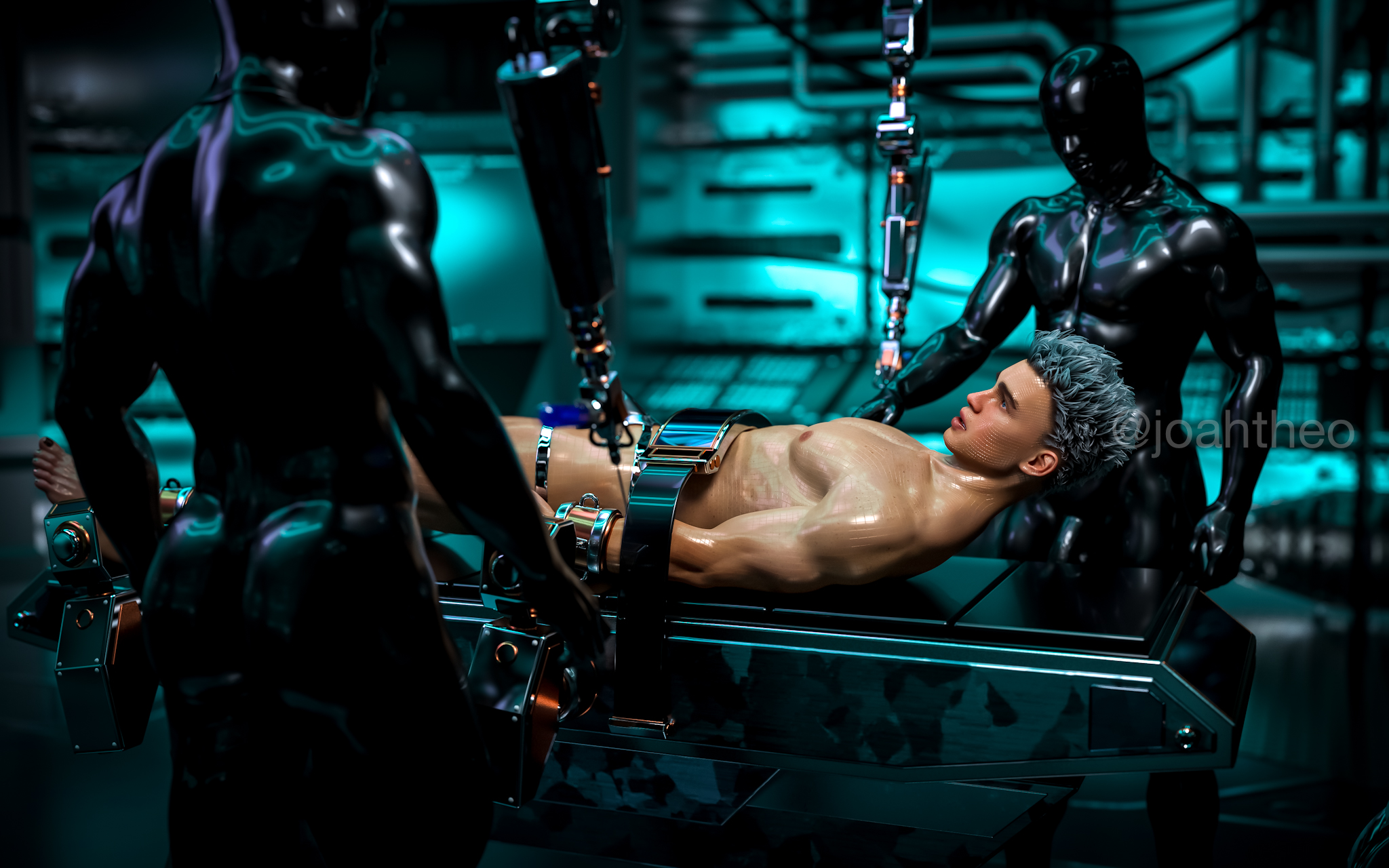 What got you into creating CGI erotica?
Coming from a graphic design background, I was always interested in digital art and CGI but never had access to it. It was only used in big-budget productions for a long time but has since become available to any 'amateur' with a Mac or PC. I started following artists who were using it in really imaginative and creative ways. Seeing what they could create was a huge source of inspiration. Some artists specialised in erotic CGI, but their work rarely hit the spot when it came to fantasies I wanted to see… mainly because they featured women. As a young gay guy, I wanted to see this incredible erotica featuring men. Not just any men, but gay men. Kinky, gay men.
When 2020 hit, I suddenly had a lot of free time. I used this opportunity to look into the process of how this art is made. A couple of months later, I started to post my first images on Twitter, expecting that a few people might share the same interest as me. As it turns out, many people did, and I received a lot of positive feedback, which kept me creating and posting.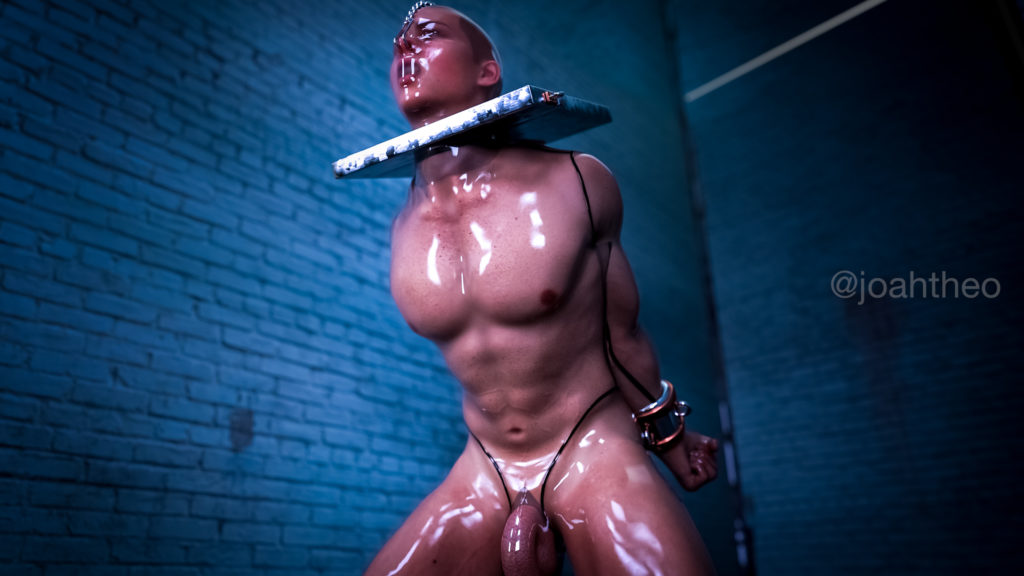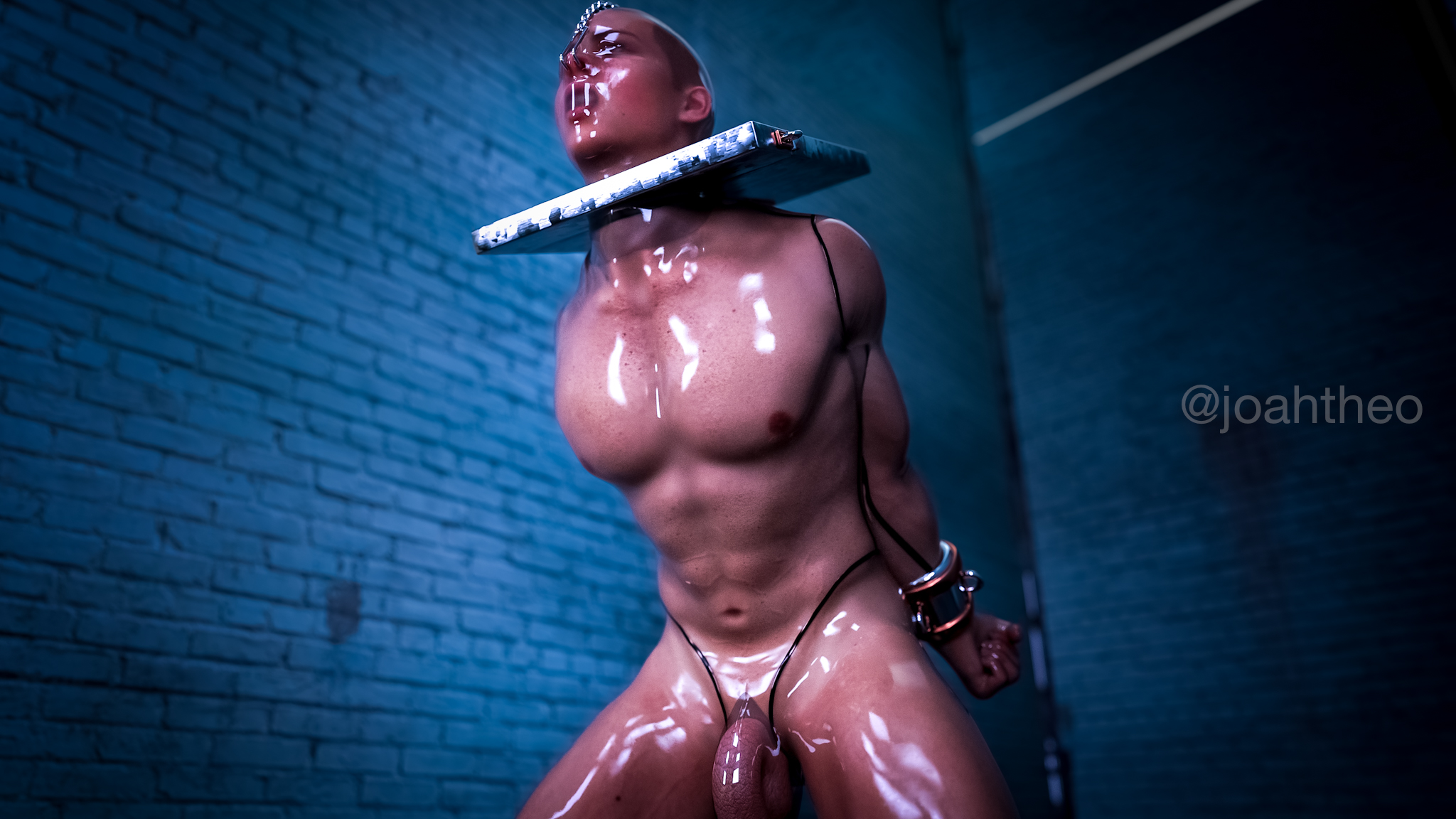 How do you create these images? Tell us about your artistic process.
Most of my images are based solely on fantasies I have in my head, or someone suggested. Some imagery I create from real-life scenes but then augment it. I often start with scribbling down the scene on an iPad before I start the modelling process in the rendering software. Once I have the characters and their pose and expressions, I add in all the props. Then begins the most time-consuming part of the work – the lighting. I highly value realistic lighting, perspective, depth of field, focus, etc. Especially since nearly every image has some shiny rubber in there – good lighting makes all the difference.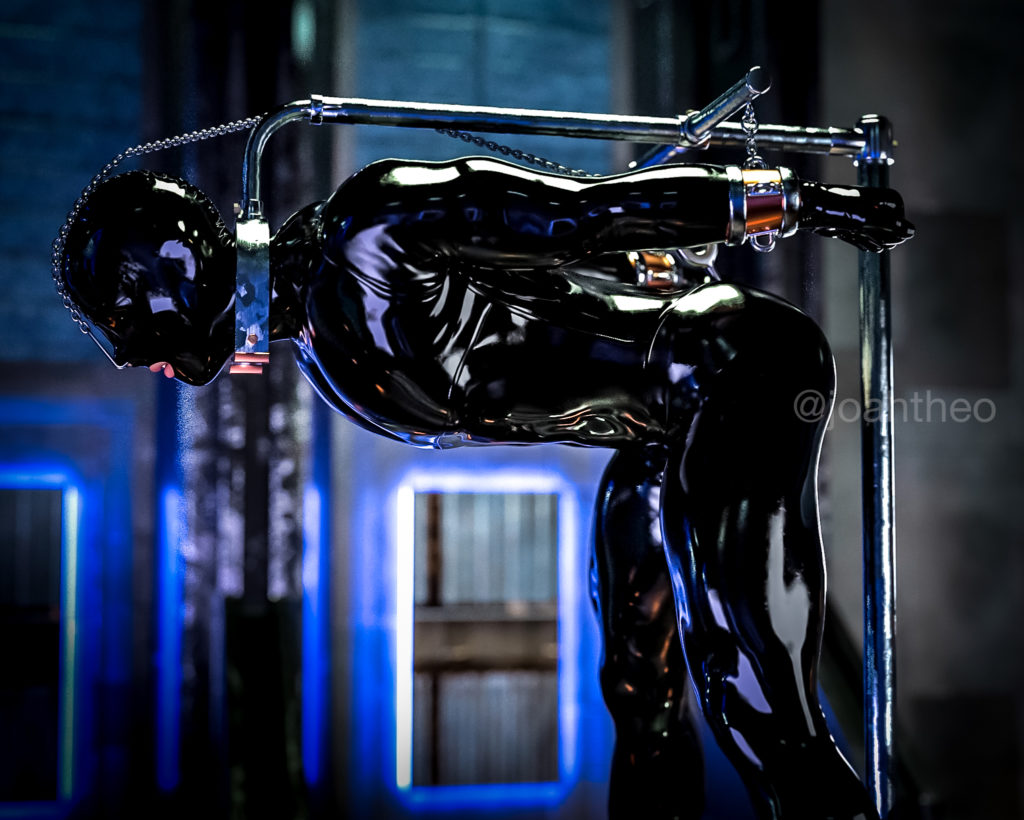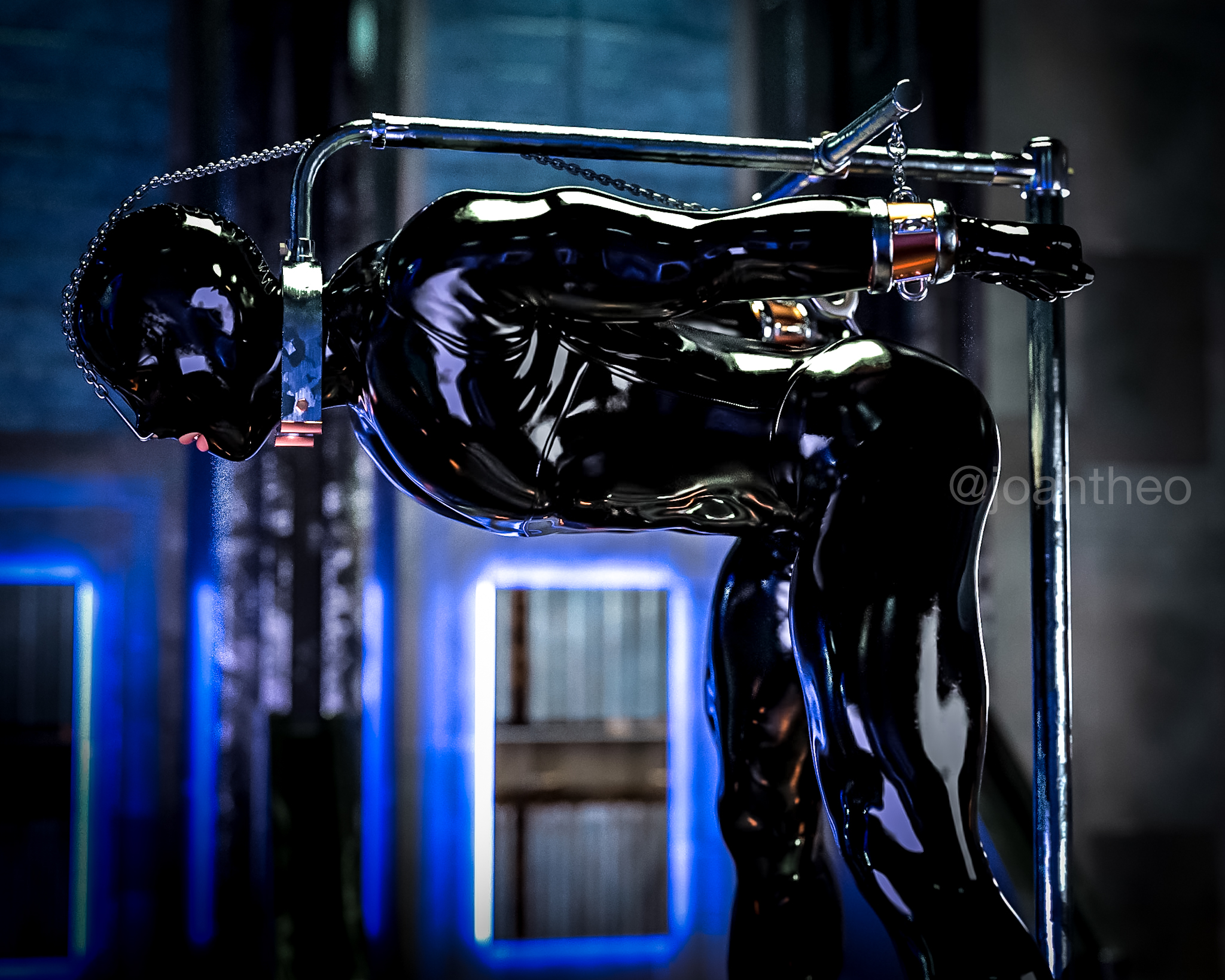 Are these fantastical kinks something only depicted in your work, or are they something you experience in your sex life too?
I'm almost certain I wouldn't, and couldn't, create that kind of imagery if those kinks didn't have their rightful place in my bedroom. Of course, my artwork shows exaggerated fantasies, but many of these kinks I have experienced. I'm always eager to test my boundaries and discover new things. Enjoying the power, or alternatively being at someone's mercy, to gain sexual pleasure is wildly satisfying – solely for play, though. I understand the idea of bringing the dom/sub theme to all parts of your daily life, but this is a time-limited and mutual play for me.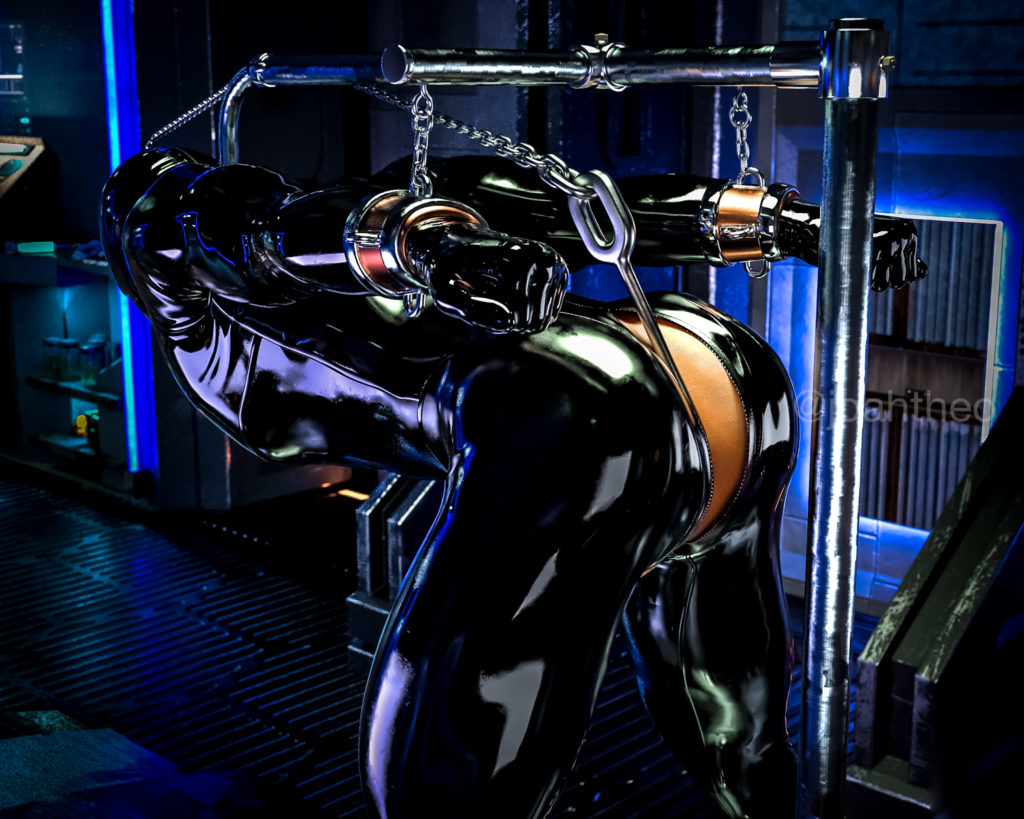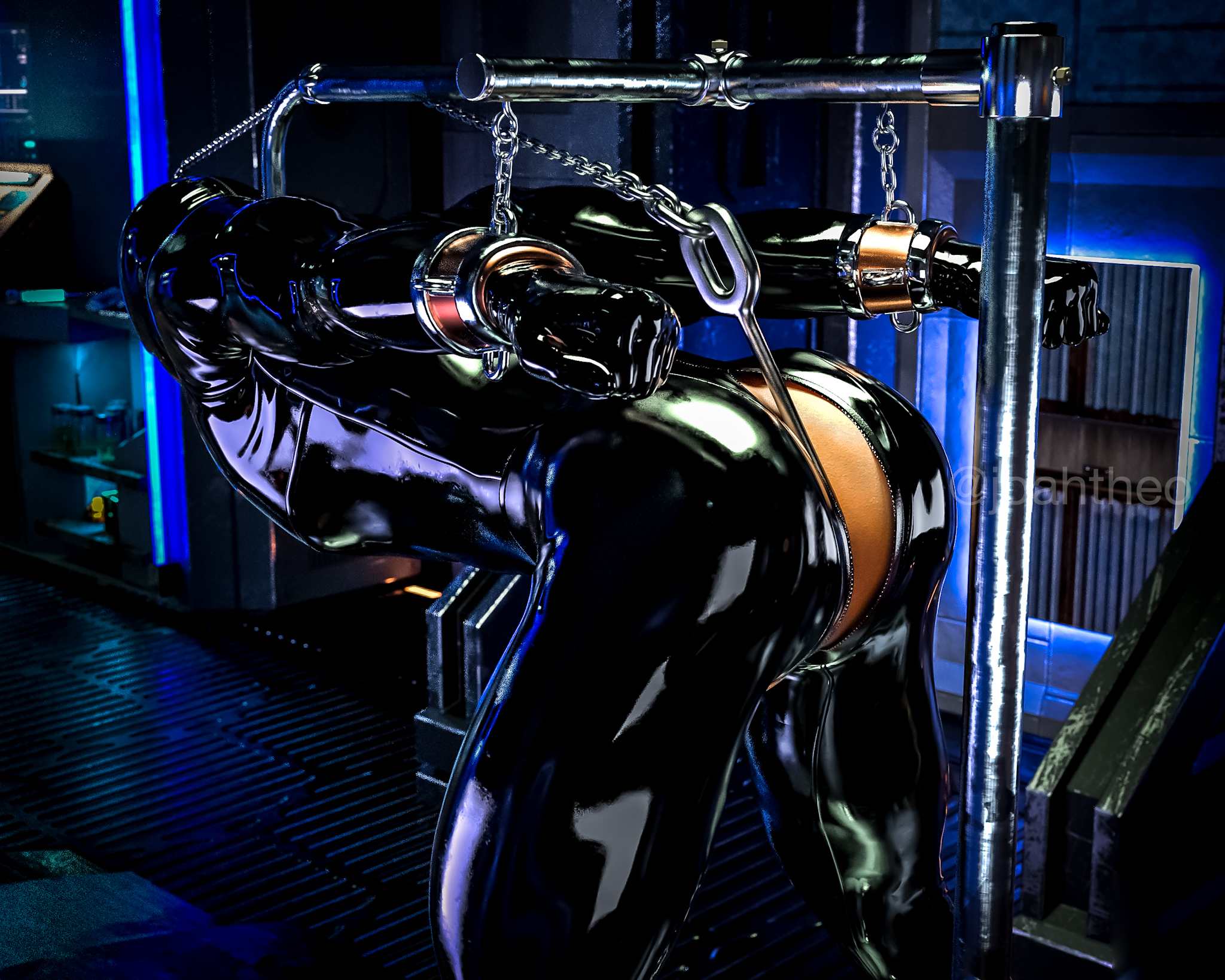 In these play sessions, what are your some of your fetishes and kinks?
I'm pretty blatant about my kinks in my images. Anyone looking at my art could tell that transparent rubber is a big turn-on for me. I would list all-things rubber, bondage and intrusive items like gags and tubes as kinks of mine. The same can be said for breath play, vac-beds and general restrictive devices. Perhaps a kink that is a little more unique is my penchant for technology. I like setting my scenes in a more futuristic environment. It turns me on to infuse BDSM with technology, be it machines, displays, metal, the whole drone theme and so on.
Where do you get the inspiration for the models in your art?
Honestly, I start modelling from scratch and go with the flow until I can look at them and think, 'well, hot damn'! I'm fully aware that this creates a really euro-centric set of characters and lacks diversity, but I'm just starting out and learning how to model in CGI. I only have my personal bias to judge if my work is any good or not. Besides my own preferences, however, some people give me feedback on the models I create which I try to integrate into future renderings. Quite often, it's just, 'put him in a tight rubber hood and gag him' – which I think nicely sums up the kind of guys I'm into!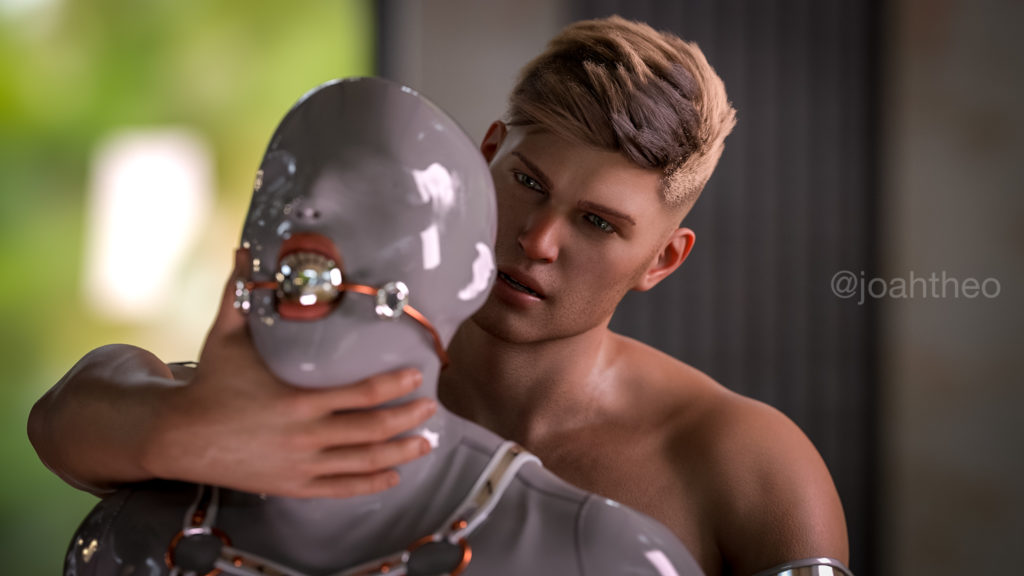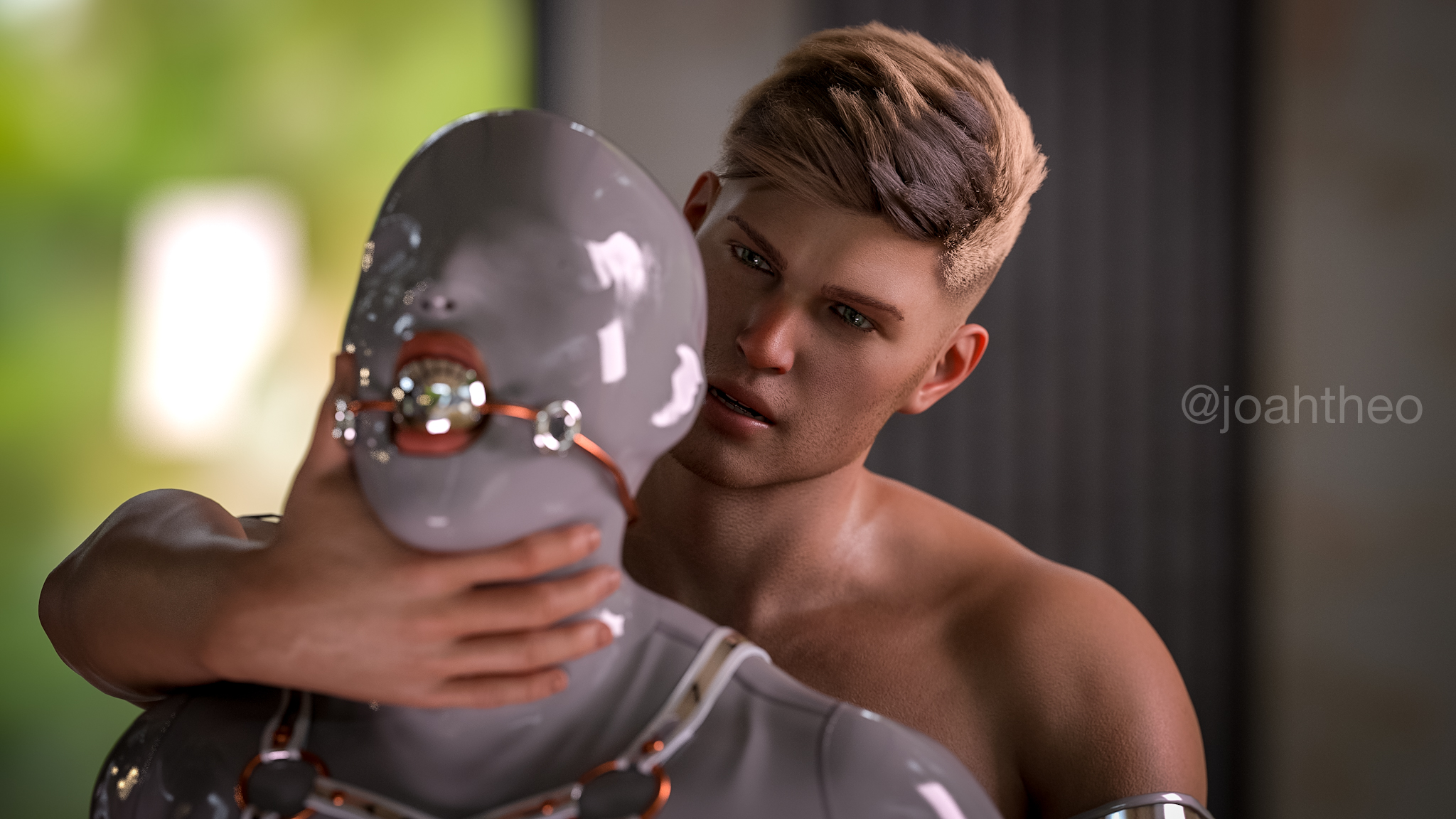 Does creating erotic artwork make you money?
I post all my work for free on various platforms, including my Only Fans which I use primarily as a tip jar. Besides that, I do take a commission from time to time. I have a regular day job in the graphics industry, where I make my living. I'm not dependent on making this side project profitable, but I would be thrilled if the returns from Only Fans or commissions would cover the running costs of the software and hardware. It is, for sure, tempting to imagine that one day creating this art could become a full-time job.
Maybe you could offer the service to create clients' avatars and let them live out their wildest fantasies vicariously?
That is a bit tricky because people usually want exact representations of themself. To achieve this, you need to 3D scan them or need to model them from scratch – to reach the desired resemblance. The latter would take so many working hours that you couldn't charge reasonable prices for an image. That said, look at the leaps that have been taken in image processing technology. Most smartphones can already scan and create a 3D Model of your face. So, a future where someone could just send me a quick face scan, and I digitally place them in their fantasy isn't that far off!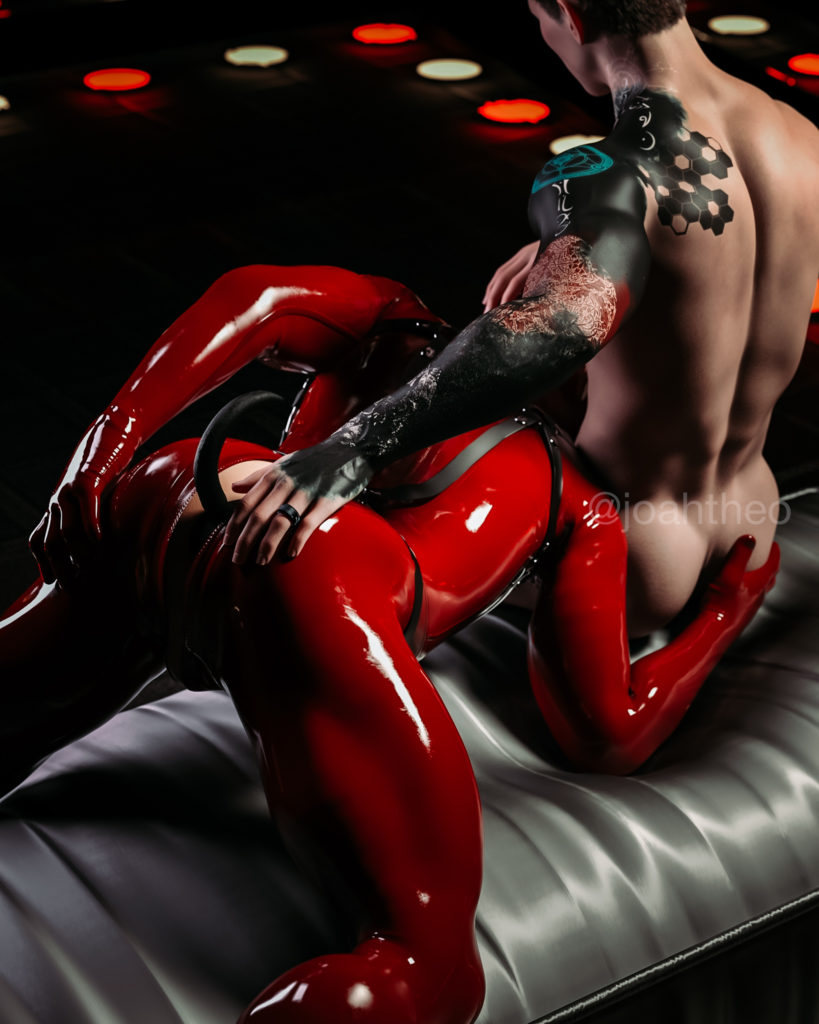 So, are you excited for the future? If it looks anything like this, we know we are! If you want to check out Joah Theo's work, go ahead and find him on Twitter and Only Fans. Just search for @JoahTheo. Remember that he is sharing his awesome art for free, so be sure to give him a big, thick, juicy tip!