Chat handles and Instagram names can tell you a lot about a person. Who they might be into for example or what really turns them on. In my case I used to call myself Jimmy Olsen on Gayromeo (aka 'Superman's best friend' and 'kid reporter'). The same goes for Martin and Patrick, who you might know as Musclepup_Rusty and TheKinkster_1996 on Instagram. WINGS sat down for a chat with both men to talk about their shared interest in all things kink and the need for more diversity in the fetish community.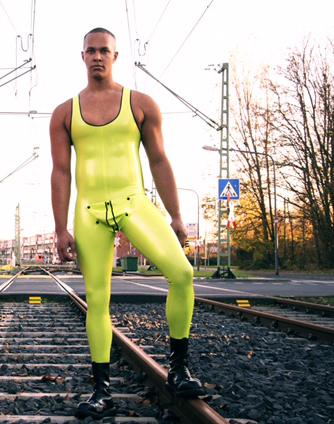 LET'S HAVE A QUICK INTRODUCTION
 FOR OUR READERS
. WHO ARE YOU AND WHAT DO YOU DO?
Patrick: "I'm Patrick, 25 years old and 6'4 tall. I live in Bitburg, Germany, near Belgium and Luxemburg, and I work with cutting machines and I produce parts for aircrafts, space shuttles, railroads and even the Dubai Eye Ferris wheel." 
Martin: "And I'm Martin, 38, and I'm from Frankfurt. I work in transport and I'm a fetish photographer." 
WHAT ARE YOUR KINKS?
Patrick: "My main fetish is rubber. I also like spandex and leather, but nothing beats rubber." 
Martin: "Same here. Rubber is my first kink. I love how slick it is. When the weather is hot I switch to Lycra. It's the best way to show off during summer. I like to combine my rubber gear with leather. I recently bought a leather vest from Mister B that goes perfectly with it. The 'Amschterdam one' (he mimics a Dutch accent that sounds like It's Berlin comedian Daniel Ryan Spaulding) with the three X's on the back."   
PATRICK YOU ALSO WORK 
AS 
A MODEL FOR MARTIN
 WHEN HE DOES FETISH SHOOTS. 
YOU'RE THE HANDSOME FELLOW IN THE TIGHT, LIME COLORED RUBBER WRESTLING SUITE THAT IS FEATURED WITH THIS INTERVIEW. 
HOW DID 
YOU 
TWO 
MEET? 
Patrick: "We met for the first time in Cologne during a rubber pub crawl two years ago." 
Martin: "I saw this huge guy and I was reaaaaally impressed by him."  
(both laugh)  
AND I GUESS SOME SORT OF MAGIC HAPPENED BETWEEN THE TWO OF YOU? JUDGING FROM THE TWINKLE IN MARTIN'S EYE AND THE TONGUE HE JUST STUCK OUT.
Patrick: "No, no, no, the magic actually happened last year at Darklands hahaha."  
Martin⇑
MARTIN YOU INVITED PATRICK TO TAKE PART IN YOUR MOST RECENT PHOTOSHOOT FOR INVINCIBLE RUBBER. WHY DID YOU WANT TO WORK WITH HIM? 
Martin: "To be honest I think there's not enough representation of people of color in fetish photography. That's why I wanted to show off Patrick to the public. He's so sexy and has so much expression. Usually you only see white, muscly guys represented, but what about all those other men out there? How can you see yourself as sexy or attractive, when there are no role models that look like you? The outside world is very diverse and the fetish world should be as well." 
Patrick: "I agree. If you see people of color in fetish campaigns, or models of different shapes and sizes, it might trigger an interest in kink. We need to see different skin tones and ethnicities. When I used to go to big fetish parties before COVID I would see some men of color; but when I take part in a local fetish pub crawl I'm often the only mixed guy."  
WHAT WAS THE IDEA BEHIND THE SHOOT YOU DID TOGETHER? 
Martin: "It doesn't matter if you're black, white, chubby or skinny; I wanted to show that everyone can wear rubber. As RuPaul once said: 'You wear it well!' And my models that day, Patrick and his friend Daniel (in the orange suite), definitely wore it well. And that's a fact!"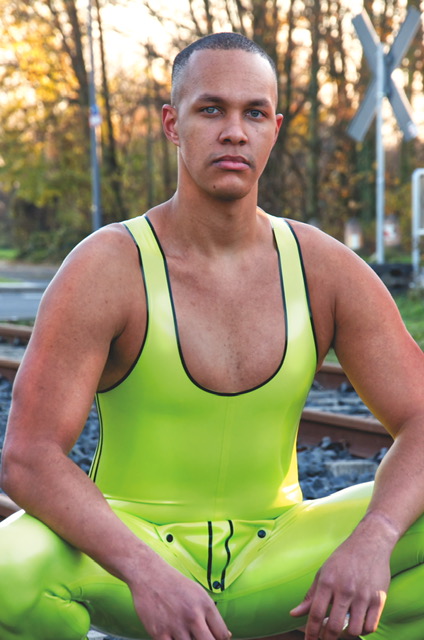 HOW WAS IT TO WORK TOGETHER?
Martin: "Horny." 
(both laugh again) 
 Patrick: "It was pretty playful and easygoing. I think I would have shut down immediately if that hadn't been the case." 
 Martin: "I found it exciting. It was outdoors and people were watching us. It was a really, really, really, really sexy day." 
ANY PLANS FOR FUTURE PHOTO SHOOTS?
Martin: "I would love to work with more models from diverse backgrounds and ethnicities. But they haven't gotten back to me yet. People can be quite shy when you ask them to take part in a fetish shoot or they think they don't fit the bill. When I got into contact with Patrick his reaction was 'I'm not a supermodel'. But that's not what I'm looking for. He has personality and that's what it's all about."  
LAST QUESTION. IS THERE ANYTHING YOU WOULD LIKE TO ADD?
Patrick: "It might be a bit off topic, but I hope that everyone stays safe and healthy in these difficult times. Keep a positive mindset and if you don't feel well mentally, reach out and talk to somebody about it! I hope to meet you all again for some events in the near future!" 
 to see more from Martin and Patrick?  
Follow Patrick @thekinkster_1996,  Martin @musclepup_rusty and @therealmartinshepherd on Instagram. 
And if you would like to model for Martin, make sure to slide into his DMs!