Welcome back to Darklands after two long years off, and being away from the international fetish community. It's been so long and difficult for many people. Especially because of the importance a community has for many of us, being away from like-minded folks and other kinksters has been difficult. As trans folks, it's always a special moment to gather at social events as we can see how we are becoming a larger group as time goes by, and it's wonderful to know just how powerful it feels when we all get together. For this reason, I am proud to say that Darklands Fetish Festival 2022 in Antwerp will once again host Trans Social, making it the second run for this important event. 
The first edition was at the last Darklands event in 2020, and it was a great success. On Sunday afternoon, trans folks from all around Europe and the world gathered to get to know each other and celebrate the one thing we all had in common: being a kinkster! With such a tight-knit community, knowing that other trans folks understand things from a similar perspective as myself is a powerful thing. It was very good meeting and getting to know other trans kinksters.
Trans Social was born when the organizer of Darklands, Jeroen Van Lievenoogen, asked me and Jack Thompson (International Mister Leather 2019) if we'd like to work on making an event or space within the weekend to host trans and non-binary folks. We were both delighted by the idea. I was happy to participate in organizing this event because I am trans and I find it important to connect with others who have similar experiences, both for my own benefit and theirs. It's not often we get to meet other trans folks in the fetish scene, so this was special. I had never done anything like this before, but Jack and I went in full force and made sure we helped create a successful event.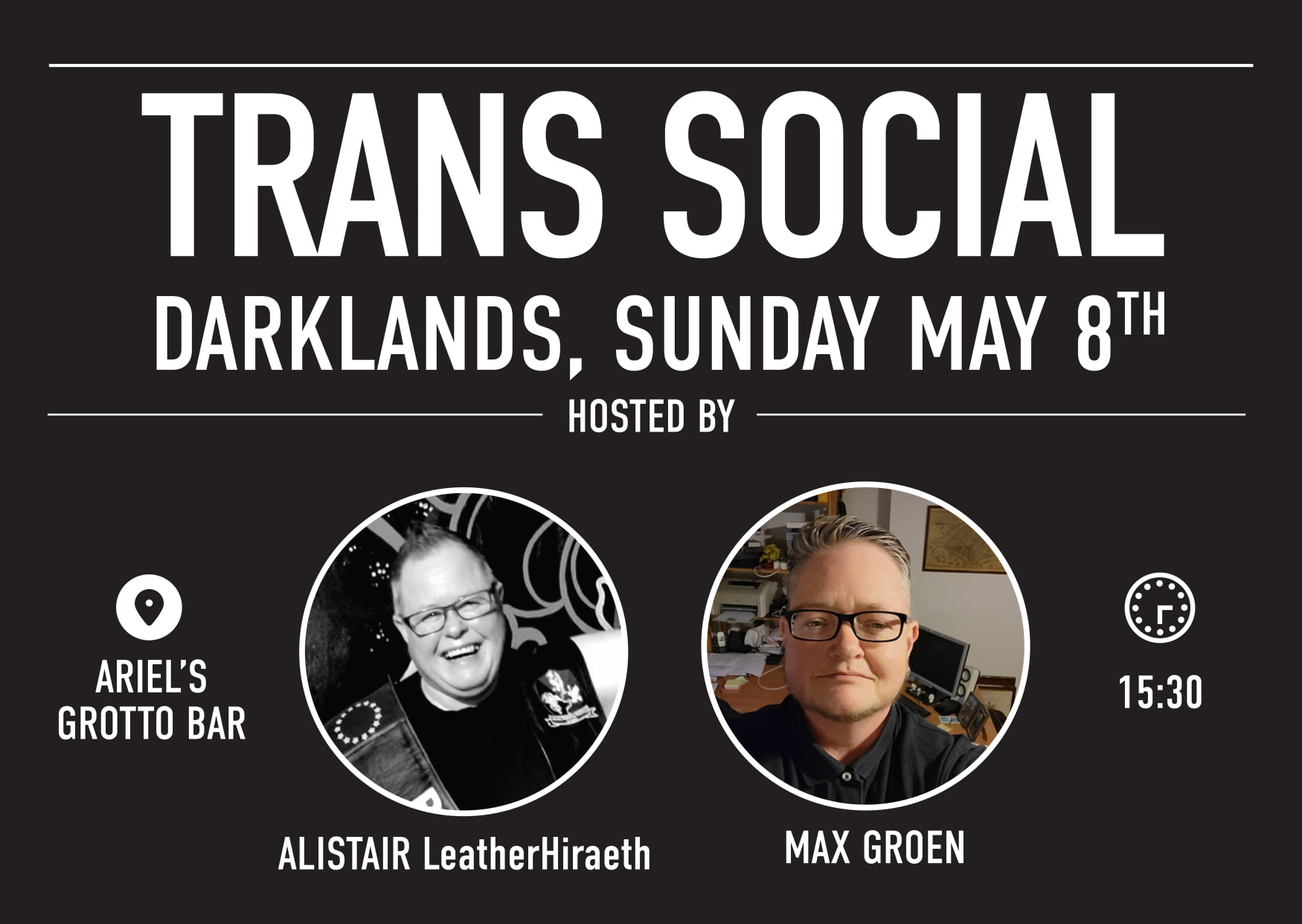 And it was! We had over thirty people showing up for our hour-long meet-up! For the second edition, we anticipate a little more as we know there are more of you out there. This year I will be co-hosting Trans Social with Alistair LeatherHiraeth (Bootblack Europe 2020) and we hope to see you there. 
Since the last Darklands, a lot has changed for me and so I am excited to see old friends and make new ones. In 2020 I identified as genderfluid, but I've been transitioning since then and I now identify as a proud trans man!  
Mister B present the trans social at Darklands. Hosted by Max Groen and Alistair LeatherHiraeth.
Alistair LeatherHiraeth 

He/Him 

Twitter:

@SyrBoots 

Max Groen 

He/Him They/Them 

Instagram:

@max_amsterdamnoord