If you are into

fetish

and live in Dresden (Germany) you will probably have heard of the

Leder

und Fetish Club Dresden

(L

eather and Fetish Club Dresden

; LFCD

) and its

bar/

club

headquarters

Bunker

. Both are celebrating their 25

th

and 30

th

birthdays respectively

this

May. We talked to LFCD (board) member Martin to find out what the club is all about

,

and what visitors

c

an expect from the upcoming anniversary celebrations. 
Hi Martin, LFCD is celebrating its 25th birthday this year. How did your club start?  
"It began with a group of guys who were working in AIDS prevention. Some of them were into leather and they started running a bar named Bunker in an old World War II bunker, in the basement of a building in Dresden. It was a safe place where guys could meet, cruise and play. LFCD was founded five years later, in 1996, to support AIDS prevention. The club itself is really social. We go bowling together and we plan things like hiking trips for our members. At one point Bunker moved to the bar district in Dresden, which makes it easier for people to find us. Bunker is a great place to discover your fetish. Our members volunteer behind the bar and we still organize events where people can get tested for HIV or STI's."  
How are you celebrating your birthday? 
"We are organizing a long weekend that starts on Friday May 20 and ends on Sunday May 22, with a bunch of different events and parties. On Friday we start with a welcome drink at Bunker. Visitors can meet our members, dance and cruise. It is similar to our weekly fetish parties on Fridays. You can come in whatever gear you prefer. We open at 8 pm and we will stay open as long as there are people there. On Saturday we continue in the morning with a double decker sightseeing tour of Dresden. A guide will show you all the sites that the city is famous for. We have limited spots on the bus, so get your tickets in advance! In the evening we will look back at our history during a Meet & Greet at Arteum Club at 7 pm, with special guests. The Meet & Greet includes dinner. At 9 pm our main event – a big fetish party – starts at the same location. It is the first time that we organize a party in such a huge place, which includes a lounge, a bar, a dancefloor and a play area. We have multiple DJ's and a special act, that I can't talk about because it is a surprise. We finish on Sunday morning with brunch at restaurant Rosengarten, where you can enjoy a stunning view of the Elbe river. And if you still feel like partying, you can join us at Bunker at 5 pm for more chats, drinks and cruising."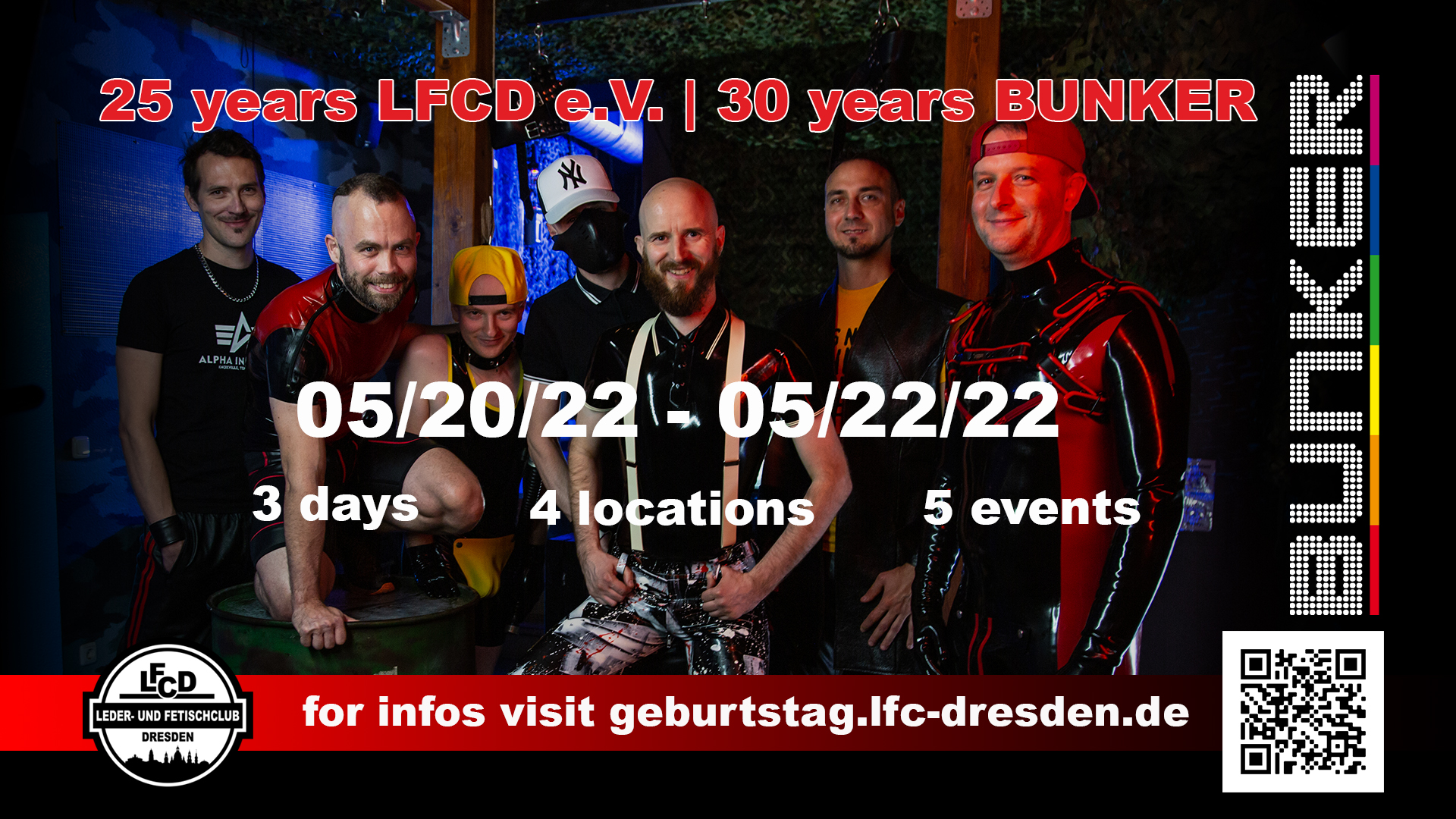 In closing, how long have you been a LFCD member? And what is your favorite memory?  
"I have been a member for ten years now, and the last three years I have been a member of the board as well. My favorite memories are all connected to me volunteering behind the bar. Serving drinks is a great way to meet new people and have conversations. Bunker is a special place. It is all about having fun and making connections, and I really like that."  
Go to https://geburtstag.lfc-dresden.de/en/ for more info about the LFCD Anniversary Weekend. It is also the place where you can get tickets for all the events.
Want to know more about the club? Then visit: https://www.lfc-dresden.de/en/welcome/