*Now includes leather-clad lads doing a river dance
No plans for January yet? Then maybe you should consider visiting the Emerald Isle (aka Ireland) for the Dublin Leather Weekend! The second edition of this exciting new leather and fetish event will take place from Friday the 27th until Sunday the 29th of January 2023.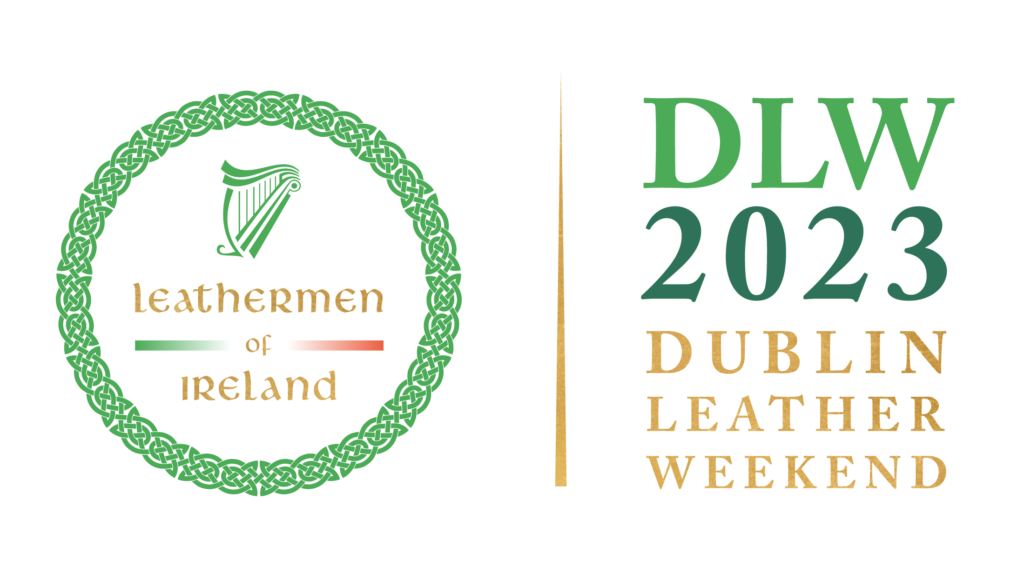 WINGS Online sat down with Cathal Mulvany (he/him) and John O'Brien (he/him) from  Leathermen of Ireland to find out more about the event. And even though the weekend wristbands that give you complete access to all the events and dinners are sold out, there are loads of (free) events and parties that you can attend.
Cathal, what can visitors expect from the Dublin Leather Weekend?
Cathal: "Irish hospitality! We have a 'Céad míle fáilte' for everybody who visits us, which means 'one hundred thousand welcomes' in Gaelic. We love having people visit our home country. It's exciting for us to show them what our community has to offer. We're on the fringe of Europe but we have a thriving leather and fetish scene and we like to make noise about it. We're just really looking forward to people coming over to Dublin in January."
What are the events that you have planned?
John: "The weekend starts on Friday in Panti Bar where we'll welcome wristband holders with a welcome pack. Then we'll have some food and a beer or ten before heading over to Penny Lane which is the bar next-door. On Saturday there's the first-ever Puppy Ireland Contest and we host a traditional Irish music event where people can have a little dance and maybe another drink or ten. Afterwards, we have a dinner for wristband holders. In the evening our main event starts with music by DJ K-PAXian from Norway who won the X-Award for 'DJ of the Year' at Darklands 2022. On Sunday morning there's a leather brunch and we finish things off with a drag bingo hosted by drag legend Shirley Temple Bar at the iconic George Bar. We'll make a suggestion to Shirley to wear some leather gear for the occasion."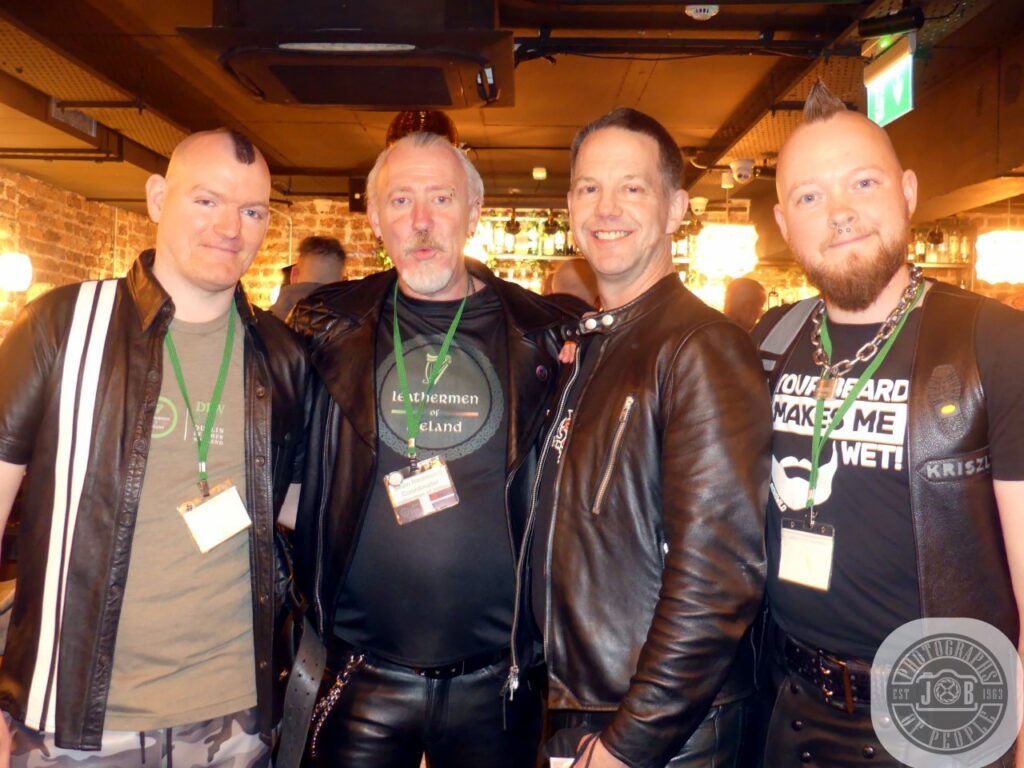 Why should visitors come over for the Dublin Leather Weekend?
Cathal: "Leathermen of Ireland was formed at the beginning of the COVID-19 pandemic. There were no real-life events we could go to, so we decided to host multiple online events. It started with online bingo and it snowballed into something way bigger. Initially, it was our local community taking part but we had people joining us online from all over the world including Europe, Australia, Northern America and even Kuwait. In April this year, we were able to host our first in-person event, the Dublin Leather Weekend 2022. It was so good to meet all these leather men in real life. We could smell them, and touch them and we noticed that some were a lot taller than they had appeared on-screen. We've met a lot of the faces that joined us online but we hope to meet all of them during the Dublin Leather Weekend 2023, so we can thank them personally for their support, give them a warm Irish welcome and to show everyone a good time."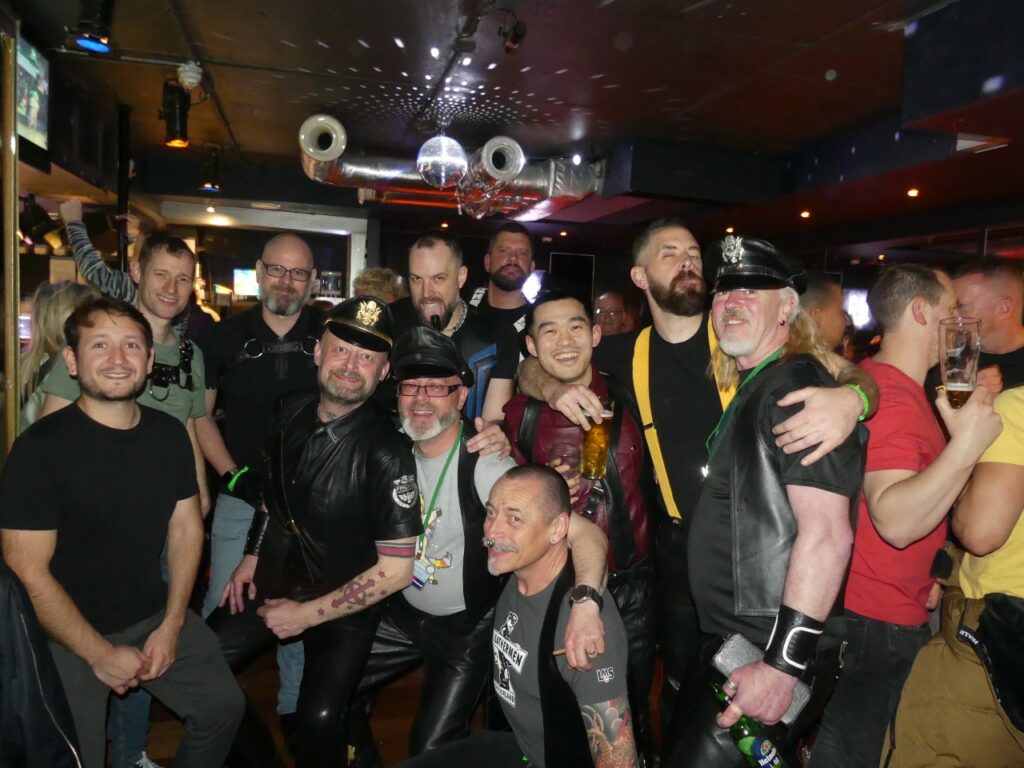 You are giving a platform to the first-ever Puppy Ireland Contest as well. What is going to happen?
John: "We don't know yet. Basically, the Irish Pups and Handlers are organizing that event. I'm going to be one of the judges, which is really fitting because I judge all the time anyway (laughs). The winner will be announced during our main party on Saturday."
What is the Irish fetish scene like?
Cathal: "We're Irish, we love to party, we're horny, and we like our fetish just as much as anyone else."
John: "Unfortunately we don't have a leather bar, but it's nice to bring in the mainstream by going to our favorite gay bars in Dublin. If I ever win the lottery I'll open up our own leather bar. The lottery draw is broadcast tonight actually, so who knows?!"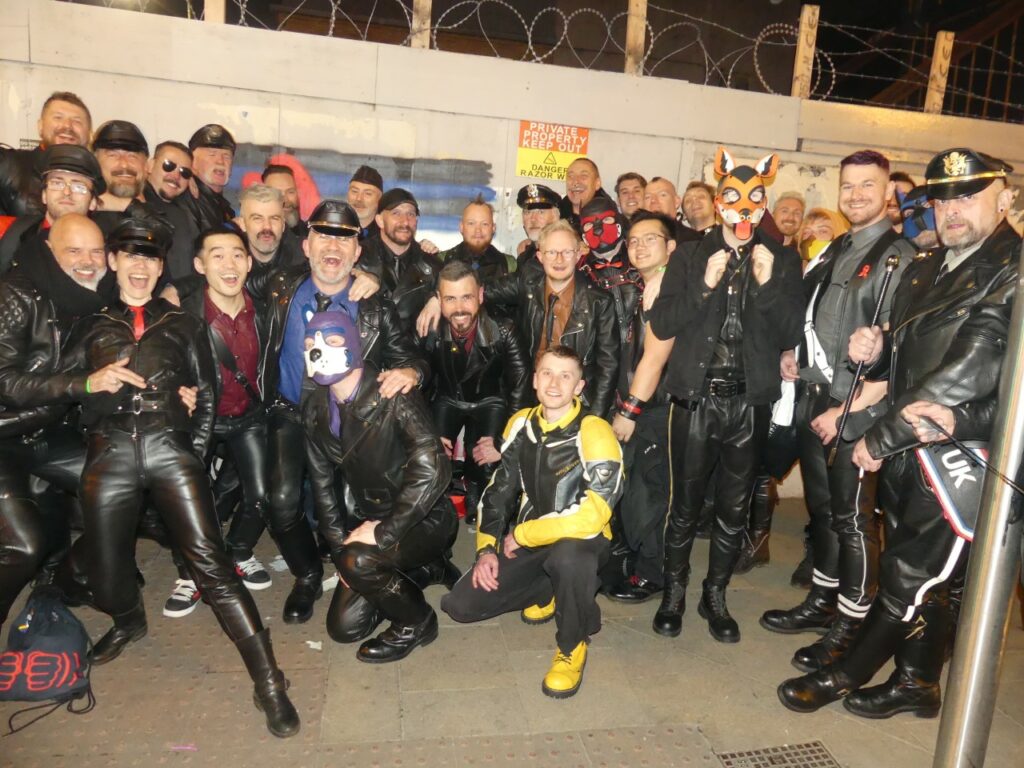 What makes the Dublin Leather Weekend different from similar events?
Cathal: "We don't want it to be all about fetish. It's important for us to infuse the weekend with some Irish culture. That's why we'll have a traditional Irish music session with leather-clad lads doing a river dance. It's going to be fun and unique."
Will you be dancing as well?
John: "He's a good dancer actually! He did a river dance on the stage of International Mister Leather in 2017."
Cathal: "And they won't ever let me forget that (laughs)."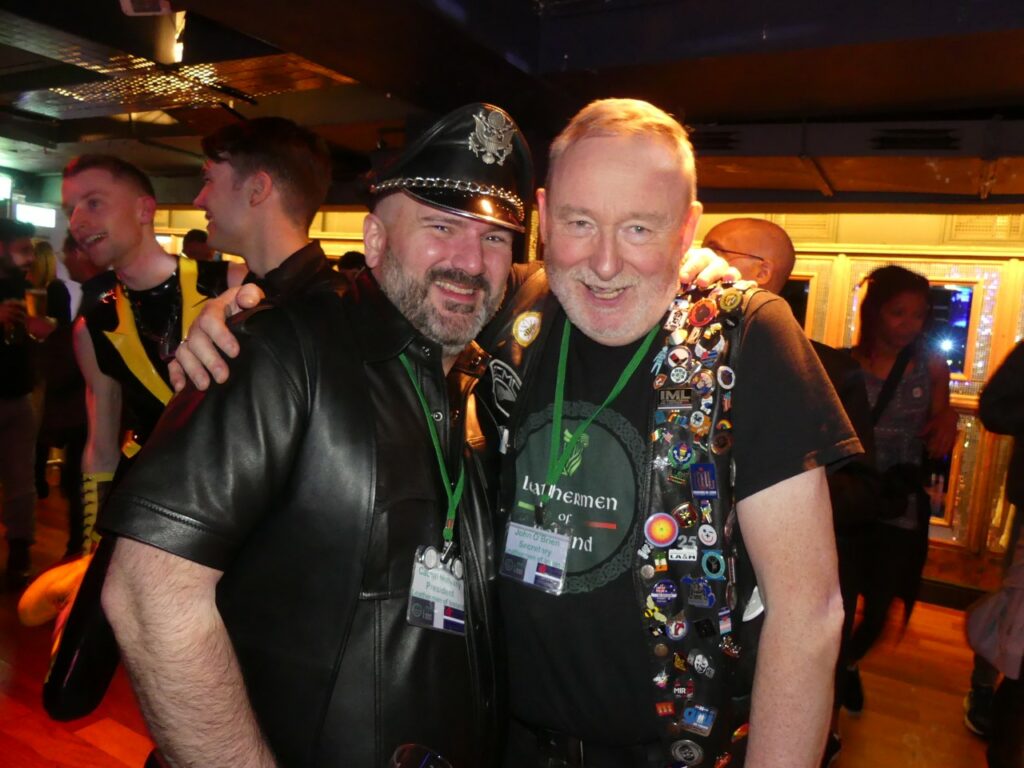 What event are you looking forward to the most?
Cathal: "I love our opening event when people come to collect their welcome packages and weekend wristbands. It feels like we are welcoming them home."
John: "The same goes for me! I also love our closing bingo because by then I know that the weekend has been a success and I can finally relax."
As a conversation starter for visitors attending the Dublin Leather Weekend for the first time: what is your favorite fetish?
Cathal: "Leather. It's the sound, the smell, the touch, and dare I say it, the taste. When I'm in leather I take a different posture."
John: "Mine is bondage because I'm a control freak (laughs). Our guests will see how the event is run, I'll be controlling everything."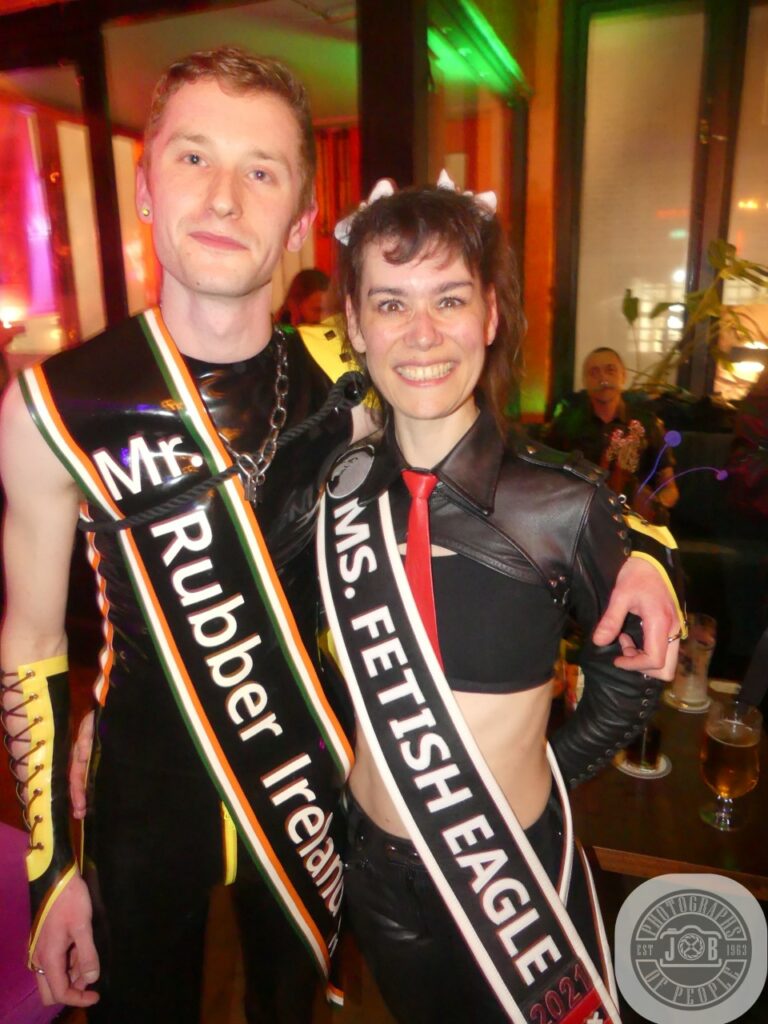 Is there anything you would still like to mention?
John: "Yes, although the weekend wristbands are sold-out, we have a lot of events that are free. And there are still plenty of tickets available for the traditional Irish music session and the party with DJ K-PAXian on Saturday."
Cathal: "The majority of our events are free and open to all. We want people to be able to enjoy their fetish, especially in these times where the cost of living is so high. We also want to support local LGBTQ businesses that have been struggling since the lockdowns. These bars and clubs have been a godsend and we need those spaces as a community."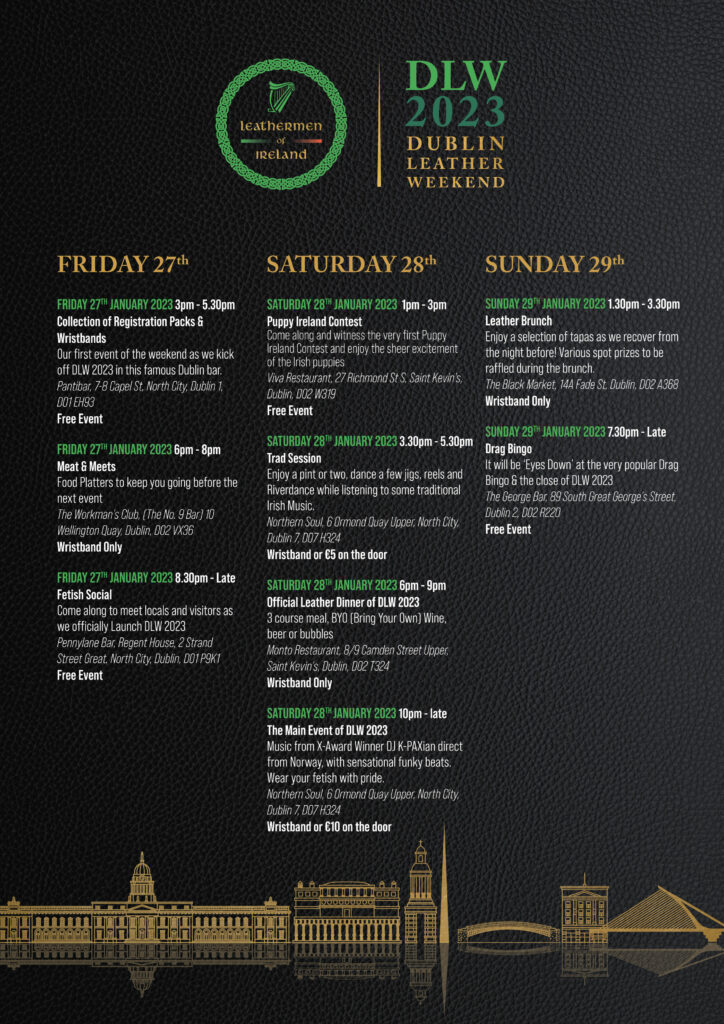 Check @leathermen_of_ireland on Instagram for more information on the Dublin Leather Weekend 2023. Please note that the weekend wristbands have sold out, however, there are a number of free events over the weekend for everyone, and also 'pay on the door' events!