An interview with Berlin-based kinkster Quincy
Hey everyone, Marco here! During Folsom Europe 2022 in Berlin I had the distinct pleasure to host a panel on how to incorporate kink in your relationship at the Mister B stage. You can watch that panel here. I caught up with one of our panelists – fashion designer by day and dominant kinkster by night – Quincy (he/him) for some expert relationship advice and to find out what has been his most eye opening kink experience.
---
What is the first fetish that you have ever had?
"Oh god, do I tell you the truth or not (laughs)? It's funny, I've never told anyone this story. I must have been between 12 and 14 years old. My mother and I had bought my father a new leather jacket for Christmas. We didn't give it to him straight away, so this jacket was just hanging there in the coat closet at the front of our house. There was nothing in there except for that jacket. I remember going into that closet one day because of the smell. And there it was, the leather jacket, in a garment bag. I unzipped the bag and the smell that came off of it was intoxicating to me for some reason. I didn't know what a turn on was at the time, let alone a fetish. I felt like a freak. What was I doing? When my parents weren't at home, I would put the jacket on in secret and masturbate while wearing it (his voice still excited at the thought). That's how the whole thing started. It wasn't until later that I found out that it was a fetish, and that you could go out and have sex with other men in leather. I bought my first gear when I moved to Los Angeles; a pair of leather chaps that fit horribly. I felt like the sexiest guy since Tom of Finland. Looking back at it, I'm pretty sure I wasn't."
Do you also design leather gear for yourself?
"I do actually! I recently commissioned a custom pair of leather pants that I've designed myself. They're a cross between Mad Max, motorcycle pants and fetish gear. My chaps are custom as well, but they're someone else's design. Chaps are the most important piece of gear in my opinion. Combine them with armbands and boots and it's bingo, bingo, jackpot for me! I never wanna see a guy in chaps and sneakers. That's a total mismatch!"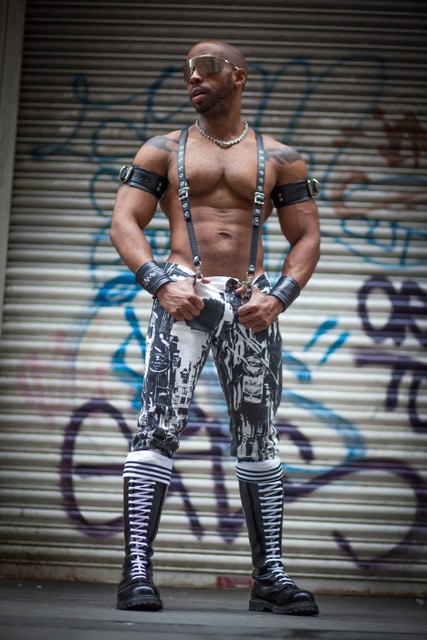 Every kink relationship is different. What are the dynamics in yours?
"My boyfriend Ben and I live out our kinks together. We own two slaves, and pretty much all of our kink adventures are shared experiences. We also play solo from time to time, but it's mostly a journey that we're on together. I really like that. I love having my best friend there with me, whether it's going to the mall to do some serious shopping, or going to a party to play around. We're always laughing through all of it. Ironically he's much more into rubber than I am. We got engaged last year and we've been together for six. He's my lover, my best friend and my husband. He's going to love that I called him my husband (laughs)."
What are the most important rules that you and your husband stick to when it comes to playing with others?
"When it comes to kink everything is wide open; but the one rule that we abide by has nothing to do with kink, it's about intimacy, which is not up for grabs. It's non-negotiable. Showering together or cuddling with a guy we've played with is not allowed, and the same goes for sleeping over in our bed. We are very protective of the things that we do together as a couple. That rule just manifested one day without either of us saying it out loud. It's something we're very adamant about. There's value for us in protecting that intimacy."
What has been an eye opening experience when it comes to exploring kink within your relationship?
"That's an easy one! Ben is bisexual and he was married to a woman for many years. The weekend of the very first lockdown, back in March of 2020, we had plans to go to KitKat Club with a group of friends. We had our outfits ready, but since everything was closed, we ended up going to a house party. That night I had intercourse with a woman for the first time in twenty years or so. I was like, we're here, we can't go anywhere else, why not try it? We've had quite a few kink experiences with women and their bisexual boyfriends since then. I realized that women are exactly like gay men, and I didn't expect that at all. They can get fucked and fisted, they're kinky, they're into puppy play, and I'm like, what the fuck? It blew my mind and it opened up my eyes. As a gay man I've been playing in this little box and I've done EVERYTHING in that box. Playing with women has shown me that there's a whole world out there that I hadn't considered. I hadn't even thought to look over there."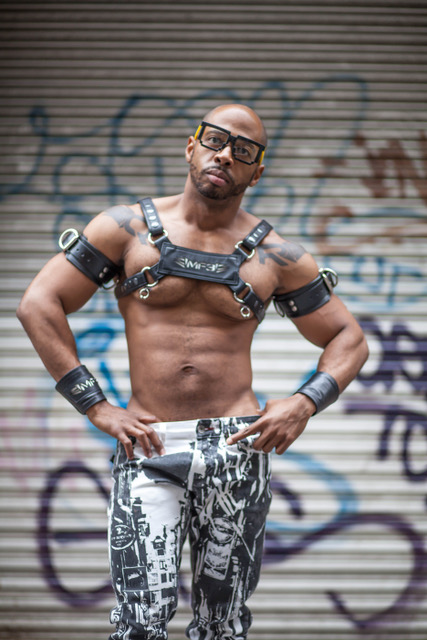 What are three kinks or fetishes that you think everyone should try?
"Definitely Shibari (editor's note: the Japanese art of rope bondage), in an active and in a passive role because you will gain insight into both sides of the experience. My second one would be going out anonymously. There are times that I put on full fetish from head to toe, whatever turns me on that day, and I go out by myself without friends. I make sure my boots are shining. I get a fresh haircut. I'm Beyoncé that day. It's me at my fetish best. It changes the experience because you will have this energy about you that will attract whatever it will attract. Being on your own in the fetish scene can be intimidating but I think that's actually the fun of it. You will walk through the door of the club, you will hear the music, smell the sweat, your heart will beat quicker because you're nervous, but you need all of that. It's fuel for the fire. As for my third kink… mmm… I don't know if I should share that one (laughs)."
I love that you were about to say it but then changed your mind mid-sentence. Maybe our readers should just ask you when they meet you in person?
"Yes!"
Is there anything else you would like to share with us? Maybe an observation about the fetish scene or something that has been on your mind lately?
"I'm fascinated by the abundance of puppies at the moment. Puppy play isn't something that I'm into personally – it doesn't turn me on – but I love that it's an entry point for a lot of young kinksters. For a while the fetish scene felt a bit stagnant. It was the same people, in the same gear, doing the same things; and that's coming from me – someone who's into leather, the oldest fetish around. Where you start doesn't determine where you'll finish. One day you're a pup and the next you might be experimenting with bondage. There's a big influx of young people lately. They enter the scene without the shame, guilt or preconceived notions that have come with being into fetish for many years and I think that's amazing!"
Make sure to follow Quincy on Instagram @mr_mind_fetish!
Check out the Folsom Wings Talks Panel here: