STUNNIN Magazine is the first Dutch drag magazine. With its editorial photography and community-centred approach, STUNNIN has been able to reach a loyal & excited audience. And that's precisely why they decided to start crowdfunding – to give their readers some extra treats and sustain the magazine in the long run!

What is STUNNIN?
By combining editorial photography and genuine interviews with queer people, STUNNIN is a testimony to the beauty of diversity and a celebration of contemporary drag. "Inclusion does not work without diversity, and what is more diverse than drag and queer artistry," as Cyriel Jacobs, STUNNIN's founder and creative director, notes, "we aim to show you the joy of gender diversity by featuring beautiful queens, kings and royalties, whose flawless looks inspire".

While the two first issues focused on local drag performers in the Netherlands, such as the queens from Drag Race Holland, they are excited to announce that their upcoming issue went abroad – Only in LA Darling! And took a look at Hollywood through a Dutch lens featuring some of our favourite international drag performers and queer icons. We are excited to feature queer legends, such as Raja Gemini and Adore Delano, and the aspiring queer icons of tomorrow!

Crowdfunding:
STUNNIN is currently organizing a crowdfund via Voordekunst. The crowdfund helps them to finance the printing of the upcoming issue and the production costs – in short: your donations help to sustain the magazine in the long run while simultaneously encouraging artistic expression, creative experimentation and a stretch for the stars – in "Only LA Darling", quite literal stars.
The STUNNIN team wants to give back to everyone who decides to support their crowdfund, so here are three ways to show your support and treat yourself:
You can pre-order our upcoming issue "STUNNIN #3 – Only in LA Darling"! If you are to pre-order by December 3rd, you can get the issue for €20,- (instead of €25,- retail price)!
If you prefer to have STUNNIN on your walls instead of your coffee table, you can get a limited-edition print of one of our features for a donation of  €150,-.
The print will be 594 × 841 mm, A1.
For anyone who would love to get a new professional picture taken, they offer an in-studio photoshoot with Cyriel Jacobs, the creative director of STUNNIN, for a donation of €300,- (Editing included.)
https://www.voordekunst.nl/projecten/14660-stunnin-nl-eerste-drag-magazine-no3
All crowdfund supporters are put onto the guestlist of our launch event and can pick up a goodie bag at the event.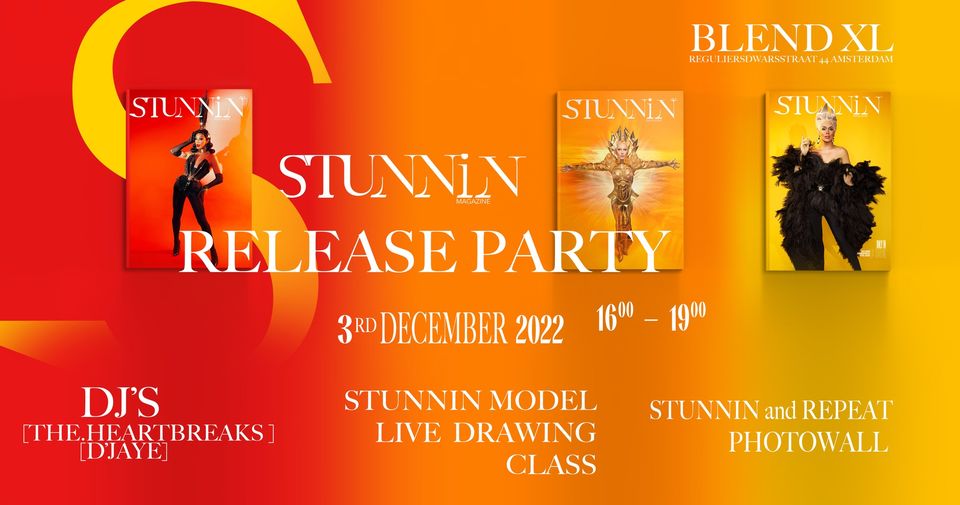 Launch Party
Did you say Launch event?
Yes, you heard correctly! On December 3rd, STUNNIN will host a launch party to celebrate our newest issue. Don't miss out and join us for a celebratory and unapologetically queer afternoon!
For the event itself, expect the unexpected! We will start the party with a live drawing class with drag models and end it by striking a pose at our STUNNIN & REPEAT photo wall. DJ Heartbreakers and D'Jaye will guarantee good music. The event is hosted at Blend XL from 16:00 until 19:00 – free and open to all!
Go grab your copy now, and check out: