Where men dance with men and women with women.
It's hard to imagine, but it wasn't until 1972 that the last discriminatory law regarding homophily was scrapped. Namely Article 248bis. The purpose of this legislation, according to the then Dutch Minister of Justice E.R.H. Regout to protect boys and girls aged 16 to 20 against homosexual temptation, and thus prevent the spread of homosexuality. It was even forbidden to dance with someone of the same sex. Except for one day a year, namely on the national holiday: Queen's Day.
That was only fifty years ago. There was not only a taboo on homosexuality. it was even punishable and contrary to the moral law.
When you realize this, you understand how brave Bet van Beeren was at the time. She was the one who started the very first cafe in the Netherlands where everybody was equal, regardless of their sexual orientation. 't Mandje has an entry in the Amsterdam Canon: which is a list of fifty subjects, called 'windows', containing important events and developments in the history of Amsterdam.
The cafe is nowadays still a meeting place for LGBTQI people. A place for all people. Where everybody can join in on the fun. Throughout the years it has become a pilgrimage. Soon it will celebrate its 100th anniversary.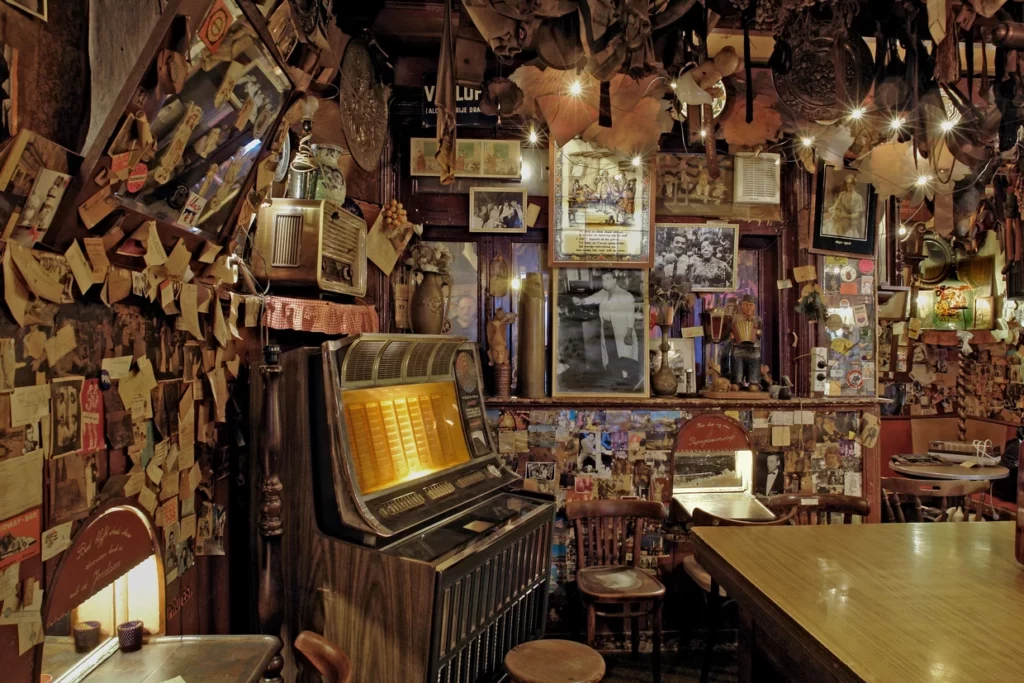 Bet van Beeren was the eldest daughter of a family of fourteen children from the Jordaan, a typical Amsterdam working class neighbourhood , which was overcrowded and impoverished.
Bet took over Café 't Mandje on February 24, 1927, when she was 25, from her uncle Toon Engelen. The cafe was called "Amstelstroom". Bet changed the name to "'t Mandje", because her mother brought her daily food…. in a basket.
The cafe became an institution. Particularly because bet van Beeren was out in the open about her homosexuality. Something that was unthinkable at the time.
Everyone was welcome in her café, where she, herself, tended bar. And even though the small cafe was not a dance hall, there was still a lot of dancing, men with men, and women with women. With someone on the lookout of course! It was one of those things where Bet dared to make an exception. Cafe 't Mandje was therefore the first place in Amsterdam where homosexuality was accepted. It wasn't really talked about, we didn't make a fuss about it either, say her sister Greet in an interview. Everyone was just equal"
Despite her open-mindedness, she wouldn't allow kisses and flirting at the bar: there were moral laws and the liquor license could be at risk. In case guests entered 't Mandje who were not trusted by Bet: -they could be anti-gay or from the vice squad- she always turned on a light in a porcelain owl that stood behind the bar to warn her visitors . It became a well-known warning sign. And it became a nickname for a heterosexual person in Amsterdam slang: Een uil.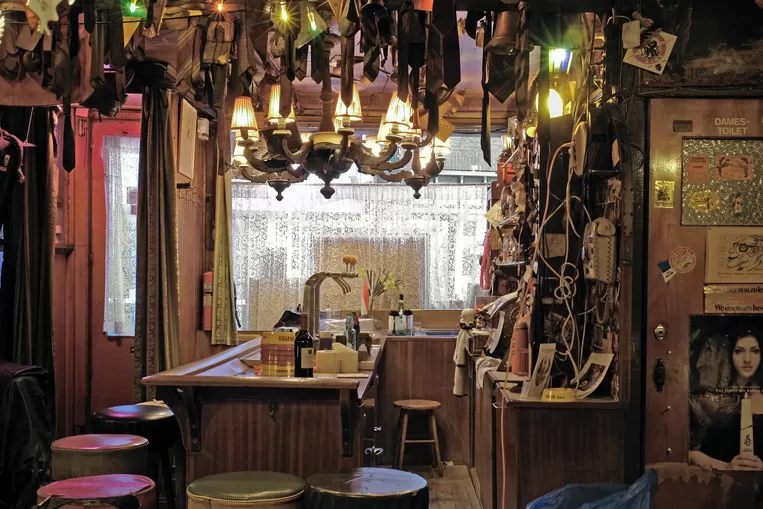 For Bet everyone was equal and her café was open to gays, lesbians etc. who could be themselves among the sailors, sex workers, local residents, actors, painters and intellectuals who also came here. Among the regular clientele were well-known writer Gerard Reve, one of the first famous Dutch people to openly declare his homosexual orientation on television, as well as Albert Mol, actor and writer. Cafe 't Mandje is also featured in his book: Wat zien ik?
Bet was quite a character, there was a good reason that her nickname was The queen of the Zeedijk. Dressed in leather, she rode her motorcycle through the city, often with a new "fiancée" on the back.
Many hearts were broken, for she was not faithful for too long. But, when she was dating somebody, her sweethearts were spoiled with the most expensive and beautiful gifts such as furs and perfumes.      Until she fell in love with someone else.
When her sister Greet, who was twenty years younger, takes over the place, the atmosphere remains the same. Greet has been working behind the bar for a while, to relieve Bet, who, by then, has kept the place running for forty years and the last couple of years it's getting harder and harder for her. Greet does a good job, she has a special talent as entertainer, and is a hard worker. She sings and makes jokes, just like her older sister.
Bet spends the last years of her life, sitting at the bar, while Greet tends bar.  She dies in 1967. The billiard, which was normally dismantled so that people could dance, is now used for a different purpose. Bet's coffin is laid out there, covered in flowers for two days.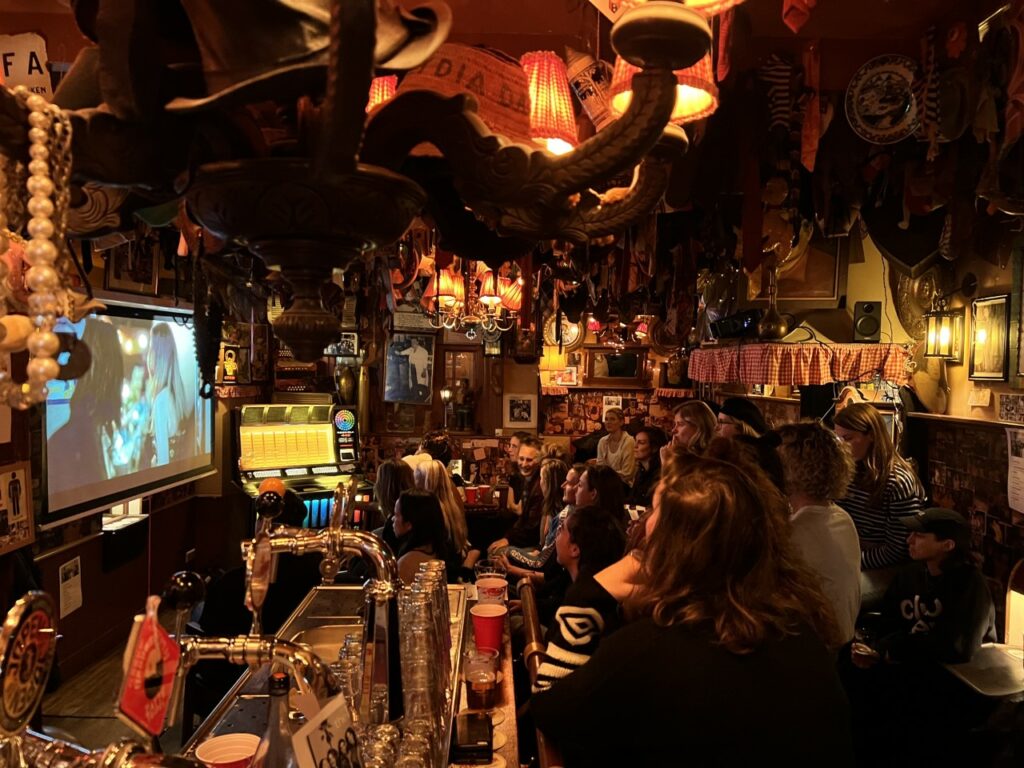 Unfortunately Greet has to close the café in 1982 because of the enormous drug nuisance in the area. But the place is neatly maintained  by her, and the interior remains intact. The café, and the apartments above it (the first floor was where Bet lived) remain in the family.  Niece Diane van Laar, takes over the business in 2008. It has been closed then for 26 years.
And the interior again remains untouched. Bet van Beeren had a peculiar tendency to ask anyone who had something interesting to say to leave something behind. This resulted in the cafe, even today, still being filled with all kinds of souvenirs and paraphernalia, left behind by visitors. There are the craziest things hanging from the ceiling, ranging from underpants to stuffed animals and, above all, many, many cut ties (which Bet, incidentally, cut off with large butchers knife as a gimmick).
But it's not just the interior that stays as it always was. Diana van Laar in 2008:
 Another thing that will never change: everyone is welcome. To straight people who get all excited over a gay couple in love, we explain how fortunate we are that we're not living in Afghanistan and we don't have to stone our brother for being gay. But at the same time: gay misbehaving in our bar does not belong. Everyone should have fun… All appreciate our history and have a good time.
She recites:
It is a special cafe, with a special story. For me and the rest of the family it was all very normal…. There were aunts who looked like uncles and uncles who looked like aunts. There were friends whose mothers had a small house on the Geldersekade, with red carpet on the floor, walls and ceiling…. Also completely normal.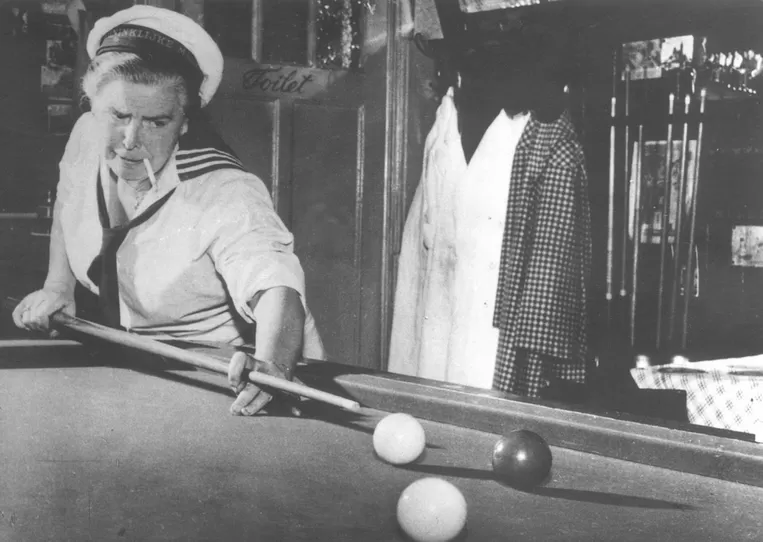 Niece Diane van Laar takes over the cafe in 2008, doing her best to keep the business running. Unfortunately she has to close the bar for financial reasons during Corona. Diana is very fond of the little café and it breaks her heart to let it go in 2020.
Fortunately she finds a suitable buyer in the social real estate manager NV Zeedijk. They guarantee that the iconic bar will continue to exist as a café and meeting place for the LGBTQI movement after the lockdown. The legendary bar will be preserved as a heritage for future generations. A specially established foundation will oversee this.
And again, a new chapter begins when a young and ambitious couple is able to lease the cafe from the foundation 't Mandje 1927  (NV Zeedijk owns the building, but they rent it out to the foundation) Since May 2022, Laura Molenkamp and Marinda Filk are the new operators of the legendary café. The interior, which was previously refurbished by Diana van de Laar, has now been cleaned and impregnated again by the young couple so that it is no longer a fire hazard.  They do their very best to restore everything exactly as it was. There are only some slight changes: Nowadays there is more room to dance, since the billiard is not yet returned from restoration. The antique billiard, which was once custom-made for the small cafe, and where Bet once lay in state, has been dismantled so often in an awful manner that from now on it may only be done by the Wilhelmina Billiard factory, where it was originally made. If it comes back at all. And there are no separate toilets anymore for men and women. The toilets are for all genders, times have changed.
And then, I finally get a chance to see the cafe with my own eyes. I meet the young couple in the café. I am completely overwhelmed by the place. It's like I stepped into a time machine.
There is so  much to see, so much that impresses me; the countless attributes hanging from the ceiling, including the cut ties, the funny handwritten texts on the walls. The old jukebox and the cosy tables with the plush tablecloths.
Before we sit down to chat, I ask if it's possible to have a look upstairs too. I would love to see Bet van Beeren's old house, which is located above the cafe. And the answer is yes. I follow them upon the steep staircase which leads to the old Amsterdam apartment.
Even though there are all kinds of other stuff lying around. The house still looks just like it did in the sixties. The wallpaper, the tiny kitchen and the old windows. I find it very impressive, and touching too.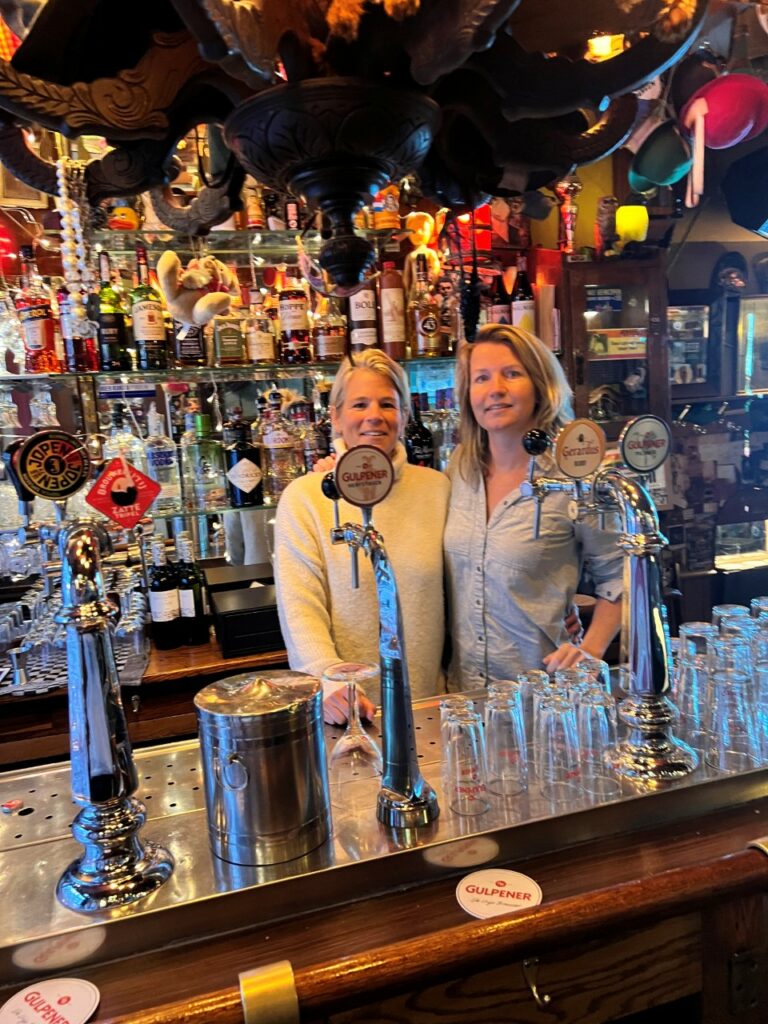 Laura en Marinda tell me that there are also three higher floors that are empty that have always been owned by the family. The plans to turn the other floors above the café into lodgings are at an advanced stage. So if all goes accordingly, soon enough you can book your stay in Bet van Beeren's house, where time stood still.
When I ask the couple whether they consider themselves activists, they shake their heads. Not particularly, but of course they want to honour the function of the cafe.   And, they do want to contribute to the LGBTQI community, by organizing fun things, such as  Transvocal; singing lessons for trans folks, and anyone who would like to participate.
And there are other plans to give 't Mandje a social role. A collaboration is coming up with the "Sarphatihuis" nursing home, to offer the elderly LGBTQI people of Rozeneiland a special day in the cafe.
When I ask them if the café is haunted, they shake their heads. They answer: No, I don't think so, and if it is, the spirits really do their best to make us feel at home.  It is as if Bet's hospitality can still be felt.
When I leave, it is already dark outside.  It has been raining lightly and the streets are gleaming in the light of the lanterns. There is something special about this part of town, The oldest part of the city, and there is something magic about this small café, which has been a significant part of this neighbourhood for so many years. Playing such a significant role in the history of Amsterdam and the people that live here. And as I walk away it is like I can hear the guests of yesteryear, laugh, rejoice and sing behind the windows.
CAFÉ 'T MANDJE
Zeedijk 63
1012 AS Amsterdam
cafetmandje.amsterdam