If the world of BDSM had a Prince Charming, Italian Master Alessandro Giacon would be it. He is young, extremely handsome, and he will put you in your place. WINGS met up with Master Giacon, as he prefers to be called, to find out how he turned his passion for bondage into his profession, and what it takes to be a good master.
Let's start at the very beginning. How did you discover BDSM?
"I found out about it when I was 10 or 11 years old. I was watching a movie that had an 'ironic' BDSM scene in it. One of the protagonists visits a girl he knows and ends up being tied up to a chair, with the girl scratching, hitting and whipping him. I felt attracted to that scene like a magnet. I went on the internet and found out about 'dom-sub' relationships, SM, bondage, and all the things I know now. When I was 13 I started speaking to mostly older, experienced people on BDSM forums, and at 18 I went to my first event. Back then I felt attracted to both the dominant and submissive side of BDSM.
My first real experience was as a sub. I was tied to a cross by a mistress at a BDSM event. We were surrounded by people watching us. I tried to focus on what I was feeling and not on what was happening to me. When I entered 'sub space' all of those people disappeared, and I was only there with her. It felt like being in a bubble and there was this deep connection to my mistress. She spanked and whipped me. I felt pain and a lot of emotions, merging and mixing. I was living in the moment, experiencing everything at the same time."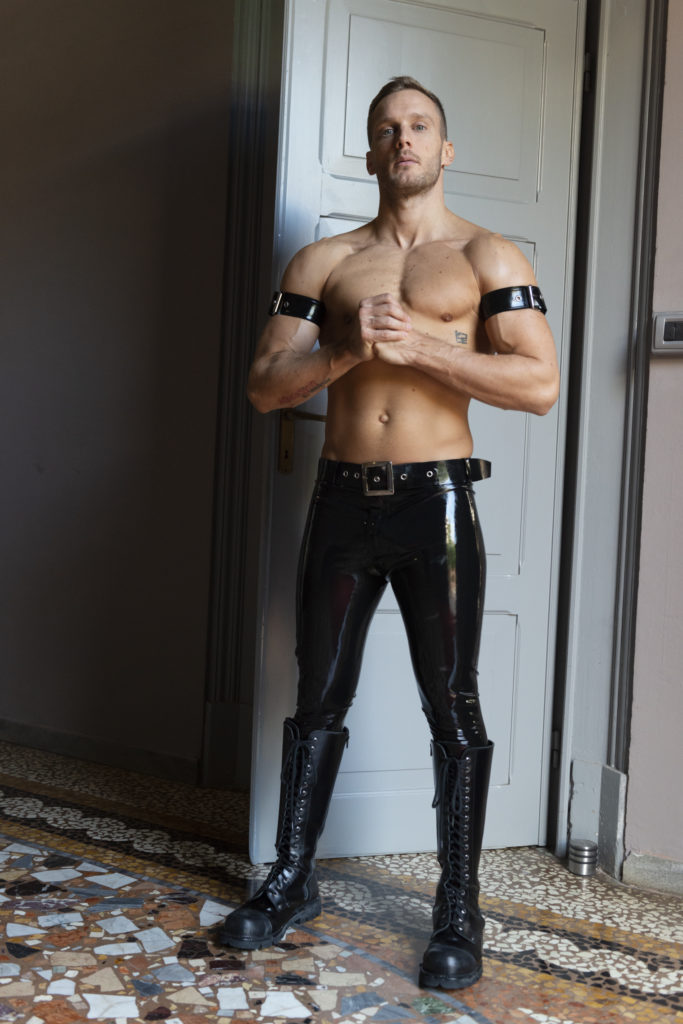 Photography by: Silvia Bordin
When did you become a dom yourself?
"In the beginning I was obsessed with BDSM and I loved everything about it. I experimented with being submissive and dominant, and I also played as a 'switch'. The moment I became a true dom, was when I quit my job and decided to be a master professionally. That was four years ago. I found a villa just outside of Bologna and turned it into my home and playroom. In the past I used alcohol, drugs and cigarettes. When I became a master I quit all those things. Not because I chose to do so, but because I didn't need them anymore in my life. It was a natural transition. Being dominant for me means to be conscious of myself and my actions at all times. Since then I do whatever I like, whenever I like it."
Can you describe what your daily life looks like?
"I don't have a default life. I wake up and decide what to do. I live in the present and don't have a lot of commitments. My clients are all high-level business men; people who earn a lot of money. They pay me a lot as well and I offer them superior service in return. I prefer to meet one person a day, so I can give them all of my attention, energy and time. What we do specifically during our play session, whether it is foot worship or whipping, is not important to me. I enjoy every BDSM practice. The most important thing is to create the right connection with the person in front of me. My clients tell me I am really good at this, that I am different from other masters. I am very empathic. I love connecting with my slaves and to feel what they are feeling."
"You don't just come here to lick my feet"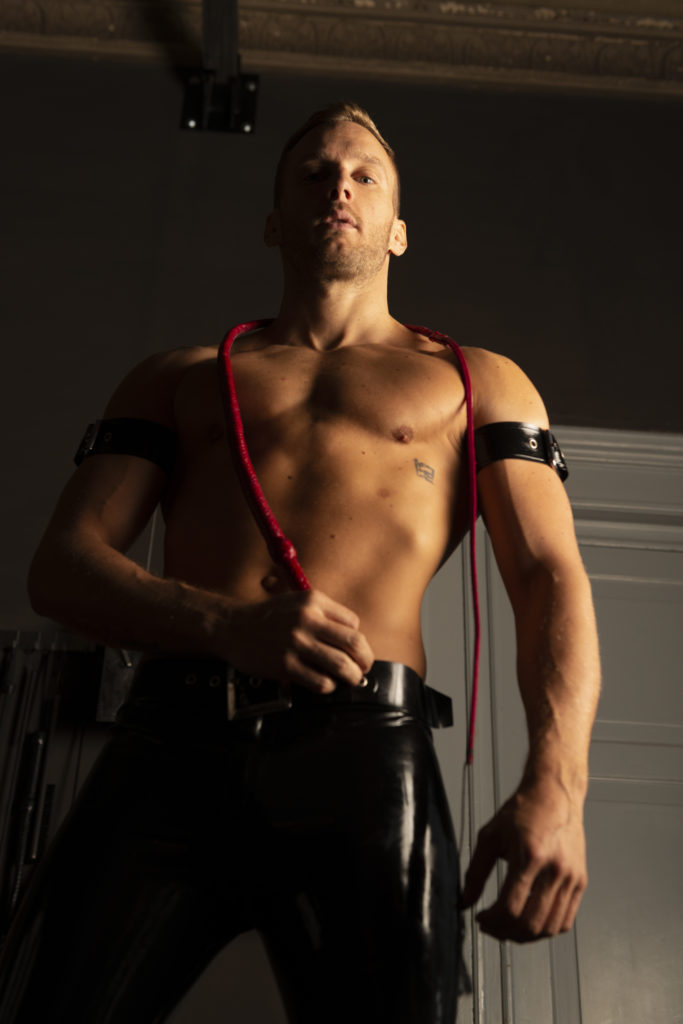 Photography by: Silvia Bordin
Photography by: Marco Zeta
How do you create a connection like that?
"It is better when a person comes to me more often; two, three, four times… That way the connection grows stronger. When I invite a new sub into my home I take the time to get to know him. We talk about his life, his fantasies, his BDSM experience, and of course his limits. Everyone has different limits and it is important to keep the person safe. I get inspired by this meeting and create a session just for that sub or slave. You don't just come here to be hit by me, or to lick my feet. I prefer to create relationships with my slaves and share experiences with them that touch both of our souls.
I have slaves from Dubai, Canada, Italy and several other European countries. A lot of them have little knowledge of BDSM when they meet me for the first time. They have a lot of fantasies, but no real experience. I teach them how to have pleasure through pain. Because I have been submissive in the past I understand their mindset. This helps in connecting with them as well. A dom has a lot of power. As a master you have to be conscious of your sub's feelings otherwise you can create a lot of pain and trauma."

What do you feel when you dominate?
"My feelings and emotions change with every person. When I whip someone, for example my personal slave, I go through a lot. It is a moment of fun and happiness. When I whip him, my slave gives me back other emotions. If he feels pleasure, I can feel it and it becomes my pleasure. It is my empathy kicking in. When he is in a lot of pain, it gives me sexual pleasure as well. But for me it needs to be consensual. I can't enjoy whipping him otherwise. In that way I am not a real sadist. Both sides need to want it. For me that is the basis of every BDSM game and relationship."
There is an amazing overview of all the kinks you have on your website including caning, ball busting, bondage, dog training, face sitting, fire play, trampling, feminization, and many, many more. What is your top three?
"There is a lot more I like to do actually. I only put the most important ones online, I didn't want to overwhelm the visitors to my site. It is difficult to choose a top three. One of the things I enjoy most is whipping, with a single tail whip or a bullwhip. I love creating marks on my slave's body. Fisting would be my second choice, with cum control in third place. I love combining as many BDSM practices as possible. Whipping is exciting, but when you combine it with chastity, bondage, and sensory deprivation – losing sight and hearing for example – it makes it much more intense for the sub."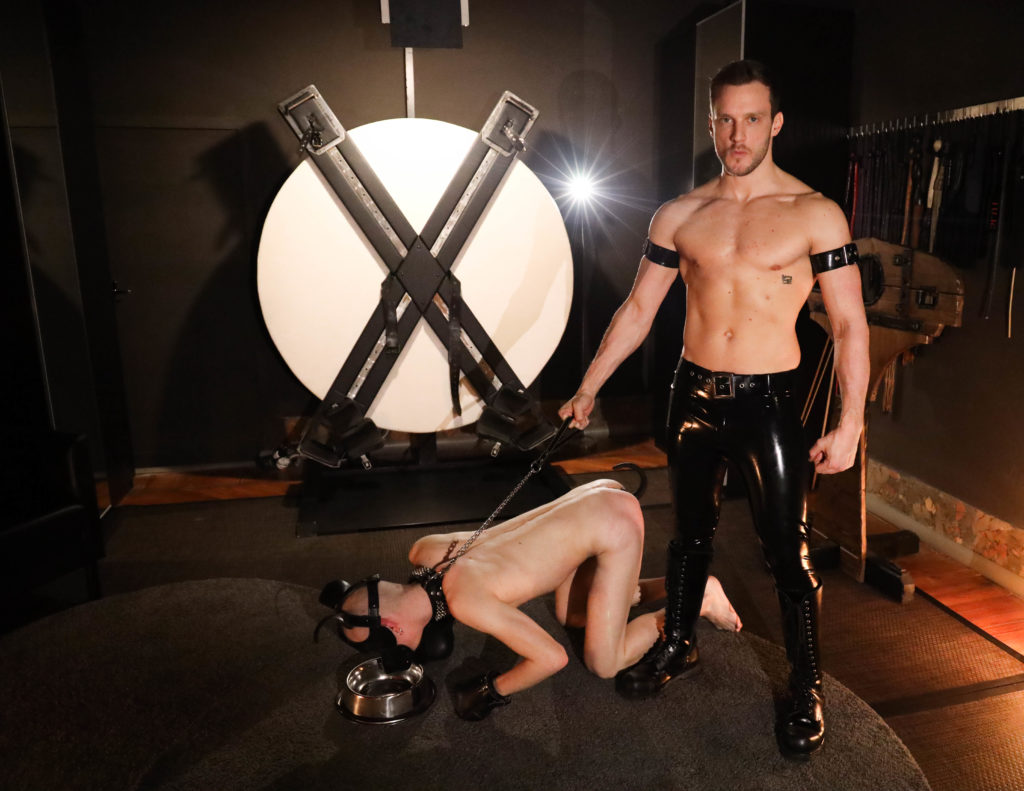 Photography by: Luca Inf Lentini
What does dominance mean to you?
"Dominance is a way to give pleasure and a way to receive pleasure. It is also a lifestyle. I am dominant in everything I do, but in an elegant way. I don't want to be arrogant or fight with people. I love living my life in peace. The way I dominate is not stereotypical, it is natural and it comes easy to me. I don't have to raise my voice or use profanities to get what I want. I dominate simply with my presence. When I ask people to do something, they usually do it. And if there ever is an issue I try to solve it as quickly as possible. In that way it becomes a chance and not a problem."
You actually live in your personal playroom. Can you tell us something about your home?
"When I saw this villa for the first time I fell in love with its energy, its space and its colors. I walked in and immediately felt good. The villa was built in 1820 and every room has intricate murals on the ceiling. When I moved in I created two spaces: one for work and one for living. But after two months I changed my mind. Being a master is not just a job for me. I am not a different person in my private life so there is no need to separate the two. This means I have a cage in the living room that is big enough for a slave to stay overnight. My bedroom has a structure for shibari, and at the end of my bed I can block the hands and neck of my slave so he can lick my feet. I also have a doctor's room with a gynecologists chair for medical play, and a luxury playroom with a cross that turns around with a motor, and a chair that locks the arms, legs and head of my subs. There are BDSM installations, devices and toys all over the house. Most people have three lives: public, private and secret. I have merged all three into one and my house reflects that. Everyone knows what my job is and I don't need to lie or hide my life from anyone. I mean I have a picture of my mother inside the living room cage – that should say enough hahaha."
Photography by: Axel Klinik
Want to make a connection with Master Giacon? Then follow him on Instagram @mastergiacon3 or visit www.mastergiacon.com for extra information. Want to see more of him in action? Then check out his Only Fans account @mastergiacon for videos and pictures that leave nothing to the imagination. (#nsfw)