A

KA an

interview with

tattoo artist Philippe Fernandez
Philippe Fernandez represents three of my favorite things in life: Berlin, kink and tattoos. The 33-year-old Spanish artist is the co-owner of tattoo studio AKA in Berlin. He is known worldwide for his black ink fetish tattoos that depict hairy, beefy, bearded men, engaging in every kink act imaginable. WINGS sat down with Philippe for an openhearted chat about his work, his fetishes and life after the covid pandemic.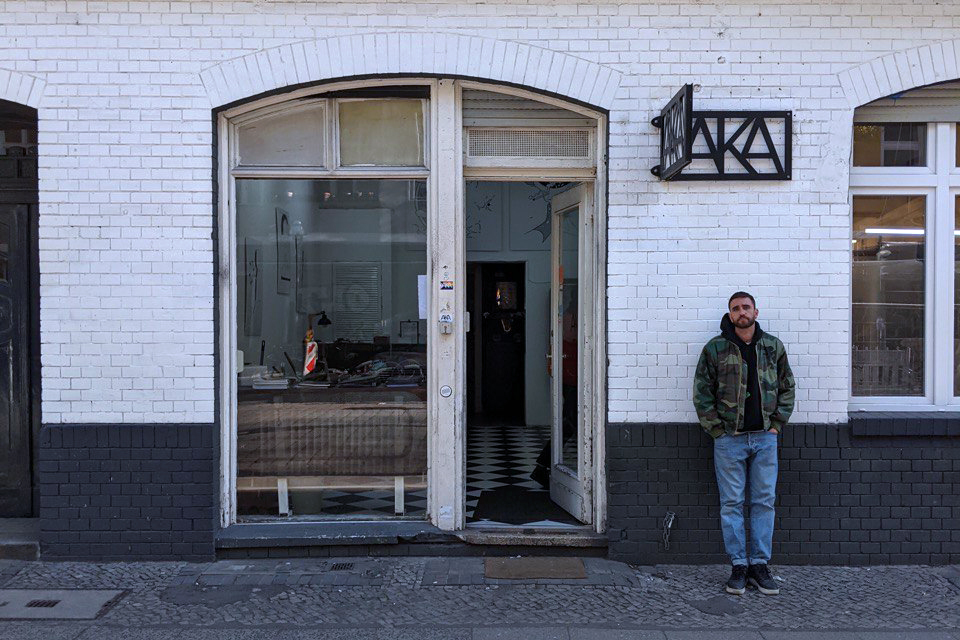 It is 8 PM on a Wednesday evening and Philippe has just come home from work. He is sitting in his living room, wearing a woolen black hat, a thick chain necklace (held together by a ring that otherwise would be used for a Prince Albert piercing) and a black t-shirt that says 'You are your own master'. Sleeves rolled up; the tattoos on his forearms clearly visible.  
We are talking through WhatsApp Video. On my phone screen I catch a glimpse of his house. The wall is covered with artwork that he has acquired during his many travels, by artists that he discovered and met along the way; sort of mimicking the interior of his tattoo studio AKA. I spot a framed pencil drawing of a penis by fellow tattoo artist, frequent collaborator and good friend Gerfer from Dublin, as well as an erect ceramic cock, standing proudly on a dresser. The other art pieces I don't fully register, because of my one-track mind.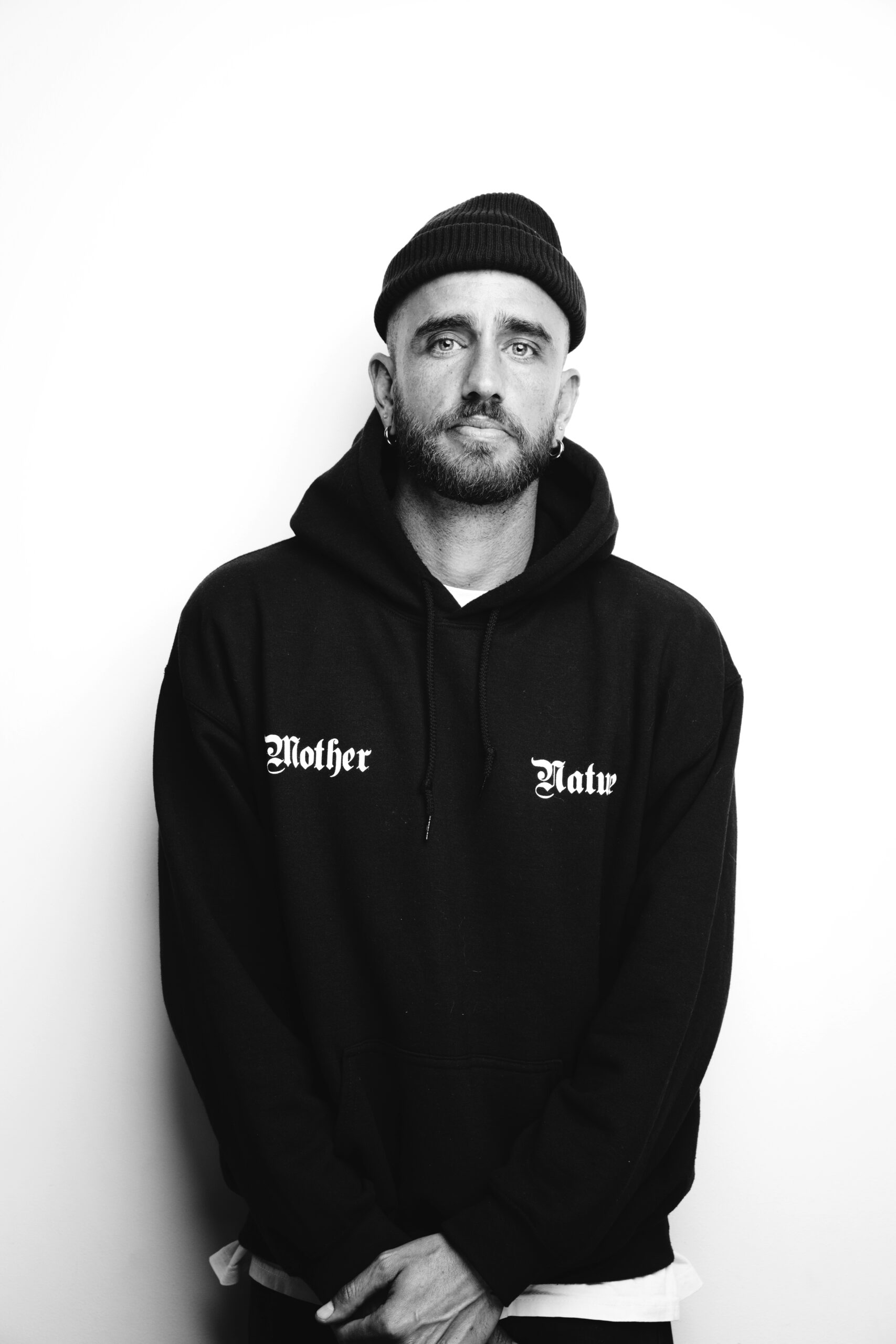 Philippe, it is nice to finally talk to you. I have seen your work pop up many times in my Instagram feed, and I have actually been to your studio to get tattooed last year. For people who haven't been to AKA. What can they expect? 
"AKA is pretty well-known in Berlin. We have been around for thirteen years and customers can expect quality from us. The studio is a bit of a creative hub. We are mainly a tattoo and piercing shop, but we also have a gallery where we exhibit artwork by our resident tattoo artists mixed with contemporary art. AKA is a queer space; we don't promote ourselves like that, but people know. The tattoo scene tends to be quite 'hetero-bro-ish'. Some girls don't like that and queer people might feel uncomfortable taking of their clothes in a space where they feel they could be judged. At AKA you can expect to feel safe. We have a really good crew, and there are no artists with big egos. We look for that specifically when we bring in new people. They need to be nice, respectful, and I think you feel that when you come to the shop. We are a big studio with ten resident artists. Some days are more quiet than others; it gets louder when there are a lot of Spanish artists at work. The atmosphere is pretty relaxed."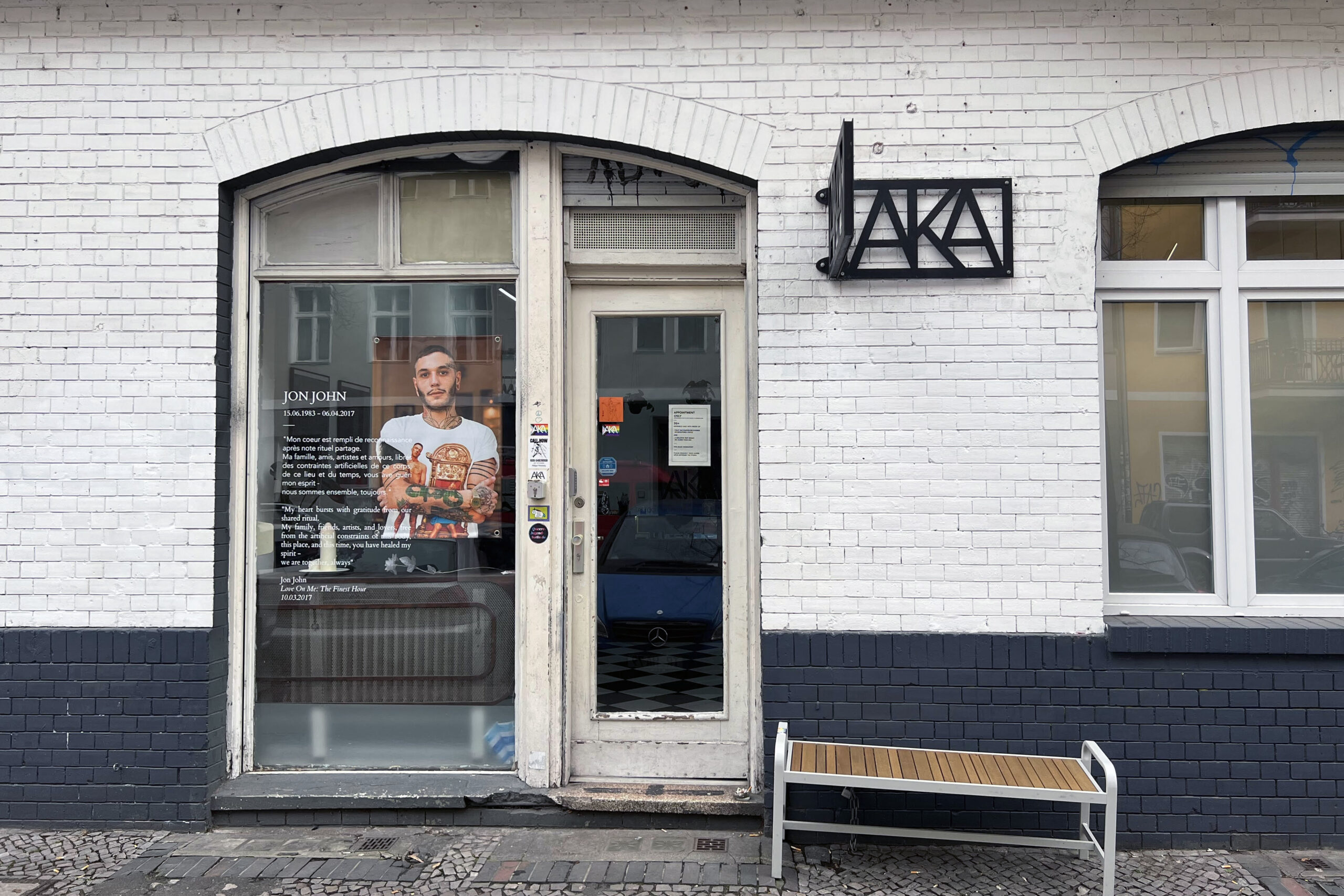 Let's talk about your tattoos. You predominantly draw guys living their best fetish lives. Men in sports wear getting rimmed, with their legs spread open, Nike shoes on full display, feet high up in the air. Or bearded leather daddies in gear, with cocks hanging out of their jocks, fisting a tied up hottie. How did you start doing those tattoos?  
"I used to do traditional work; really old skool. A big part of the imagery of traditional tattoos are female faces and naked female bodies. One day I thought: 'Why am I doing this? I am a gay person living in Berlin, working in a studio like AKA, and I have nothing to hide. I want to draw hairy men in leather. I want to tattoo images of dicks on arms. Let's break the taboos around our sexuality and do it!' It started out as a bit of a joke. At first it was straight men getting them; heavily tattooed guys who thought it was funny. But then people started to notice. Little by little I got more into it. I connected with other queer tattoo artists who do similar work and suddenly it became a thing. I began pushing it and now it is basically the only thing I do, and I love it!" 
Do you see an evolution in your designs? 
"One hundred percent. In the beginning my drawings were much simpler; bodies were less defined; now you can really see the muscles. Evolution comes through drawing. By looking at something, redrawing it, and redrawing it again. It has made me understand how the male body is shaped and how muscles work. Today my art is more detailed. I don't use shading. The lines are clean. There is a lot of contrast and a lot of black. I get really involved in my designs. I am obsessed with hair at the moment. I love drawing a hairy chest. Hair grows in a very specific way. By drawing it over and over again for the last 1,5 years I really started to understand the direction of that growth. Now I put these little hairs on all my characters. Sometimes a tattoo takes 1,5 hours; 45 minutes of that goes into working on the hairs (laughs)."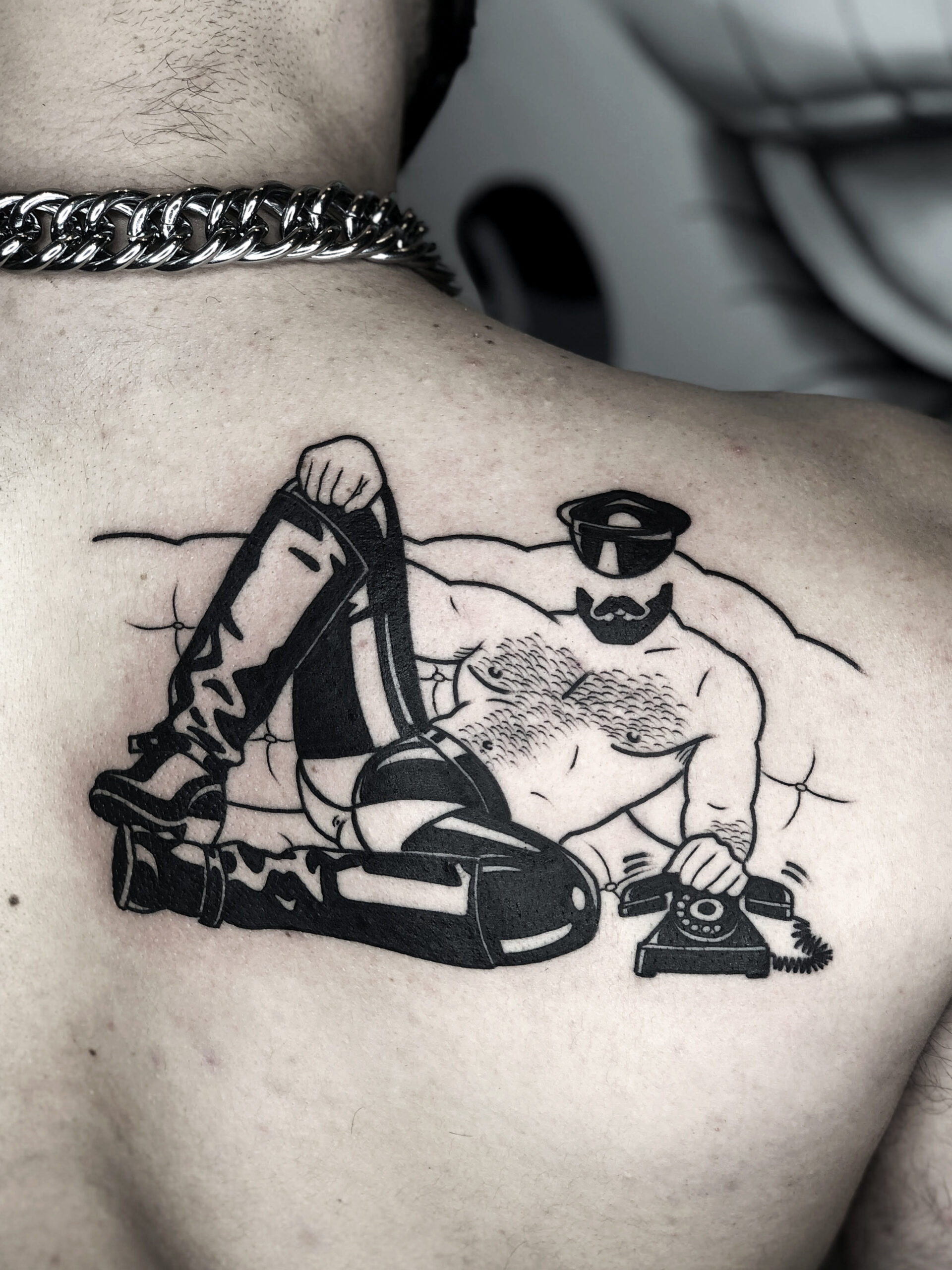 What about the beards. They seem to be a crucial part of your designs. 
"I usually don't draw faces, just beards. It is the cliché of the bearded man. Anyone can look at the design and think it is them. A lot of people tell me they recognize themselves. It could be you. It could be me. It could be anyone. But that is exactly the thing: I don't want to give my characters a personality by adding faces or eyes. It is a representation of a body in a sexualized context; it is more than just a person." 
Are there sexual scenarios or fetishes that you like to draw the most? 
"That changes over time. At one point I was doing a lot of armpits, chest and arms. I really like drawing fisting scenes. There is something about how the bodies look and work in that context that I like. My flash tattoos can be very explicit; you see cocks, you see asses, and you see hands going in. But I like to be more ambiguous in my other work and leave a little to the imagination, which is way sexier in my opinion."  
I think it is fun that you sometimes put these super traditional tribal tattoos on your men. It is very meta. 
"I am not into tribals myself, but I think it is extremely hot when I see guys with massive tribal tattoos from the nineties, all muscly and big, dancing in a club. It is definitely a turn on for me. That is why I put them on my characters. It is also a bit of a joke; I am not actually tattooing a tribal; I am tattooing an image of a guy with a tribal."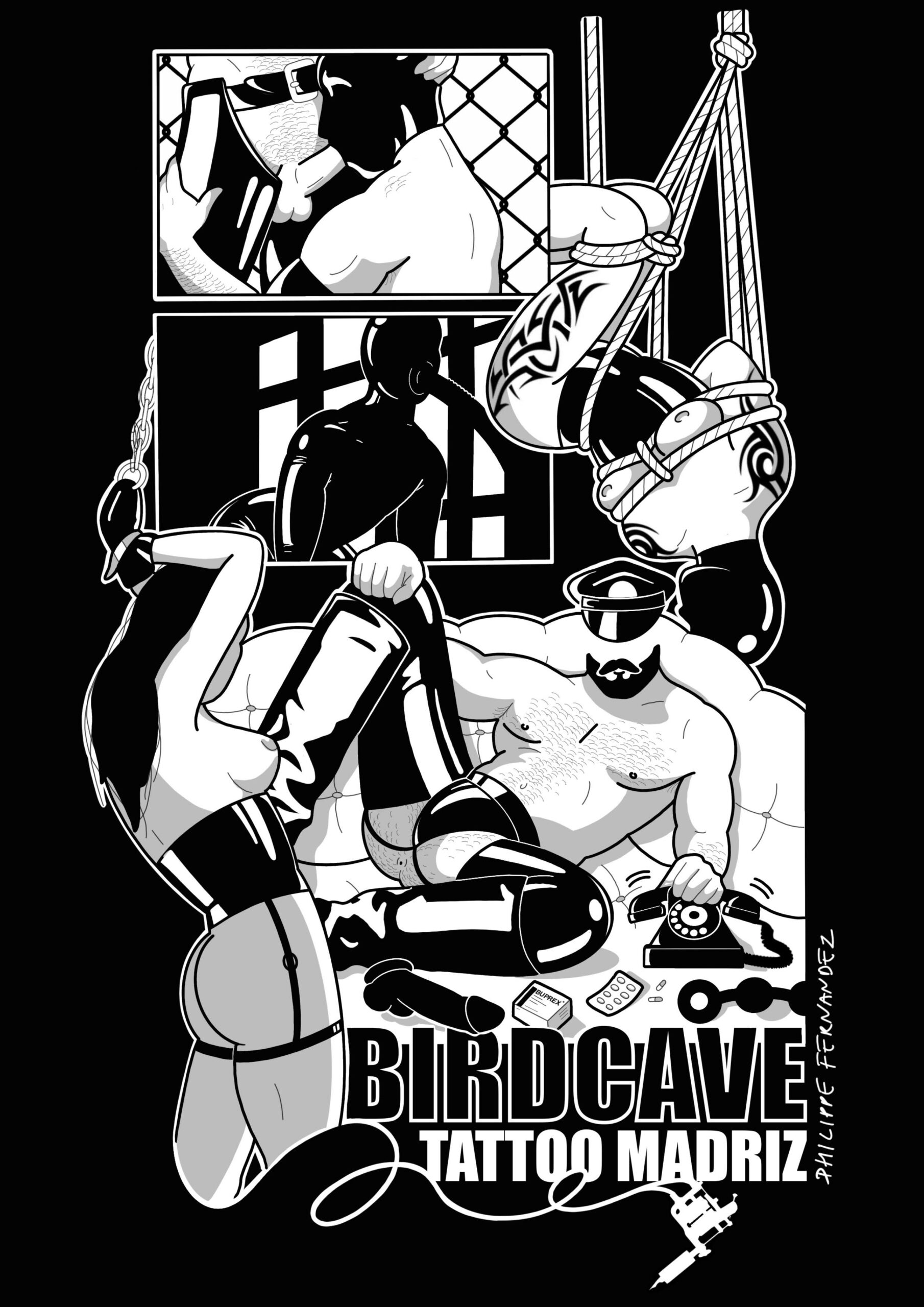 Is there anything you would still like to tattoo that you haven't done before? 
"Right now I usually only draw one or two characters, but I would like to work in bigger sizes and do bigger compositions. I did a t-shirt design for a tattoo studio in Madrid with a girl in bondage, a master lying down with a phone, and another girl in a face mask dangling from the ceiling. I would enjoy putting a similar scene, or one with even more characters, on someone's back or on a complete thigh. But you have to be very committed to your fetish, or really confident as a person, to get a tattoo like that.  
I have had customers coming back after a month, asking me to put a jockstrap over the big dick that I tattooed on their arm or leg. They were in Berlin, where everything is fine and no one cares; then they visit their families or go to the beach, and they realize that there is an image of a cock on their body for everyone to see. I always talk with my customers about the design they have picked before I tattoo them: 'Do you understand what you are getting? Do you realize the effect it can have on your life?' And we also talk about the placement of the piece, which is just as important: 'Would you like it to be covered by a t-shirt or pants? Or do you want it to be visible all the time?' I am a reasonable person. I know what I tattoo. And it is ok if customers think twice about it. Getting a tattoo, regardless of the design, will always have an impact on your life."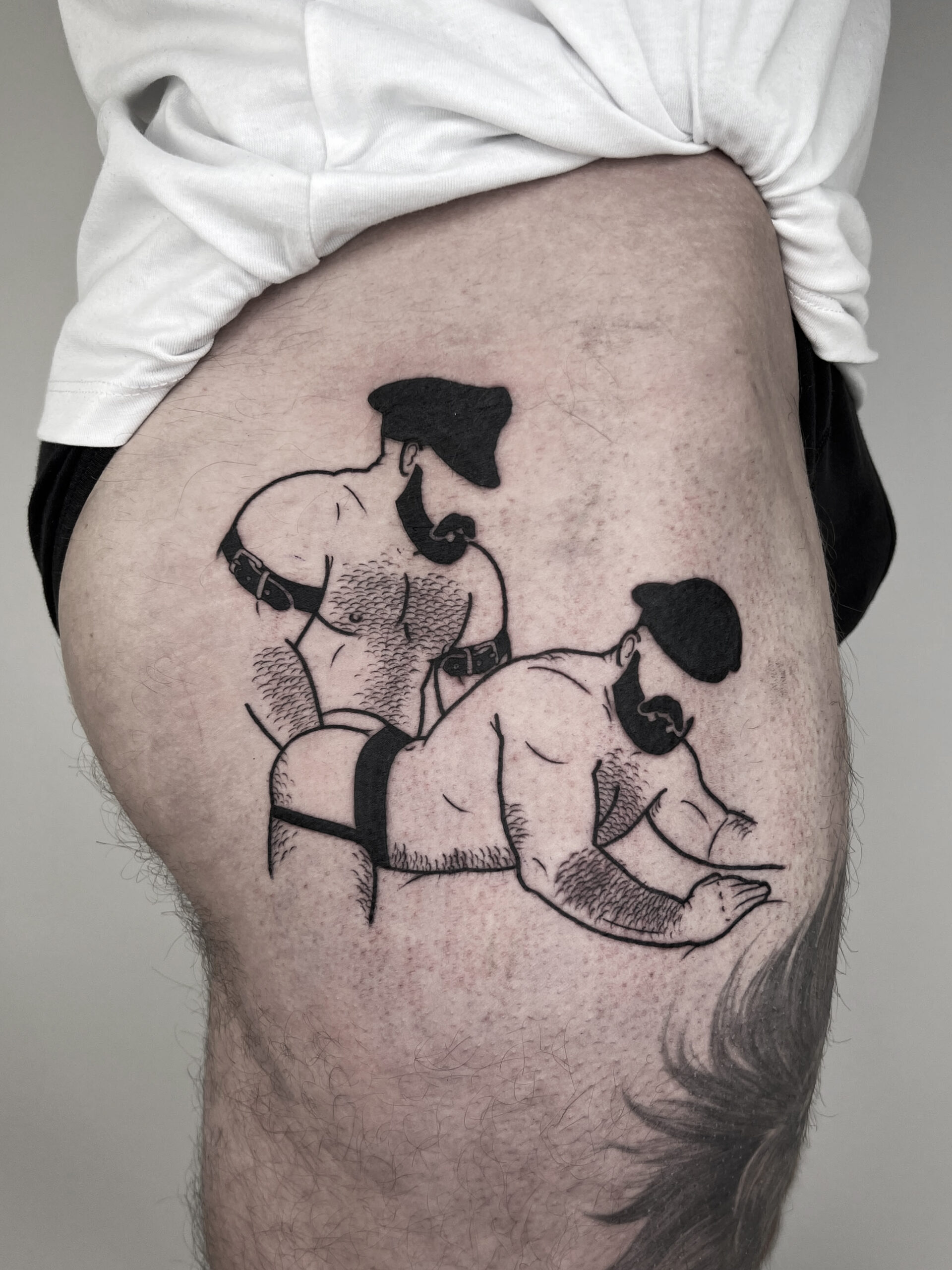 What did you do the first time someone asked you to tattoo a jock over a dick? 
"I convinced them not to do it; it was a friend who asked (laughs)."  
What are your personal fetishes and kinks?  
"Stocky, beefy, hairy guys. I have always been into sports gear. It comes from when I was a kid. I played volleyball for many years and I was crazy about seeing dicks in sport shorts; I love bulges. I have always been obsessed with dick. Now that I am older I appreciate other things as well, like latex and leather. Before the pandemic living out my fetishes and kinks was often connected to partying. Since the pandemic I got out of that scene. I go out once every three or four months, but basically I live a sober life. I don't drink. I don't do drugs.  
The last two years I have become more of an observer. I live my kinks and fetishes through my artwork, which has helped me experience them in different ways. When bars and sex clubs closed down, part of my social life moved online. I opened a Twitter account because of censorship on Instagram, and that introduced me to a whole new scene. I connected to a different audience and talked to people I didn't know. I started tattooing dicks around the same time. Twitter made it possible for me to showcase that work, as well as the process. The response I get is really interesting. A lot of guys get turned on by asking me to tattoo their dicks. They don't really want to get a tattoo, but they send pics of their cocks anyway, and share their sexual fantasies with me. I love that interaction and I actually use those scenarios in my artwork. I could fill a book with all their fantasies.  
Maybe I will start going out again now that things are opening up; experience my kinks in new ways, without losing myself at parties. It is a learning process. I think that goes for a lot of people. They were the biggest sluts in the club; and now they have to figure out who they want to be when they go out. It feels like you are 16 years old again and everything is new." 
I recognize what you are saying. I recently interviewed stand-up comedian and fellow Berliner Daniel-Ryan Spaulding for WINGS #12 (out soon). He said the same thing about the party scene in Berlin after the pandemic. Either people want to jump back into their old lifestyle and habits, and get fucked up ASAP; or they want to step away from it, or at least create some distance, and stay true to their reinvented selves.  
"Exactly. For me the pandemic turned out to be a good thing. This break from the world, that each of us had to deal with in their own way, made it possible for me to reflect on how I was living my life, and rethink certain aspects of it. I have a lot of valuable things in my life. I have a super good job. I own a really good studio. I need my head for that. I have a responsibility towards my clients, and I want to give them the best of me. I am a lot more conscious of that these days." 
Maybe it is not only the pandemic that has had its effect. Maybe you just grew up a little bit over the last two years.  
(short silence, followed by laughter) "Also that!"  
Follow Philippe Fernandez @philippefernandez and AKA @akaberlin on Instagram, and check out Philippe's Twitter @PhilippeFdz for more (explicit) artwork and slide into his DM's. You can find more info about AKA, meet all the resident artists, or book an appointment through https://akaberlin.com. Portrait photo of Philippe shot by Philip Nürnberger. You can see more of his photography on Instagram @philipnuernberger.