"HOLD UP, WAIT! LOOK UP IN THE SKY! IS IT A BIRD? IS IT A PLANE? NO, IT'S A MUSCLE QUEEN WITH A RED CAPE IN TIGHT RUBBER CLOTHING AND A BALLGAG IN HIS MOUTH…"
FETISH ARTIST MATTIA VEGNI (31) AND HIS BOYFRIEND VALERIO BELLINI (35) LIVE IN FLORENCE, ITALY. MATTIA MAKES POP ART WITH FETISH AND BDSM THEMES, INCLUDING FAMOUS SUPERHEROES IN BONDAGE. VALERIO IS NOT ONLY MATTIA'S LOVER, BUT ALSO HIS MUSE. WINGS SAT DOWN WITH THIS SCRUFFY COUPLE TO TALK ABOUT MATTIA'S ART, THEIR SHARED KINK INTERESTS AND FETISH LIFE IN BELLA ITALIA.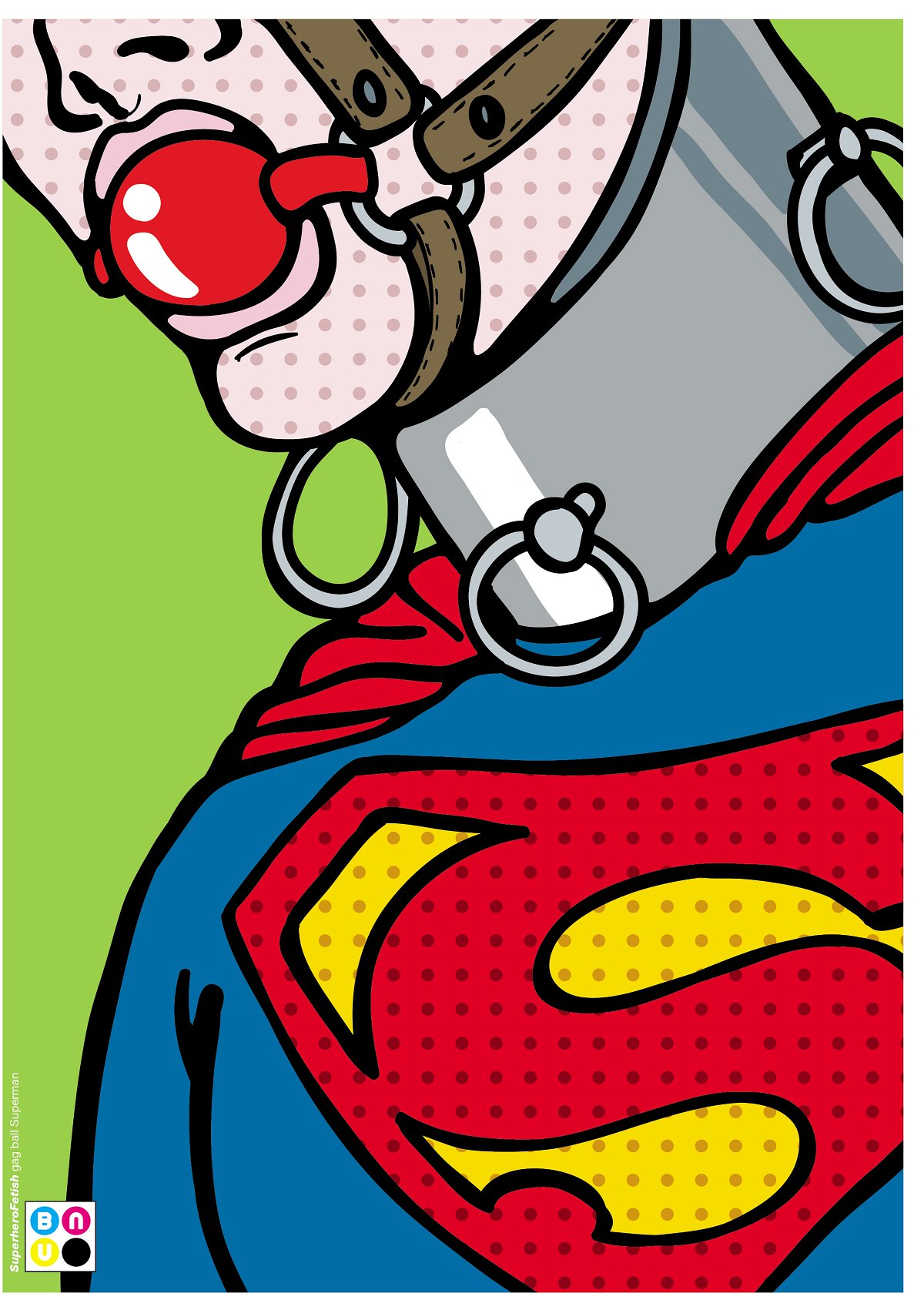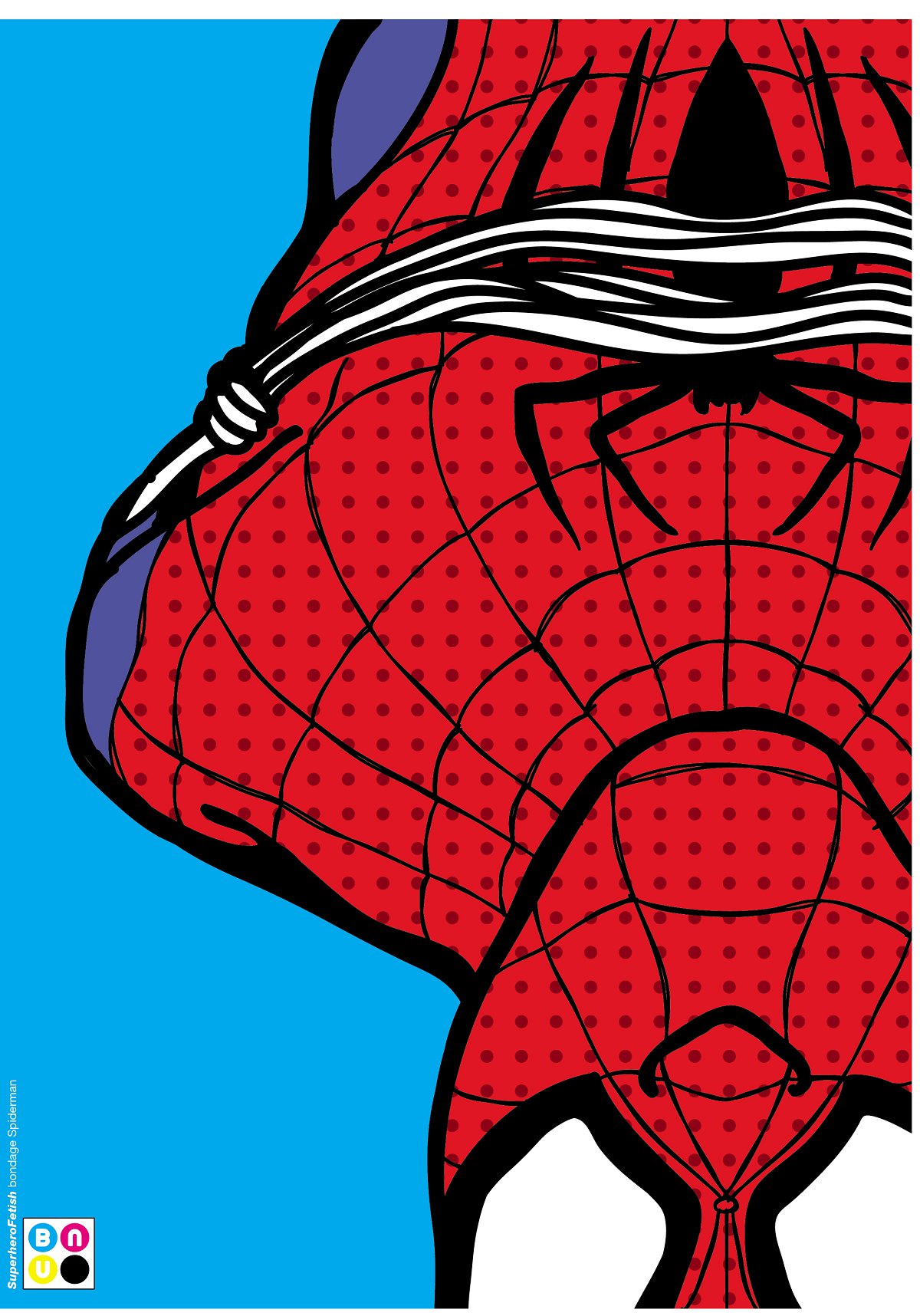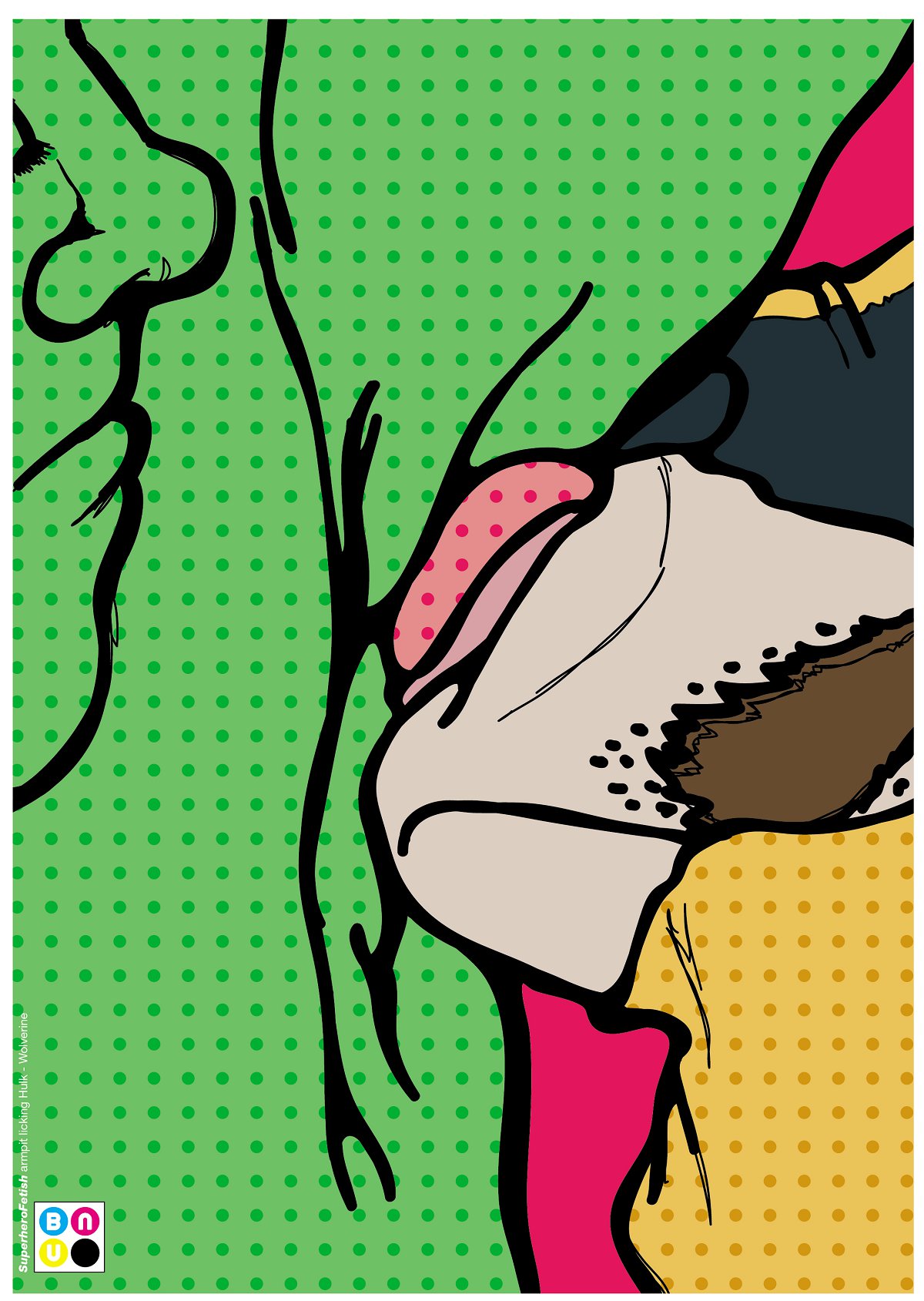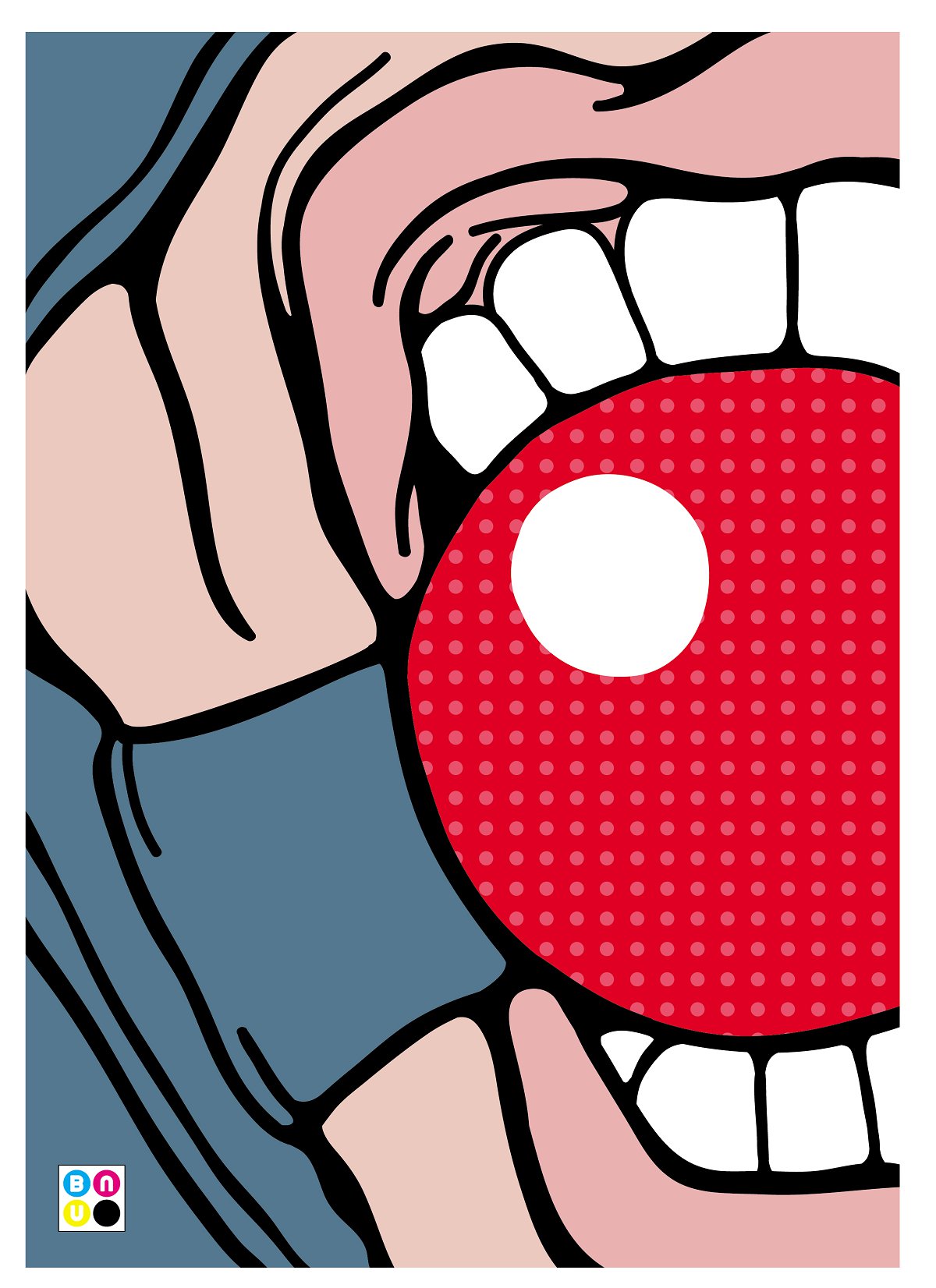 Mattia, you do a lot of things. You're a graphic designer in an interior design studio, you're learning to be a tattoo artist and you create digital pop art, with content that's pretty…graphic. What can you tell us about your work?
Mattia: "I paint and do drawings on paper, but I mainly make digital art. A lot of my work is inspired by LGBT themes. I have a project called 'Natural Family'. It consists of drawings of different kinds of families; three gay guys in a relationship for example or two lesbians and their dog. It's a form of activism to me. I created them for the Prides in Florence, Rome and Bologna a few years ago."
Valerio: "We printed 300 copies and handed them out for free. People loved it! Most of them wanted to have the complete series, but we tried to share the prints with as many people as we could, so we only gave them one per person."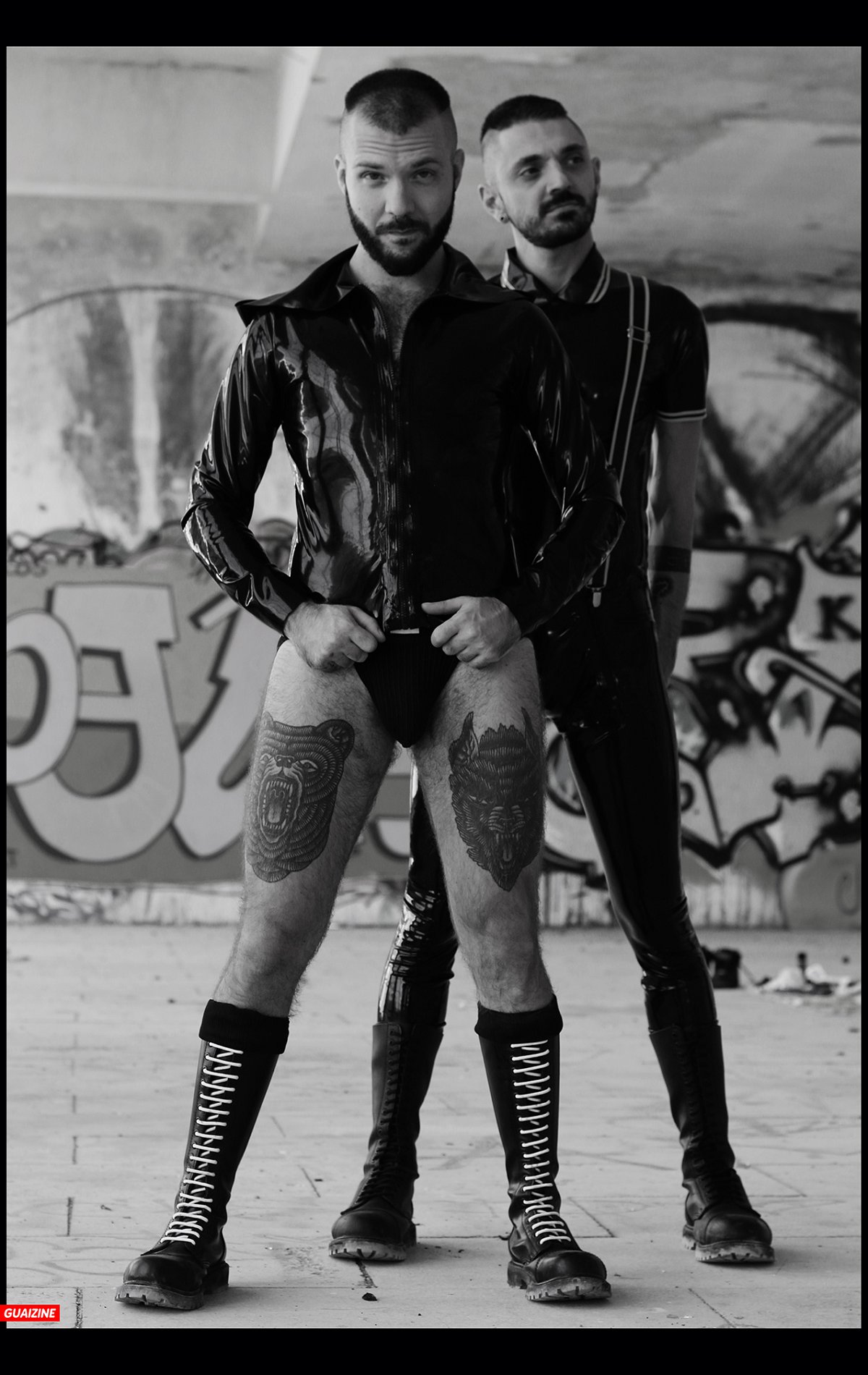 You also draw superhero fetish art. How did you come up with that idea?
Mattia: "The idea came from a superhero fetish contest that was held in Antwerp two years ago at Darklands (editor's note: Darklands is a three-day fetish fair during the Leather & Fetish Pride Belgium). A friend of ours from Paris organised it and we helped him. It inspired me to do a graphic series about superheroes in bondage situations."
That series includes drawings of Wolverine licking The Incredible Hulk's armpit and Spider-Man in bondage, tied up with his own web. What's your favourite?
Mattia: "The Wolverine one hahaha. I'm going to make new ones soon. I'd love to put Thor in bondage as well. I'm also doing another fetish series in a style similar to Roy Lichtenstein's. It's close-ups of porn scenes. You can see a dick pissing in a glass, lips wrapped around a cockhead and a mouth stuffed with a ballgag. Those graphics aren't full frontal though, it's mostly details of sex scenes."
Do you get horny when you are drawing these images?
Mattia: "Sometimes yes. Also when I do research on Tumblr hahahaha."
Your boyfriend seems to be your muse. On your website you thank him for criticising, pushing and encouraging you. What's his influence on your art?
Mattia: "He often gives me advice and ideas that I can work with and he models for me. Valerio is actually the one that came up with the idea for the superhero series."
Valerio: "He doesn't always like it when I criticize his work. When he decides to do something, he doesn't want to talk about it with anyone. He ignores what I have to say at that moment, but he occasionally does change his work in the end. We actually work really well together. I'm a choreographer and he did the scenography for some of my shows and he helped me with costumes and make up. In turn I gave him the idea to sell his work on Etsy and I suggested porn scenarios he could use in his art."
Mattia, your online biography clearly states 'everyone has a fetish', so I can't help but ask: what is yours?
Mattia: "We both love rubber – we are rubber men – and sportswear. I love the aesthetics of latex and the sensation on the skin when you wear it."
How does kink play a role in your life?
Valerio: "His fetish life started with me and he liked it from the very beginning. Mattia is into discovering new things and into experimenting with sex. Four or five years ago we went to our first fetish event together in Rome and after that we visited London Fetish Week and Folsom Street Fair. We made a lot of new friends – ones that we are very close to now. At first it was difficult to talk about what we wanted. We were afraid that one of us would judge the other or that we wouldn't be into the same scenarios. But we got over that pretty quickly. Since then there's some kind of sexual energy that flows between us. It drives us to discover new things constantly."
What gets you hard? What do you find exciting?
Valerio: "For me its cum control. That makes me go wild."
Mattia: "I love being in control in general."
Valerio: "When we play together I'm mostly submissive and he's the dom. But when we play with another person we're both dominant."
Mattia: "I like the connection we have when we are dom together."
Valerio: "And he also has a sub side he needs to discover. I don't know when this will happen hahaha. The right person still needs to come along."
In closing, do you have any party tips for fellow fetishists visiting Italy?
Mattia: "Gay life in Florence isn't very big. We usually go to fetish parties in Milan, Padua or Rome. We like the Fetish Winter Meeting organised by the Leather Friends Italy in Milan. It's a party for anyone into leather, rubber, military, skin and sportswear."
Valerio: "Florence does have a small fetish scene. Mister Leather Italy 2017 and I have started a group together with some friends called the Tuscany Leather and Fetish League. It's an informal group on Facebook and Telegram, where people can talk about their fetish interests. We also organise parties in Florence and Pisa."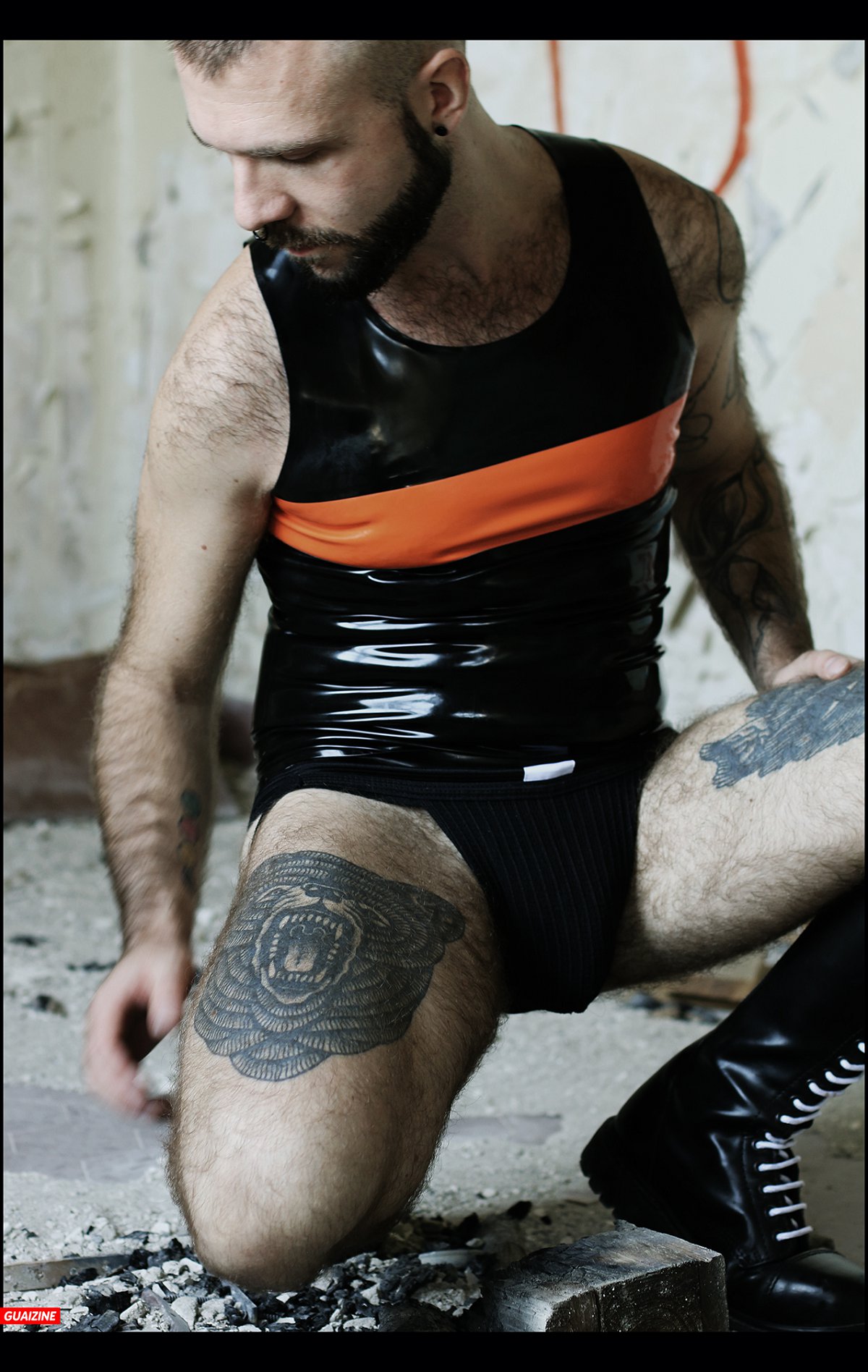 WANT TO KNOW MORE ABOUT MATTIA AND VALERIO?
Check out Mattia's beautiful website www.mattiabauvegni.com (which includes a link to his Etsy shop) and add them on Instagram @mattia_bau_vegni and @leftarm_rubber.
WANT TO KNOW MORE ABOUT FETISH LIFE IN ITALY?
Visit www.lfitalia.it for everything you need to know about Leather Friends Italy and www.facebook.com/tuscany.fetish.leather.league to connect with the Tuscany Leather and Fetish League. Also, check out Leather & Fetish Milano www.lfmilano.com and Leather Club Roma www.lcroma.com.

ARTWORK © MATTIA BAU VEGNI
PHOTOGRAPHY © GUAIZINE, @GUAIZINE ON INSTAGRAM.
Shout out to my sweet Italian friend Dario for on the spot translations during the interview. Grazie mille!