Finding a lube that suits your needs can be quite difficult and even overwhelming when you don't know what to look for exactly. Mister B WINGS is here to help you make that choice a little bit easier. In this review our in-house test bunny Marco takes a look at System JO – a new line of premium lubes that is available in the Mister B online store right now.  
Hey everyone, Marco here! Before I start this review, I have to warn you that there is a really bad dad joke coming up. So brace yourselves and let's get into it.
Testing 7 new premium lubes, a strawberry flavored arousal gel and a toy cleaner is quite exhausting. It brought a whole new meaning to the word 'workload' for me ( I warned you). My first impression of System JO is that the packaging looks really beautiful, slick even, just like its contents. Next to that the brand has some fun new ideas like a personal lubricant that contains coconut oil and the aforementioned arousal gel for your nipples. What does System JO have to offer? How do their lubes feel? And could you use them in the ocean?
Read on and find out!
System JO H2O Water-Based Lubricants
Water-based lubricants are non-sticky, easy to wash off, and they won't leave stains in your sheets after you have washed them. But most importantly they are great to fuck, finger and masturbate with. System JO offers multiple water-based lubes, each with their own little twist. Let's start with the biggest bottle of water-based lube that I got to review and work our way down to the smallest size.
The System JO H20 Lubricant (480 ml) comes in bottle with a pump, which makes things less messy and slippery when you are fucking. You just push down on the pump, catch the lube in your hand, and keep on playing. The consistency is buttery, but doesn't feel greasy. Next up is the System JO H2O Jelly (120 ml) which comes in a handy tube with a flip cap. The jelly is thick and it creates these little strings between your fingers when you rub it into your hands. It is perfect for fingering and it feels nice and cool when it enters your hole.  
System JO also offers water-based lubes specifically for anal use. I got to try out the System JO Anal H2O Lubricants (120 ml) and the System JO Anal H2O Lubricant Warming (60 ml). I personally love these sizes. They are easy to take with you when you go out, and as an added bonus they look really attractive to the eye. Both lubes are designed to make anal sex more comfortable and I think System JO hit a home run with these products. Entering a hole feels almost effortless with these lubes. I recommend trying out the warming variant. It was the first time I used a lube that warms you from the inside and it is quite an experience, especially when you are getting a good pounding. 
System JO Nipple Titillator Arousal Gel
This product made me giggle (mind you, I'm a 40+ grown up man) and it even triggered some childhood memories. The System JO Nipple Titillator Arousal Gel  comes in a shiny red dispenser. When you push the pump this bright red liquid squirts out enthusiastically and you smell strawberries right away. Apply a generous amount of the gel on your nipples (in this case my boyfriend's nips, because mine aren't sensitive) to excite and arouse them. The gel has a cooling effect and your nipples will feel titillated and tingly. Pinching my boyfriend's nips made the effect even more enjoyable. The System JO Nipple Titillator Arousal Gel comes in the flavor 'electric strawberry' which reminded me of the ice cream sundae that my parents treated me to every once in a while when I was a kid (super random right?) combined with a hint of mint. I also put some of the gel on the head of my boyfriend's dick, because I was feeling experimental, but that wasn't a big success apparently. #liveandlearn  
System JO Silicone Free Hybrid Lubricant Coconut (120 ml)
This lube has quickly become one of my all-time favorites. It is a creamy fusion between water and coconut oil and I think that idea in itself is brilliant. The lube smells (and slightly tastes) like coconut, feels silky soft to the touch, and it even kinda looks like cum. I mostly used it to finger and fuck, and it became my go to bottle of lube during a recent weekend getaway. The System JO Silicone Free Hybrid Lubricant Coconut (120 ml) is also nice to massage with because it stays slippery for a very long time. #bountyforyourbooty 
System JO Premium Silicone-Based Lubricants
Silicone-based lubricants won't dry up while you are using them. They are waterproof, so you can use them in the shower, bath, pool, hot tub and maybe even in the ocean (not completely sure about that last one actually). I tried out the System Jo Premium Silicone Lubricant (120 ml) and the System JO Premium Anal Silicone Lubricant (60 ml). Both are super long-lasting and they guarantee the purest glide imaginable. It feels amazing to drench your dick in these lubes, and entering your partner feels natural and smooth with both products.  
System JO Refresh Foaming Toy Cleaner (50 ml)
Cleaning sex toys is not my favorite activity, but it is a necessary one nonetheless. Just splashing some water on a used toy won't be enough to rid it of possible bacteria (or that heavy smell of ass). The System JO Refresh Foaming Toy Cleaner is easy to use and the total cleaning process will be done in less than 15 seconds. Shake the bottle lightly, push the pump, and apply the foam over the surface of your toy. Let is sit for 5 to 10 seconds and rinse it clean with water. The anti-bacterial foam has no fragrance and that also goes for your toy after you have cleaned it with the product. The System JO Refresh Foaming Toy Cleaner is compatible with latex, rubber, silicone, glass, and metal toys. #squeakyclean  
Check out my final scores for 'look', 'function' and 'feel' under this review. And if you are near our Amsterdam store I recommend you to check out our 'lube bar' which has a selection of our favorite personal lubricants for you to try out yourself.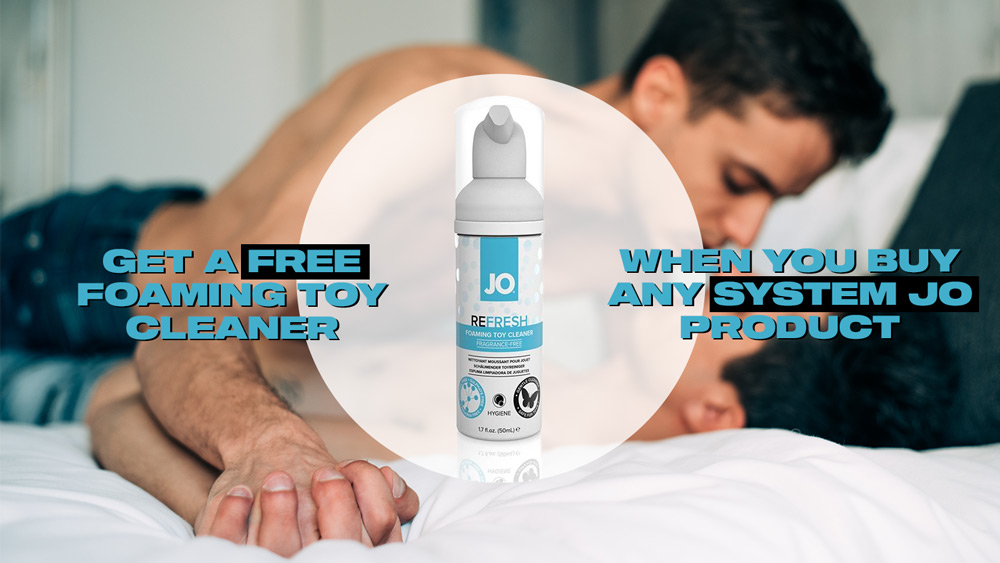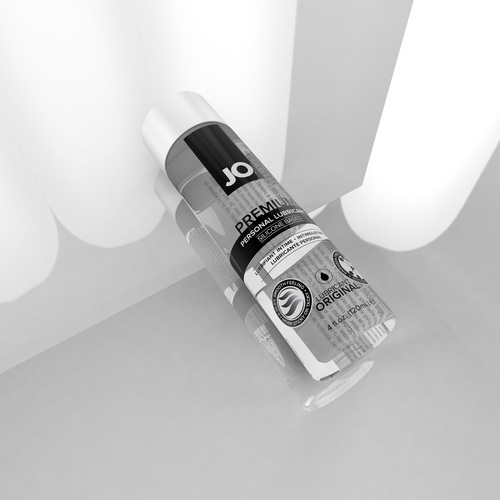 System JO lubes: premium, slick and slippery AF