WARNING This video is NSFW!
Topped Toys Reviews
Review by Bear and Boy
Gape Keeper 93
Bear and Boy are a horny, kinky couple. They are into a lot of different things. They especially love trying new toys.
This time, Bear brought home a nice big squishy butt plug, to stuff in Boy's ass! He loves using different toys to open that hole or his hands. Either way, he likes a loose hole.
So he tried the Topped Toys Gape Keeper 93 this time. They already tried the Gape Keeper 85 last time and Bear decided he wanted to stretch Boy out even more, especially because he knew Boy would be able to take and love it! Boy really loves feeling a good stretch.
So with the 85 on hand to get the party started, Bear was ready to get the 93 in. You'll have to watch the video to get the 'hole' story, but needless to say, both Bear and Boy give the Topped Toys Gape Keeper 93 two cocks up!
Watch the video review now!
WARNING This video is NSFW!
Topped Toys Gape Keeper 93:
A full 3 inches in width, and with a large deep mass, the 93 is a stepping stone to the larger Topped Toys plugs.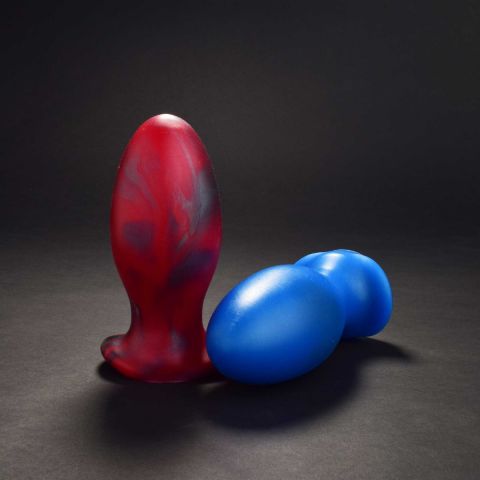 The Gape Keeper 93 platinum silicone plug is designed to bridge the gap between the 85 and 100 sizes. Increasing in both length and girth from the 85, but without the deeper penetration of the 100, the Gape Keeper 93 allows you to continue your journey up the line of top quality Canadian made plugs.
As with all of our toys, the Gape Keeper 93 is made of medical-grade platinum silicone. Our industry-leading silicone comes in a super soft firmness, making our toys comfortable for longer sessions or all day.
About Colour Variations:  Marbled colours like Forge Red have wide variations in the way the colours mix. These unique colour effects are the result of our hand-making process and mean that your toy will be a-one-of-a-kind work of beauty.