Get ready for OUTtv's first late-night show presented by a drag queen on Dutch television – It's Niki Today Tonight! In this new late-night show, presented by drag queen Niki Today and her musical sidekick Dirk, Niki receives a selection of well-known and even some lesser-known guests from across the Dutch LGBTQI+ community in Eagle Amsterdam bar every week. Niki Today Tonight is full of live music, humour and special conversations with LGBTI+ community members. 
"I am proud and happy that I have the opportunity to put our community in the spotlight with my new late-night show 'Niki Today Tonight', both with the episodes that I have presented during Pride Amsterdam, and now on OUTtv primetime. As a child, I wanted nothing more than to be Oprah Winfrey and secretly did interviews in my room with my Barbie dolls and teddy bears. Years later I dreamed of a talk show in the style of Dame Edna and Graham Norton and now I sit down every week to chat with the nicest guests, from the very sweet Vanessa van Cartier (winner of Drag Race Holland) to the inspired Astrid Oosenbrug (chairman of COC Netherlands), the talented Wouter Hamel (singer), Ferry Doedens (presenter), Yoran de Bont (actor) and so many others." 
In 2020, The Niki Today Show was developed for Pride Amsterdam as an alternative pride celebration during the COVID-19 pandemic. It turned out to be such a great success that a few specials were made during the holidays of the same year, which were also broadcast by OUTtv, among others. As a result, the format has been picked up by OUTtv and the program continues in a modified late night version as the Niki Today Tonight! The program is a mix of camp and excitement inspired by The Graham Norton Show, Dame Edna Show and RUR.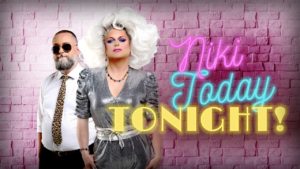 FOLLOW NIKI TODAY ON SOCIALS FOR MORE NEWS ABOUT THIS FAB SHOW AND MORE!