He hates being called daddy. So call him SIR or don't call him at all! WINGS had the pleasure to sit down with one of our favorite kinksters on Instagram: Tom of France.
Tom of France is a happily married man. Together with his husband (and occasional sex toy) he lives on a farm, in the countryside, in an area called the Valley of the Kings. He's surrounded by fields, forests, deer, and rabbits.
Tom: (laughs) "But I'm not a farmer!"
What do you do then?
Tom: "I have a small web agency and I'm a graphic designer. I do posters, DVD covers, drawings… Most of our customers are gay. We do a lot of work for the French porn industry, but also for a national gay TV channel."
Does that mean you do your photography yourself as well?
Tom: "Yes, all by myself in my living room. I push all the furniture aside and use black and white paper to change the backgrounds. It's difficult doing it alone, but it's also a lot of fun. I use Photoshop to add my name in the pics – like a signature – or to tweak the light. But I don't alter my body and I don't want to hide my wrinkles."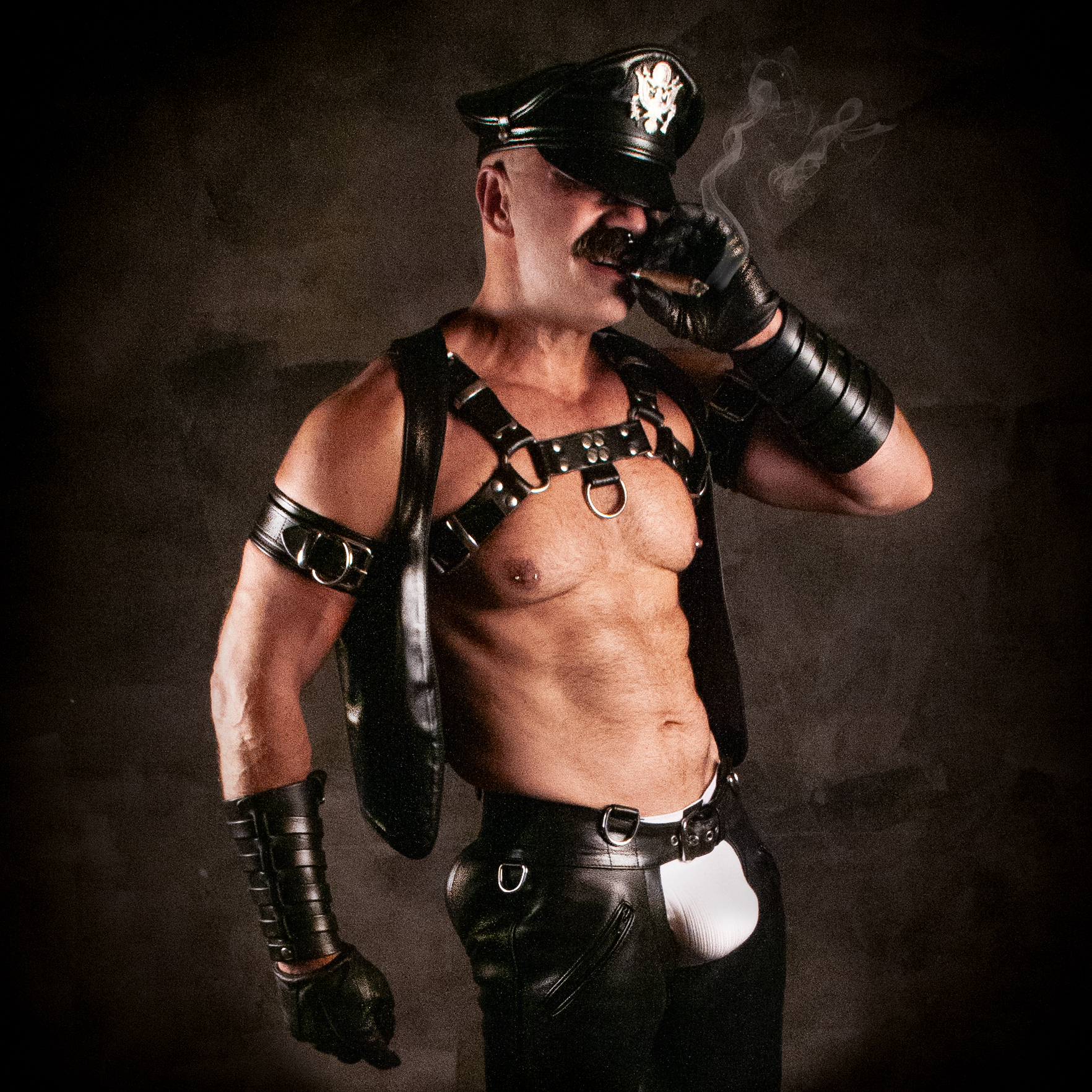 What are your criteria for a great fetish picture?
Tom: (amused) "Well…I prefer wearing the strict minimum in pics. But sometimes I go all out and wear everything, full BLUF. On Instagram, you never know what is going to be the best photo. Sometimes I post something that's just ok to me and then people go crazy for it. And then I post a pic, which I think is really hot, and then people's reaction is lukewarm. I've decided never to ask my followers because they never give me the answer I want to hear. I appreciate their comments, but I do what I like and what I feel."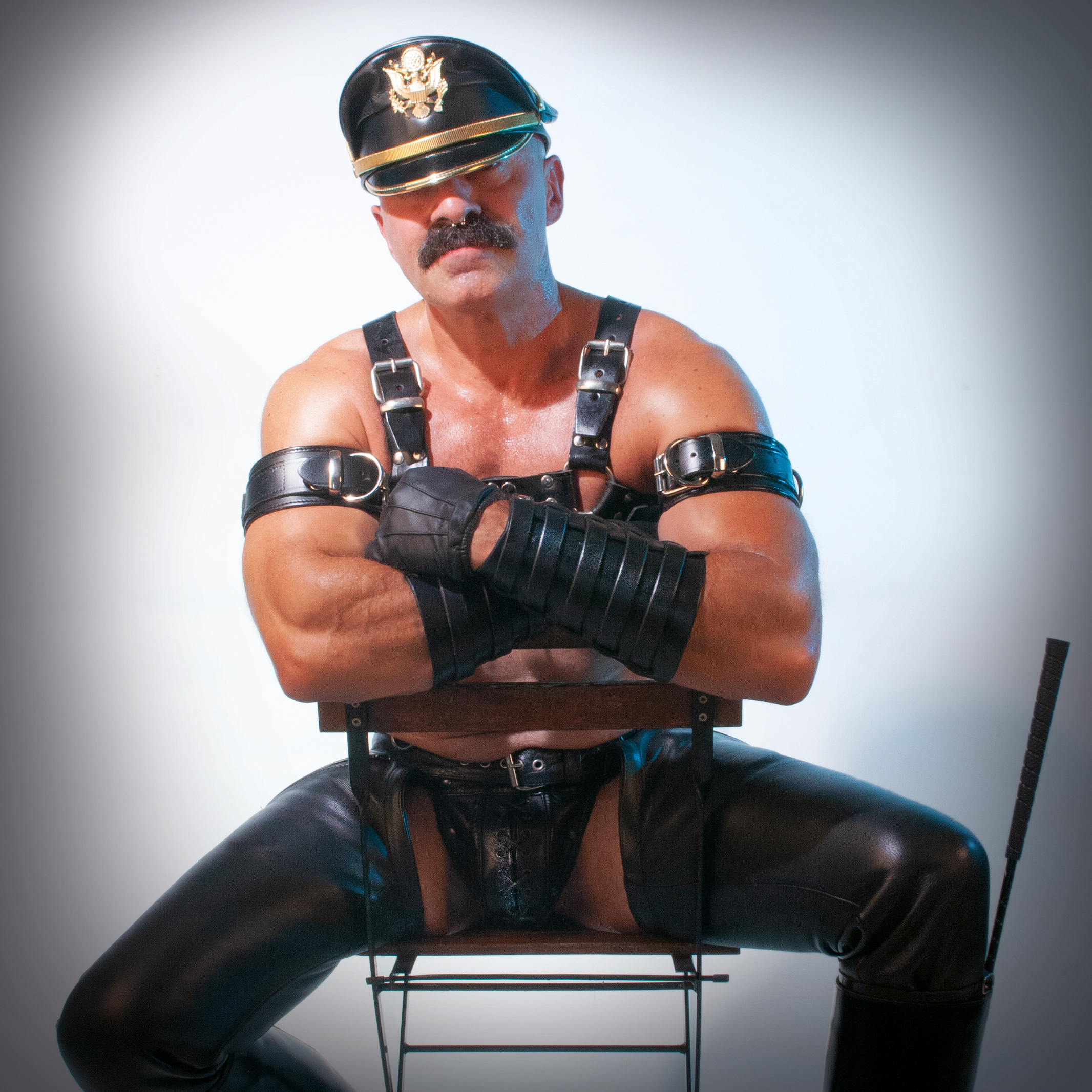 How did you come up with your name?
Tom: "My name is of course an homage to Tom of Finland. I don't consider myself a Tom of Finland man, but at one point a lot of people thought I looked like his characters. So, I became Tom of France. I want to broadcast that same kind of energy. My pics need to be sexy, strong, masculine, if possible with a little bit of humor. For me, the leather scene is also theatre. You play a role. Followers always want to know if I'm dressed in leather all day. They dream about that. But Instagram is just a fantasy. And I like it that way. I live in a small provincial town. I can't wear full leather outside; people would throw rocks at me hahaha."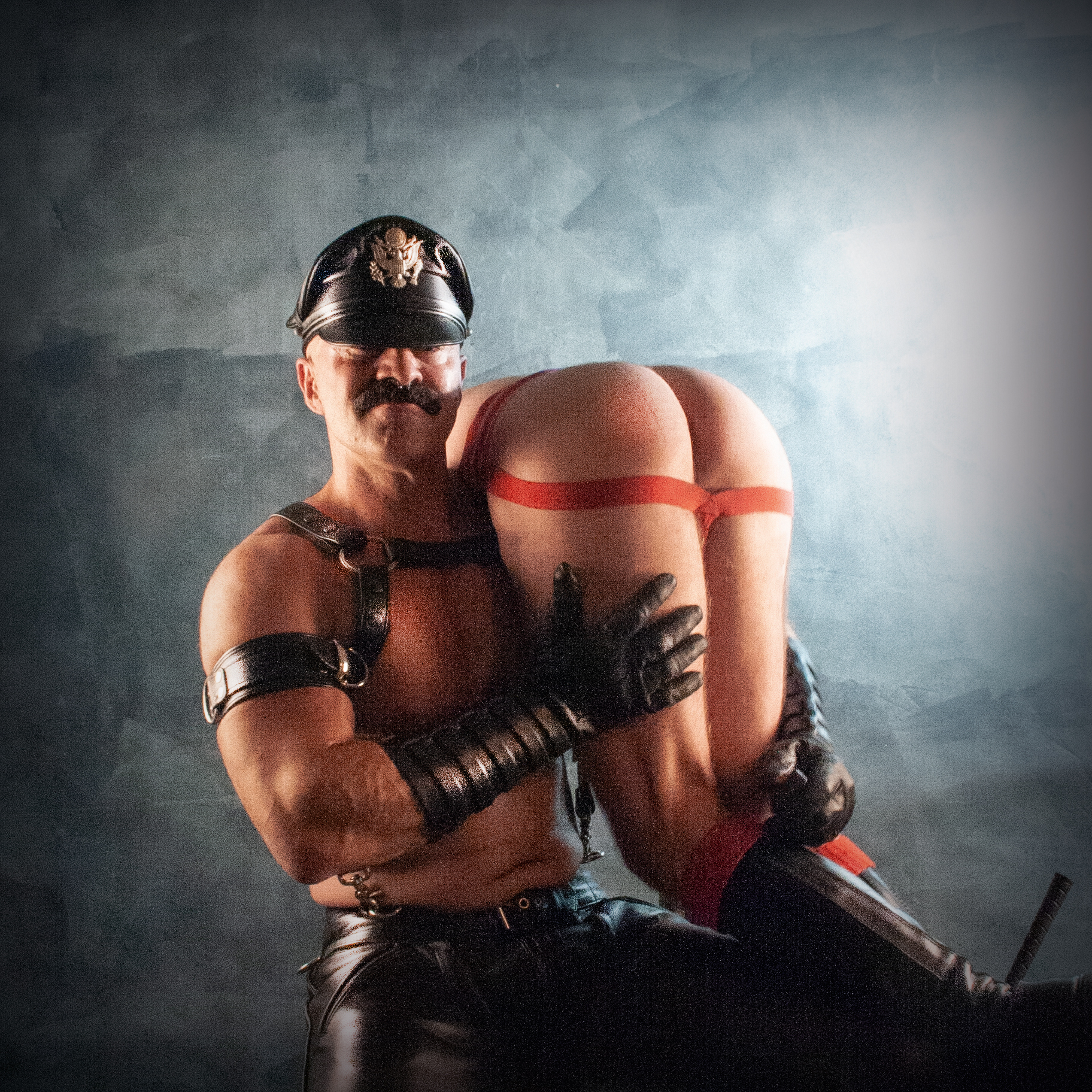 It's not like you are living in Berlin, in the Motzstrasse, the vibe there is a bit different…
Tom: "When I'm in Berlin I'm in leather 24 hours a day. I feel like a Victorian lady when I'm there. I have an outfit for the day, an outfit for the cocktail, and an outfit for going out at night. I absolutely love it!"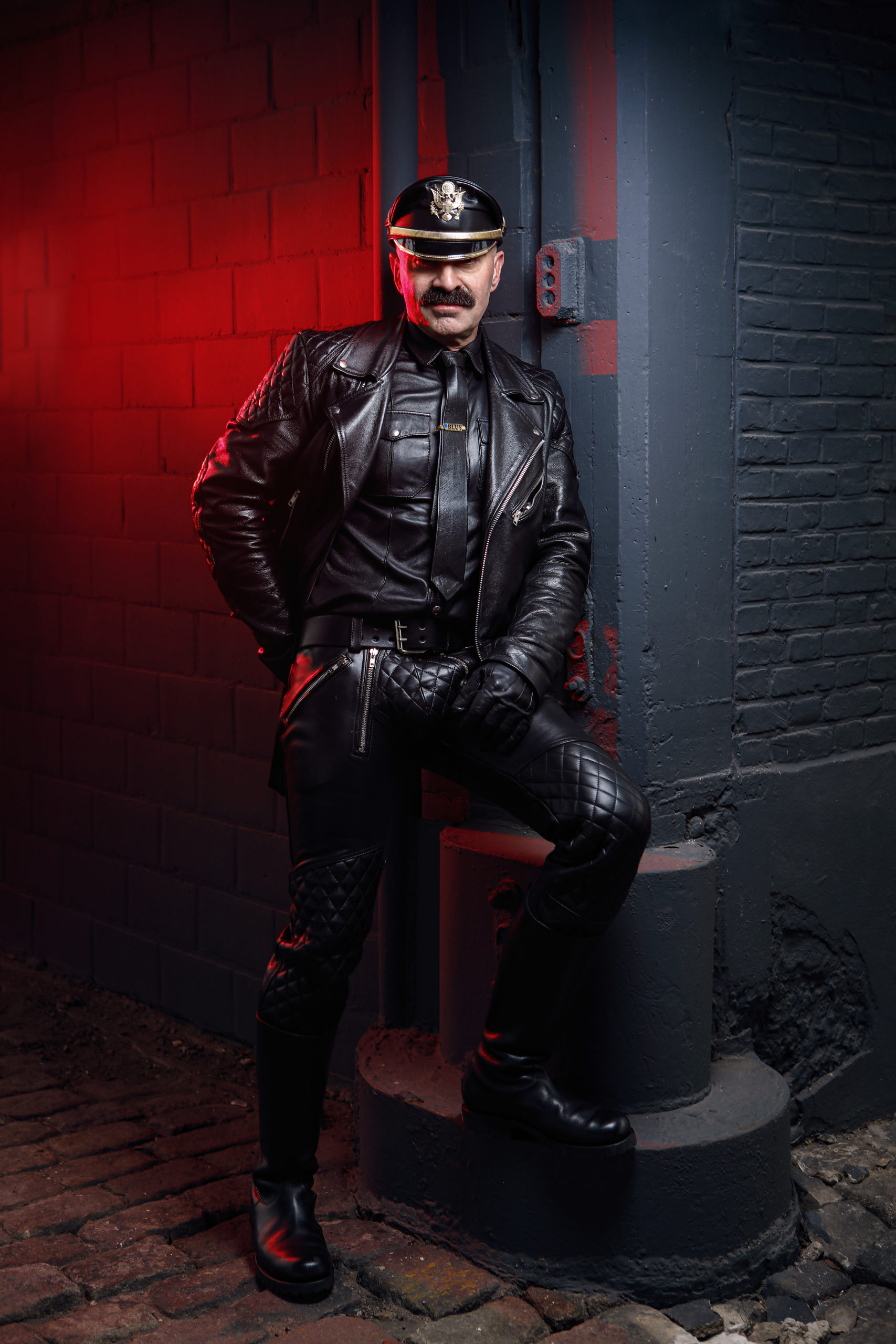 What is your favorite pic on your Instagram account?
Tom: "I made a picture of myself smoking a cigar – I just discovered the joy of smoking them. I'm in a white jockstrap, black leather chaps, with my head looking down a bit. It was a lucky shot, but I think it's really beautiful. I also like to have fun with captions. There's a recent pic where I'm looking at the contents of my pants. The caption says: 'So nice for my lovers, so small for my haters.'"
Let's talk gear. What are your favorite pieces?
Tom: "I love chaps. I own the leather convertible pants from Mister B. You can wear them as leather jeans or turn them into chaps. They're practical and very sexy. I also love police caps. I have one with a silver trim and one with a gold trim – I love that metal look. Every time I order new gear it's really expensive, but when it arrives I'm sooooo happy, and I immediately think of new things that would go with it. At the moment I'm waiting for a leather jacket I ordered from Langlitz. I can't express how excited I am waiting for it. It feels like Christmas!"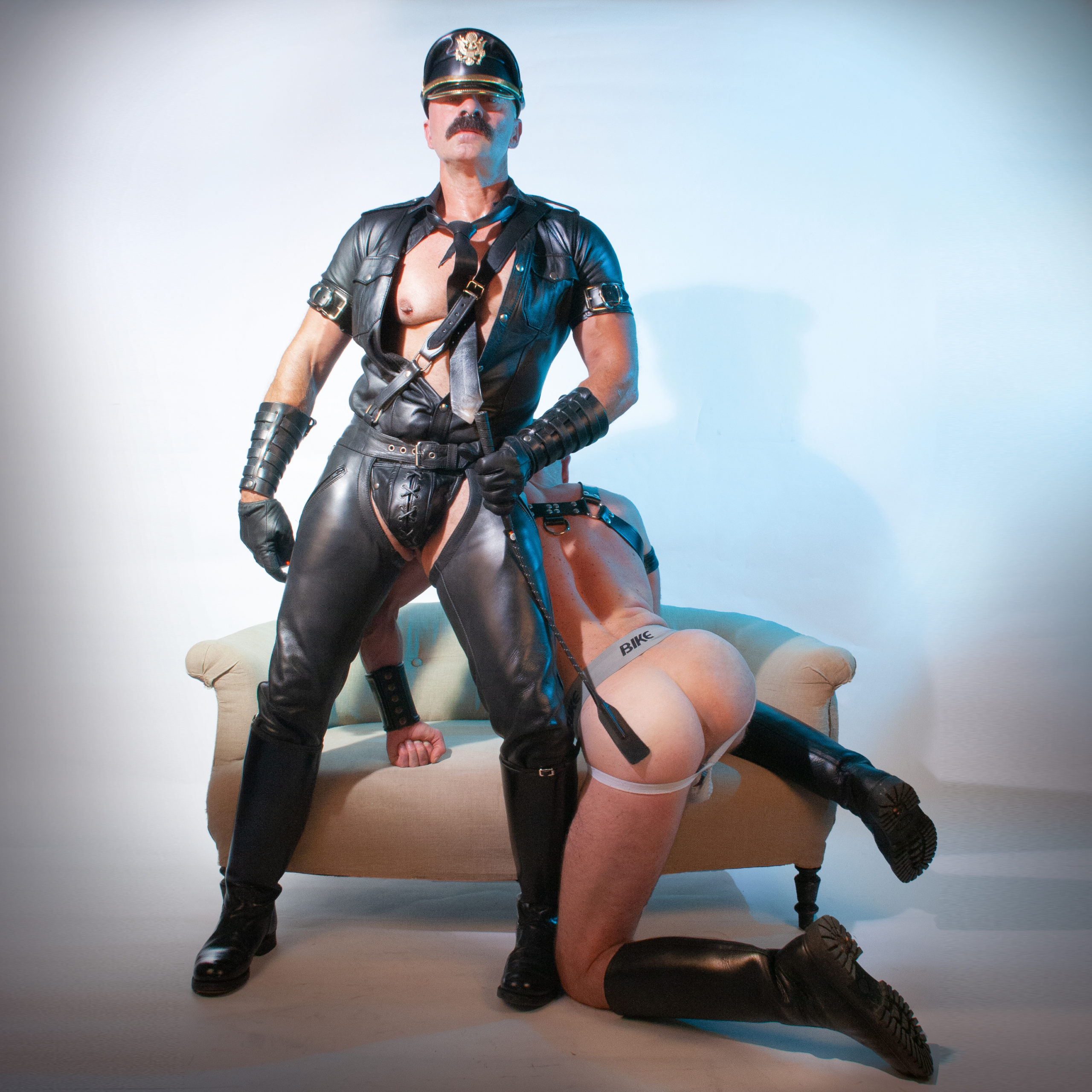 Looking at your pics it's obvious what your kinks are. Could you tell us about your likes and dislikes in the playroom?
Tom: "I'm dominant, but I don't think I'm extremely hard. I like flogging, but not until it bleeds. I like to push my sub to his limits. I don't want to force him to go over them or make him cry and I like my sessions to be silent. I don't like to talk or swear when I'm playing. The look I give my sub should be communication enough. I'm the master, you are the boy. You worship me. You lick my boots. You do what I want you to do to please me."
Final question: you don't like to be called daddy. Why is that?
Tom: "I know I'm old and that's not a problem for me. I'm going to be 58 in a few days… But the idea of a dad-son-relationship just doesn't appeal to me. The word daddy reminds me too much of Marilyn Monroe: 'My heart belongs to daddy.' I just can't stand it. Call me grey or old. I don't mind, I mean, I'm definitely not a twink hahaha."
 Tom is BLUF member 3632. You can check out his page on Instagram @tom_of_france and if you meet him in public say hello. He might look aggressive, but he's just a bit shy and French!