Put down your poppers and start sniffing socks – because that is where it's at! The fetish sock company, Sk8erboy has made it to twenty years. To celebrate, WINGS has interviewed Alex, one of its founding members to discover their secret to creating a long-lasting and beloved brand. 
Congratulations! Let us go back to how it all started. Tell us Sk

8

erboy's origin story.
"It actually started in porn. In 1998, my husband, Chris, started making homemade porn videos with sportswear and scally wear – an ode to the skater boys. Sniffing socks and smelling boys were a big part of those porn videos, and at the time, there weren't any brands making good quality socks. Then on the 13th of August 2001, we started our company, Sk8erboy. Eventually, due to the abundance of free porn on Xtube and Pornhub, we stopped making videos and focused on the socks and clothing that were doing really well. In the first year, we sold 400 pairs of socks, and now those numbers are in the thousands, and we have over twenty different sock styles, t-shirts, underwear, and other sport-inspired wear." 
The success has been undeniable. And you've gone global now too?
"In the first years, we focused on our leading country, Germany. Then it started expanding across Europe. Now you can also find us in North America, South America, Asia, Australia and a little bit in Africa even. All around the globe." (Coming to stores in Antarctica soon!!) 
When you started producing fetish socks, there were no other companies around with a similar offering. How did you know there would be a market for it?
"When you look at the evolution of fetish, it often mirrors what is seen in the mainstream. Think back to Tom of Finland and how he modeled his drawings after the hyper-masculine army men and the leather-clad motorcyclists. So, when the '90s came around, and the cool trend was the skater boy aesthetic, we predicted there would be enough people fetishizing it too. We didn't spend too much time thinking about it before starting the business – we just took a calculated leap of faith, and it paid off."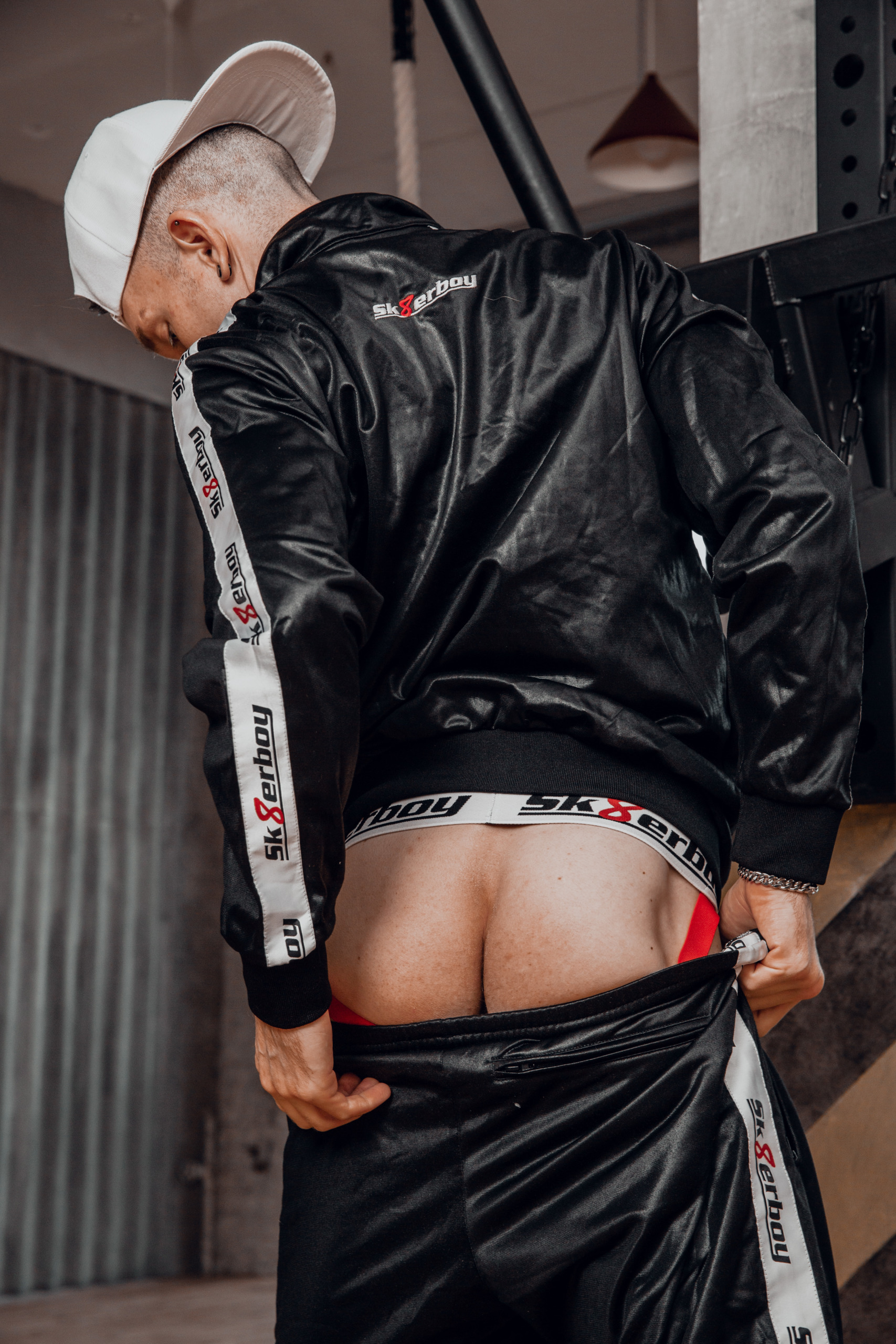 Speaking of trends, have you seen any recent ones in the fetish scene? 
"The puppy community has grown so much in the last three years. We've even created socks especially for them with our Puppy Paw collection. Something that has made an impressive evolution is the leather guys. Many of us are used to seeing the old-fashioned cigar-smoking men with big beards and hats, but now we see young guys in their 20's/30's, buying a complete leather outfit and wearing it out with pride! Also, a trend we have noticed recently on Twitter is the diaper community – so that seems to be getting bigger with many young guys trying out AB/DL.
Whilst your roots are definitely in the sneaker/sock/sniffer scene, your current collection caters to more than just those fetishists. 
"We want to be the fetish socks for every fetish, so that is our goal for the coming years. For example, last year, we released some socks for the leather-wearing guys. If you wear a pair of leather boots all day, you need something soft and protective on your feet, but at the same time, a lot of guys want that smell of sweat when they pull their feet out. So, we created the Sk8erboy MX Socks. They are also cleverly designed with an all-over camouflage pattern, so you don't see the black stains from the boots, and when you wrap them down and around the top of your boots, you only see the white cuff. We are in close contact with our customers and retailers, and we listen to their feedback. That is how we can offer the perfect solution!"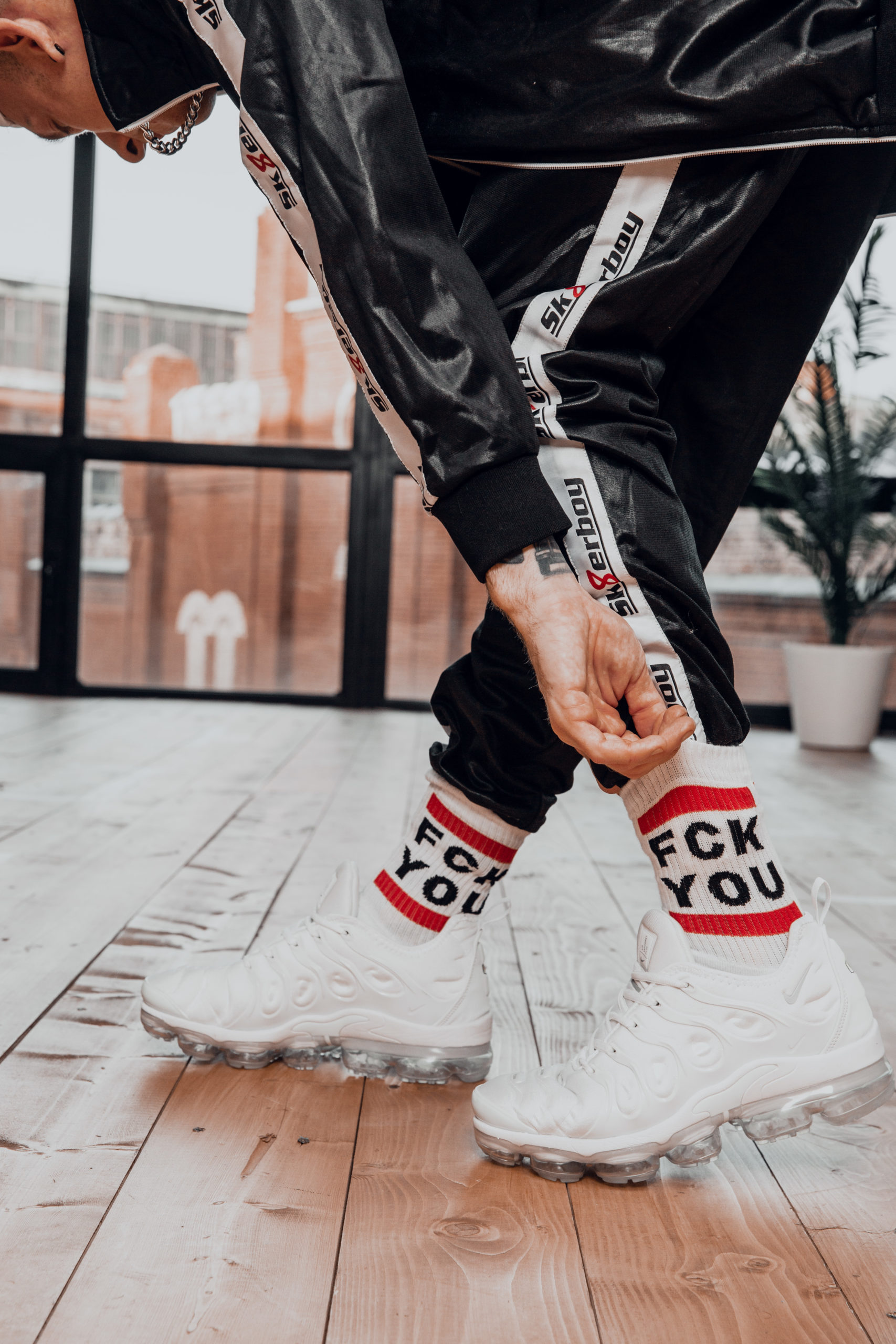 As one of Sk

8

erboys's biggest retailers, tell us about your work relationship with Mister B and how that started.
"It started in 2018 with our first meeting with Kevin and Nelson in Amsterdam. We both wanted to get in touch. We were looking to expand, and they were looking for a well-known and high-quality brand of sportswear to breathe some fresh air into the Mister B collection. It is more than just a business relationship between two companies – it is a friendship. We are so delighted to be a part of the Mister B family. We love them!" 
Your range of products has expanded a lot. It started with socks, but now you have clothing and accessories and toys. Is there something that you would like to sell that you haven't got yet?
"At the moment, we want to focus on our Jubilee Year, so we will be releasing some special edition socks this August. Regarding new products, there is a German saying which translates to: 'if you are a shoemaker, make only shoes.' That is why, for now, we have chosen to focus on being the best at what we do – and what we do is make great socks.  
Finally, tell us about the Sk

8

erboy parties and how they strengthen your brand and the community. 
"If you come to one of our parties, you can feel the heartbeat of Sk8erboy. They are full of emotion, fun and of course sportswear. Everyone and anyone who wants to hang out with friends or have the best sniff of their life is welcome! The parties allow Sk8erboy to be almost 'touchable' as a brand; when you go there, you can physically come and chat with our models or with us. With Nike, for example, you can buy their products everywhere, but you are so removed from the team behind them. There is a disconnect there that we don't have, and it is our unique selling point as a brand. We are super excited to have our parties back again in the future and meet with the community and serve them with our brand!" 
Check out the exclusive Sk8erboy shop-in-shop, now in the Mister B Amsterdam store, where you can find all the Sk8erboy gear you want in one dedicated area! Sk8erboy is also currently available in al other Mister B Brand stores where they will soon become exclusive shop-in-shops as well!
___________________
Sk8erboy:
Find your Sk8erboy gear online at MISTERB.COM/SK8ERBOY 
Follow them:
Twitter and Instagram
@sk8erboy_com
Facebook
@sk8erboyofficial